I'm finally getting started on some spring cleaning tasks. Project number one was to turn our "guest" coat closet back into a space we wouldn't be embarrassed to show guests. Over time, random items accumulated in this closet – like the two bowling balls that haven't been used in at least three years. Here's what it looked like when I started.

The first step was clearing everything out so I could see what needed to stay and what could go. Almost everything had a better place to be stored. The box you can see in the lower left corner of the closet is the main water shut off valve for the interior plumbing. We need to be able to access it quickly if we ever have a leak.
With the closet empty, I knew I wanted to do something to make guests smile. I considered pretty wallpaper or painted strips, but ended up with polka dots! They were really easy to make because I drew the outlines with a bronze Sharpie.
To make the almost perfect circles, I traced paper plates & solo cups! From small to large, the circles are made from the bottom of a solo cup, the top of a solo cup, an appetizer plate, and a dinner plate.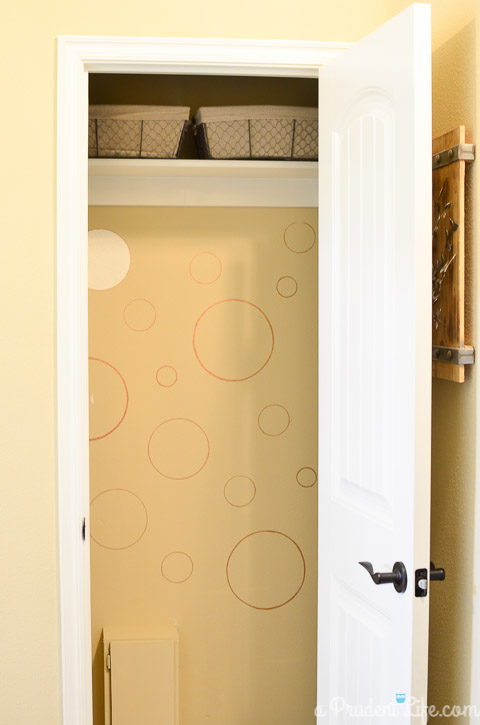 Once I had all my circles, I started to fill them in with a small brush and sample size wall paint in white & turquoise. The turquoise color is Valspar Dip in the Pool. I can't wait to use the rest of the can on another project, it is such a fun color!
When I had all the dots filled in, I realized the white ones needed a little extra oomph. I grabbed a paint stir stick to use as a straight edge and traced some lines with the sharpie to make stripes. I filled in some of the stripes with the turquoise paint. Now those ones are my favorites!
I also painted the baseboards & shelf white. The painters sprayed everything in our closets the wall color so there was no contrast. Just painting the shelf had a huge impact on the space!  To tie in the bronze circles, I sprayed the rod a bronze color using this paint (affiliate link).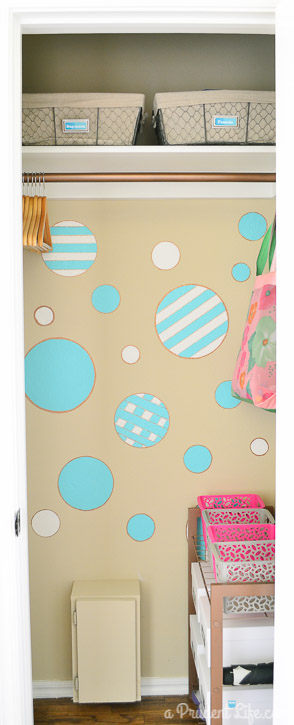 Up top, I added two baskets that I picked up at Tuesday Morning. I attached bookplates to the side so we would remember what is being stored up there.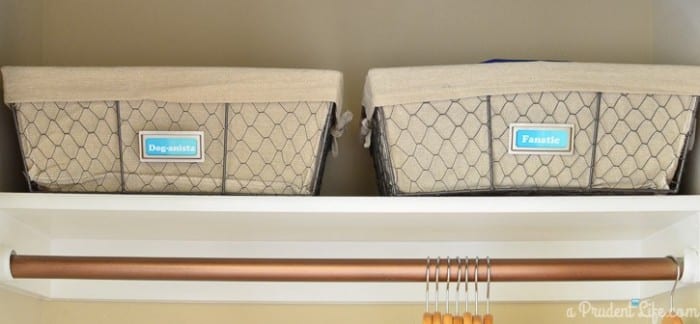 The "Dog-anista" basket holds Maddie's clothes. All German Shepherds have clothes right? She doesn't actually wear them very often, but look how cute she is!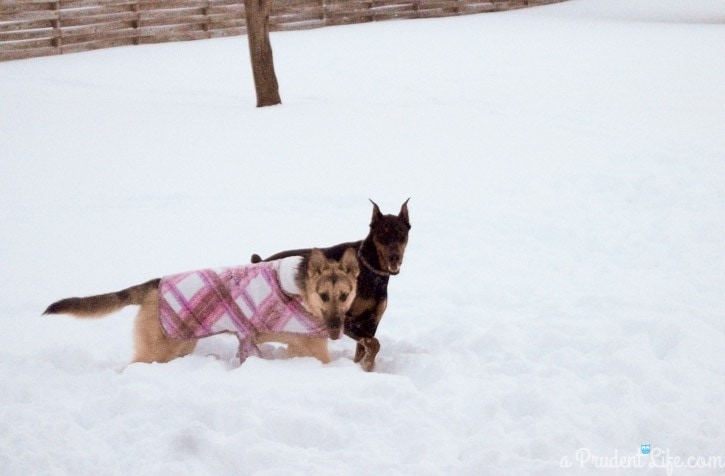 The other bin at the top is the "Fanatic" basket. We love going to college football and basketball games, so I leave my game day bag packed all the time. Instead of taking my purse and risking someone above us spilling a drink all over it, I just throw my wallet in the nylon bag all the time. Would you guys be interested in a separate post on my game day essentials? I have a similar bag for the pool/water park. You'll notice it on a hanger since it is too big for the baskets.
Moving down to the bottom of the closet, I added some storage without blocking the plumbing valve. We considered building a small shelving unit, but I found a shoe rack at Target that was a great size and price.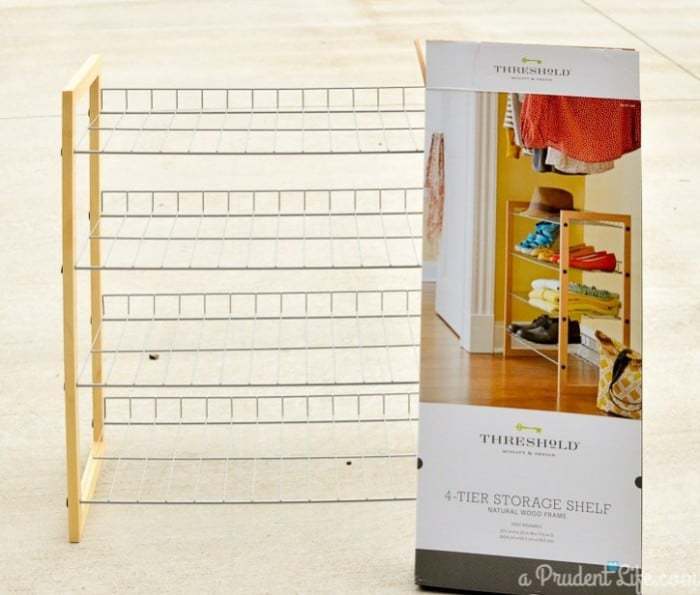 To carry the bronze look all the way through the closet, I painted my new shelf with the same Rustoleum paint (affiliate link) that I used for the clothes rod. I filled the shelf with storage bins and boxes.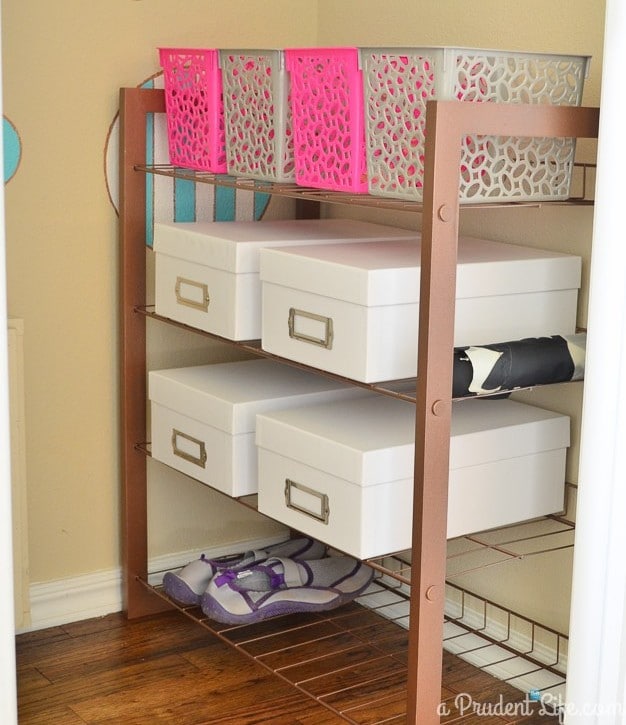 Just a couple other notes on the space. We have WAY too many coats – many will be donated in the fall when they are needed by charities. The ones that are left will be stored in our master closet. That will leave all the hanging space in this closet for guests. I'm still deciding what else makes sense to store in this closet. I'm thinking one of the boxes will be for batteries. As I clean out some other spaces in the house, I know I'm going to find PLENTY of things that could be stored here.
Here's one more look at the whole after!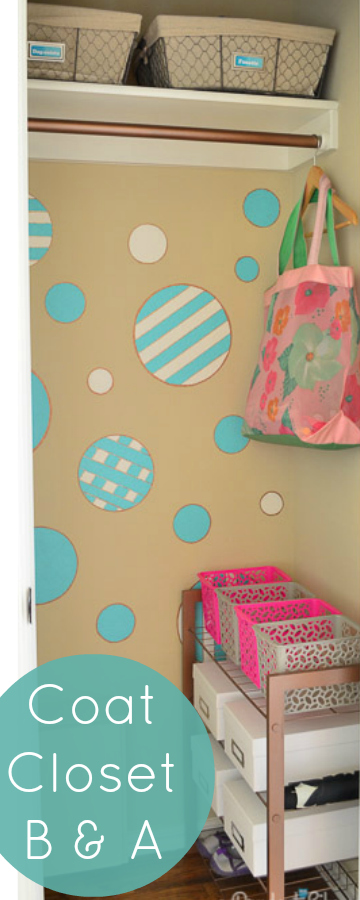 This is the second time I've given the inside of a closet a fun paint scheme. I think I'm hooked! I can't wait to tackle another one.
Check out my Radiant Orchid bathroom closet!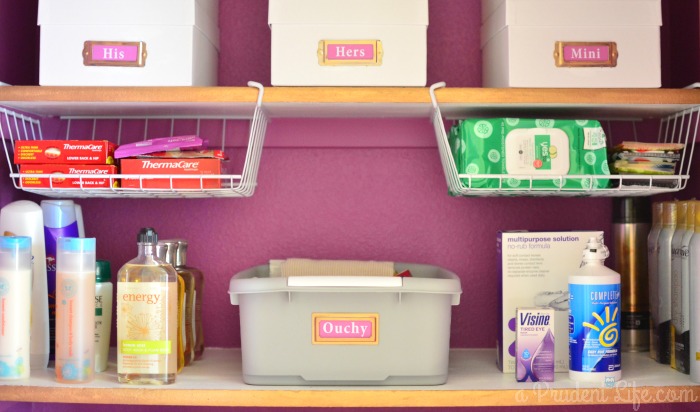 Wanna see more organizing posts?
[metaslider id=3436]
Need even more organizing inspiration? Follow me on Pinterest!
Follow A Prudent Life's board Organize Your Home in Style on Pinterest.


Post linked up at: The Makers, Do Tell Tuesday, Take a Look Tuesday, Hit Me With Your Best Shot, Whimsy Wednesday, Remodelaholic, Link Party Palooza, Best of the Weekend
Latest posts by Melissa George (see all)