If you are not a blogger, don't be scared off! A link party is a great place to find tons of new blogs to follow. Keep reading, and after you ooh & ahh over our features, you'll see rows of small images that link to other blogs. Each week there will be all new features & links to follow!
Before we get to the party, check out what my party co-hosts & I  have been up to this week.
I was busy this week revealing part 1 & part 2 of my craft room/guest room! The first post is all about the design and incorporating two unique spaces into one, while the second post shows all the organizing that happened with the craft supplies.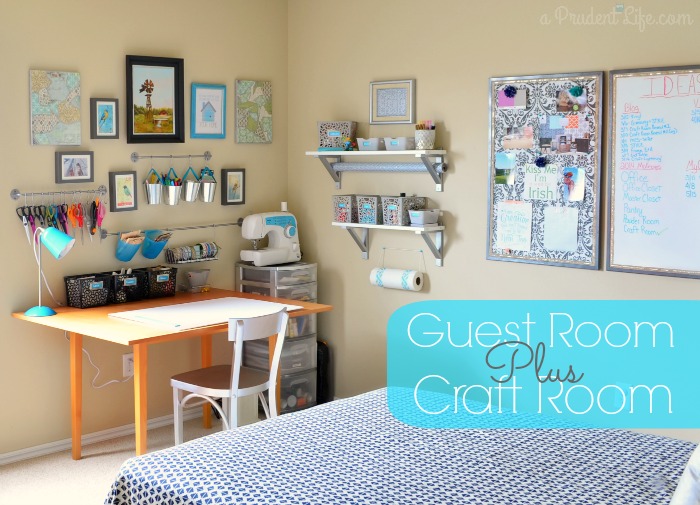 Katie has been redesigning her son's room to his new theme choice – Star Wars! By the time she is done with the room, I'm pretty sure my husband is going to be jealous and want his own Star Wars room 🙂 This week she started the room with an awesome toy box.
Amanda kicked up her curb appeal by making over her front door this week. Doesn't it look great?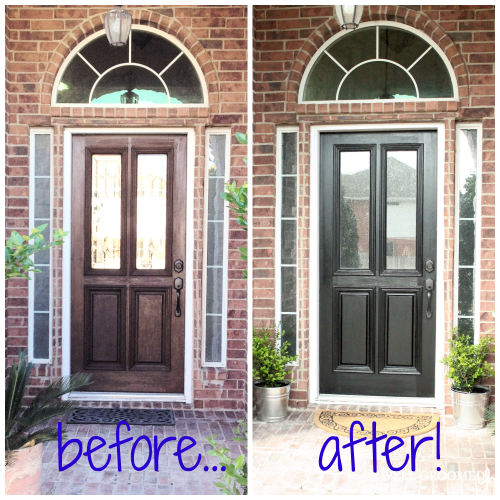 Aren't my co-hosts talented?!?
Everyone who links up at our parties each week also seems to have gotten an extra dose of talent. Let's check out the features we selected from last week's entries!
Most Clicks
Redo it Yourself Inspiration had the most clicks this week after showing how she made art out of household items. For example, the bottle below used to be clear!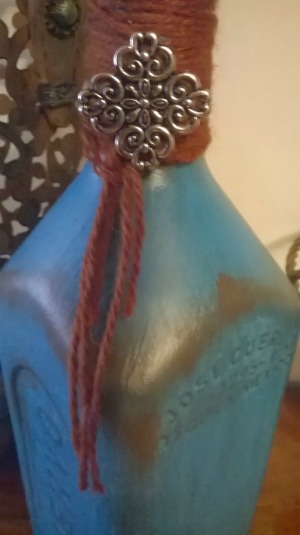 Hostess Picks
I am pretty much in love with everything Katie from View From the Fridge creates! Can you believe this green tray used to be packaging from a kids toy? I ADORE it.  I'm infatuated with it. I need Katie to move to Oklahoma so she can come over for a BBQ with this amazing tray 🙂
Katie picked the great Moss Love  on the Porch vignette from Little Brags. Moss is everywhere lately and I can not wait to incorporate some into my spring decor!
I would like each and every one of these pillows to appear on my couch! I can see why Amanda choose the pillow tutorial from Michelle Lea Designs as her favorite.
Angela's pick was from House of Hawkes. Kathryn called this a mini makeover, but paint provided a NOT mini impact. The barstools look like they came out of a catalog!

Week #11!
Party Guidelines
1. Follow all four hostesses on at least one social media network. If you followed us on one last week, we'd love you forever if you followed us on a different form of social media this week.
Melissa @ A Prudent Life
Twitter  /  Google+  /  Instagram  /  Pinterest  /  Facebook / Bloglovin'
Katie @ Addicted 2 DIY
Twitter  /  Google+  /  Instagram  /  Pinterest  /  Facebook
Amanda @ Well-Groomed Home
Twitter  /  Google+  /   Pinterest  /  Facebook
Angela @ Life in Velvet
Twitter  /  Google+  /  Instagram /  Pinterest  /  Facebook

2. Select one of these options to be considered for a feature:
Promote the party on social media & tag me in your post
OR
Link back to this post with a text link
3. No giveaways, things for sale, or other link parties.
4. Be a great guest by visiting the links of a few of your fellow party-goers.
We also pin all entries to our Thursday S.T.Y.L.E. Pinterest board.
Thanks SOO much for linking up! Sharing your link gives us permission to use your images as features in future posts or in social media (with proper links back to you of course!)
To pin any of the features, please go to the original post. Thanks!
New parties go live at 7 PM CST each Thursday.
Latest posts by Melissa George (see all)