Do you ever get stressed out that you'll forget something when packing for a trip? Or, have you ever gotten to your destination without a phone charger or a toothbrush? Last year, I started doing three new things with my packing list. They have been a HUGE help in the fight against packing stress and forgetfulness.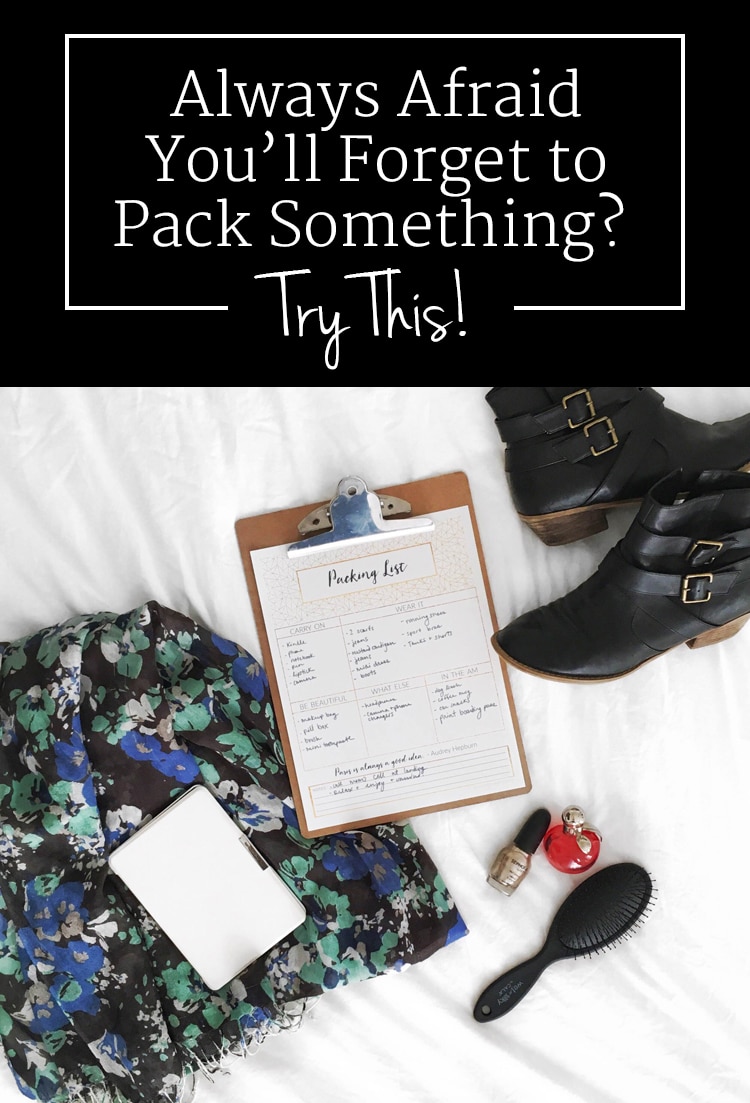 The Master List
Instead of creating a brand new list for each trip, start with a master copy.
Spend time brainstorming everything you need on every trip. My glasses, toothbrush, and even driver's license are included. When your master list is ready, make a few photocopies. The master list will give you a huge head start every time you need to pack.
Start Early
About a week before a trip, grab one of the master list copies. Start adding the extra things specific to this jaunt. In the clothing section, think about any special needs, like evening events. Leave the list somewhere handy so you can add to it throughout the week.
When it's time to start packing, keep the list by the suitcase and cross off items as they go in.
In the AM
This section has saved me so many times, especially with early morning flights!
Keep a section of your packing list dedicated to the things that can't be packed the night before. I also include anything that I'll feel better if I double-check before leaving the house. The phone, phone charger, and any boarding passes are always on this list.
The night before your trip, make sure you've packed and crossed off everything possible.  Move anything you can't cross off to the "In the AM" section. You'll sleep easier knowing you have a small checklist of everything you have to grab in the morning.
When it's time to head out the door, give this section one last glance. Then, leave confident knowing you've got everything you need.
You can do all these ideas on any piece of paper, but I love having a pretty printable packing list to fill out. Breaking down my list into categories helps me stay a little more sane.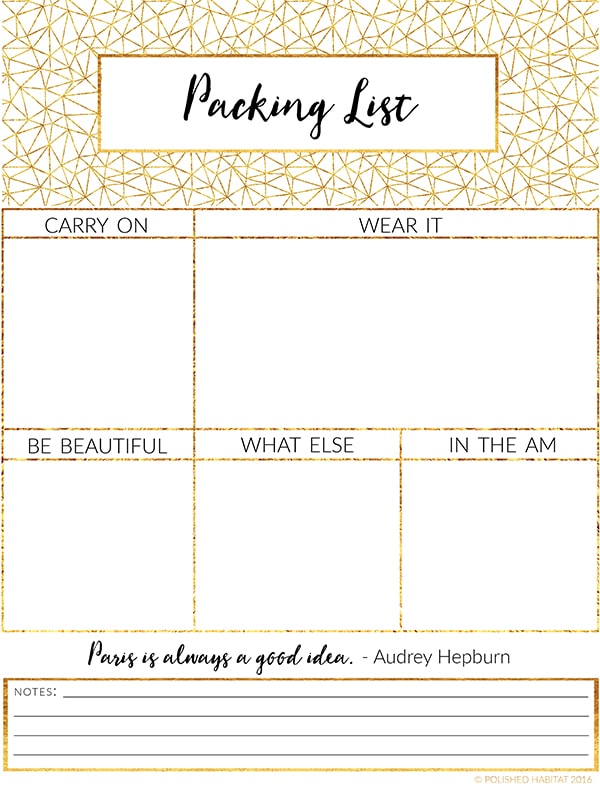 You can print out the packing list in the fun gold or in basic black. Just click on the option you'll like below and it should open in a new window for you to print.
Happy travels!
For more travel organization, you've got to see how I pack!