I am loving this Low Budget, High Design series so much! I'd like to tell you it's only because I'm helping you guys make your homes more beautiful, but I needed this for myself too.  Lesson #1 was all about REVAMPING items to make them more your style. This week is all how to save money when buying new home decor.
I've done all the things I'm about to share with you, but I need to be more consistent. I HATE paying more than I need to for anything, so it's just silly that I ever skip these tips!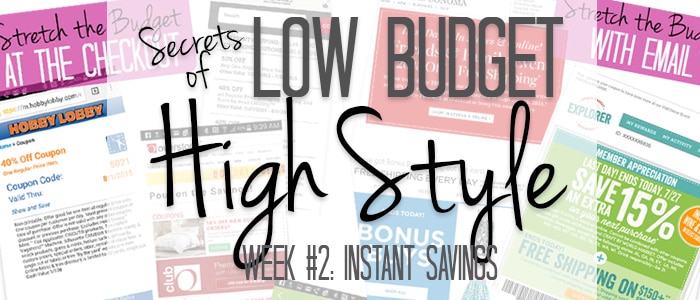 Hey Good Lookin'
Holy cow, this one is a no-brainer and I kick myself any time I forget it. NEVER, EVER EVER buy anything from a retailer without looking up coupons on Google. Seriously, NEVER. I'm not just talking about online transactions either. Did you know that most stores take electronic coupons that you can pull up on your phone in seconds?
While I'm in line to check out, I'm usually doing a quick Google search for the name of the store and coupon (ex. Hobby Lobby Coupon). It almost always pays off in a big way. Several retailers have the coupons on their own sites, while you'll find others on coupon sites like RetailMeNot.
Here are a few screenshots I pulled up on my phone this morning as examples. NONE of them required any kind of sign up, they are available instantly!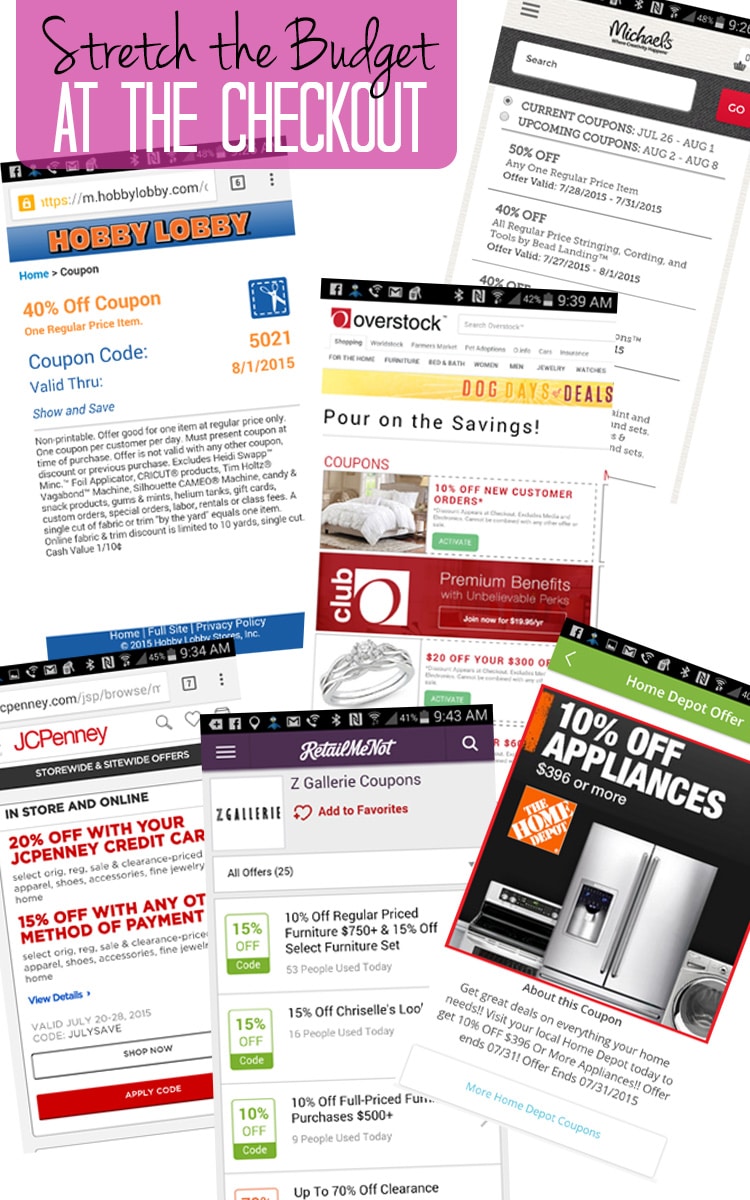 Signed Sealed Delivered I'm Yours
Now I know we all get way too much junk email, but stores really reward customers who are willing to sign up for their mailing list. I figured out the secret of balancing the savings without getting bombarded all day with offers tempting me to buy things I don't need!
I started funneling all my shopping emails to a separate email address. I don't ever check that account unless I'm shopping and looking for a special deal. I can login and do a quick search to see if the store has sent me any special offers lately. If it's a store I haven't shopped at before, I'll hop online and sign up for their emails. Almost every store will respond with a coupon of some kind for your first purchase with them. Score!
I checked my shopping email this morning found all kinds of savings waiting for me. Just remember, it's only savings if you were going to buy anyways!
Call Me, Maybe
If you know what you want, the phone can do more than look up coupon codes! When I was looking for penny tile in the pantry, I knew I needed to buy locally to meet my deadline. But I also knew there was a crazy variety in prices from $4/sq ft to over $10/sq ft. I made the wrong decision and spent an entire day and 1/2 tank of gas driving from tile store to tile store checking prices and availability. Although my quest did make an entertaining blog post, it was a waste of time.  Because I knew I wanted 3/4″ white penny tile, I could have spent an hour on the phone instead. Sometimes I forget to just pick up the phone and call around to find the best deal!
Everybody's Talkin'
So you fall in love with a piece of furniture, but even with the handy dandy coupon you found, it's beyond your budget. Wipe away those tears and go talk to your new best friend…a sales rep from the store. Because you know what, they KNOW STUFF. Like if that killer couch is going to be on sale next week…or if they are getting ready to switch out lines and your dream piece will become a clearance floor model.
Your success rate will vary depending on the individual store and employee, but when you are kind and genuine, it goes a long way. Occasionally, you can actually haggle with retailers, even big chains. It never hurts to ask for things like free delivery! You can also ask questions like "Is this your best price for this piece?" when you are buying more expensive items like furniture.
Don't go haggle over a light bulb at Target, but seriously, NICELY ask the appliance guy at Lowe's and you might be surprised with the response.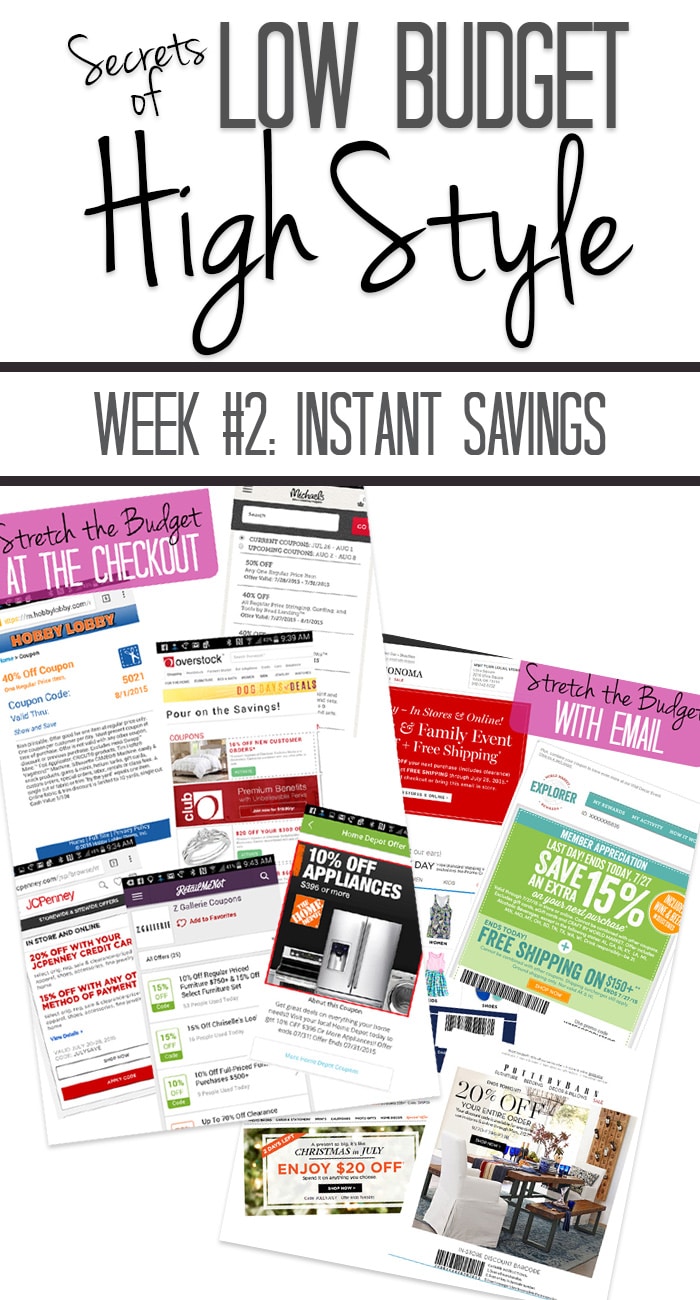 What's your favorite way to save when buying new?
If you missed Week #1 or Week #3, click on the image below!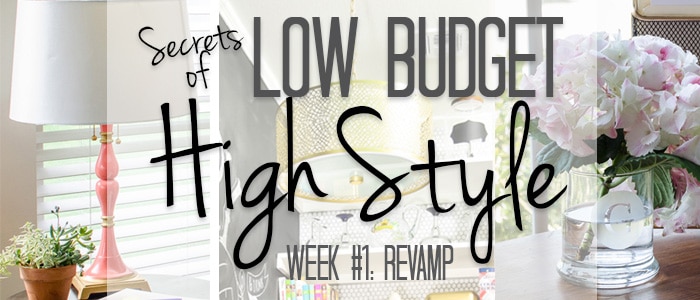 Post shared at: Remodelaholic
Latest posts by Melissa George (see all)