I know they say an apple a day keeps the doctor away, but sometimes I think a little shopping does wonders as well. At least the good online shopping you can do from the comfort of bed! I'm a bit behind this week due to a not-at-all serious, but seriously annoying cold. Just when I thought I was going to take a sick day for this week's installment of Smitten Saturday, I decided to put together a curated list of some of the chic neutrals I've been obsessing over lately.
Click on any of the images for more details. Almost all of the items are from Target, so pretty affordable! (So sorry, I just woke up and realized the new feature I used to make the images/links isn't working if you are reading from phones or tablets. The workaround while I'm working on a real fix is to switch to desktop mode by clicking the three horizontal lines next to my logo or viewing on a computer.)

Turtle / Geometric Table / Bulbous Lamp /
Brass Travertine Side Table / Fur Pillow / Metallic Diamond Pillow
Tripod Floor Lamp / Schoolhouse Floor Lamp / Gold Desk Lamp
Fur Storage Bin / Harper Rug / Modern Fox
Blush Throw / Metallic Bull  / Ceramic Elephant
Blush Dot Pillows / Gray Embroidered Pillows / Heart of Gold
It's possible my admiration for faux animals is out of control. I'm pretty sure I need to order that fox ASAP anyways. Really, I feel the need to order everything except the gray fur basket and brass desk lamp. And that's only because we already own both of those!
What do you think? Are you smitten with chic neutrals as much as I am?
Here's a pinnable image in case you want to save this collection for later.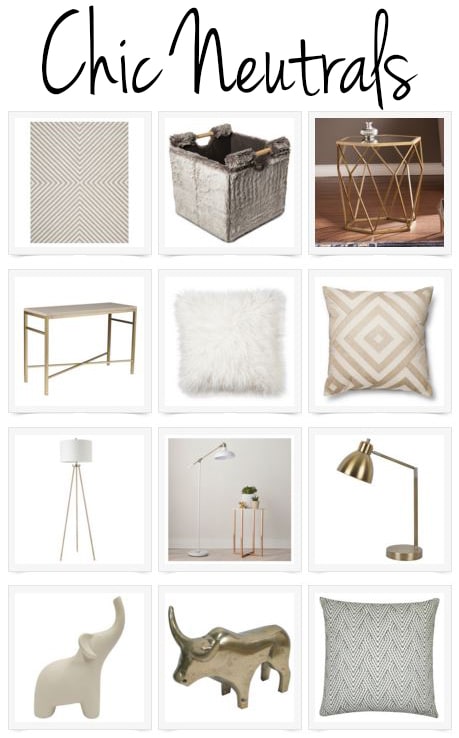 Sorry I didn't get to share the baby closet makeover reveal photos this week, I never felt like I could go take photos in the baby's room without spreading icky germs. Luckily the closet did get done before I got sick and they are loving it. Fingers crossed I'll be sharing all the details and ideas next week!