A perfect home comes together over time, transitioning as needs and tastes change and you stumble across pieces you love.
I've always loved touring houses. I remember being 20 or 21 and going to open houses, day-dreaming of the point in our lives we'd be able to build a home like the ones we were visiting.
It took years of patience and hard work, plus two starter homes, but at the end of 2011, Corey and I accidentally fell in love with a floor plan. Both of us were in back in school at night and working full-time, so it was a horrible time to sell and buy a house.
At the time, interest rates were dipping under 4% for the first time and we thought there was no way they would stay there (we were so wrong!). Our first mortgage in 1999 was 8% and we know we couldn't swing this house at those rates.
So, we took a deep breath and followed the dream. As we made decisions during the building process, we knew some of the items could be upgraded later at a lower cost if we did the work ourselves.
I had no idea that I'd end up blogging, but updating the house gradually has given me tons of opportunities to share the process with you!
I thought it would be fun to make one page where you can find all the rooms in the house in one spot, and see their transformations.
To get yourself oriented, here's how the downstairs of the house is laid out.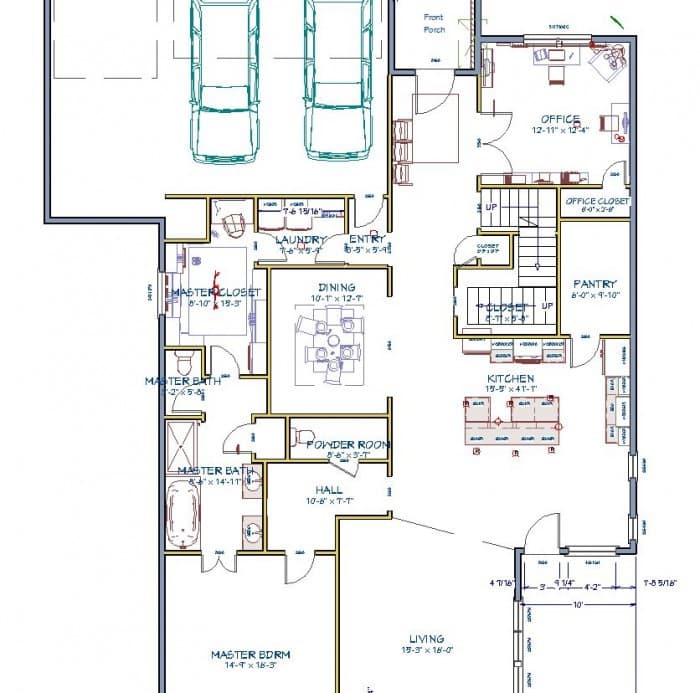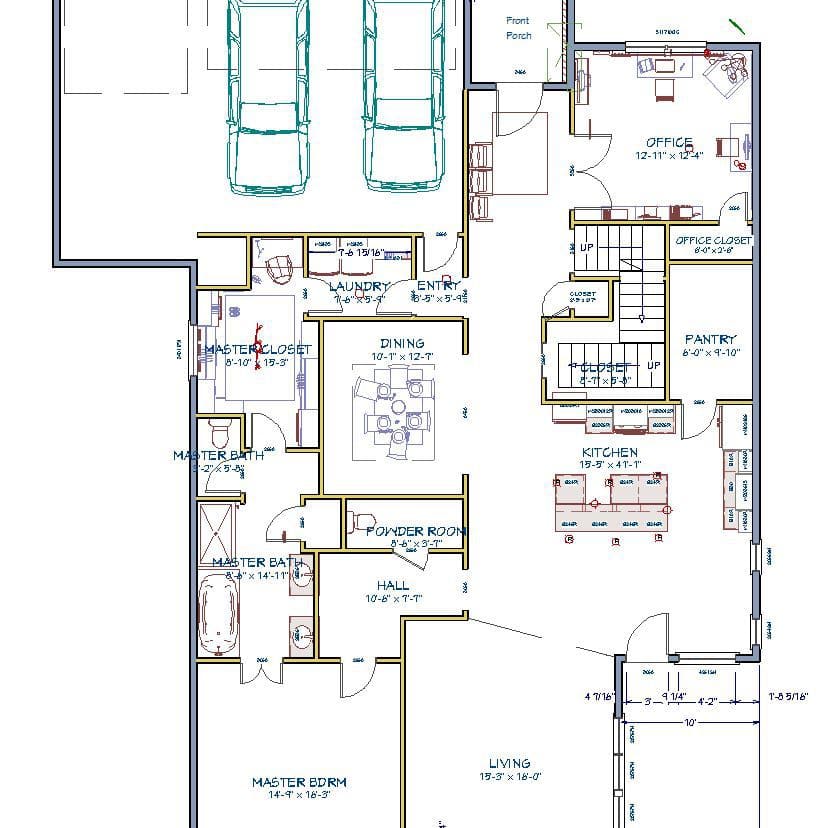 For more photos and details on product sources, click on the name of the room above the images.
Starting at the front door, I struggled to decorate the entryway for several years, but it finally came together with inexpensive decor from At Home and a set of auditorium seats we found at a vintage sale.
Those double doors off the entry lead to the office, which has been through several phases over the last 5 years. The current version is clearly my favorite!
Can you believe all those images are the same room??? It was cool in the 3rd photo, but I work from the office all day, and my husband rarely used it. It made more sense for us to transform it into a functional spot that inspired me.
The tiniest space in our house is an entry from the garage that leads to the laundry room on one side and the main entry hall on the other. After some small changes, this little space became more functional and chic at the same time!
Continuing down the entry hall from the front door, we had a coat closet that I turned into a cleaning/household closet. It might have been my best decision of the year! Our coats now live in the garage entry, and the standing coat rack in the main entry is perfect for guests.
Dining Room
This room hasn't received any love and it's next on my list. We used our existing table from the old house. I'm planning on keeping Jackie, but everything else in this room will be updated as soon as my budget matches up with my plans. 🙂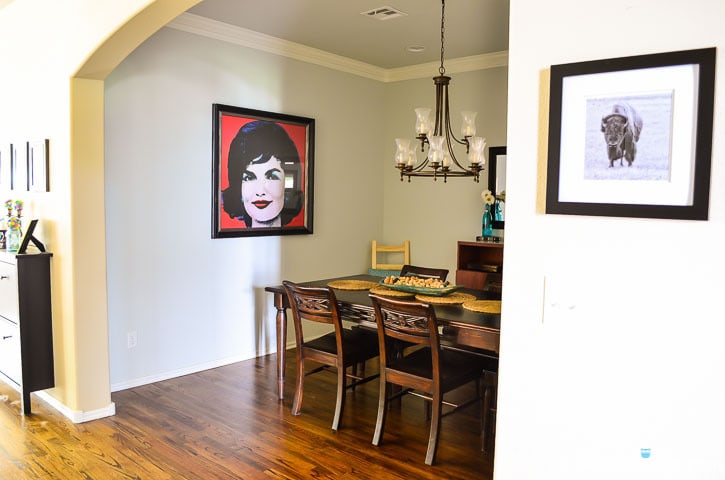 Most of the changes we've made in the kitchen have been to the organization behind the doors. This post has links to all the kitchen organizing projects we've done.
The moment I saw the walk-in pantry in the model home was the moment I told Corey we had to have this house. I was IN LOVE with the space . We were going to have a wine fridge, but realized that for the same price we could add a second fridge with some extra freezer space. That was one of our best building decisions!
In the fall of 2014, I made over the pantry for my first One Room Challenge and pushed myself to make bold decisions and do what I really wanted without worrying about making it a space everyone would love. The risks paid off and the space turned into the stuff my dreams are made of.  It was a huge lesson that I've carried with me into future room decisions (like going so pink in the office, busting out the entire closet, and making the geometric wall in the bedroom).
I can't find any of the before photos when we had a small round table in this space, but the counter-height table is working out well. Painting the inside of the back door this summer really transformed the space!
The living room has been undergoing a very slow transformation, but it's finally feeling like it represents us! I absolutely loved the grey and white rug in the spring 2017 photo below, but Maddie's claw put new snags in it every single day. It was looking 10 years old after 6 months. The new rug in the fall 2017 photo is MUCH more pet-friendly and durable!
I mentioned the pantry pushing me to make bold decisions. What a gift that was! I can't even believe this is the same space. We did everything ourselves to pull off the transformation within a reasonable budget for a whole room makeover.
We haven't changed anything in the bathroom, and I have some tile-regret. The room definitely isn't bad, it just doesn't have the same feel as the "done" rooms like the bedroom, closet, and office. One of these days, I'll paint away the beige walls and make a few other inexpensive changes to hold us over until it makes sense to replace the tile.
Yowsa, this makeover was probably the most physically and emotionally taxing. We aren't afraid of a DIY project, but we are also self-taught with limited woodworking experience. So, deciding to take on a 5 week challenge to rip every shelf out of a closet and re-configure everything was insane.  And we did it in the fall, which is Corey's busiest time at work. So some days he would work 12 hours and then come home to fight to custom build a closet. None of the walls were square, so measurements were not friendly. But in the end, I think you'll agree it was worth it. I can't even begin to imagine how far out of our budget this project would have been if we hired it out.
This was my first room makeover in the house and it's about ready for a refresh. The cabinet has plumbing for a sink and I think I'm going to install one so we can do things like rinse out paint brushes somewhere other than the black kitchen sink.
This was another intense transformation in 2015. If you came over today, the garage still has the great bones of the after photos, but needs a good cleanout. It never got back to perfect after all the sawdust and scrap wood happened during the closet makeover. Seeing the afters again is inspiring me to bring it back to perfect!
The back patio was our most recent makeover and added a great outdoor living space to our home. I love starting the morning with coffee on the couch.
Wow.  When you slowly do projects over 5 years, you really lose track of how much you've accomplished. Sometimes I feel "behind" – like I should be done making the house our own by now. Can anyone relate?
That feeling usually comes from the dining room and the upstairs, but I know we'll get to both places. In fact, the game room finally moved a HUGE step forward this year when I surprised my husband with a pool table for his birthday. It's not normal for us to do big gifts like that, but he's pretty incredible and has wanted a pool table forever.
We still have work to do in this room, especially in the two corners you don't see in these pictures.  But you can see how far it came this year.
This is grand example of what you can do with a smaller budget. Hobby Lobby asked me to update the organization in a bathroom for under $100. In addition to their $100 budget for organization, I used $200 of our money to update the paint, lighting, and decor. The room feels totally different and is way more functional for $300. And I get to recoup some of that cost by selling the old art, shelf, and light fixtures at the next garage sale!
The rest of the upstairs consists of two guest bedrooms and a small TV area, which serves as the hallway between everything else. Those rooms need some serious love, but we'll get there!
Do you get the Friday Polished Habitat newsletter? If not, sign up here so you can follow along as we update the rest of the house!