We made it! The kitchen's cosmetic procedures are complete!
If you're a new reader, welcome! We're in the midst of a 6 post/5 week kitchen update as part of the One Room Challenge. Head back to see the prior weeks here before proceeding:
Week 1 | Week 2 | Week 3 | Week 4 | Week 5
So, I ended last week's post with a brief concern over a sore throat that popped up. I thought I was getting my nephew's cold and would have to deal with a runny nose and mild sore throat as I pushed through the last week of the kitchen.
OHMYGOSH, it was so much worse than I worried about! I went to bed right after publishing the week #5 post. Within an hour, I was full blown sick complete with major shivering. I barely left the bed Thursday-Saturday. Sunday I FINALLY felt just well enough to be bored and had an exciting trip to the living room to watch football. Monday was my first foray outside of the house, and only because we had a funeral to attend.
And despite all that, the kitchen area now looks like this…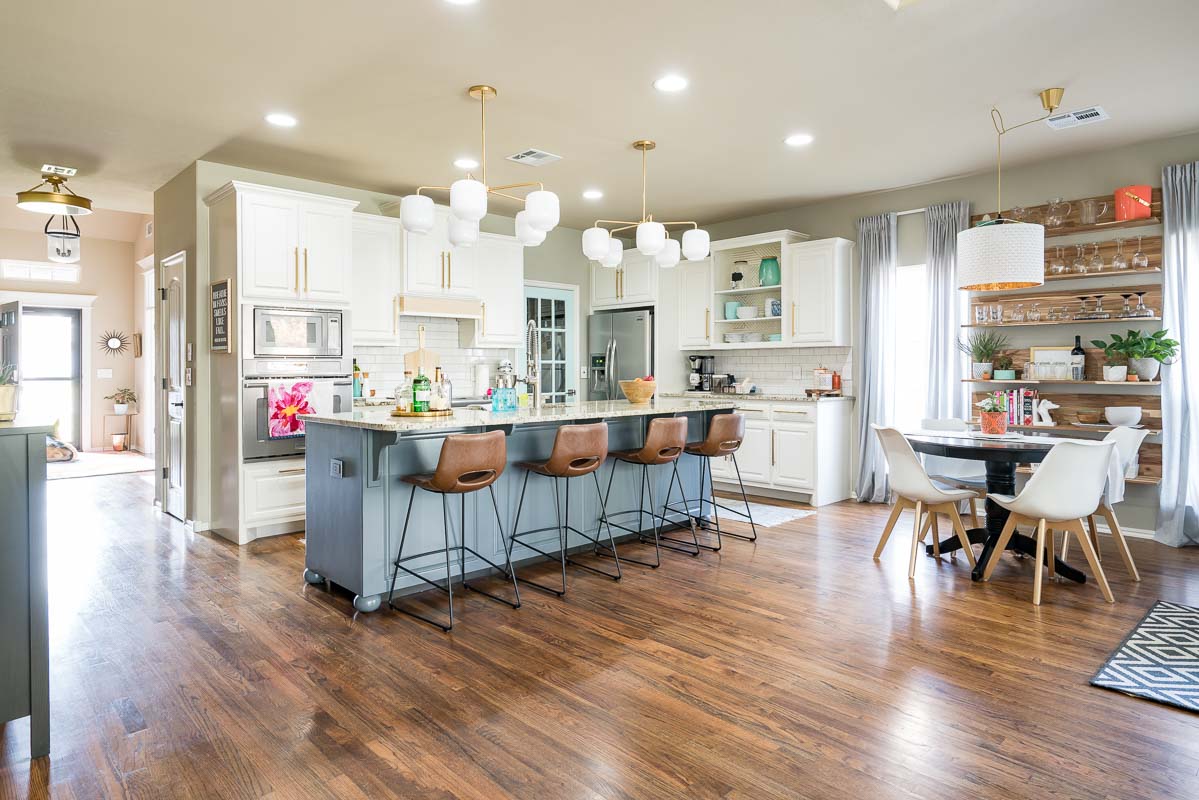 As always, Corey was my hero! He pulled up last week's blog post and worked through the list in between making me endless cups of Throat Coat tea and doing anything else I or Maddie needed. He's a One Room Challenge veteran and had no intention of letting us miss the reveal date.
I had just enough time to decorate with things we already had and take the photos today, but with all things considered I think the end result was pretty good!
Here's a reminder of where the kitchen started after we built the house in 2011.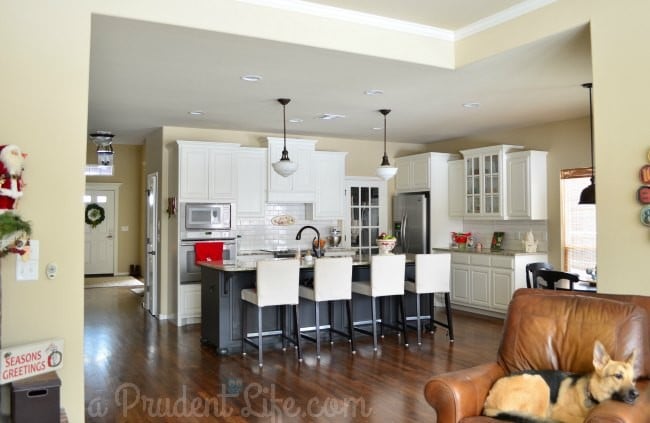 We updated it slowly over the years, with the most recent version having way more personality, but still lacking some finishing details. Note the exposed wiring on the ceiling in the photo below.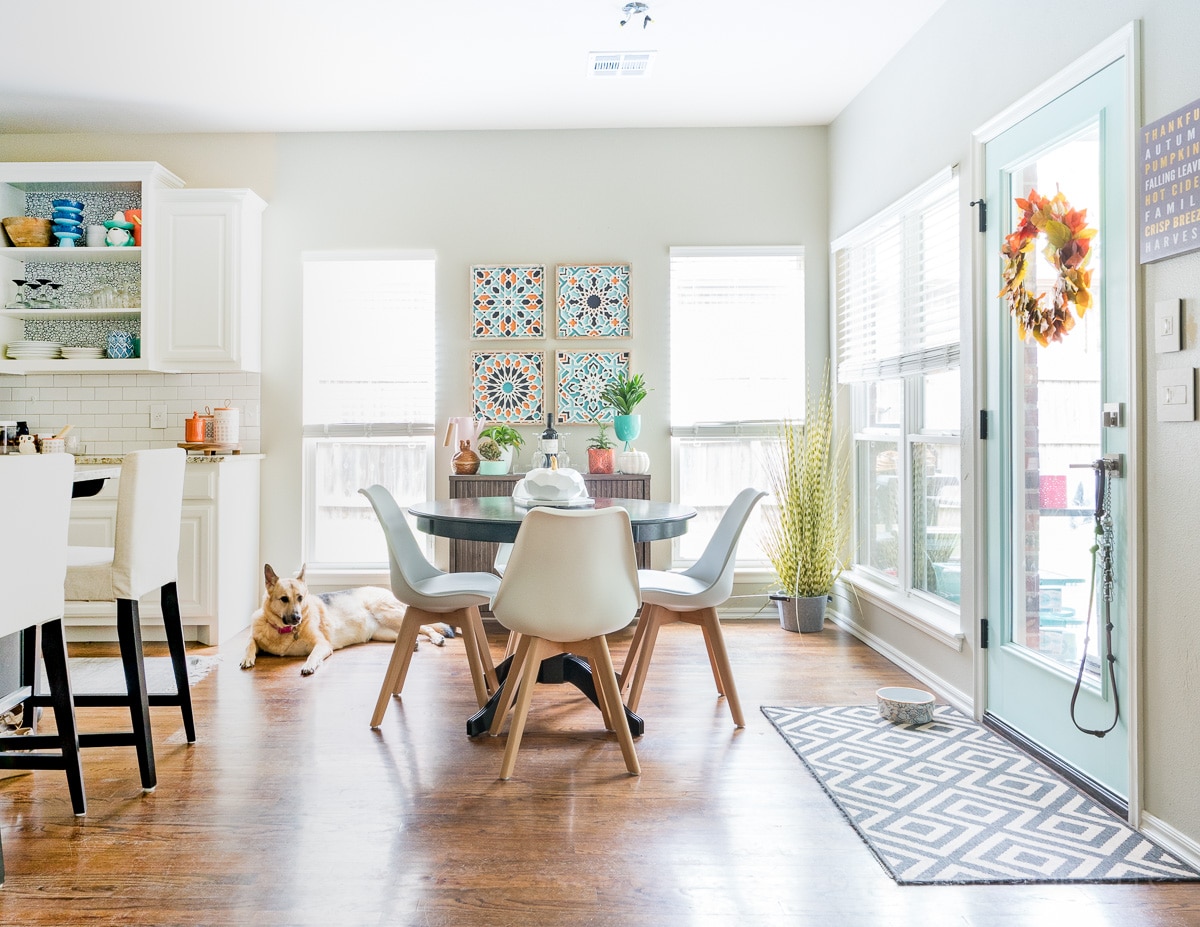 The same view now feels more finished AND I'm loving all the new storage for glassware. We were only planning to add a light fixture to the nook area, but finding a curtain rod that curves around the corner at IKEA was a gamechanger.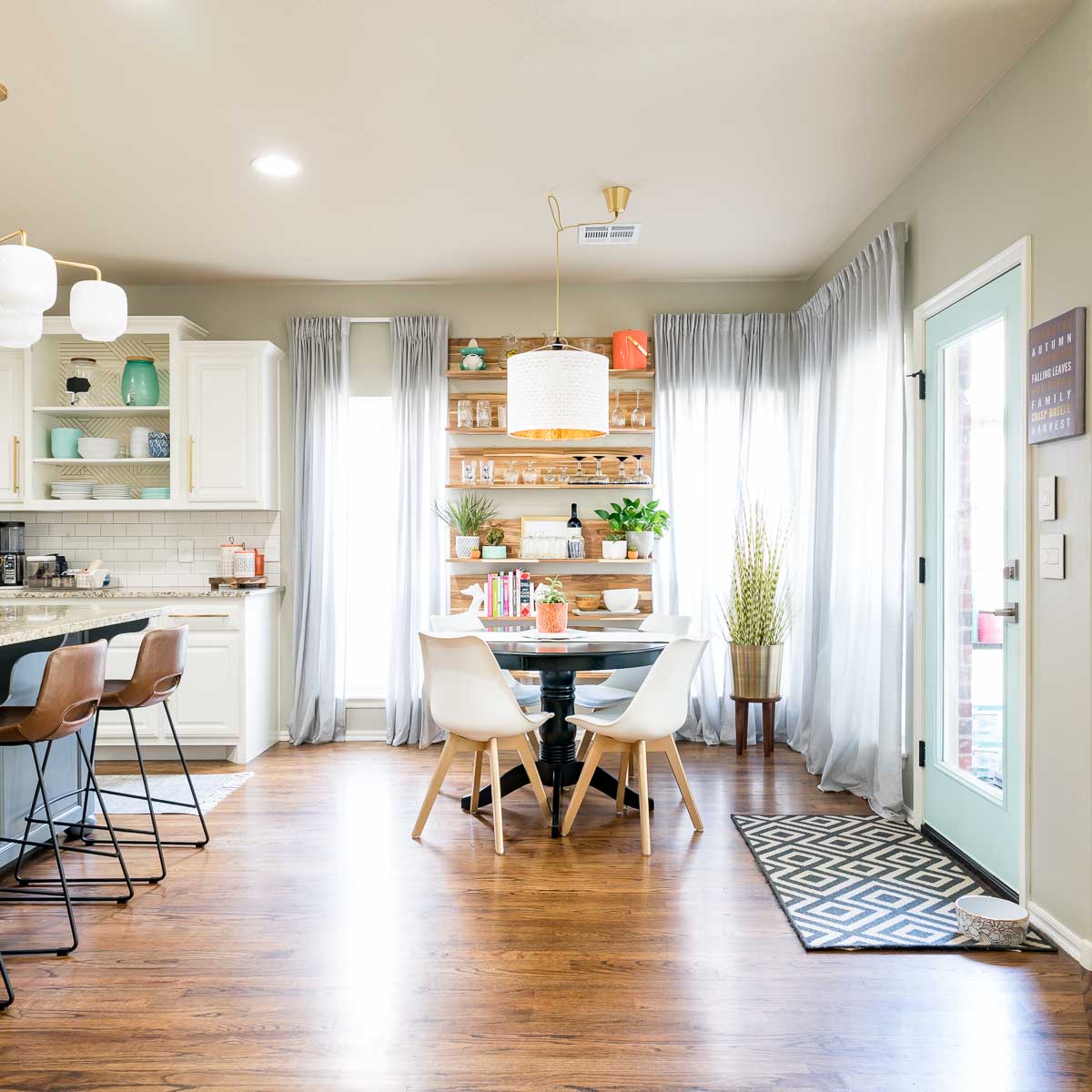 Adding height with the curtains made the whole area feel WAY bigger. Swapping the cabinet for thinner shelves also helped on that front.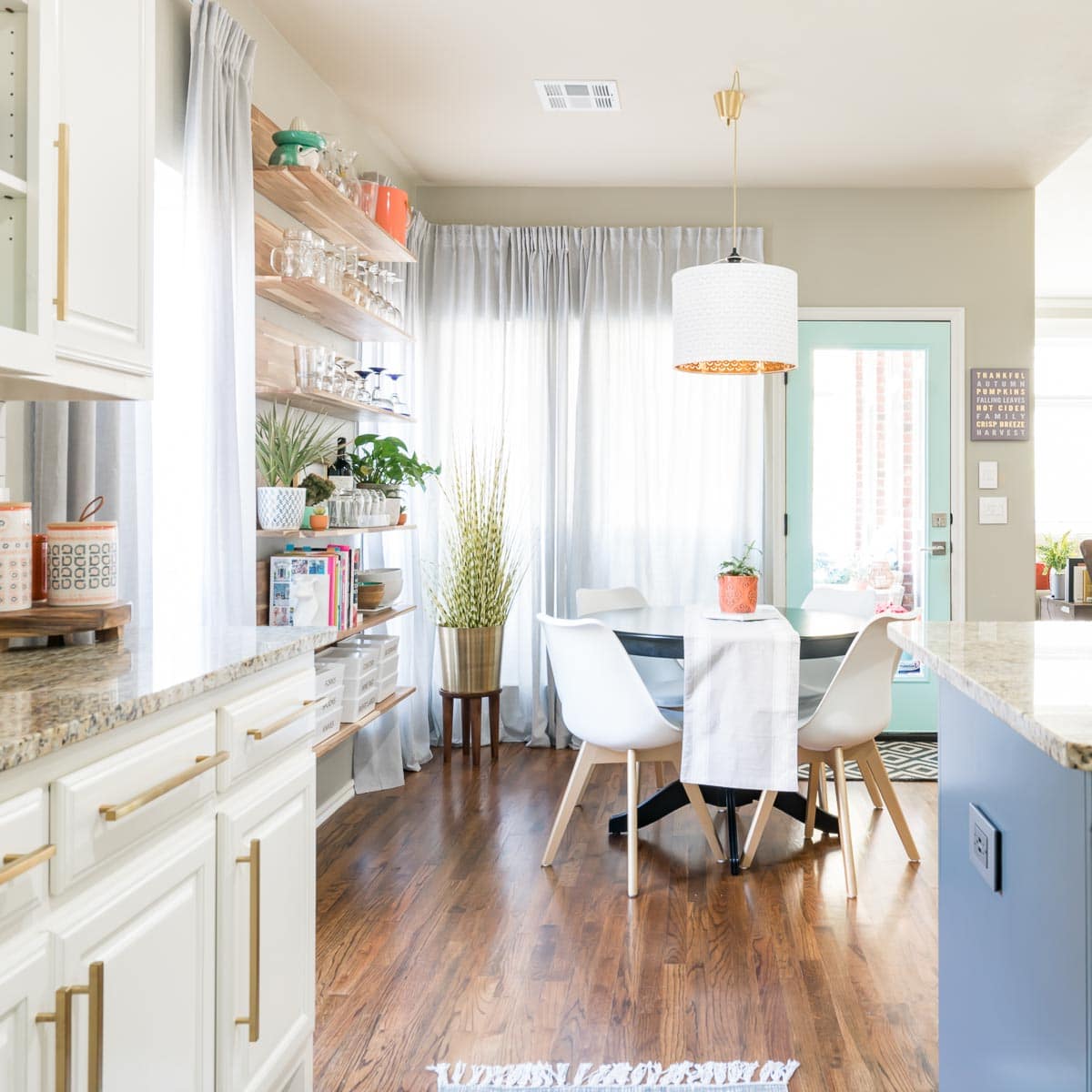 Of all the funny things to get excited about, I'm thrilled to have dedicated homes for plastic & extra metal silverware along with other entertaining items.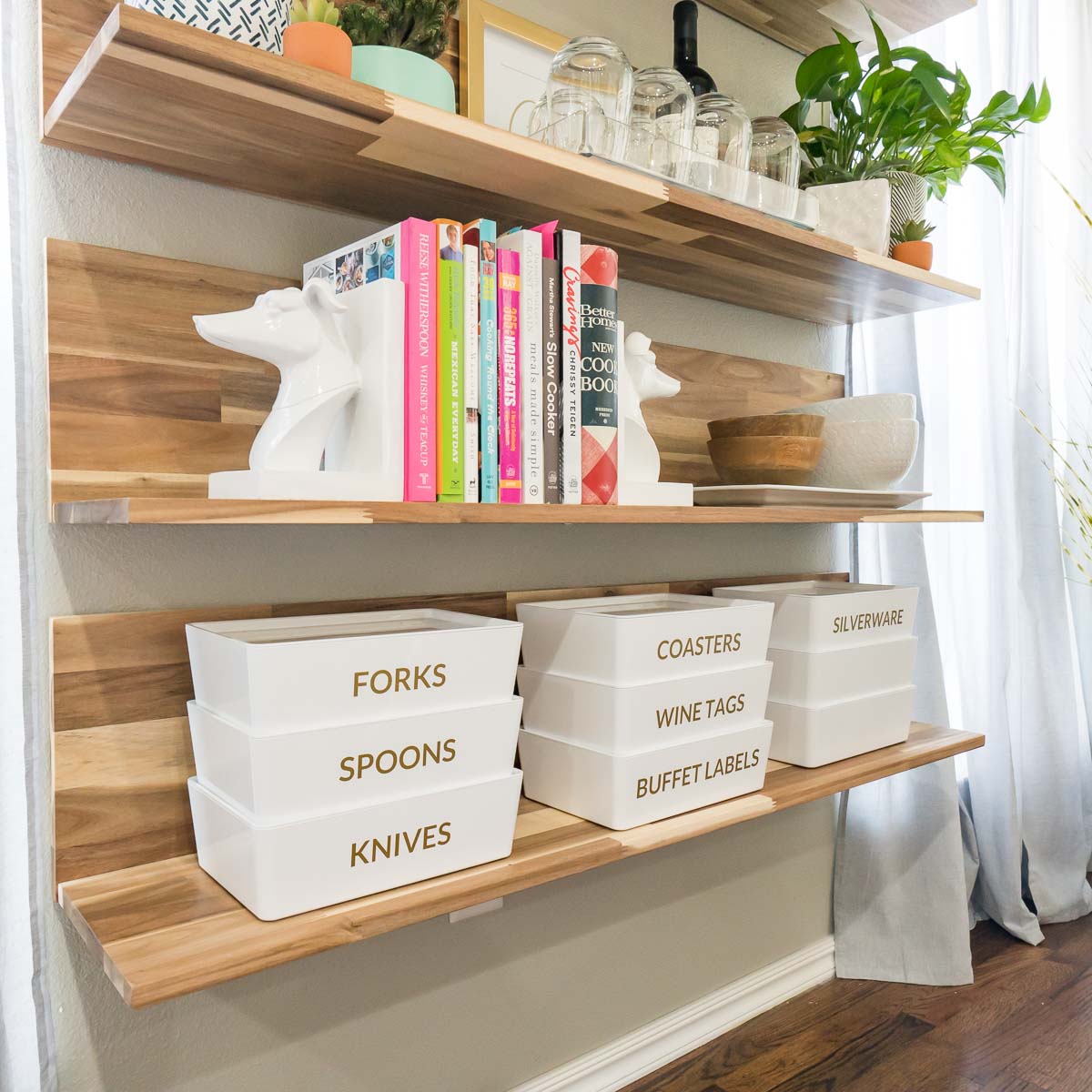 The glassware looks so nice on the new shelves!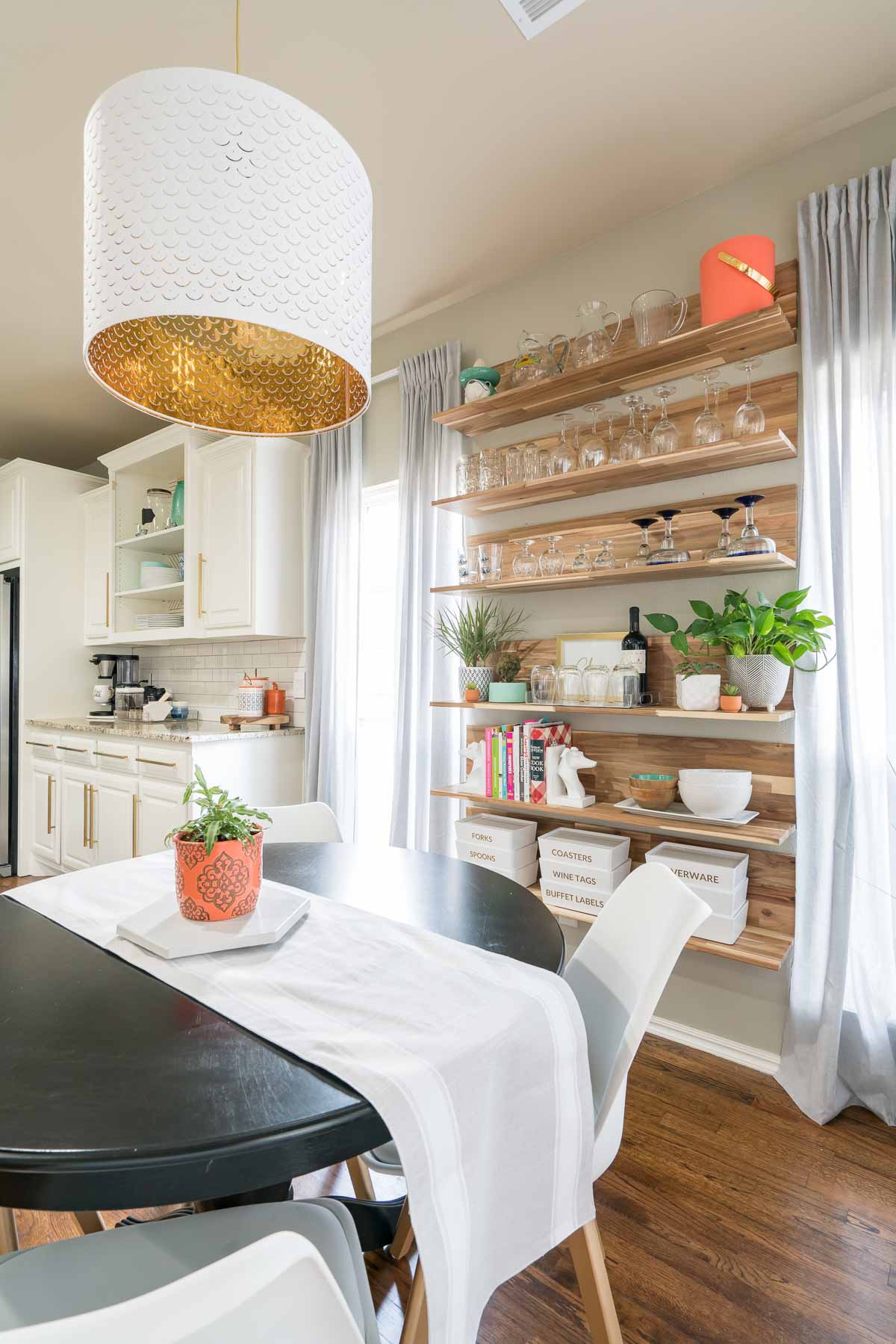 The cabinet from the kitchen nook works perfectly in the hallway to our bedroom, so we got a bonus makeover out of this ORC.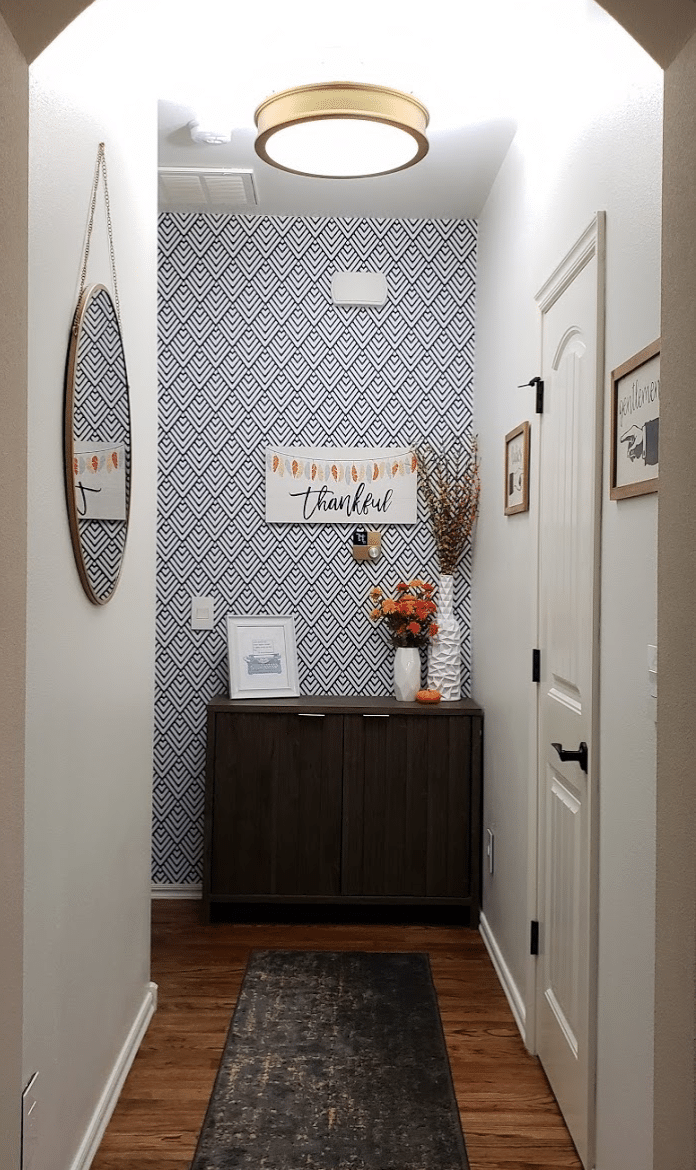 The colorful art from the before nook photo was relocated across the room. I love how it ties in the aqua from the pantry and back doors.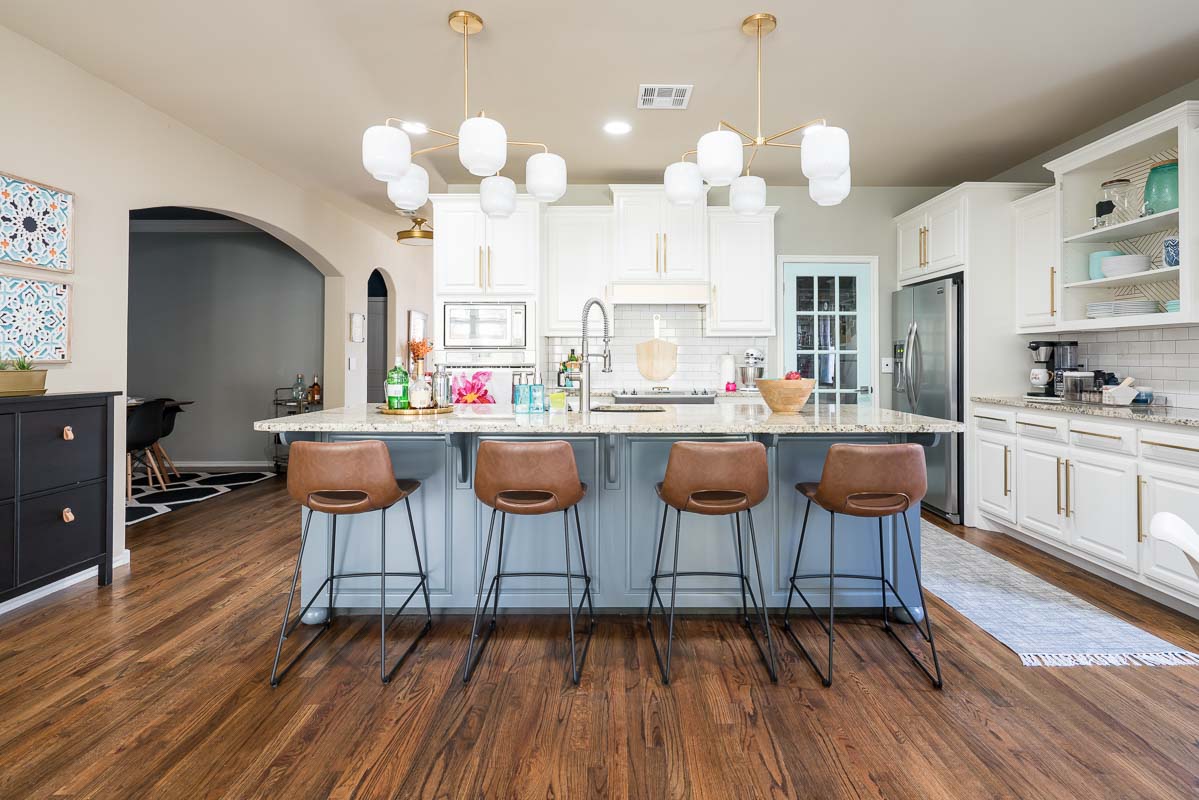 This whole makeover started because the paint was peeling off the island doors. We fixed that with a fresh coat of paint in a new color. It's actually the same color as the dining room wall, but looks lighter during the day.
To prevent the paint from peeling in the future, we finally installed pulls!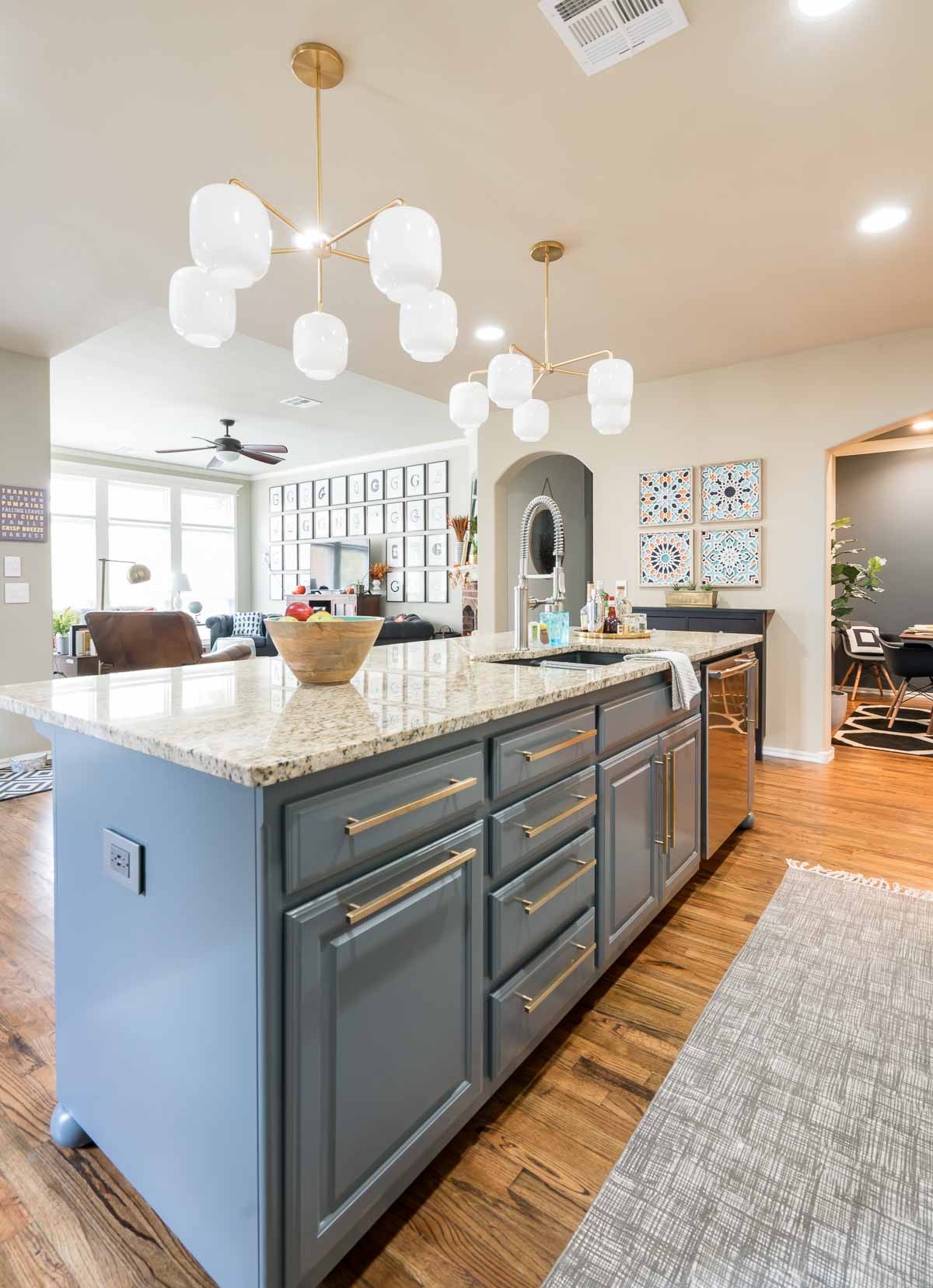 This next change seems too small to mention, but the function is AMAZING so I didn't want to skip it. We installed in-cabinet trash cans a few years ago, but we finally spent the extra $20 to attach the sliders right to the cabinet door. Instead of opening the door and then pulling out the trash, the door slides open now. It's delightful.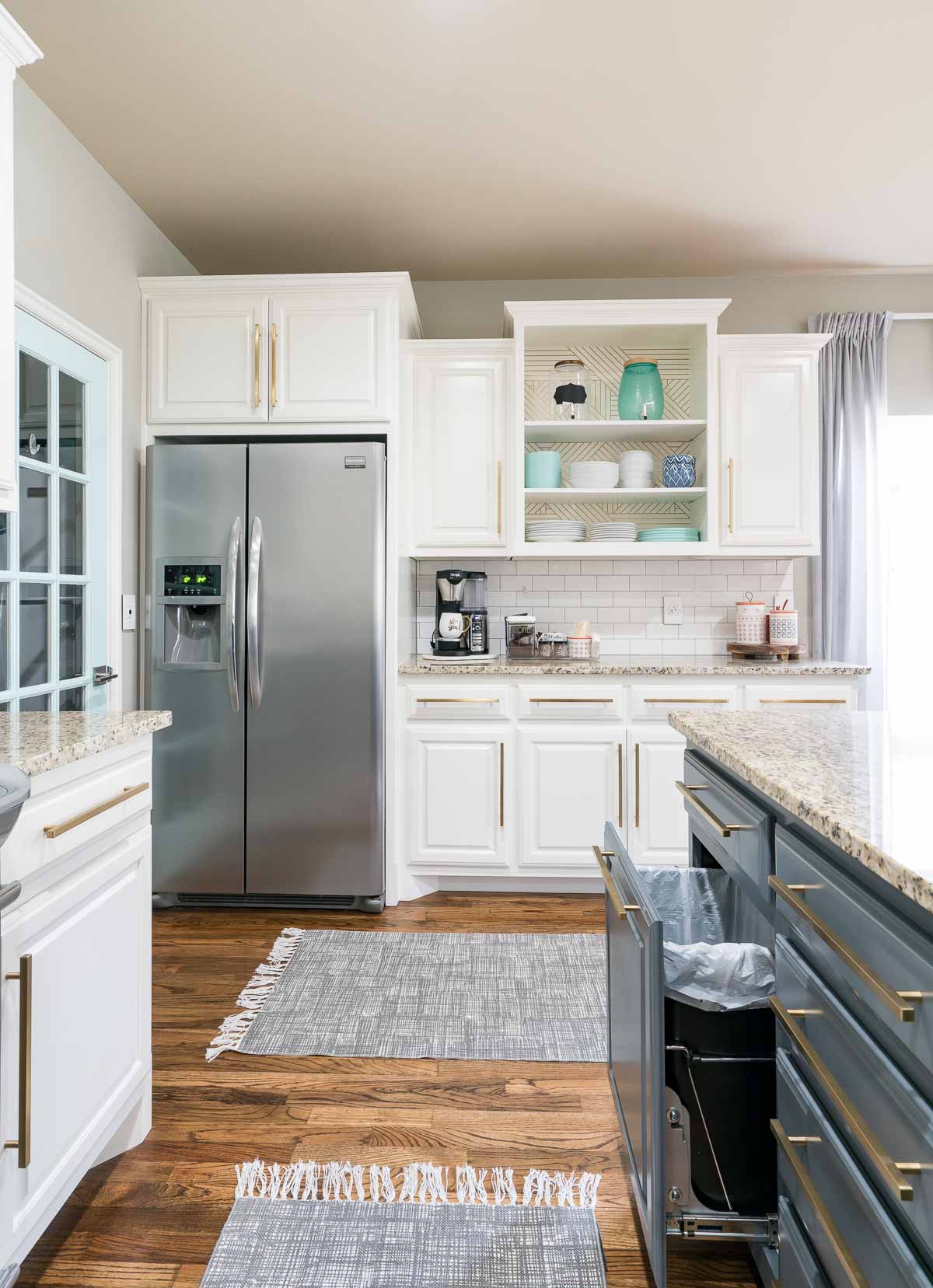 I'm sure you've noticed by now, all the white cabinets have the same new hardware.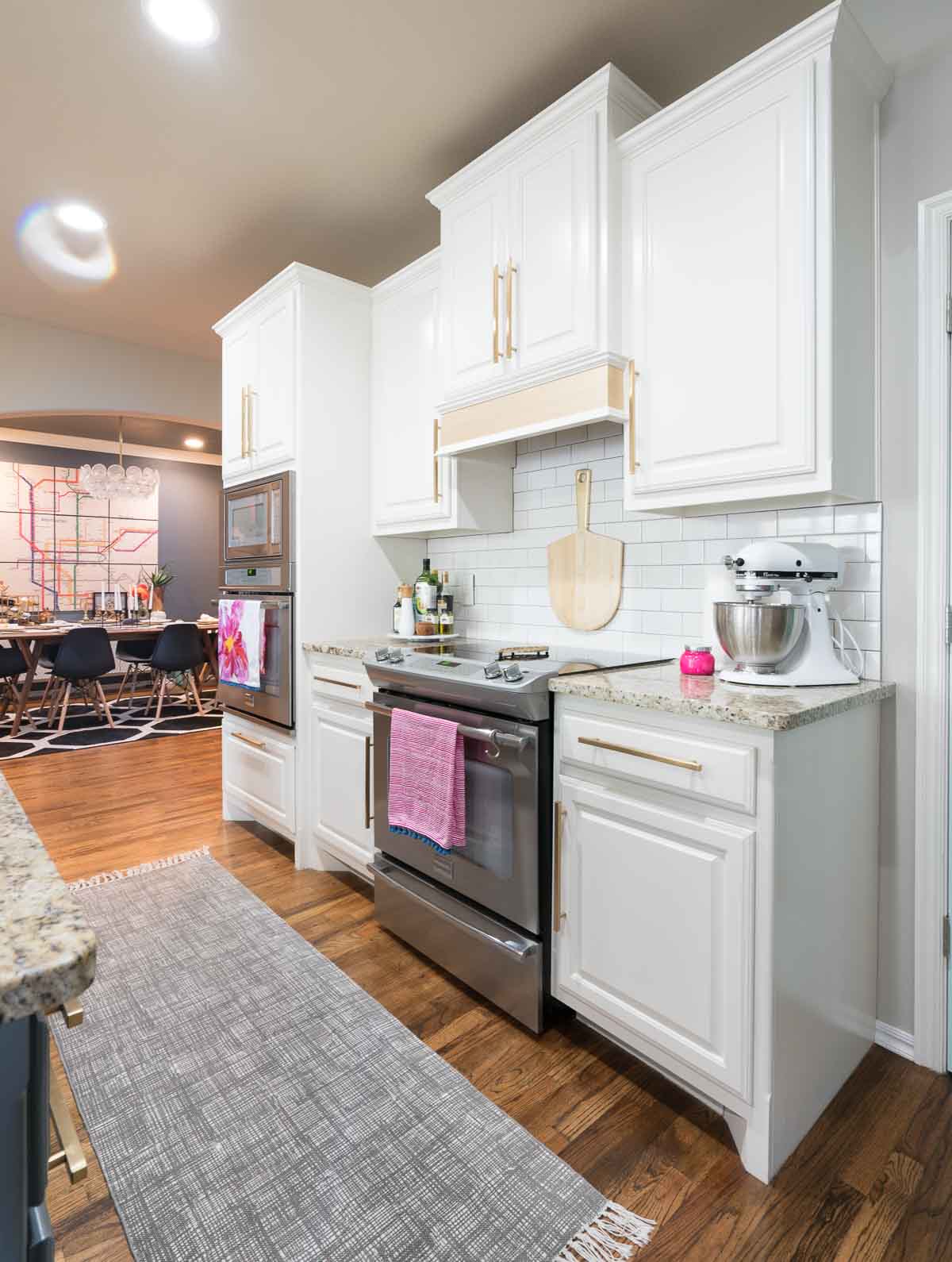 I'm so glad the other lights didn't work out, because these fulfill everything I originally wanted for the kitchen. There are some beautiful island lights that I've seen used over and over, but I wanted something different. Check!
We didn't get the hanging herb garden up because I wasn't able to decide if it would look right. It may or may not still happen in the future. But considering we joined the challenge at the last minute, and I was sick the last week, I'm thrilled with the transformation.
It's our smallest ORC change, but all the others are in more private areas of the house (pantry, master bedroom, closet, garage, office). It's great to finally have the kitchen catch up to the style of the other rooms. We can't wait to have friends and family over to enjoy it with us!

Product Sources
Island Paint: SW Web Gray mixed in Valspar Cabinet Paint
Aqua Door Paint: SW Tame Teal
Cabinet Hardware: Amazon
Island Lighting: West Elm
Barstools: All Modern
Trash Can Door Mount Kit: Amazon
Kitchen Faucet: Home Depot
Pantry Handle: Amazon
Wallpaper in Open Cabinet: Target
Nook Lighting: IKEA NYMO
Nook Shelves: IKEA SKOGSTA
Curtain Rods: IKEA VIDGA
Curtains: IKEA HANNALILL
Nook Chairs: Amazon
Window Film: Amazon
Hallway Light Fixture: Amazon (same fixture in entry hall and hallway to our bedroom)
Let me know what I missed and I'm happy to add it to the list!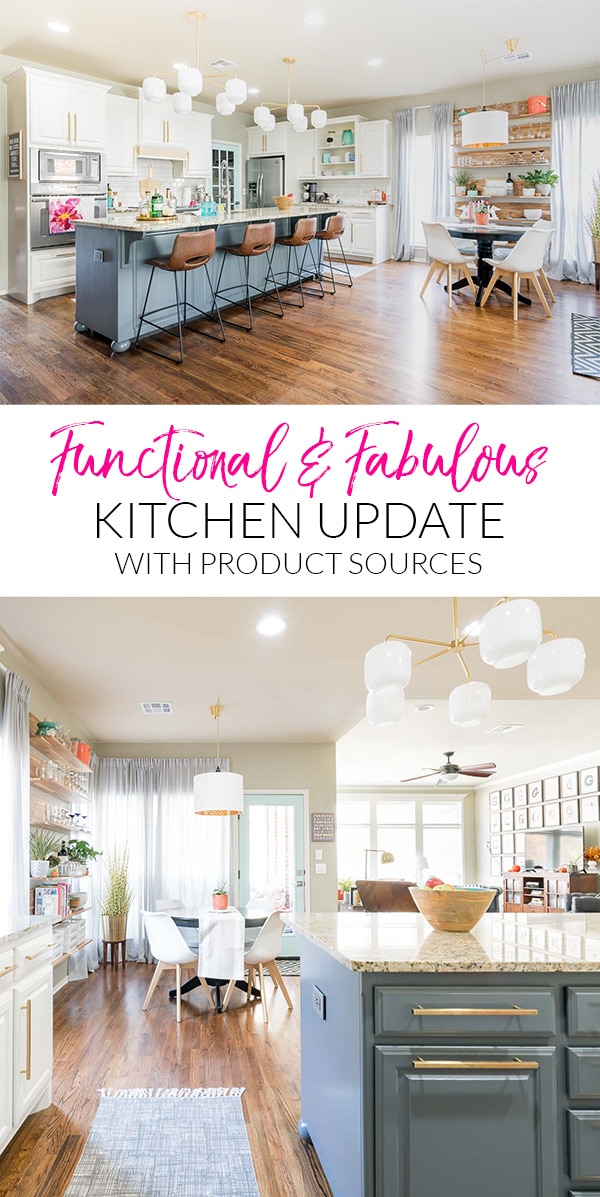 Now don't forget to check out the One Room Challenge site to see all the other amazing room makeovers that happened this round.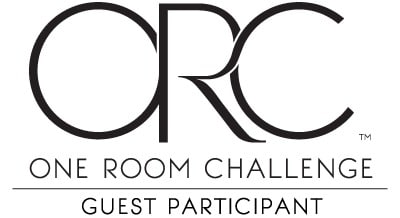 In 2013, Melissa founded Polished Habitat to share her passion for intersecting style and function to make everyday life more beautiful and less stressful.

She does this by sharing easy home organization tips, home decor tutorials, and creative ideas to help readers think outside the box, no matter their budget.

Her work has been featured in print in Better Homes & Gardens and Room to Create Magazine, and online by HGTV, House Beautiful, Buzzfeed, & more.

In 2018 & 2019, Melissa was named as a Style Maker by Better Homes & Gardens. In 2019, Polished Habitat was shortlisted for the Amara Blog Awards Best Interior Styling Blog - International.

Latest posts by Melissa George (see all)