ONE WEEK TO GO!
If you're a new reader,  welcome! We're in the midst of a 6 post/5 week kitchen update as part of the One Room Challenge. Head back to see the prior weeks here before proceeding:
Week 1  | Week 2  | Week 3 | Week 4
Our projects went a bit more smoothly this week and I'm thrilled with what we were able to accomplish despite lots of other commitments. It'll still be a chaotic push to the end, but we'll get to the to-do list after we talk about the big wins!
Two of the items on our task list have scared me from the beginning. Despite being totally doable, the idea of painting the island was overwhelming. Now that it's done, I'm not sure what I was scared of!
We started by removing all the doors and drawers, along with any hardware. As we went, we labeled every screw and hinge with painters tape to make reassembly easy.
The island has been well-used the last 6 years, so we cleaned everything with a TSP solution and impatiently waited for it to dry.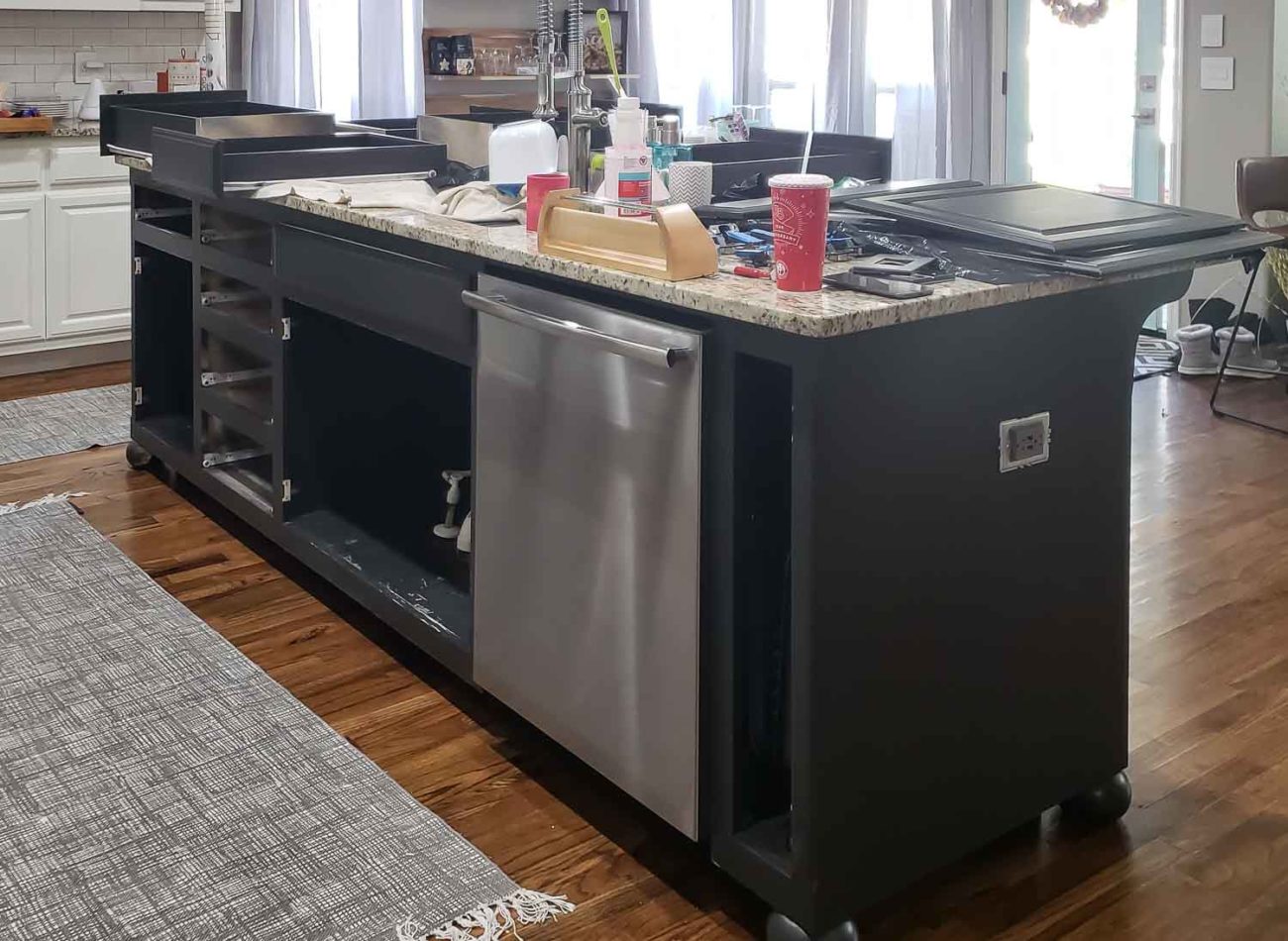 I can't speak to the longevity of it yet, but we were beyond impressed with how smooth the Valspar cabinet paint dries. Even spots that looked streaky while painting ended up looking like they were a professional factory finish.
You can see the difference between the old and new color in this shot. We had painted the backs and sides of the doors and then rehung after they were dry to finish the front.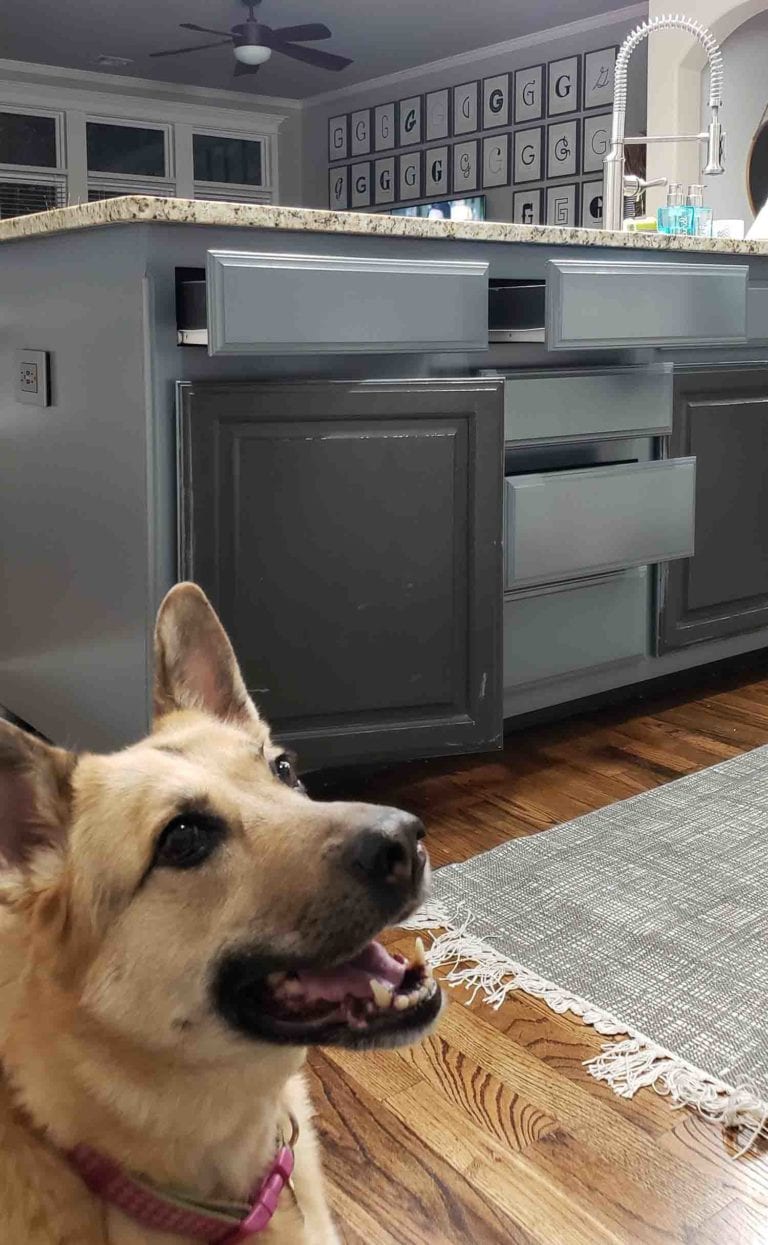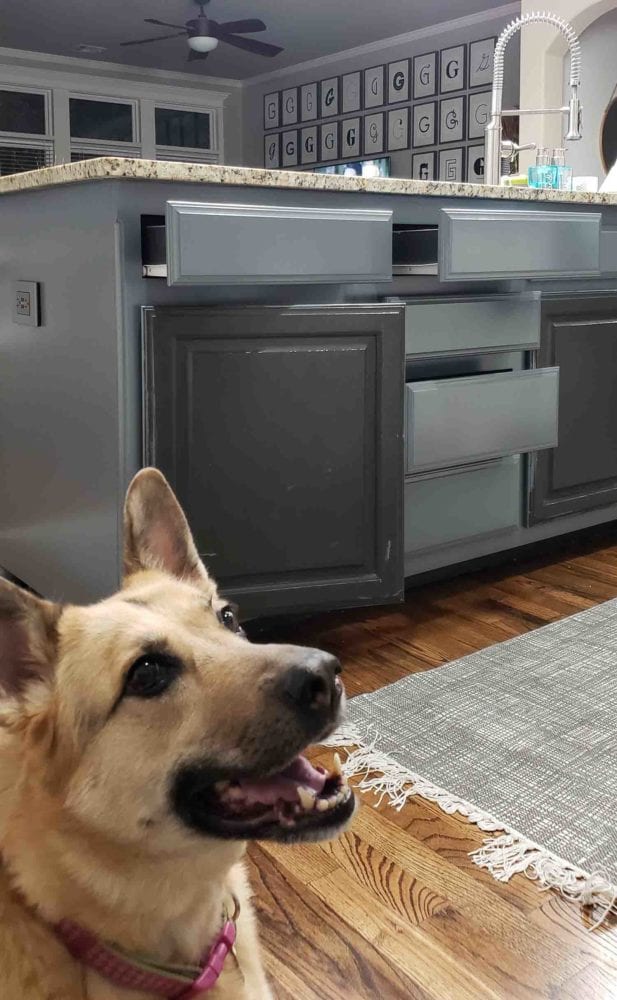 I can't wait to see the hardware installed against that gray (SW Web Gray).
While I was painting the island, Corey swapped out the backing wallpaper on our open section of cabinets. I'm obsessed with this gold patterned paper from Target (affiliate link).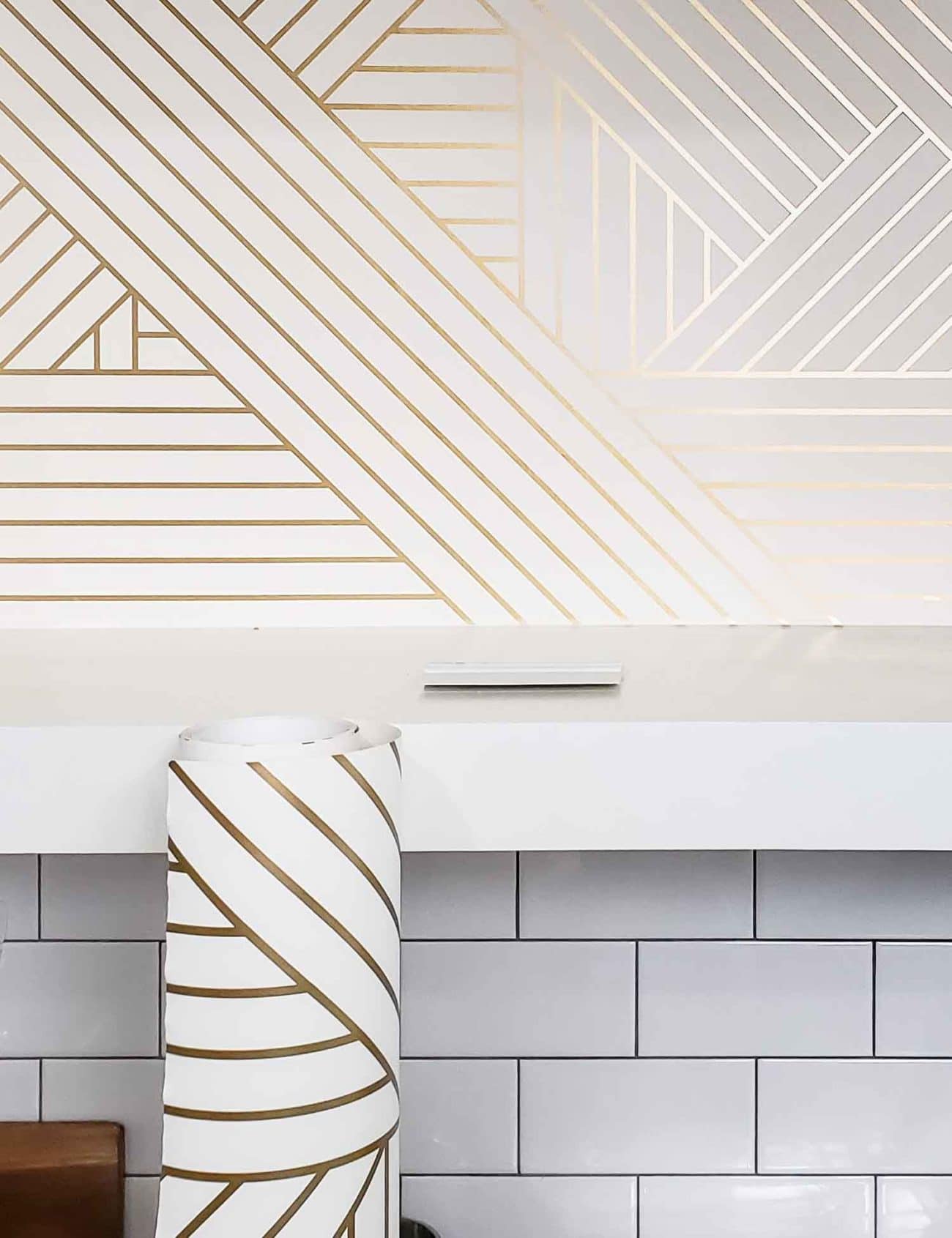 I didn't even snag a picture of this, but remember the brand new black doorknob I installed all by myself in week 2 or 3?
Once we swapped the new lighting plan from black to gold, that darn handle taunted me every day telling me it was out of place being black now. I switched it to silver last night.
Design isn't a perfect science, sometimes you have to be willing to adapt and admit you weren't right the first time (darn it!).
Thankfully I wasn't wrong about the new door and drawer hardware. I mentioned being worried about 2 main things during this kitchen update. We talked about the island paint, but the 2nd item was the door/drawer pulls. When you're drilling holes in perfectly good cabinets, the need for precision is scary.
Now that we've got 16 done, it's getting less scary and they're the perfect modern accent to our more traditional doors.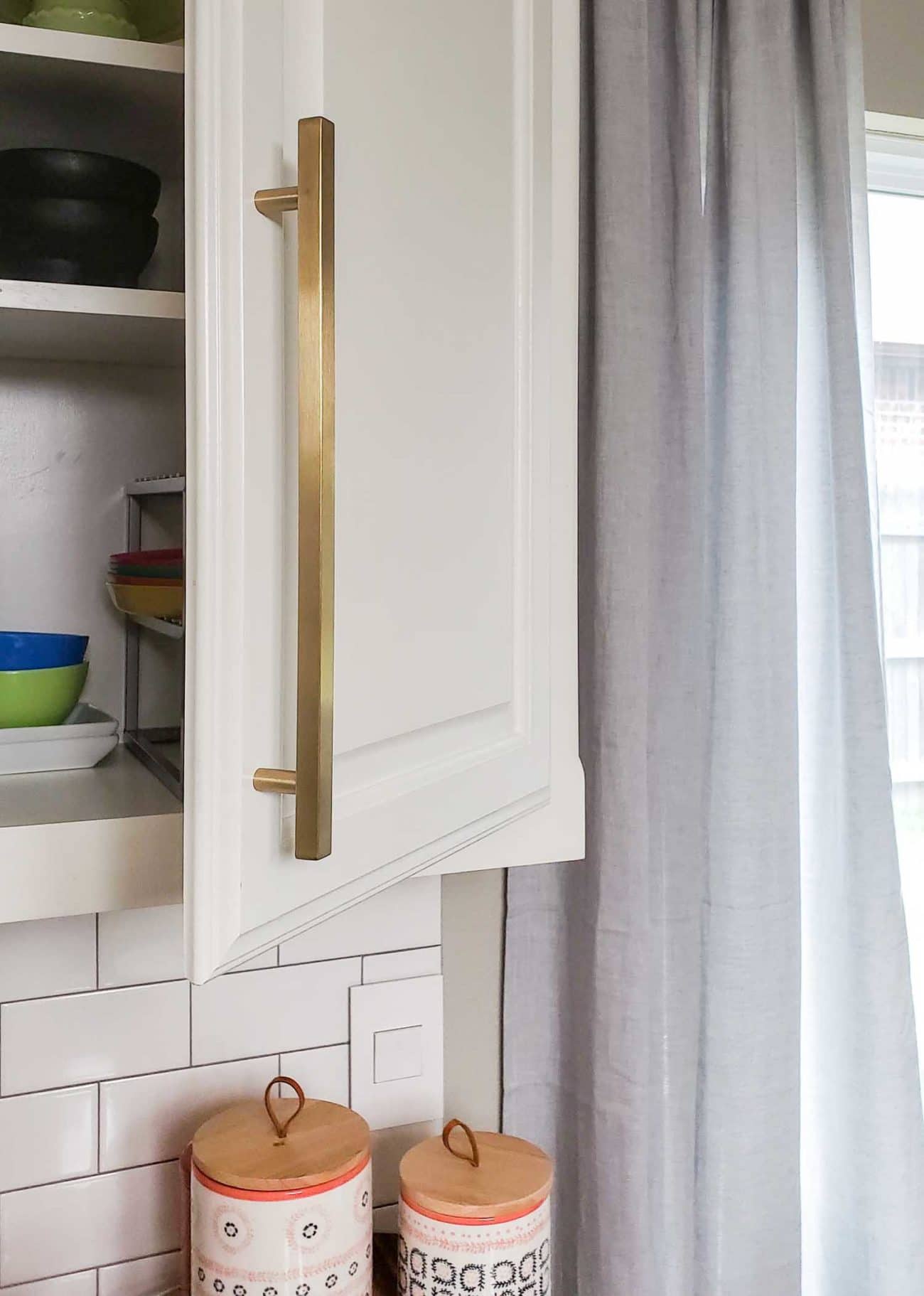 DONE THIS WEEK:
Prep & Paint Island
Attach Pull Out Trash-Can to Cabinet
Swap Cabinet Wallpaper
Shelf Liner in Island Cabinets
16 Cabinet Pulls Installed
Changed Pantry Door Lever (Again)

NEED TO DO:
Wall Paint (just have to finish above cabinets)
Hanging Herb Garden
Install Remaining Cabinet Pulls
Move Art
Decorate All the Things
Hallway Light Fixture (not EXACTLY in the kitchen, but close enough to rationalize swapping it to the one I've wanted forever)
The last few weeks have flown by, yet we're still ready to finish this up and see the final result! With the paint and hardware under control, now I'm most scared about the sore throat that popped up today. These germs need to respect the ORC process and get the heck outta here!
Don't forget to check out the One Room Challenge site to see what everyone else is up to this week! And be sure to check back next Wednesday night for the final reveals – eeck!