Last week, we started the One Room Challenge post with a song. This week, a definition is more appropriate!
---
perseverance
(noun)
per·se·ver·ance
|
\
ˌpər-sə-ˈvir-ən(t)s
\
continued effort to do or achieve something despite difficulties, failure, or opposition
---
In the end, we made great progress and the eating nook of the kitchen looks entirely different (and fabulous). But the journey required a bit of perseverance!
If you're a new reader,  welcome! We're in the midst of a 6 post/5 week kitchen update as part of the One Room Challenge. Head back to see the prior weeks here before proceeding:
Week 1  | Week 2  | Week 3
We spent most of Saturday supporting a fellow Oklahoma blogger…aka eating at the Pioneer Woman Mercantile and touring the Lodge (her guest host and Food Network kitchen). It was a great day with Corey's mom and step-dad, but I was determined to get the island lighting swapped out that evening when we got home.
After taking the first old pendant down, we noticed the electrical box in the ceiling was loose from the original builder install because half the screws were just in drywall. Sure enough, when Corey installed the first fixture, there was a noticeable gap at the ceiling.
We left that for a moment to think about solutions and opened light 2 to install. The cover plate for the ceiling was supposed to look like a tostada but instead was folded like a taco. Womp womp.
I chatted with Overstock, got the replacement on order, and then we moved light 1 over to the light 2 side so we could deal with the loose electrical box while waiting for the replacement fixture to arrive.
With the light installed for the 2nd time, we unwrapped all the protective packaging from the arms and pieces of ceramic fell into my hands. Boo! It turns out this light was broken around one of the bulb fittings. I tried to rationalize it into being not noticeable, but it was. On top of that, the "gold" accents were…not good. Kinda like plastic-y copper.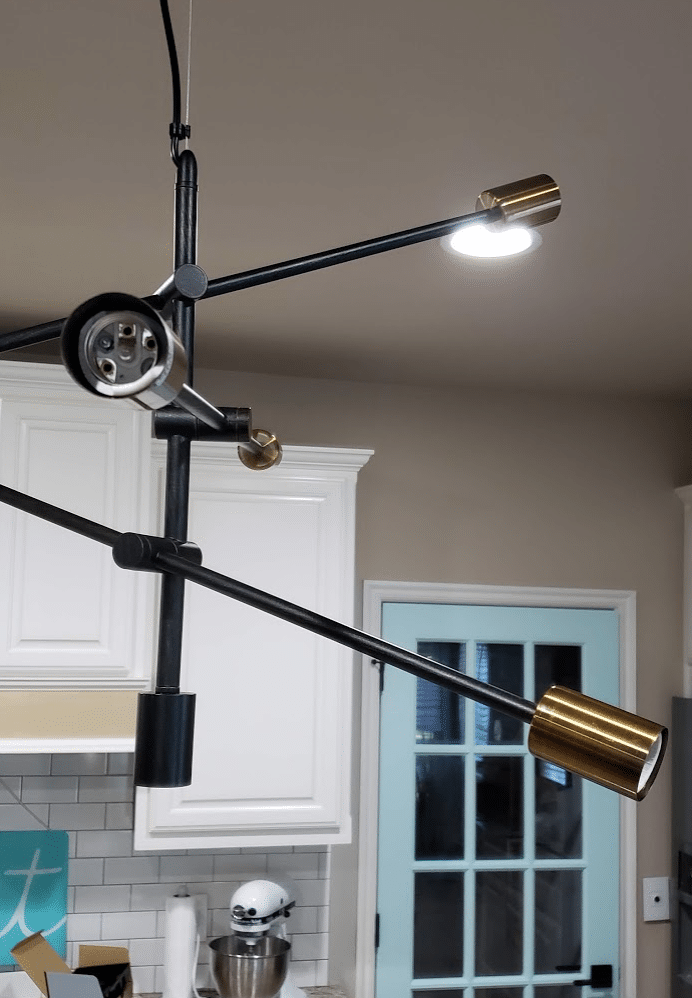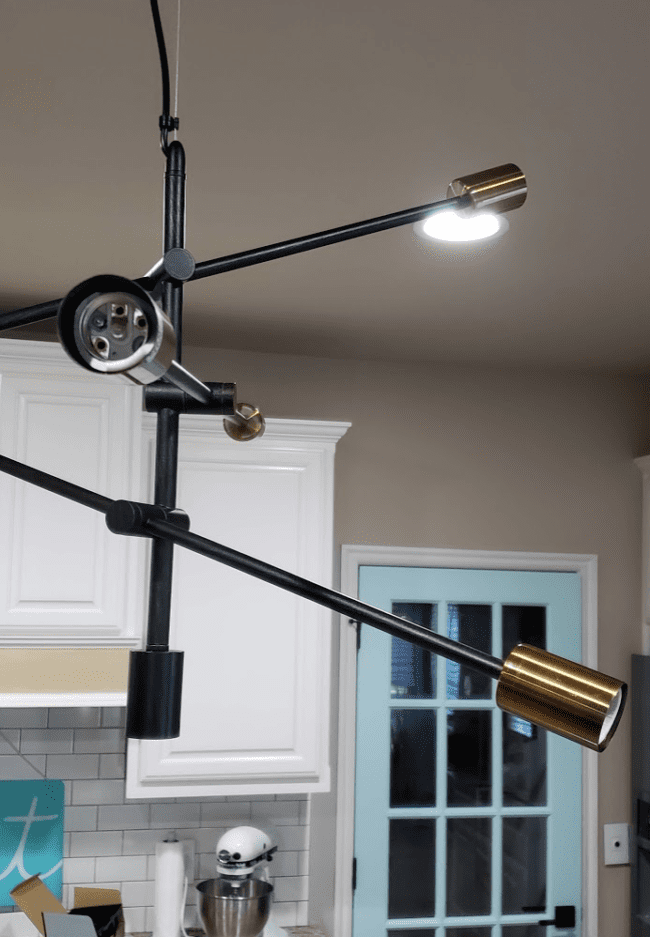 At this point, I was DETERMINED to get something done before bed. Wasting hours and then waking up the next day with no accomplishments just wasn't on my agenda.
We also needed to swap out two light fixtures in the master bathroom, so I thought a change of scenery would help. Corey headed in to remove the old fixtures and returned a few minutes later to tell me we had another problem.
The builder hadn't centered the electrical connections over the mirrors/sinks, so the pretty new light fixtures wouldn't work. If you're keeping track, we were 0 for 4 on light fixtures Saturday night.
I was a mixture of heartbroken and more determined than ever to get something done. And that always spells bad news for husbands of the ORC.
Clearly, electrical work wasn't happening, so I switched gears to the new shelves for the kitchen nook.
In the original rendering, I planned to add 2 or 3 shelves above the existing storage cabinet.
But then I found the Ikea SKOGSTA shelves…and ordered 6 to use from floor to ceiling.
This change led to another exciting discovery.
The existing nook cabinet worked perfectly in the hallway to our guest bath and master bedroom! It looks great with the other hall updates we made earlier this year!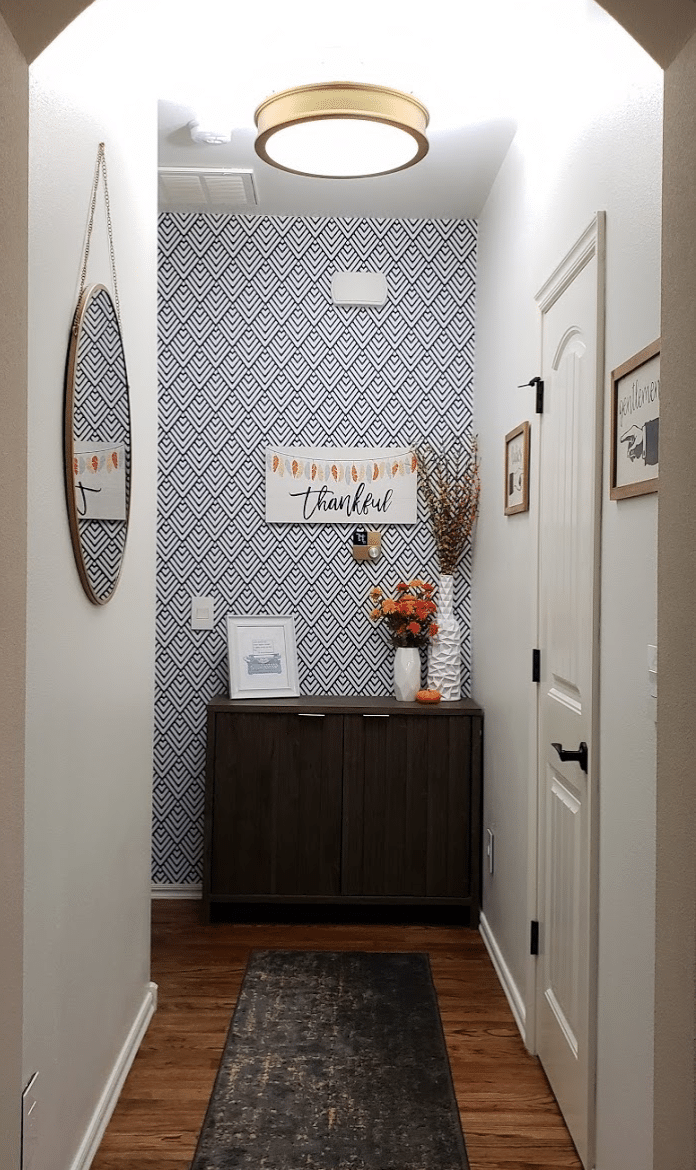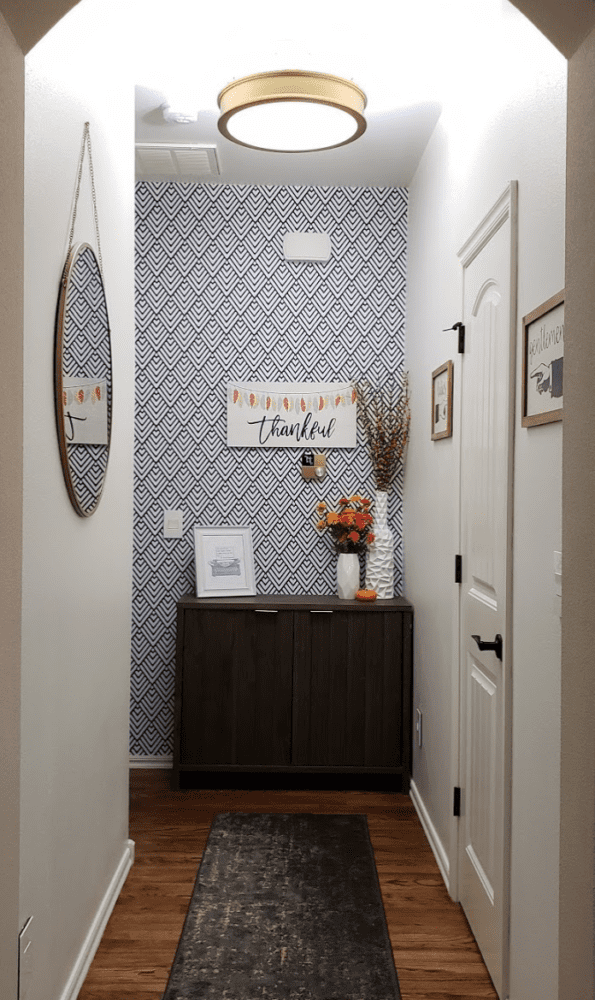 Moving the cabinet was like a mini-makeover bonus, which lifted my spirits!
Thankfully, the good mood continued as the shelf install went MUCH better than the lights and I could finally go to sleep knowing we were moving forward.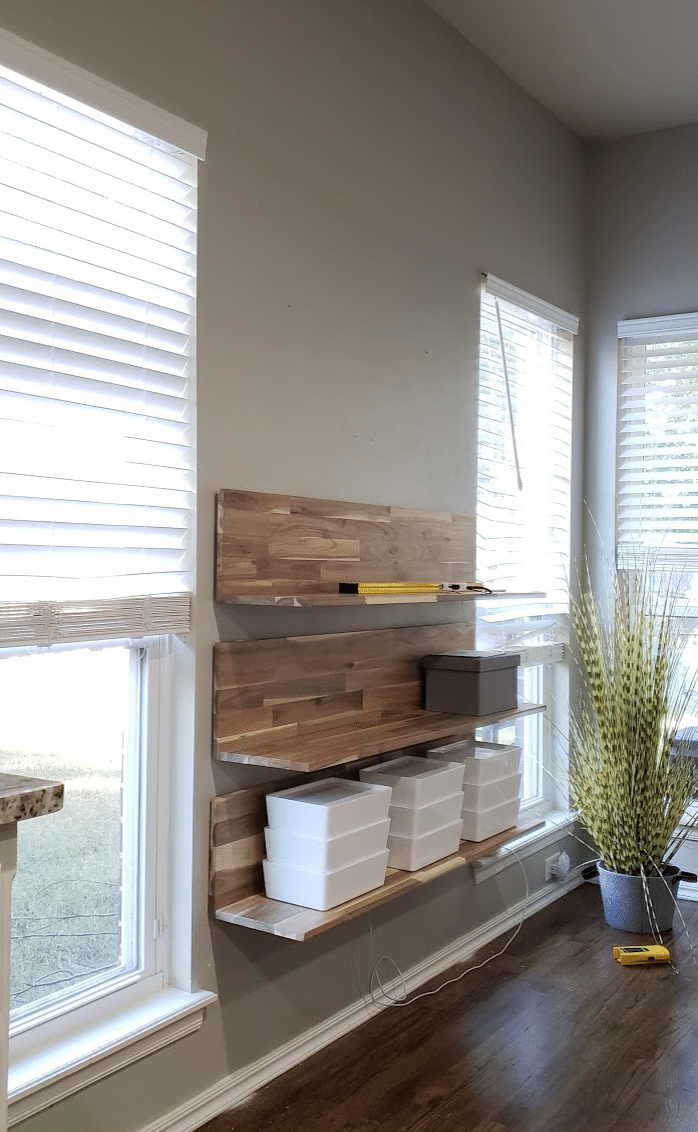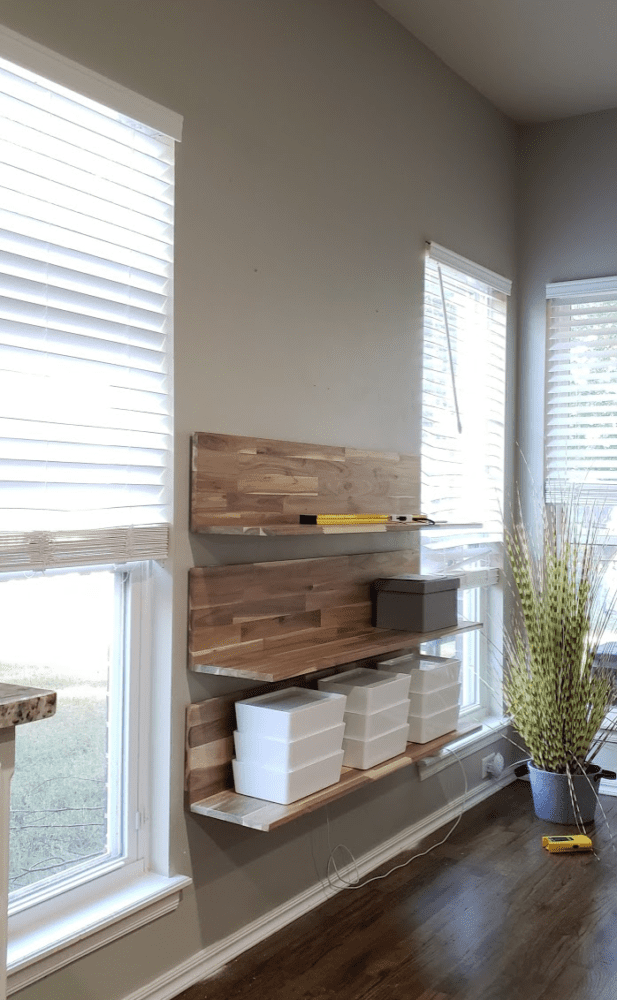 The next morning went even better as we finished the shelves, hung the nook lighting, AND added curtains. Whew.
A girl can't reveal all her secrets (until reveal week), but here's a sliver of the new light, unstyled shelves, and curtains.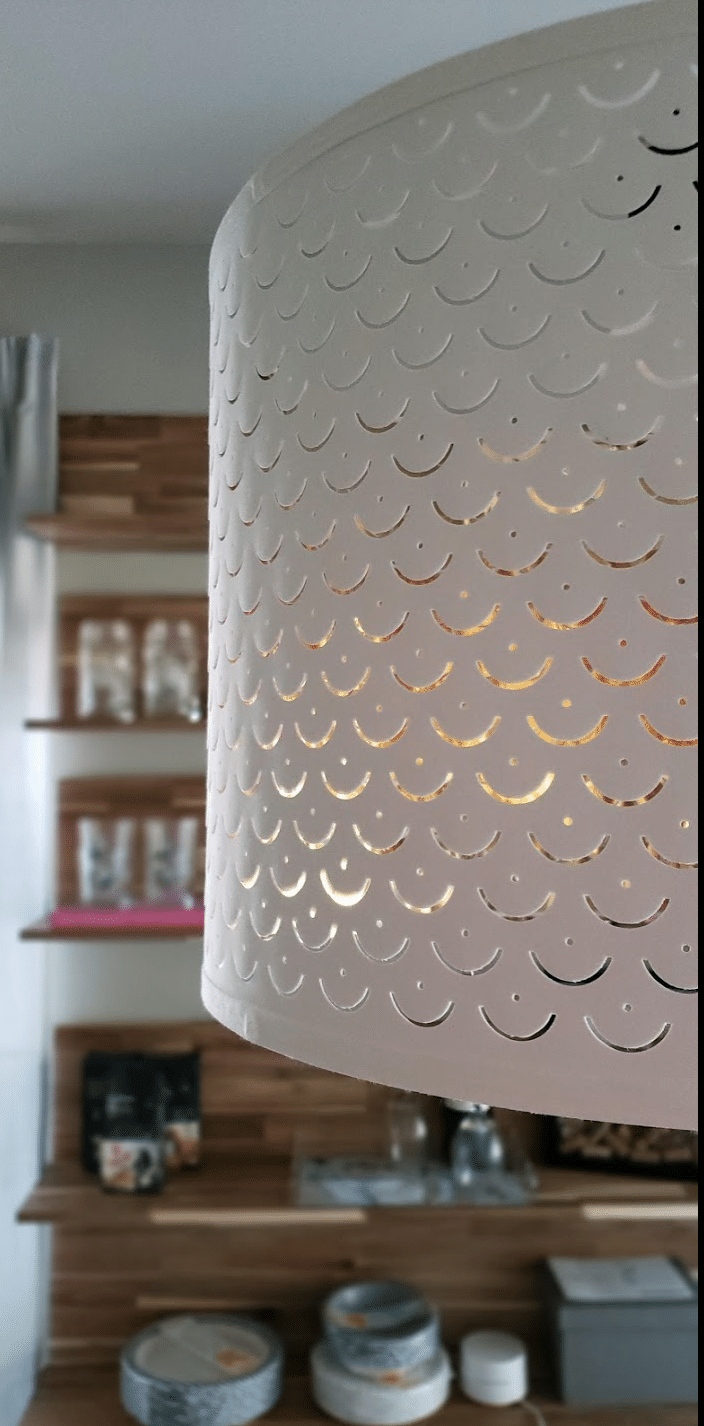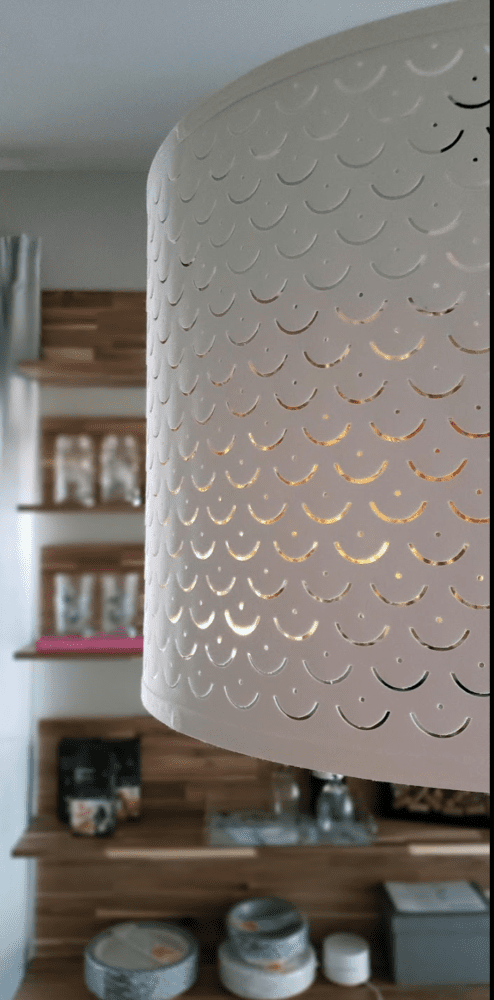 To finish off the room, we added the most amazing product to cover the bottom section of our windows.
It looks like blinds, but is just a removable static cling window film that I found on Amazon. The dogs next door make Maddie go crazy when she sees their shadows (through the privacy fence). She's generally very non-destructive, but in this area we've been through 3 sets of blinds.
This magic film lets light it while blocking her view, so should be a much better solution.  It's been a sanity saver for us and would be amazing anytime you need to add privacy without a big expense or commitment. I'll do a tutorial soon!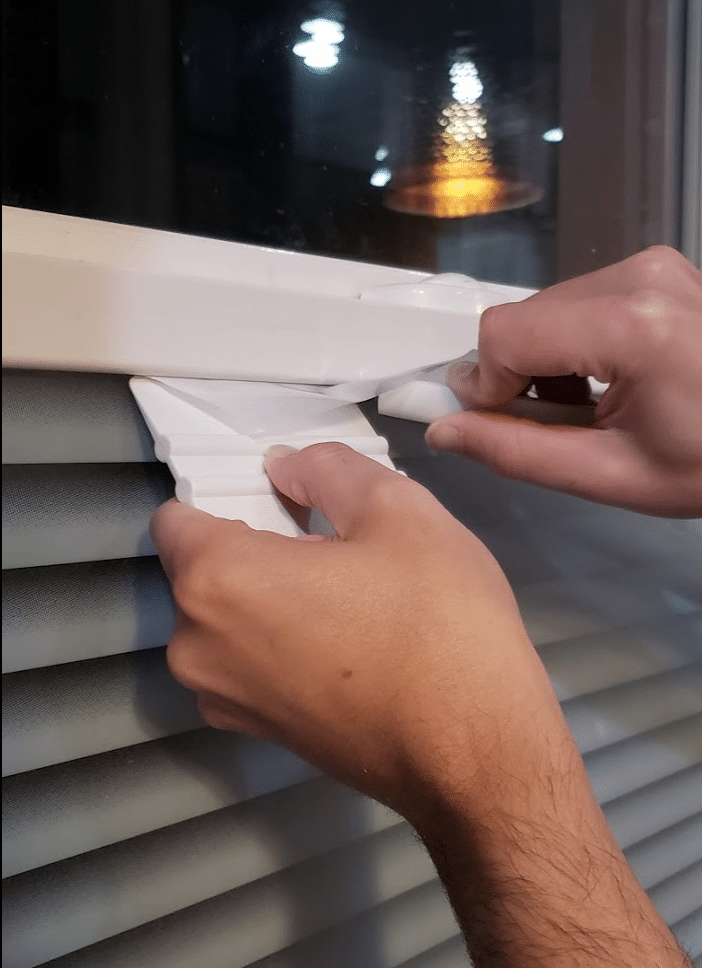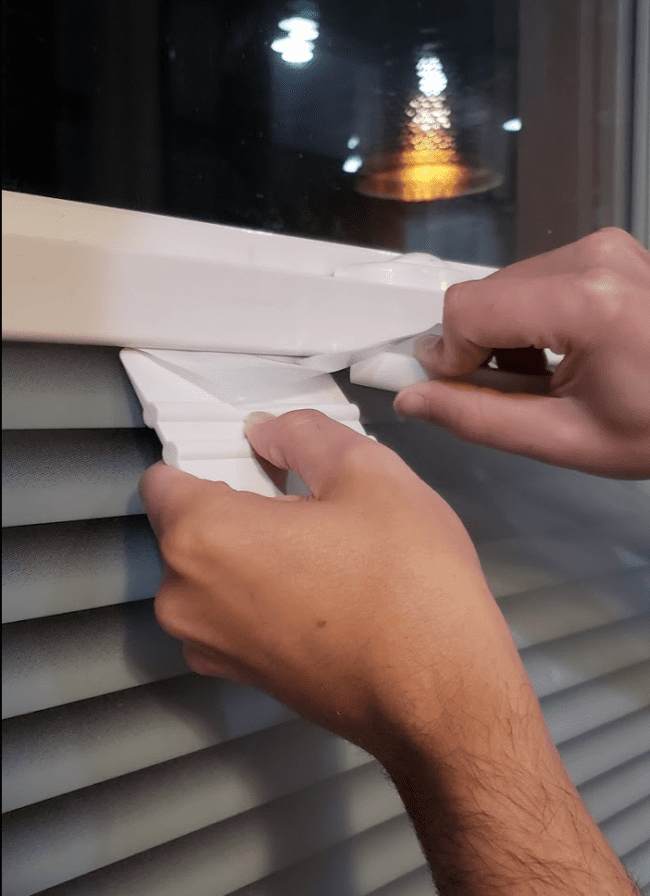 In the midst of all the nook progress, I even managed to find new light fixtures for the island on sale at West Elm! They're a TOTALLY different direction than plan A, but so good!
As I look around our work in progress kitchen area, it's clear that both perseverance and flexibility pay off.
The deadlines of the One Room Challenge are a blessing because you don't have time to dwell on what's going wrong. You press forward and adapt your plans with your eye on the goal, sometimes realizing that your first plan wasn't even the best. 
Isn't that a lesson that can apply to so many areas of life?
On that positive note, here's the recap of the week.
FINISHED THIS WEEK:
Island Light Fixtures
Nook Light Fixture
Install Nook Shelves
Install Curtain Rods/Curtains
Install Window Film
And here's what we still have left.
NEED TO DO:
Prep & Paint Island
Wall Paint (just have to finish above cabinets)
Hanging Herb Garden
Install Door & Drawer Hardware
Attach Pull Out Trash-Can to Cabinet
Move Art
Decorate All the Things
In my dream world, we'd have everything except decorating done by next week's post so I could focus on all the smaller details and photos. But don't hold your breath!
And don't forget to check out the One Room Challenge site to see what everyone else is up to this week!