It's currently 6 PM CST on Wednesday, October 3rd. In 4 hours, the Fall One Room Challenge officially begins for guest participants. Which means my sane blogger friends have been planning for months, securing sponsorships and ordering materials.
And then there's me.
I JUST decided to break my ORC hiatus and join in again. Like seriously, 30 minutes ago.
If you're a newer reader, you might have missed my prior rounds of participation. Basically, way back in 2011 a creative blogger/interior designer, Linda, challenged herself and some friends to make over a space in 5 weeks and post about the progress weekly.
It's grown every year since then! I did my first room in the fall of 2014. Linda collects links to all the makeovers so you can follow along from one spot.
This insanity happens twice a year, and I've played along 5 times in the past.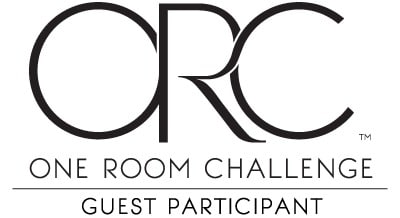 The rooms I've tackled during the ORC are by far the best in our house.  It's amazing how much you can get done with external deadlines! I'll add links to all of them at the end of this post.
And that brings me back to today's spontaneous decision.
When we built this house 6 years ago, our kitchen looked like this.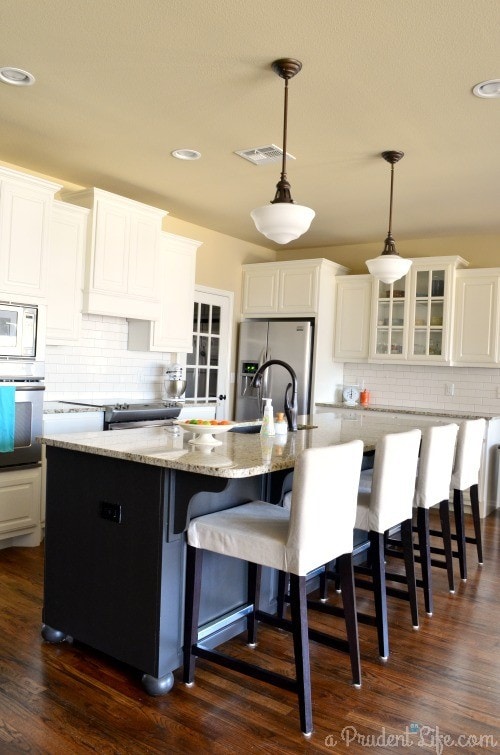 It was a zillion times nicer than anything we had ever owned before so we couldn't believe it was ours. Then time went on, our design style developed, and I got braver going after what I wanted vs what was safe.
I've made little changes over time like taking the glass doors off the cabinets and swapping out the faucet when the garbage disposal bit the dust. So today, the kitchen looks like this.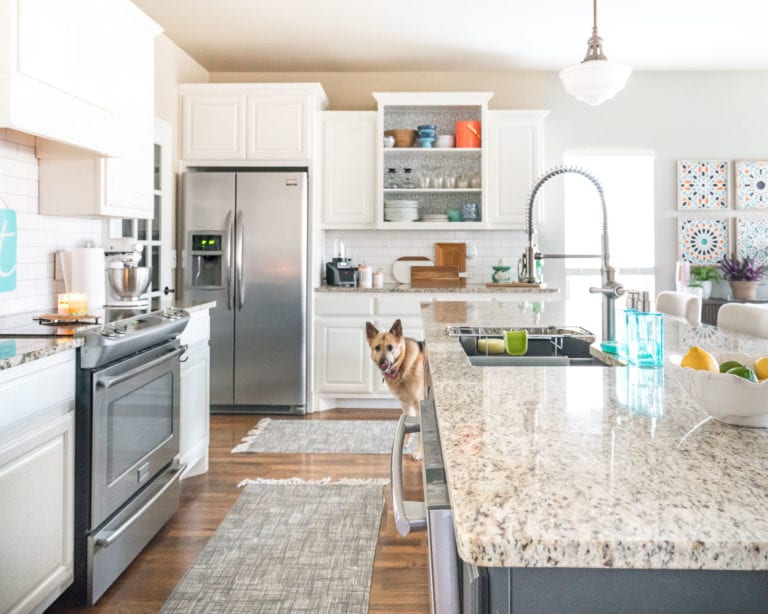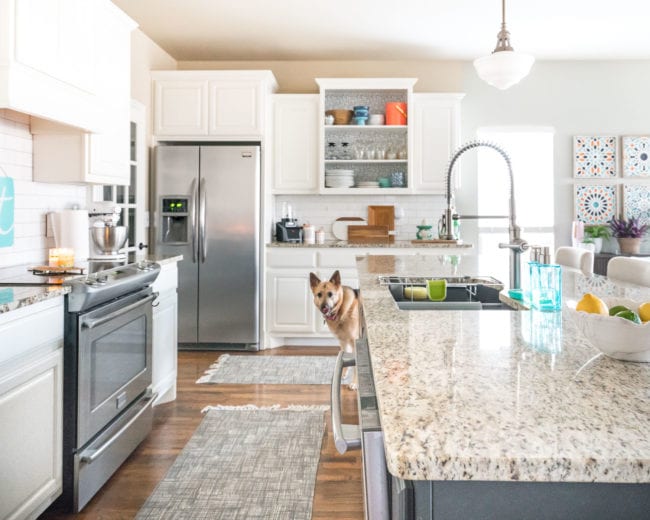 It's looking pretty good…in photos. But when you get a bit closer, the kitchen needs some Botox.
You see, we never got around to installing cabinet pulls. The most used cabinets on the island now have a lovely chippy finish. Which might be okay if you don't hate chippy finishes.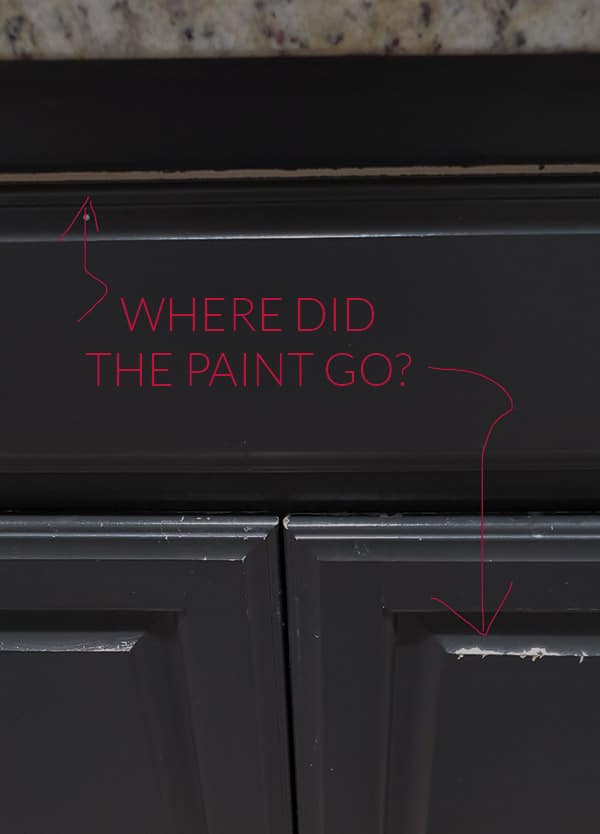 I thought about painting the island a different color before last Christmas and never did it, so I knew the incentive of playing along with the One Room Challenge would make sure I got it done this year.
Because our style has evolved since we built the house, we've also been looking for new light fixtures that are a more appropriate scale, barstools, and a window covering solution Maddie won't destroy when she hears the dogs next door.
This is just a sample of the current mess. Perhaps we need more than Botox after all?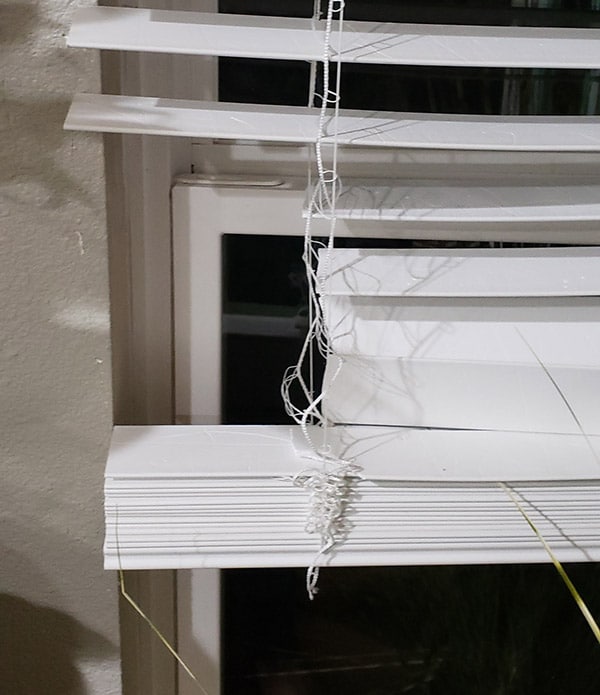 Then, there's the light fixture situation over the kitchen nook. We took down the old one over a year ago and haven't found a replacement. I love some industrial features, but the exposed wiring look isn't doing it for me.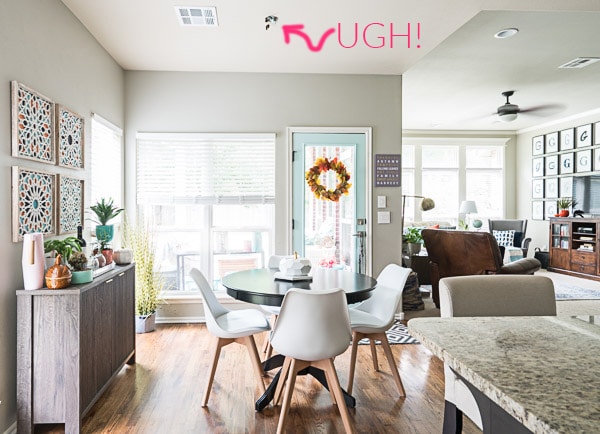 If anyone has extra slabs of marble, marble-look porcelain or white quartz laying around, let me know. Short of that miracle happening, we'll be sticking with the countertops, white cabinets, and wood floors.
The subway tile backsplash will most likely stay as well. Unless we finish early and with extra budget and I randomly find the perfect tile. Never say never. 🙂
Initial Project List:
New Island Lighting
Nook Lighting
Cabinet Pulls
Island Paint (Perhaps the fun color of the back door or front door?)
Pantry Door Paint (Definitely the aqua back door color!)
Wall/Ceiling Paint
Sometime before next week's update, I'll figure out what the heck we're doing and get a design plan ready!
I know the kitchen looks "done" now in photos…and that I'll inevitably get some "I liked it better before" comments.
But that's okay.
In 5 weeks, we'll have a space that looks good up close AND in photos. Even more importantly, it'll make me smile every day!
Meanwhile, you can find me staring at my old ORC rooms remembering the blood, sweat, tears, and then the amazing feeling that happens once you reach the finish line!
Here's a recap of my prior spaces.