After dreaming, scheming, and then implementing over the last 5 weeks, our master bedroom decorating project is DONE!
We went from a messy, generic space to a bold, but relaxing bedroom that has personality in spades. I'm going to TRY to keep the talking to a minimum because I know on reveal days we all want to see the photos. But gosh darn it, there is so much I want to SAY. Conciseness is not my biggest skill. I'll do my best though!
Just ONE little thing first. I couldn't have finished this room without lots of help. Linda from Calling it Home created this wacky One Room Challenge event, and because of her, FOUR rooms in our home are now better than we could have imagined. Thank you, Linda! And then we have my husband, who let's me do things like paint bedrooms pink and design crazy walls. Then he comes home after long stressful days at work and helps my ideas turn into reality. Without his help, none of my One Room Challenge spaces would be the same!
That's enough chatting, here come the photos! Let's go back in time five weeks and remember what the bedroom looked like before.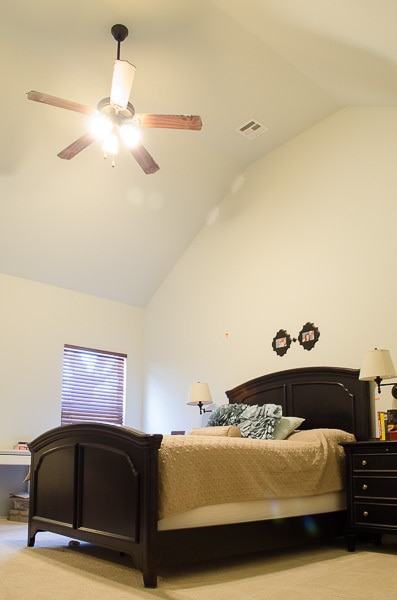 The after is almost unrecognizable, even though the furniture placement is the same.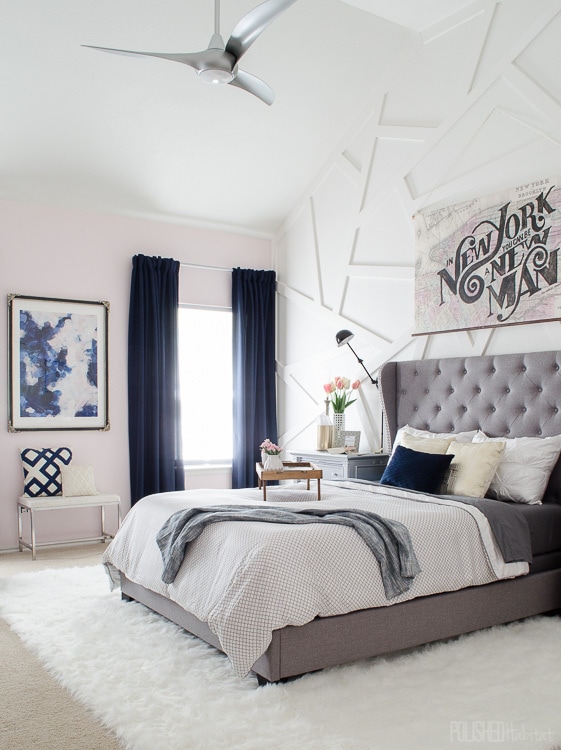 As much as I love our master closet, I think the bedroom photo is my new favorite of all time.
Queue the total surreal feeling that the One Room Challenge brings me when a space is done. I feel very Urkel-esque – "Did I do that!?!?" Of course, there is also a big dose of embarrassment that we lived in the before photos.
The window wall before was a big mess of clutter and faux wood blinds that were way uglier in person.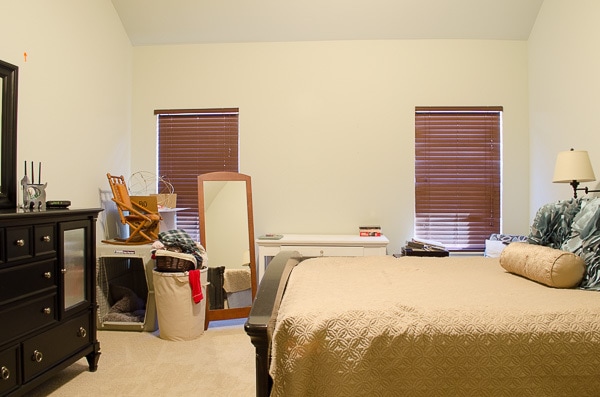 Now it looks like competent, responsible adults live here. Looks can be deceiving, right?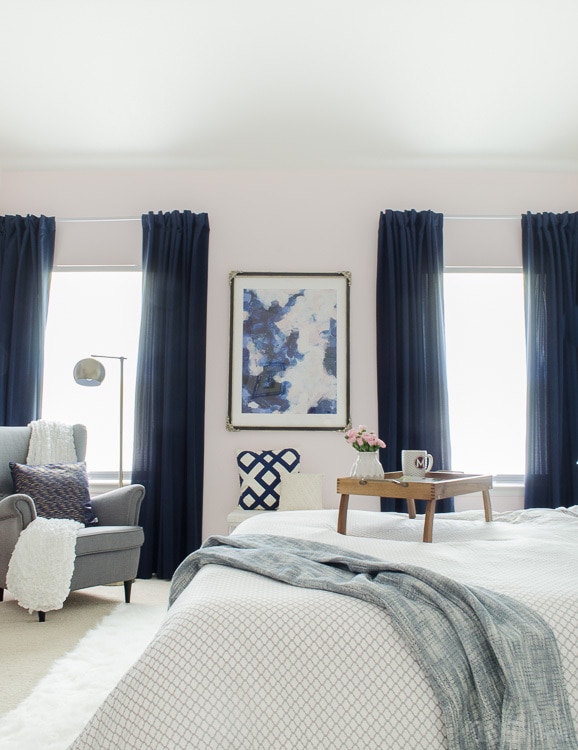 The art from Minted provided inspiration for the entire room. I couldn't decide if I wanted to go dark and moody or light and bright in the space.
When I saw the print, I realized it was possible to combine both together. It gave me the confidence to blend a glam uptown space with downtown loft inspiration. Kind of a wacky combo, but I love both of those vibes passionately and equally, so why shouldn't I make our bedroom represent both sides of me?
The bed wall also had a MAJOR transformation. The before was just sad.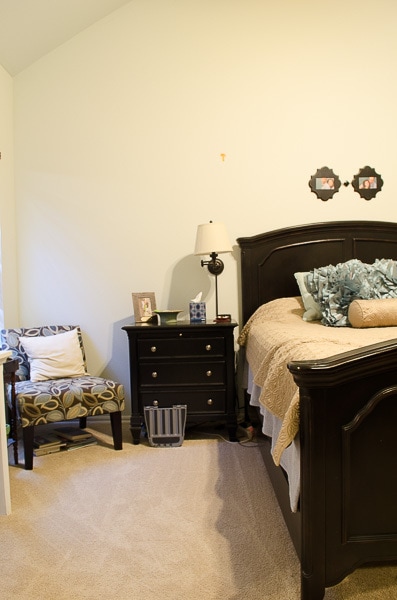 Painting the existing nightstand gave it a totally different personality. (To get the same feel, try mirrored nightstands. I linked to 10 affordable options here.)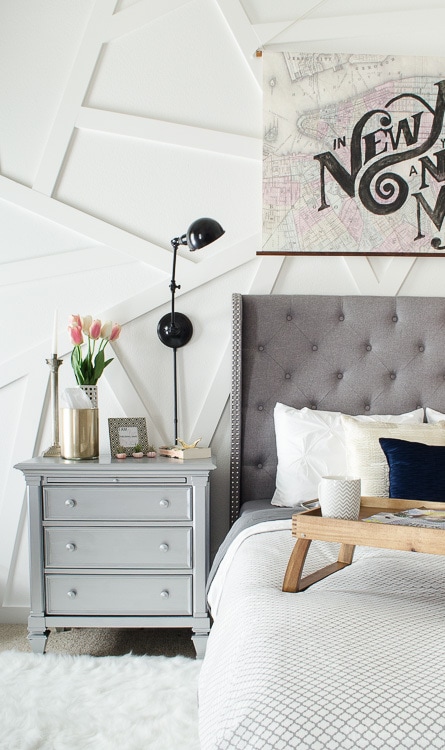 Oh, the modern accent wall. Measuring all those angles was beyond worth it!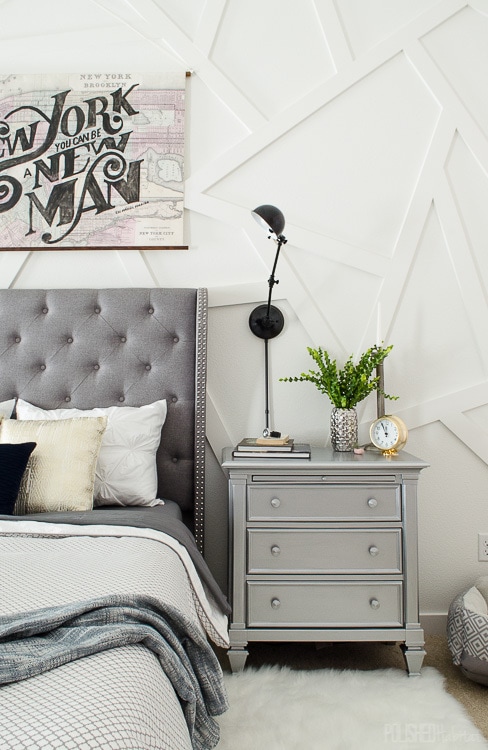 The artwork above the bed is a custom piece by my talented husband. We found a public domain map of NYC and had it printed to canvas.
Then, he painted a quote from Hamilton/Lin-Manual Miranda over the top of it. We were beyond lucky to see Hamilton on Broadway right after it opened. Since then, we've been OBSESSED. It's just so brilliant.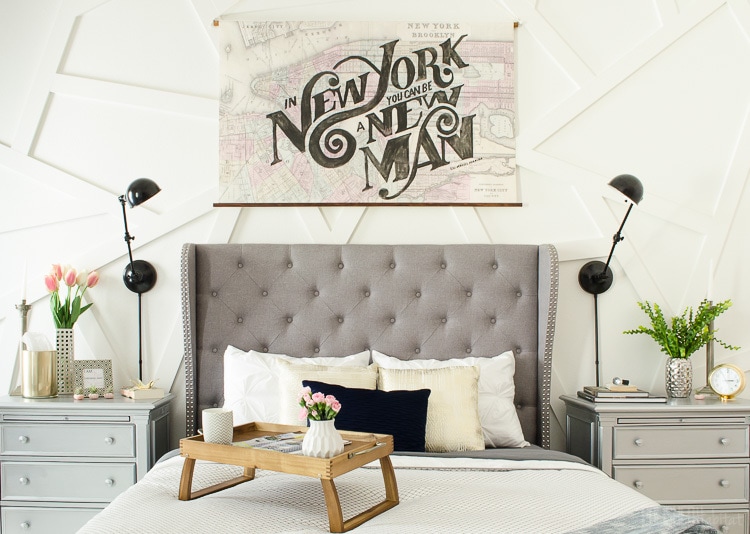 Spinning around to the next wall, I finally found the perfect home for some vintage prints of my two favorite buildings in downtown Tulsa.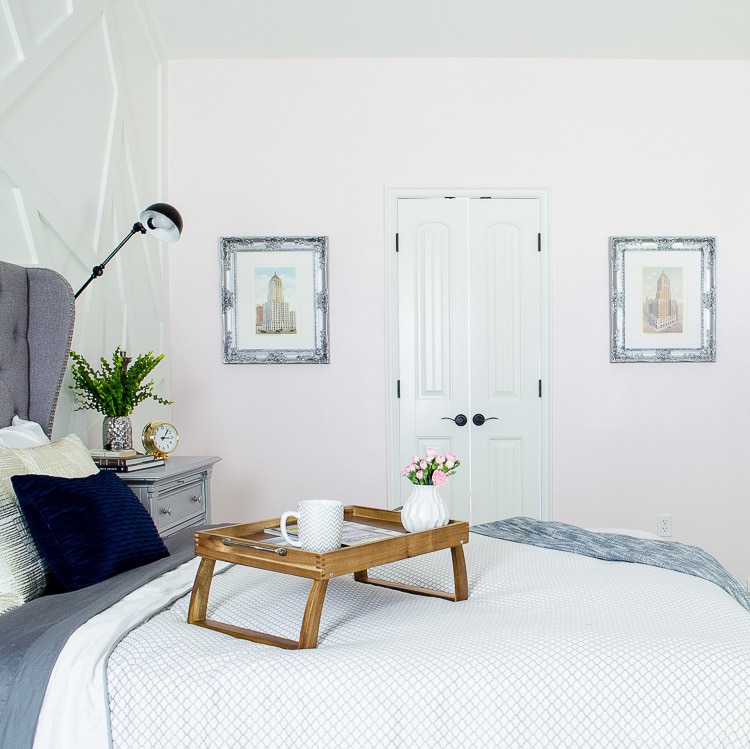 I love that you can still see the art with the bathroom doors open.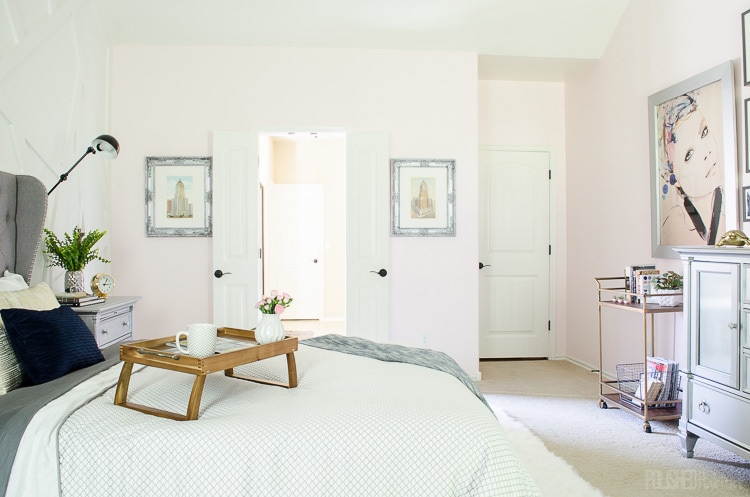 The final wall in the room used to look like this. Not exactly the most pleasant thing to see when you wake up.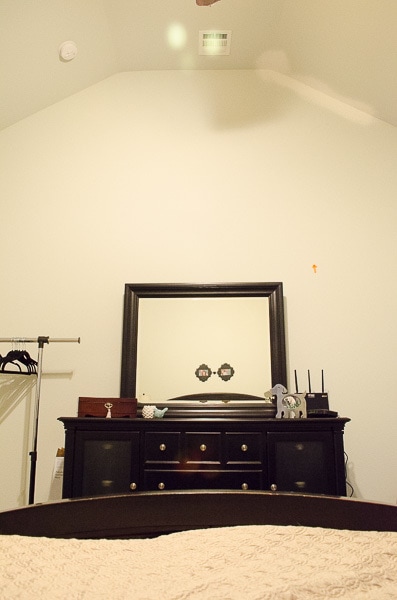 Now we have a gallery wall around the TV!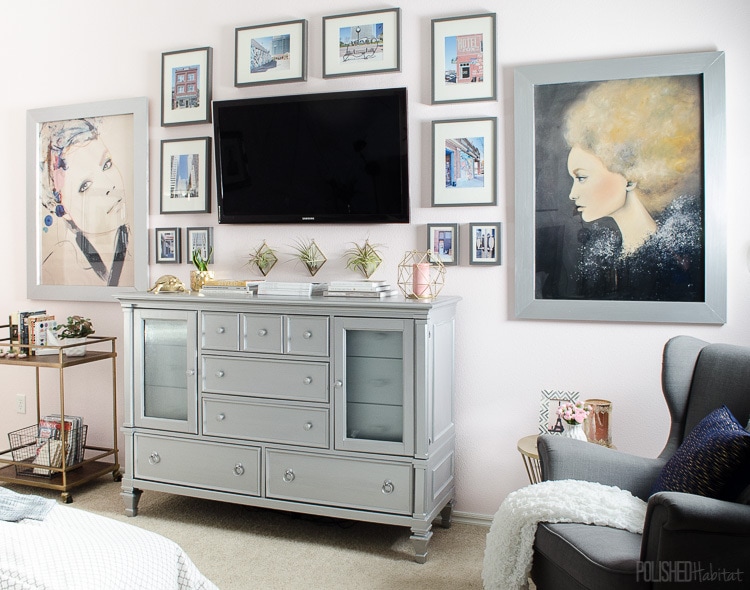 Those big prints are by the talented Leigh Viner and you can find them on Etsy. I took the rest of the photos myself all around downtown Tulsa.
I could never find the perfect chair at the right price, so I pulled a chair from the living room in temporarily. It wasn't the exact look I wanted because it's too similar to the bed, but sometimes you just can't find the right piece on a deadline.
On the left side of the TV, I needed something to balance out the chair. I brought in a bar cart to serve as a mini library. Now our books that are in queue to be read have their own space.
On the bottom, I added a basket for new magazines. I'm so excited to have one spot for all our new reading materials. Before they'd get mixed in to the office bookshelves and forgotten about!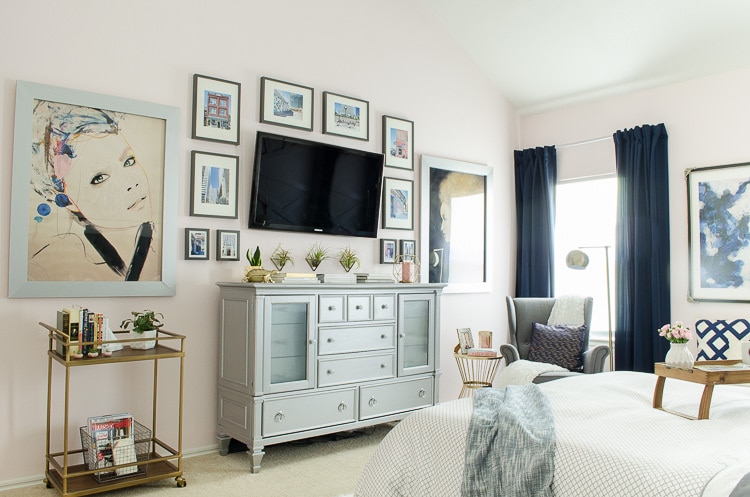 Here's a closer look at the photographs around the TV. I kept the dresser styling pretty simple, but love the wall-mounted air plants!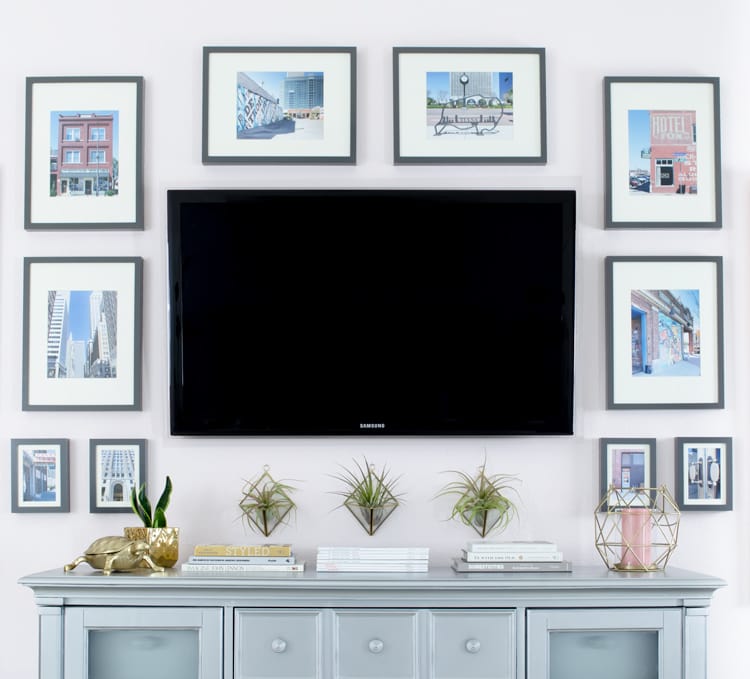 The view walking into the bedroom from the hallway is SO much better now. Here's the scary before as a reminder.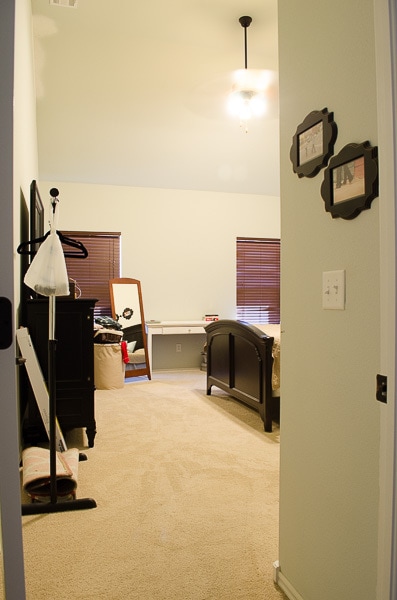 Now it's bright and happy with a bit of drama. How great is that ceiling fan by the way? It puts out some serious air AND light too. We were worried it would be dark, but it's brighter than our old ugly 3 bulb fan.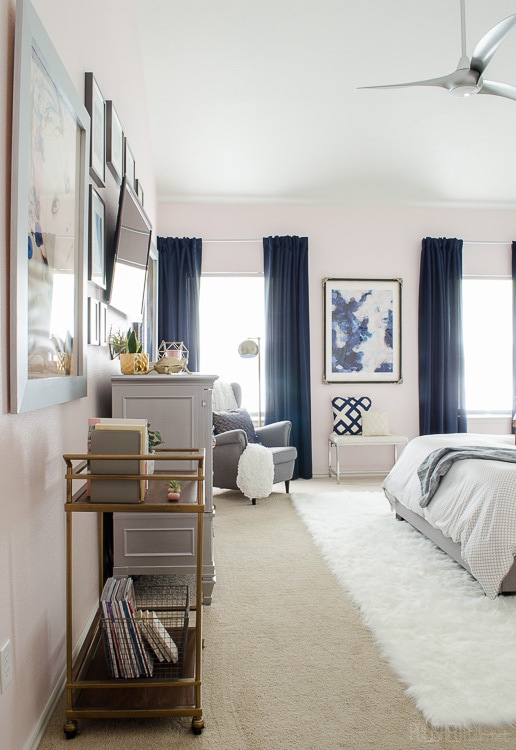 The bench between the windows plays double duty as both a footstool and table for the reading nook. I think I need to find some office space outside the house just so I can come home from work, take my heels off, and read with wine in this corner.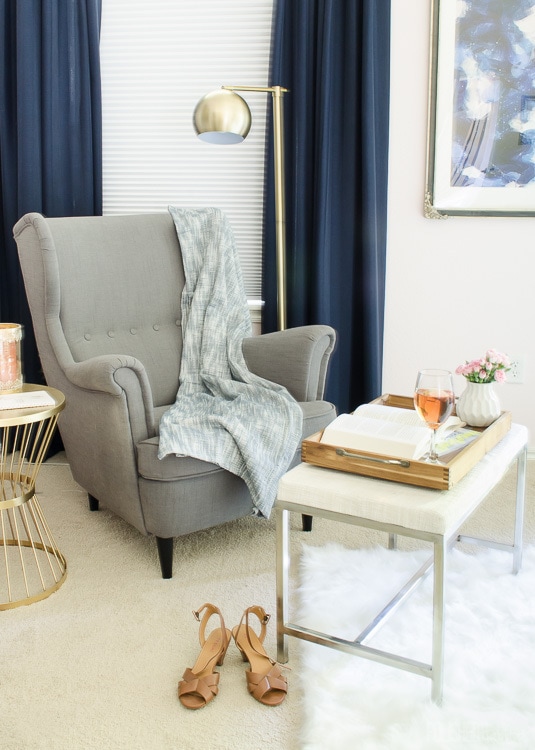 The breakfast tray also serves double duty as the perfect in-bed workstation!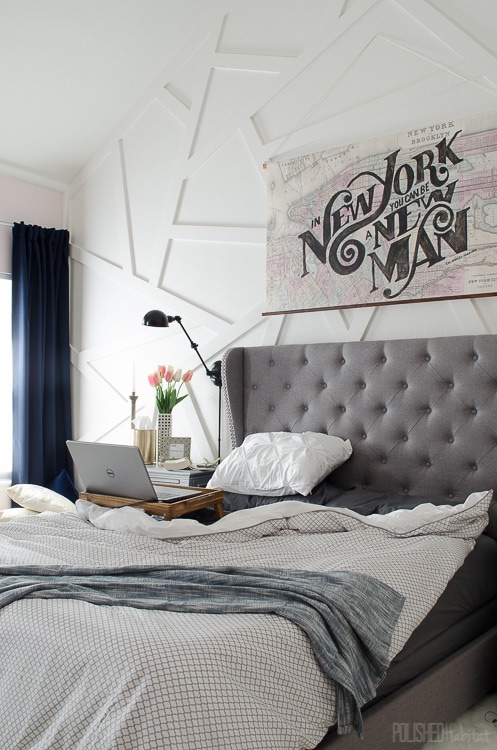 The window situation is SO much better than before thanks to SelectBlinds.com.
Can you believe in the picture below there are actually privacy blinds letting in that much light? They are amazing! In seconds, they also transform to full black out blinds. If that wasn't enough, there are NO ugly, safety hazard cords involved.
The gorgeous navy drapes also came from SelectBlinds.com. I used their back tab curtains in Nautical Sateen.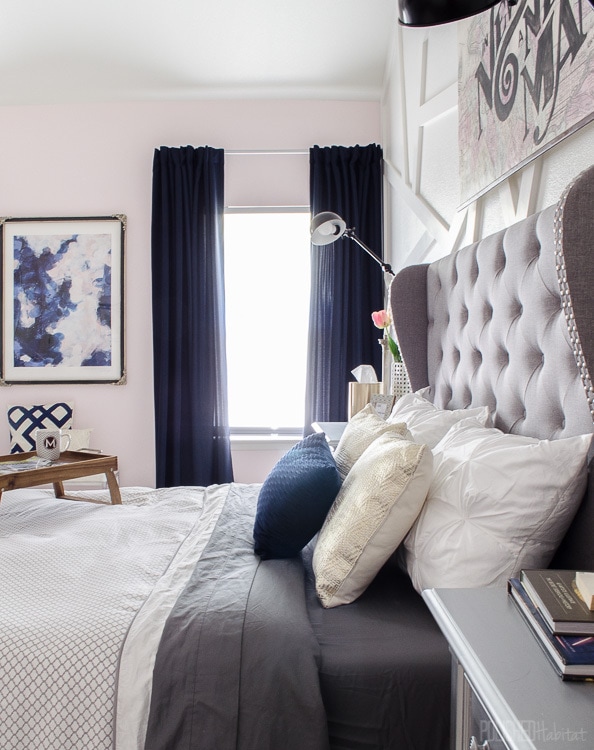 The room gets extra dramatic at night. And the fan looks so cool when it is moving. The center/light stays put and the blades rotate around it.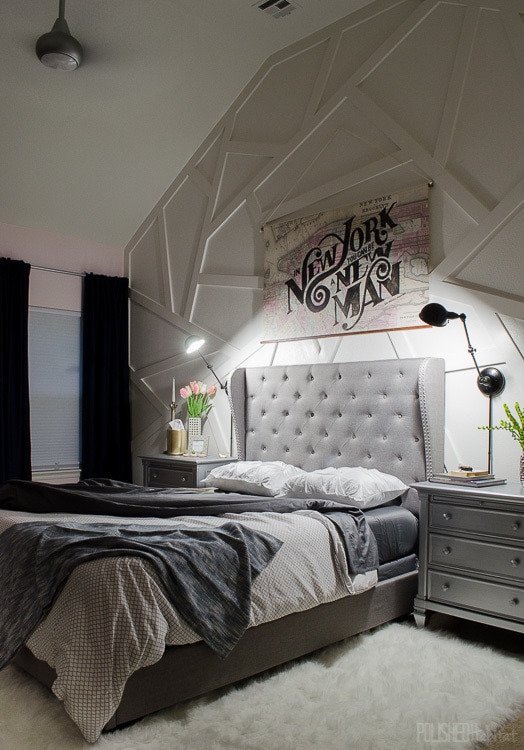 Whew! That's all the photos, but I've got a complete source list for you below!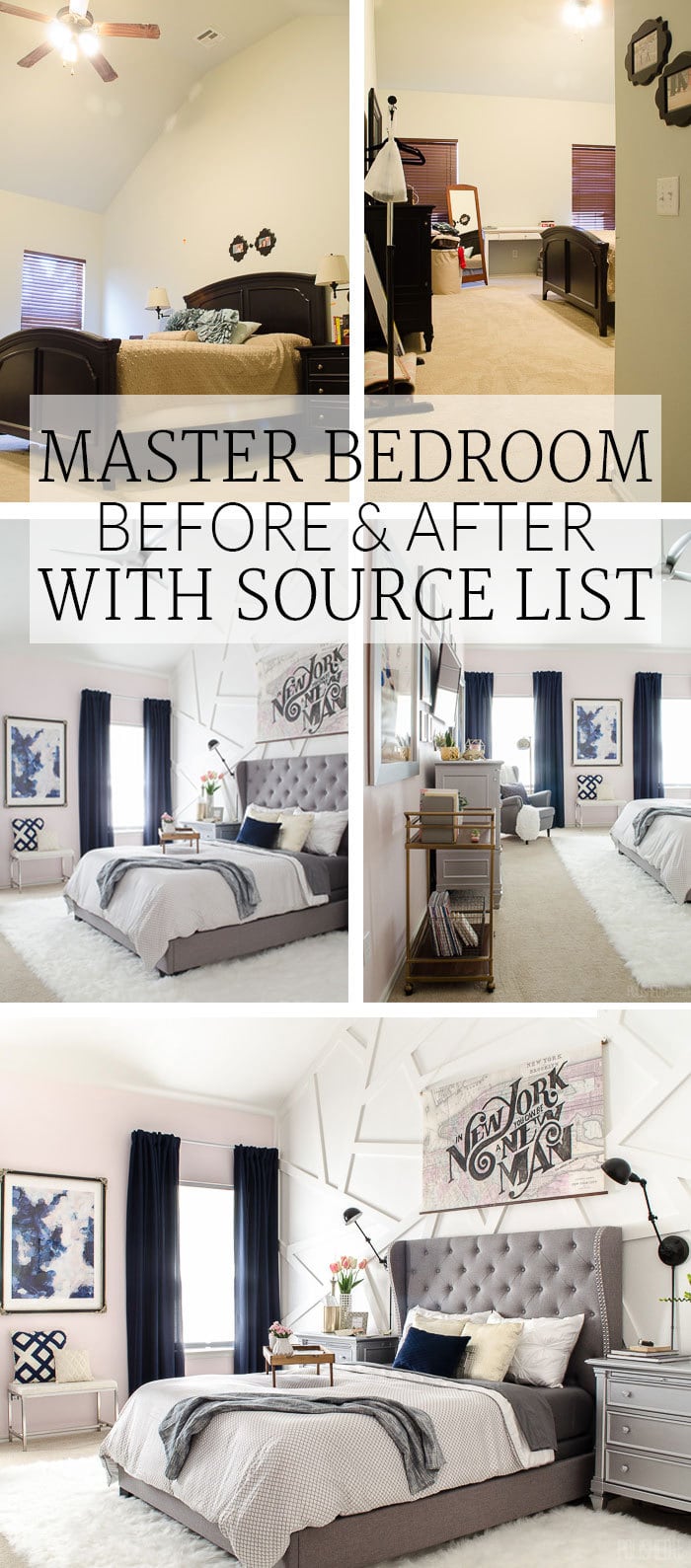 Paint: Sherwin-Williams Verbena (Pink) & BM White Dove matched into Sherwin-Williams
Rug: Home Decorators Collection 8′ x 11′ white
Ceiling Fan: Minka Aire via Amazon
Abstract Art: Minted ( Also their Antique Filagree Frame)
Drapes & Blinds: SelectBlinds.com
Bench: Target (no longer available – similar option)
Bench Pillows: Navy patterned was from Target several years ago/Small pearl beaded is from Tuesday Morning
Bed: Overstock.com
Mattress: Tuft & Needle (More on this later, we are LOVING it so far!)
Sheets: Target Threshold Dark Gray (LOVE that these have double elastic to fit less deep mattresses)
Duvet: Crane & Canopy
Gold Bed Pillows: Target (no longer available, alternate here)
Navy Throw Pillow: Gordmans
Navy Throw on Bed: Lowe's
Breakfast Tray: Target
Nightstands: We have an older version of this Ashely model, I painted them with Rust-Oleum Metallic Accents in Sterling Silver
Bedside Sconces: Lowes (clearance at local store)
Candlesticks: Vintage
Vases: Gordmans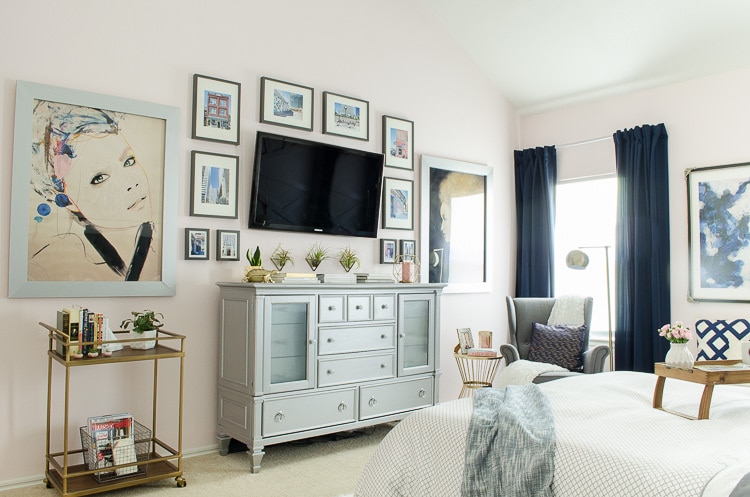 Big Art: Leigh Viner
Bar Cart: Target (not currently available)
Dresser: Old version of this dresser (we've had this set 11 years and it's still holding up great) painted with Rust-Oleum Metallic Accents in Sterling Silver
Air Plant Wall Vases: Target (no longer available, alternate here)
Air Plants: Retro Den (Tulsa)
Reading Chair: IKEA STRANDMON
Side Table: Lowe's – spray painted gold with Rust-Oleum
Reading Chair Floor Lamp: Target
Vintage Building Prints: Decopolis (Tulsa)
Silver Frames for Building Prints: Hobby Lobby, painted with Rust-Oleum Metallic Accents in Sterling Silver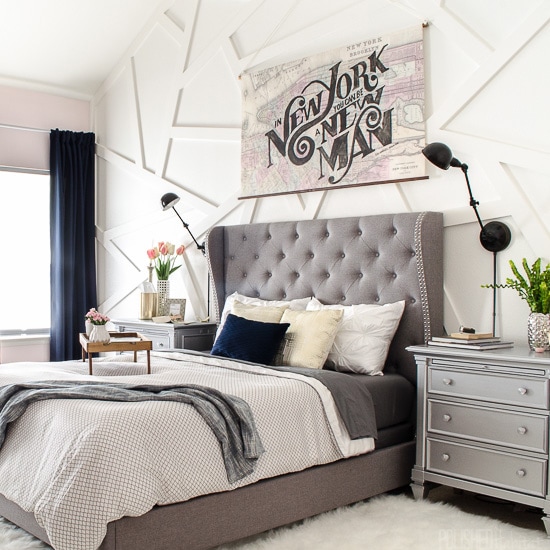 Some of my favorite brands jumped in to make this room possible by providing products and/or sponsorship. I wholeheartedly recommended every one of them!
HomeRight / SelectBlinds.com / Minted / Tuft & Needle / Rust-Oleum
If you liked this space, you may be interested in some of my other rooms. The closet and the pantry both have an infusion of glam as well!