If you've poked around any magazines or watched any HGTV lately, you may be thinking that shiplap is the best/only way to add a cool feature wall.
But, if the number of times I see the word shiplap every week is any indication, it seems like it's becoming a standard feature in homes across America.
That doesn't mean it's BAD, I mean, air conditioning is pretty common too and I'd be a VERY cranky person in Oklahoma without it. And if you dream of, or have installed, a shiplap wall that just feels like YOU, I LOVE that!
If the farmhouse look doesn't feel like you, this is the week to find your own modern feature wall style!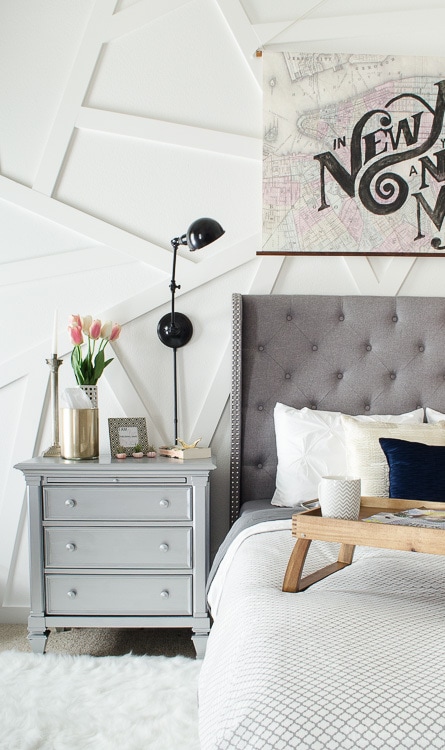 Those of you that read the post about my style last week may have noticed the crazy diagonal wall in our master bedroom. I never shared a tutorial for how we did it, so this was the perfect week!
Here's how we did it in 8 short steps.
Step 1: Paint a Base Coat of You Final Wall Color & Remove Any Existing Trim
We skipped that step and had to do two coats inside every geometric shape. It would have been way faster to roll the whole wall white once and then just do the 2nd coat at the end.
Step 2: Mark the Studs
We used a stud finder and marked the edge of each stud with painters tape. Since we knew wood would be going all kinds of crazy directions, we also snapped chalk lines so we'd be able to easily find the studs for each piece of wood.
Here's what it looked like with the chalk lines snapped on the bottom half of the wall.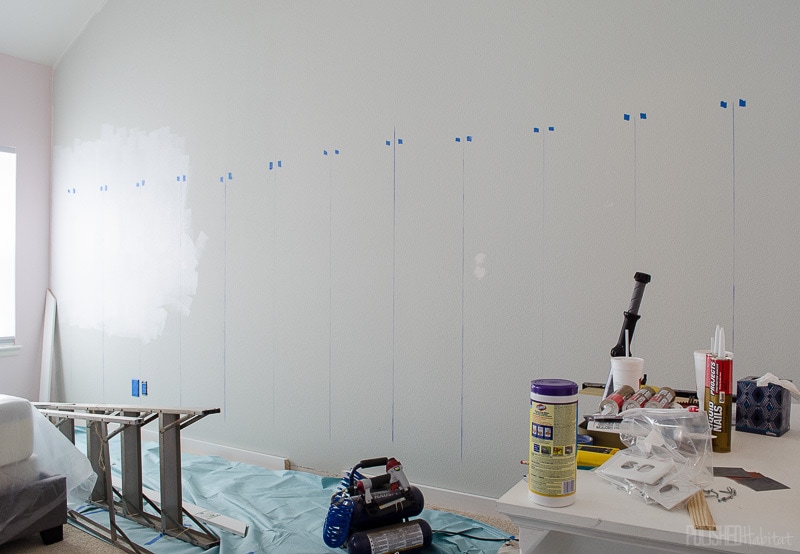 Step 3: Frame the Room
After considering a few different options, we selected pre-primed 1×4's from Home Depot for our wall. You could save money by sanding, prepping, and priming the boards yourself.
Before placing the first diagonal board, we placed straight pieces around the floor, side walls, and ceiling to 'frame" the wall. To attach them, we used Liquid Nails on the back and also nailed each place the boards crossed a stud.
Step 4: Let the Diagonals Begin
I was afraid that if we started on one side of the room, we'd end up with full lengths of wood on one side, and lots of little pieces on the other. To avoid this and keep things somewhat symmetrical, I started in the middle of the room.
The first piece was a bit scary, but we just went for it! As we selected the angle, we made sure that even though the piece was fairly vertical, it crossed three of our stud-lines.
We applied Liquid Nails to the back, crossed our fingers, and nailed it into the studs. Once it was in place, we put up another uncut piece on the left side. To the right, we cut the end off a full piece of wood at a random angle and attached it as well.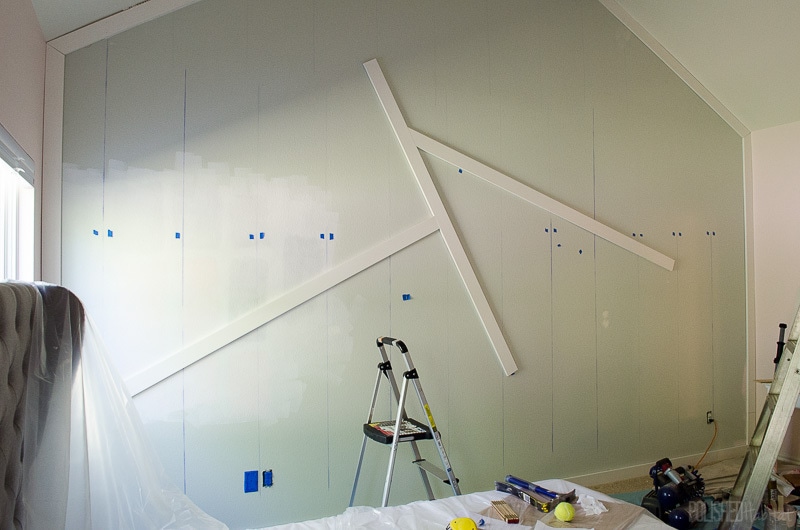 Step 5: Keep Going!
With the first three pieces secure, we kept going, using mainly long pieces of wood. For these early pieces, we could hold a full piece up to the wall and adjust it until it looked right.
When we liked the placement, we could mark the approximate angle the end of the wood needed to be cut at to get the look. Since it wasn't an exact process at this point, it went pretty quickly.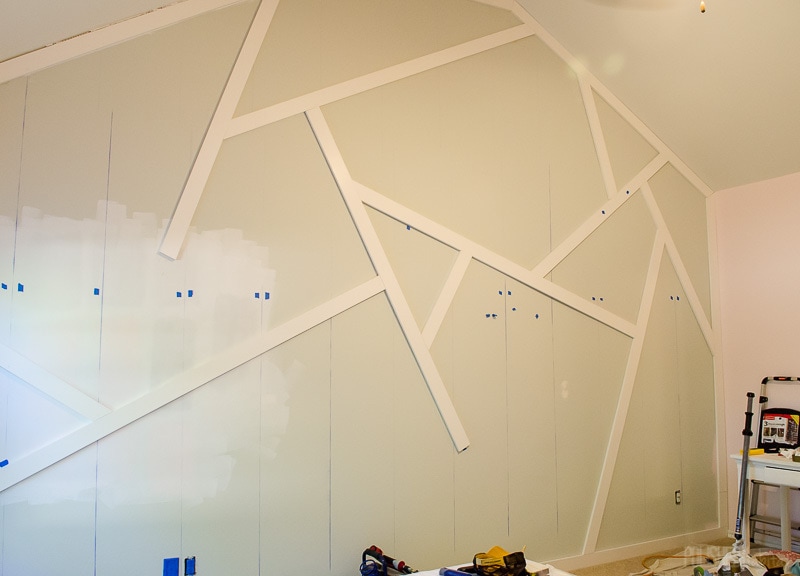 Step 6: Power Through the Tricky Part
Toward the end, we'd have pieces that needed each end cut at really specific angles to fit in between two existing pieces AND still cross a stud for some stability. That meant finding a protractor and actually measuring angles. Yuck!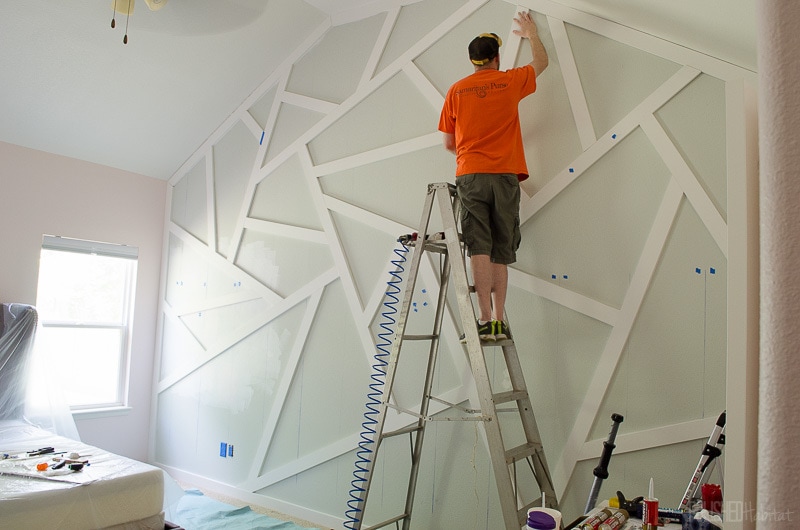 Step 7: Wood Fill & Caulk like Crazy
When you step back and feel like your wall is complete, celebrate and then get ready for the last steps.
As you can imagine, by the time we were done, there were lots of nail holes to wood fill. We also needed some wood filler in several of the junctions between boards.
While the wood filler dried, I started a day of caulking. Each place wood touches the wall needs to be caulked to have a finished look. It's not hard, but takes a while because of all the angles.
Step 8: Paint! 
When all the wood filler and caulking was dry, it was time to paint everything. I used a brush for the wall so I could get into all the angles, and a 4″ roller for the wood to get a smoother finish. The color is White Dove by Benjamin Moore.
Although this project was a little tricky at times, it was totally manageable if you have a miter saw and nail gun. The end result was definitely worth the work!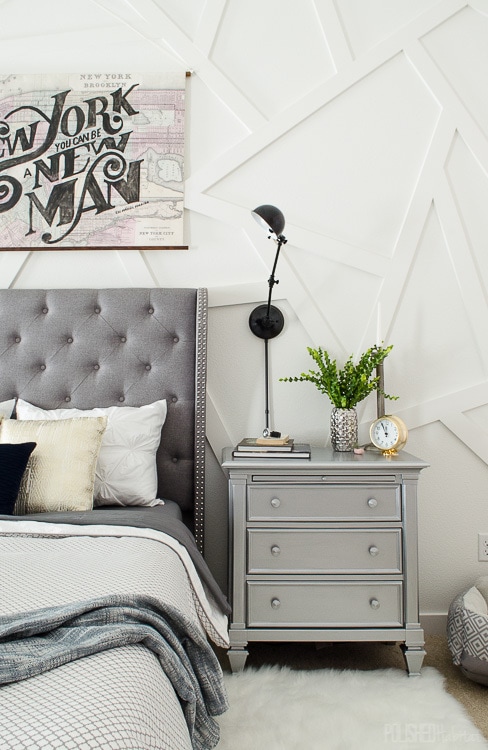 The depth of the wood creates some great shadows at night.