Have you ever tried to put your design style into words? It can be tricky! In fact, I've spent an embarrassing amount of time trying to define my style over the last few weeks. Not just for fun though, it's actually extremely helpful to put some words around your style as you decorate your home. It helps bring clarity when you are shopping and making decisions, and can give the whole house a cohesive feel over time.
I had a deadline for this task because I joined a group of bloggers that do "My Home Style" tours, hosted by my sweet friend Stephanie from Casa Watkins Living. Thanks so much for visiting if you are coming from Casa Watkins or from Lovely, Etc!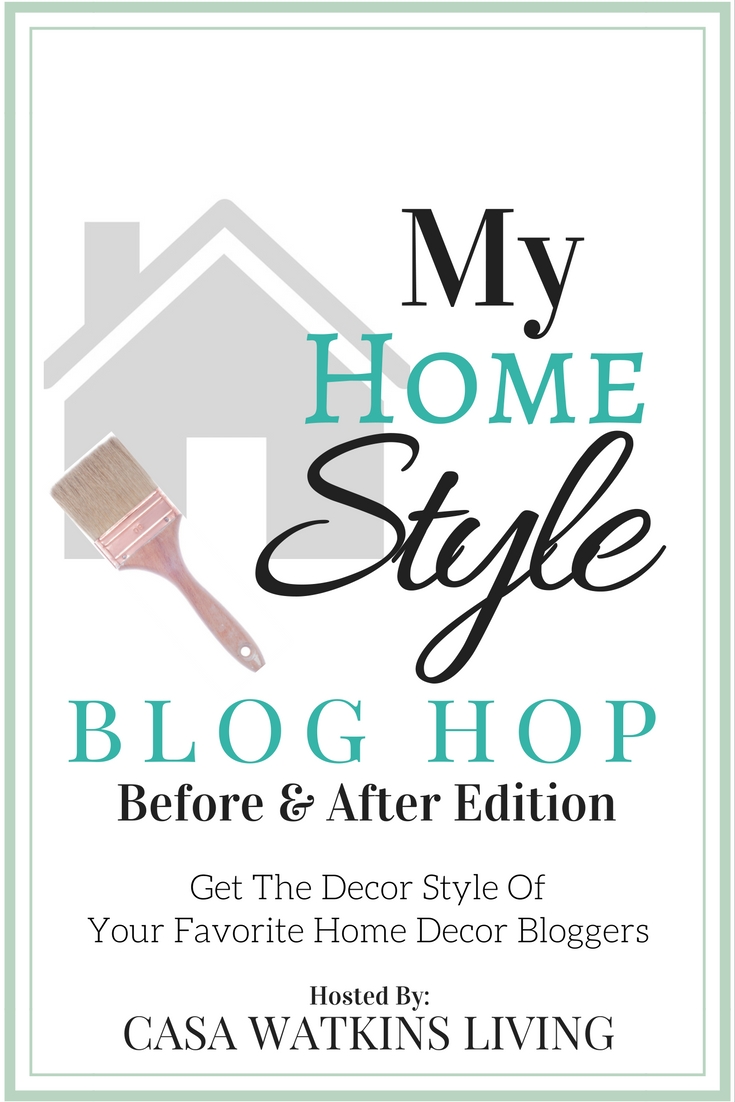 Clicking through all the posts in this tour is a great way to find your own style, because each blogger has selected their own three words to define themselves. You can either find your style soulmate and use their three words, or make notes as you go through and combine several together to really capture the unique feel you'd like your home to have. All the links are at the bottom of the post.
This round of tours is especially fun because everyone is showing before and after photos. Style evolves over time, and it's interesting and inspiring to go back in time and see what the same room looked like before each person really found their own style that they love.
I've got tons more to say about how I found my style and how you can find yours, but we'll do that another day. Otherwise this post will become a full length novel before we even get to any pictures. Just know it took lots of thought, feedback from others, and googling, but I found my three words!
Modern. Industrial. Glam.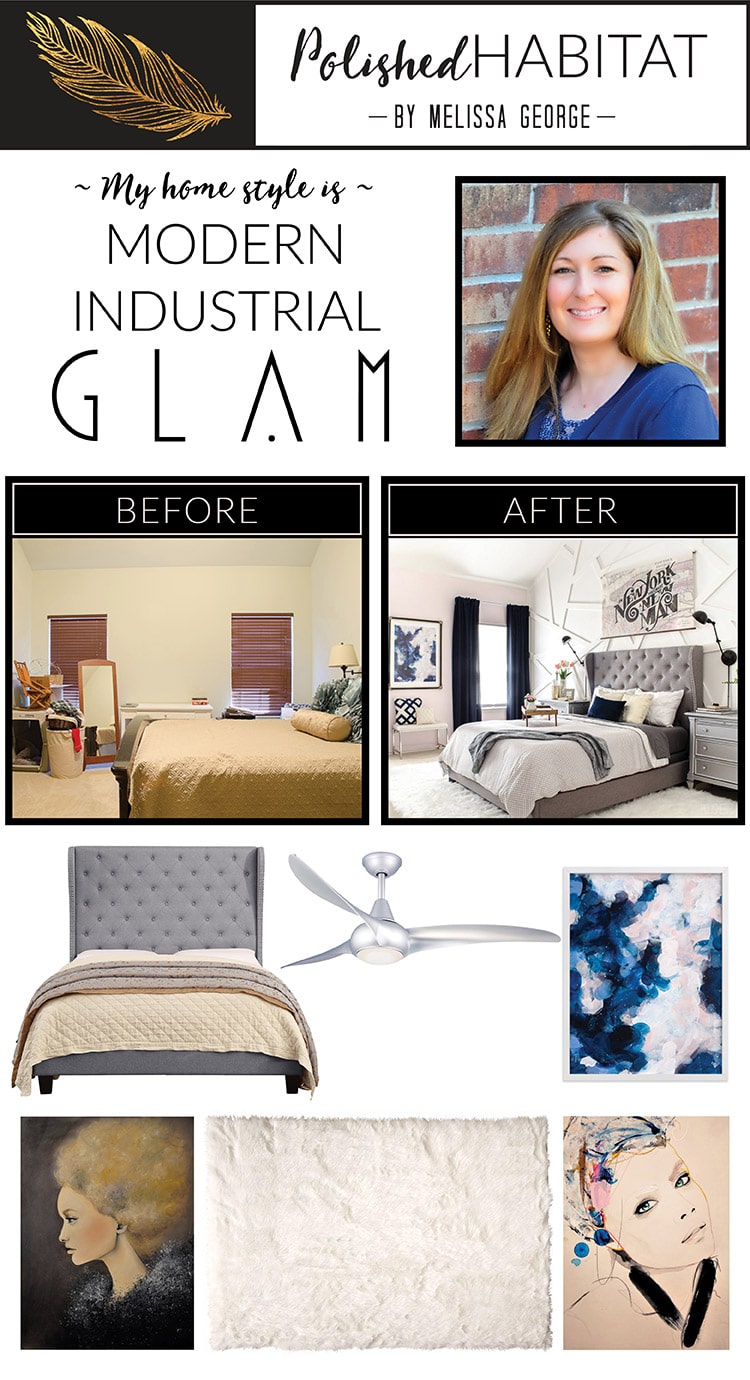 Product Sources: Bed | Ceiling Fan | Abstract Art-Pamela Print | Art – Paola Roversi by Leigh Viner  | Fur Rug | Art – Abiding by Leigh Viner
Since each of those words can bring different things to mind, I made up my own definition of what they mean to me.
MODERN INDUSTRIAL GLAM
A fresh style that blends soft, feminine, uptown glamour with bold, downtown, masculine touches
INSPIRATION AND MATERIALS
Art Deco, Hollywood Regency, Urban Loft, Metallics, Lucite, Typography, Fur, Geometrics, Bar Carts, Graphic Prints
COLOR COMBOS
Blending Light & Dark, Black & White, Navy & Blush, Gold & Silver
Ideally, I would have figured out this style before I started decorating the house, but you can definitely see it in the photos of all my recent spaces. Going forward, I know I'm going to make way fewer mistakes when shopping because I have an ultimate cohesive style goal for the house.
The first room where this style started to come to life was the pantry. It was the first time I participated in the One Room Challenge, and that process of decorating a room alongside legit designers made me come alive and let go of so much decision-making fear.
Before, the pantry was an amazing space, yet completely suburban vanilla. I picked it to redo because it was small and seemed less scary than tackling a more public room. It was the perfect place to experiment!
BEFORE: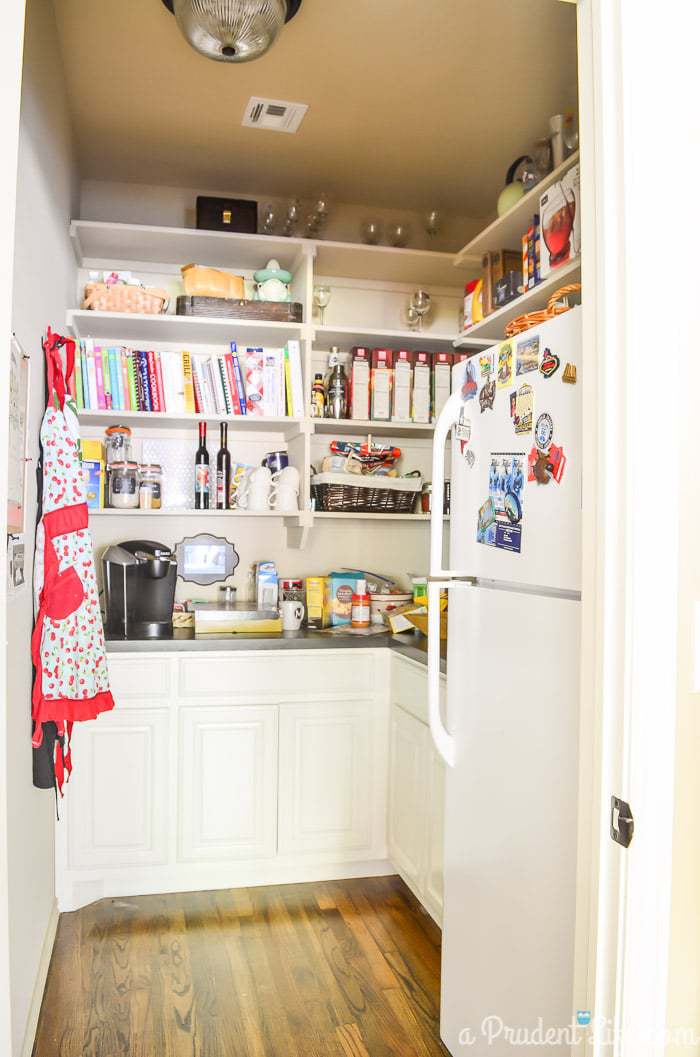 I went all-in with gold accents in the pantry and I love how much glam they add to the previously boring space. The black wall, white penny tile, and light fixture all helped contribute to the Modern Industrial Glam look.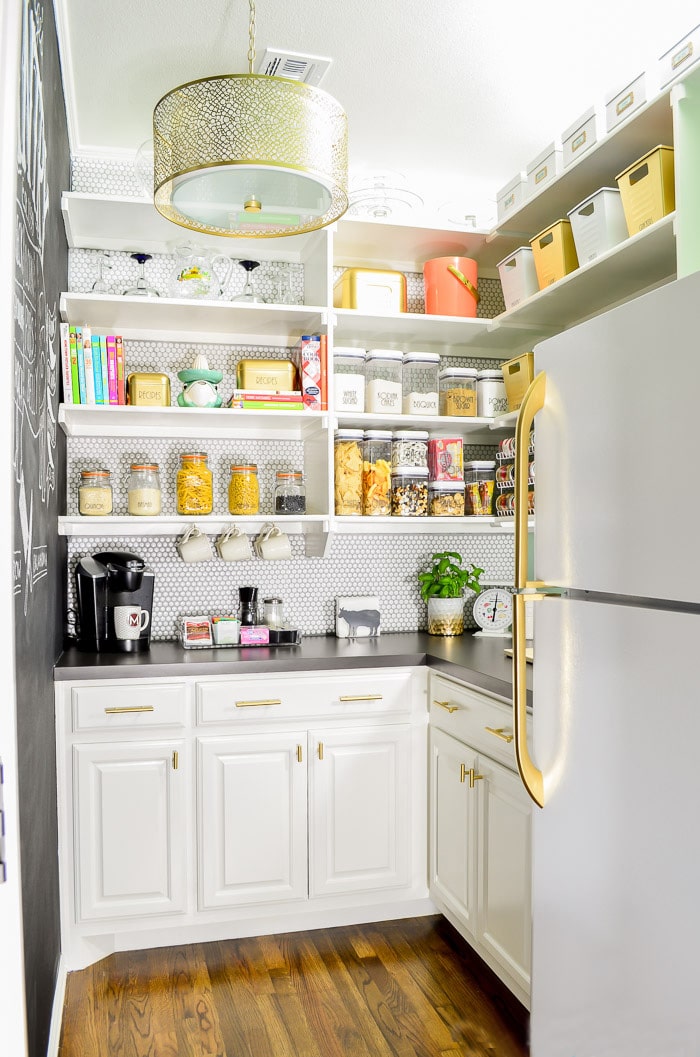 You can find more photos and info about the pantry makeover here.
The tiniest spot in our house is another great example of my style progression. The entryway from our garage was bland and dysfunctional.
BEFORE: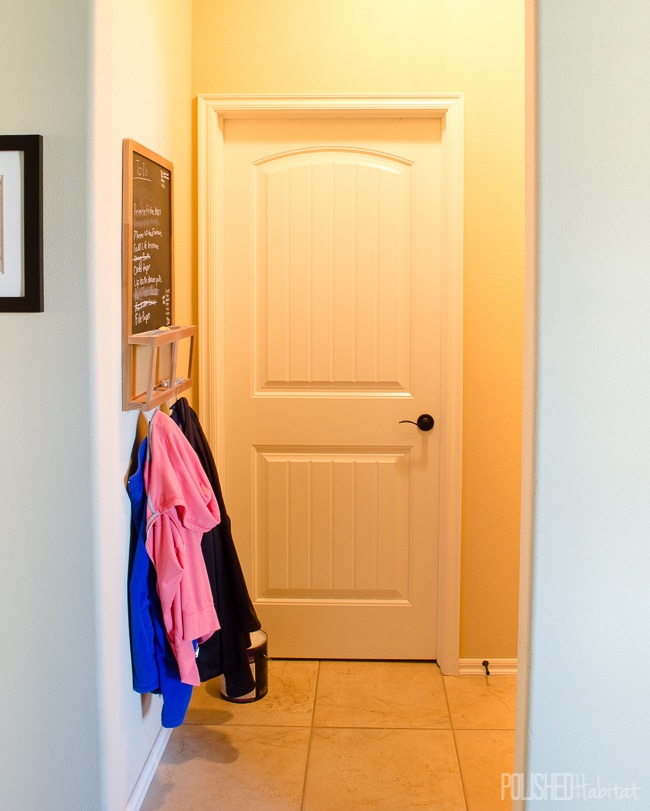 But the after has miles of style! The blend of dark walls with white adds some industrial drama, and the rug has a modern geometric pattern.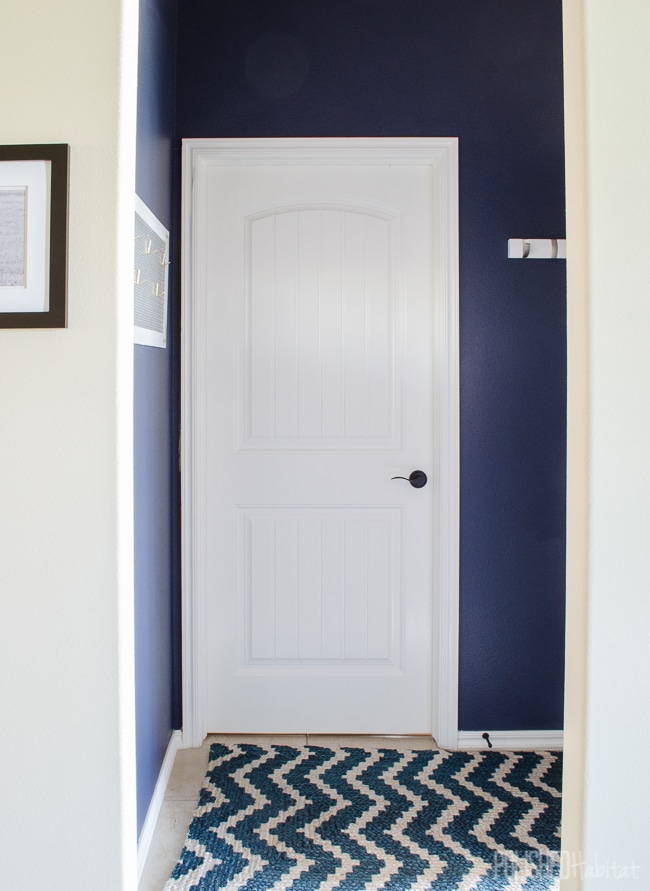 My favorite piece in the room is the industrial glam coat rack. I made it out of a piece of metal from the hardware store! In the winter, it holds hats, scarves, and gloves.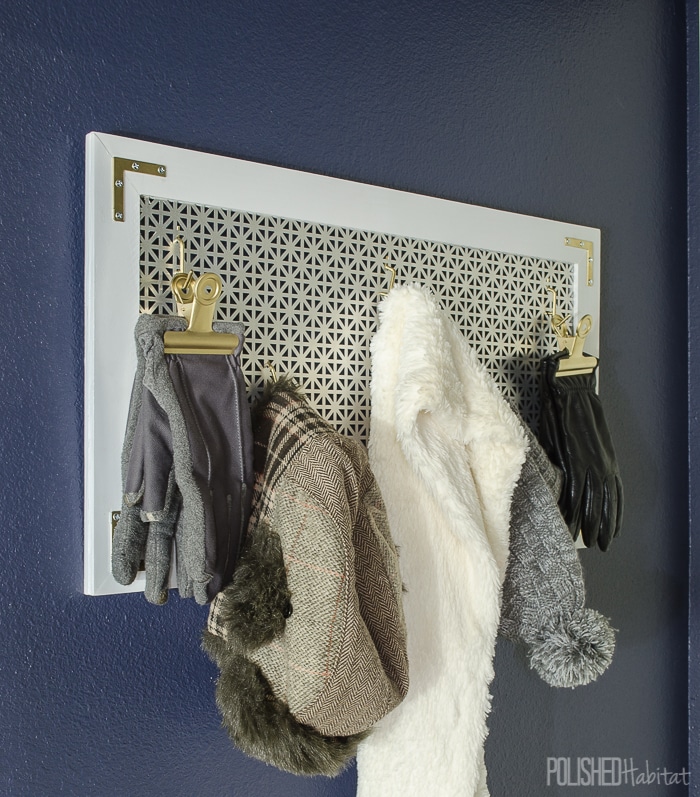 In the summer, it's perfect for pool towels and the beach bag.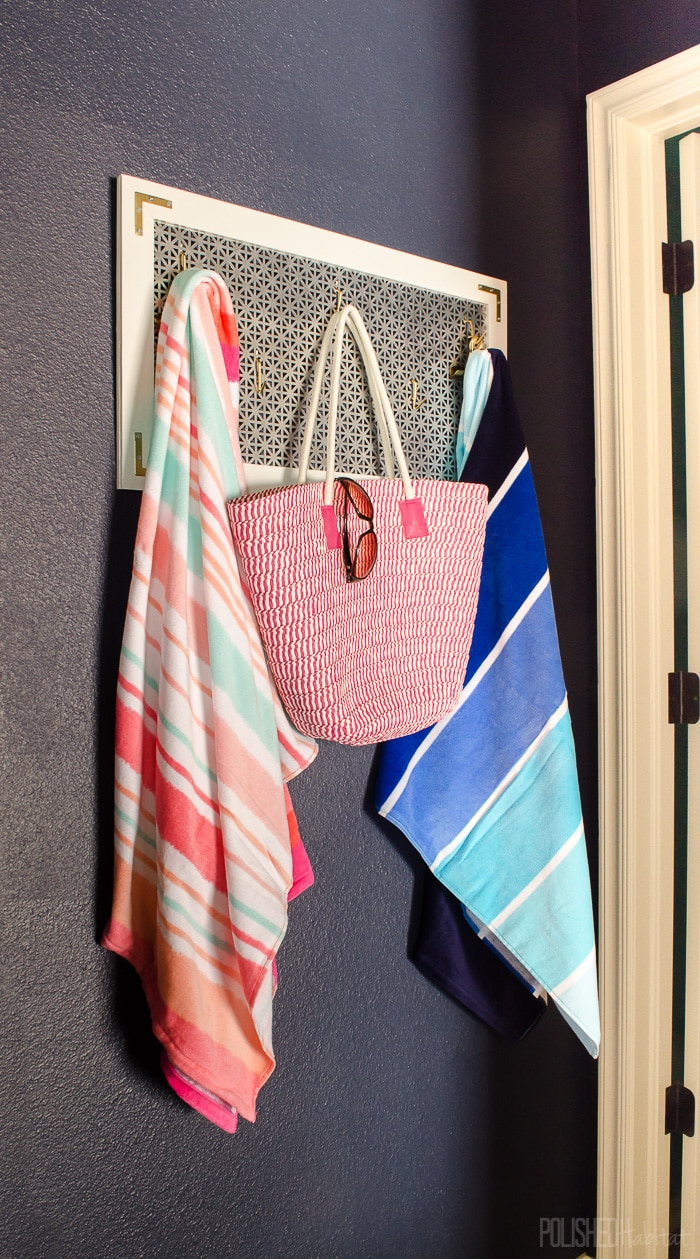 More details on this mini-mudroom can be found here.
Our master closet had a similar, but much larger scale makeover last year. Before, it was completely frightening and again, beige on beige on beige.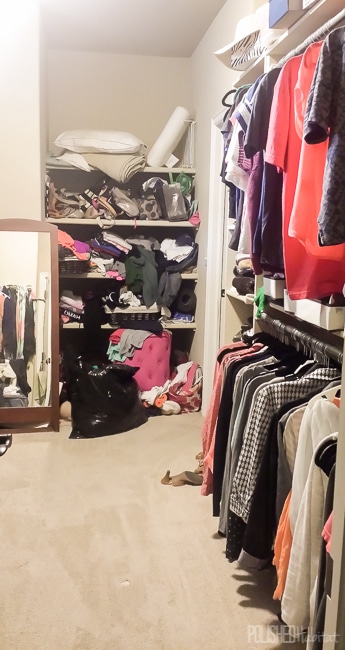 We solved both the style and functional issues!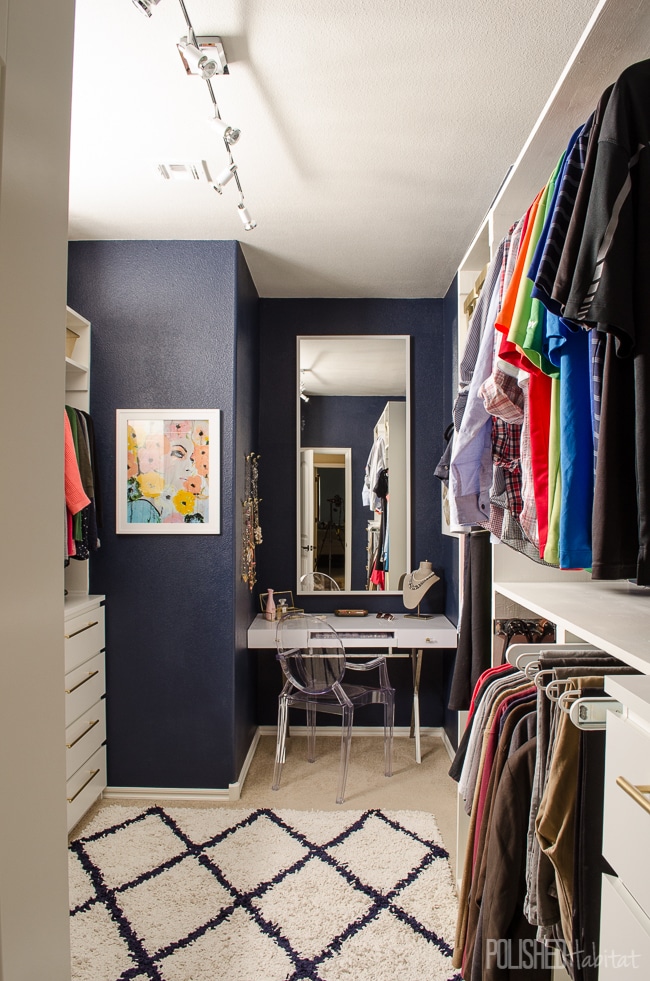 I was even able to sneak industrial details into the closet by mounting the DIY Clutch Holders with exposed screws and washers.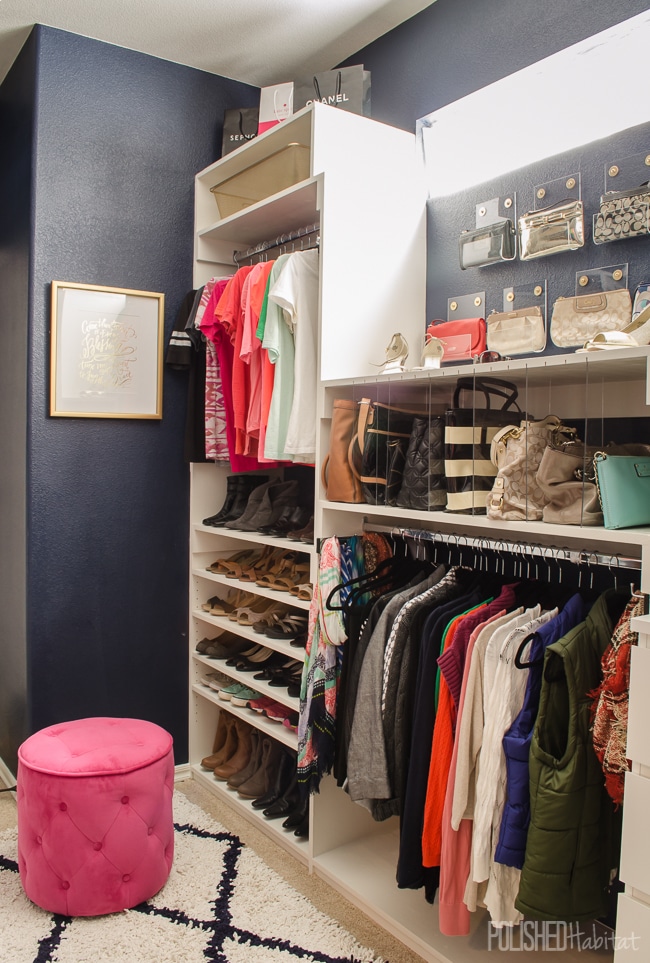 For more photos and sources for the master closet, click here.
All of those spaces were like the warm-up rounds as I continued to define my style. I kept getting braver in going for things that I loved, and it all paid off when it was time to finally give ourselves a real master bedroom. I wanted something completely opposite of the generic space we had been living in.
We have been spending more time in downtown Tulsa, which is in a mid-revitalization in the most amazing way. I realized one afternoon that what I loved about our downtown was the blend of over the top oil-money glamour from the 1920s-1930s, gorgeous art deco, urban graffiti, and new very modern structures. None of it should work together, but it all flows and creates such a feeling of both modern life and history.
I used all those things from downtown as inspiration for our bedroom.
Here's how the room started: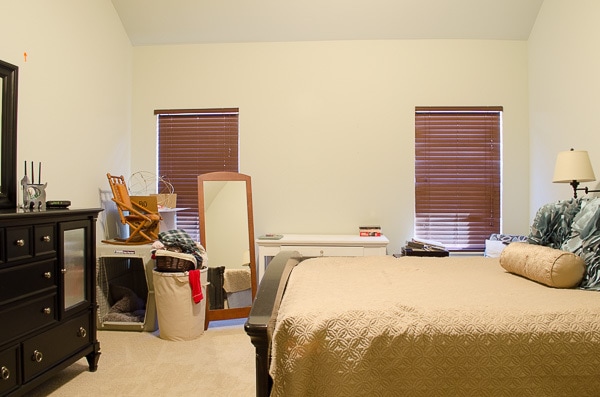 And that same view after: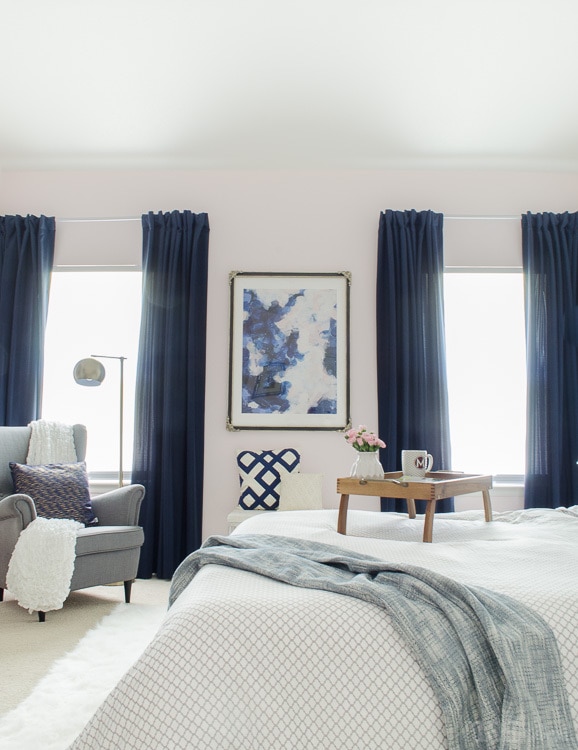 Looking in from the bedroom entrance is my favorite. Here it was before: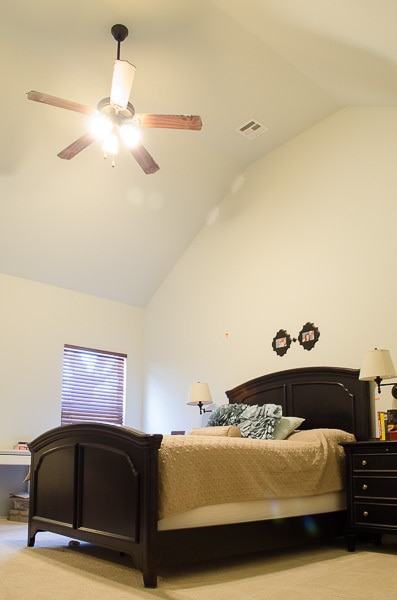 And in the after you can definitely pick out the Modern, Industrial, and Glam details.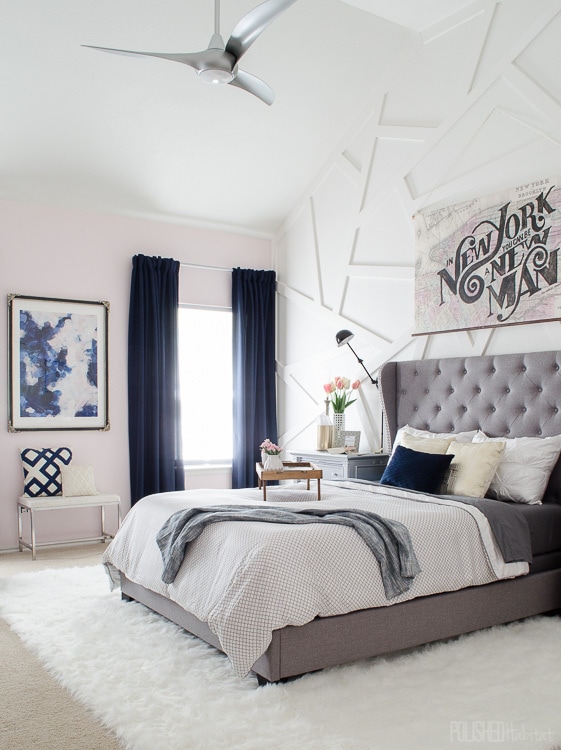 I was even able to work in my inspiration photos from Tulsa around the TV in a gallery wall. Gotta love free art!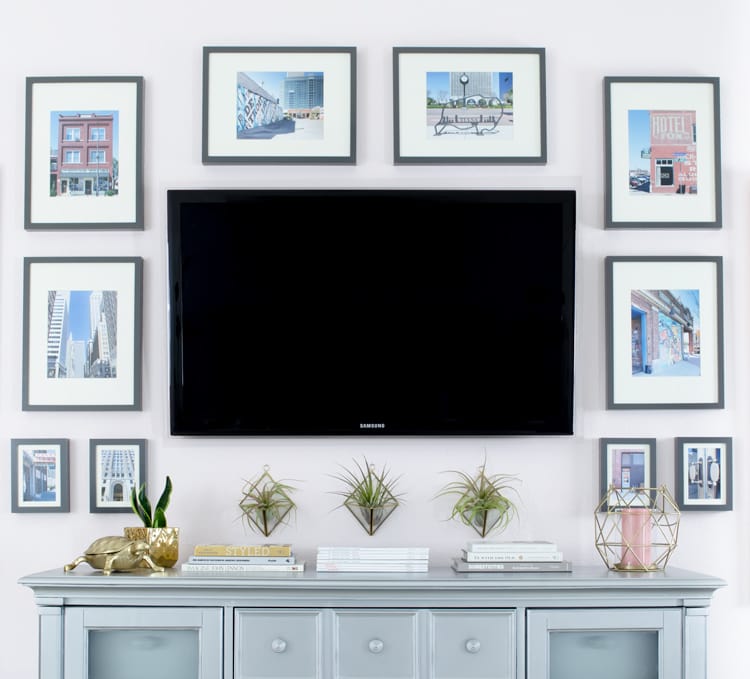 All the bedroom photos and source details are here.
Those spaces are the ones that we were able to finish as full room makeovers during different rounds of the One Room Challenge, but like most of you, we can't just redo entire rooms all the time. Turning the full house into my style is going to be an evolution over a few years.
Our living room has been SLOWLY getting Modern Industrial Glam accessories. Even though we can't tackle the whole room, adding my style in smaller ways has been a great way to enjoy the space now.
Here's what it looked like before. Why, oh why, is there a teeny tiny picture hung above that chair!?!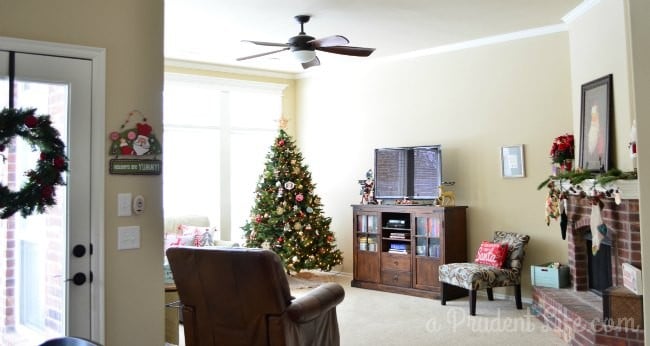 To progress to a Modern Industrial Glam look, we've switched the walls from beige to griege. I also add both gold and modern elements as I find pieces that I love.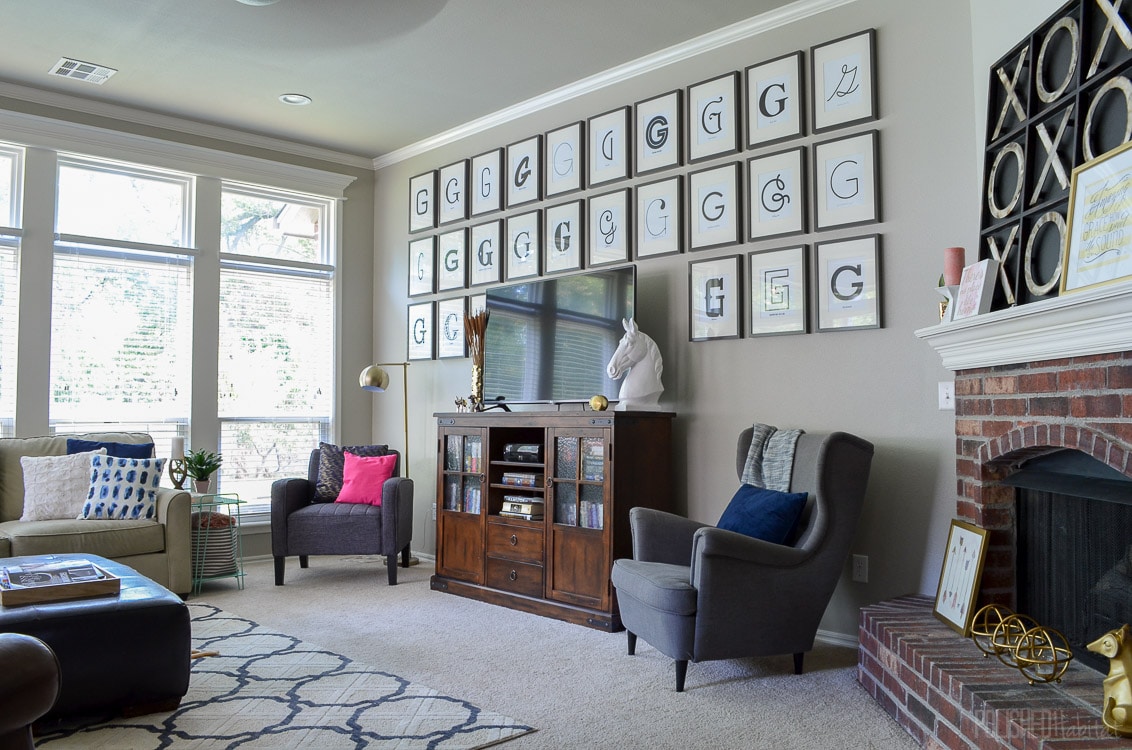 I can't wait to add a couch with more personality, swap the rug, and ditch the carpet. But, I wanted to show that you can still bring in lots of personality and style without changing the layout or expensive pieces of furniture in a room.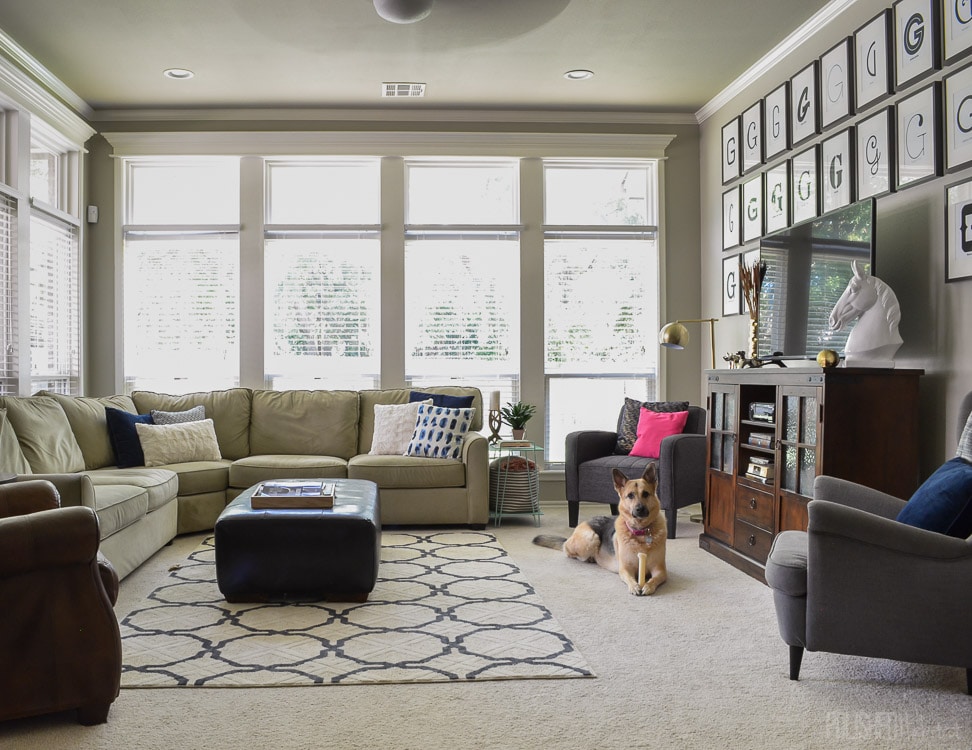 On that note, I did some virtual shopping to source out some really great accent pieces that totally fit my Modern Industrial Glam style in case the style speaks to you. Every one of them can be bought at amazing prices from Amazon! Hello, free shipping!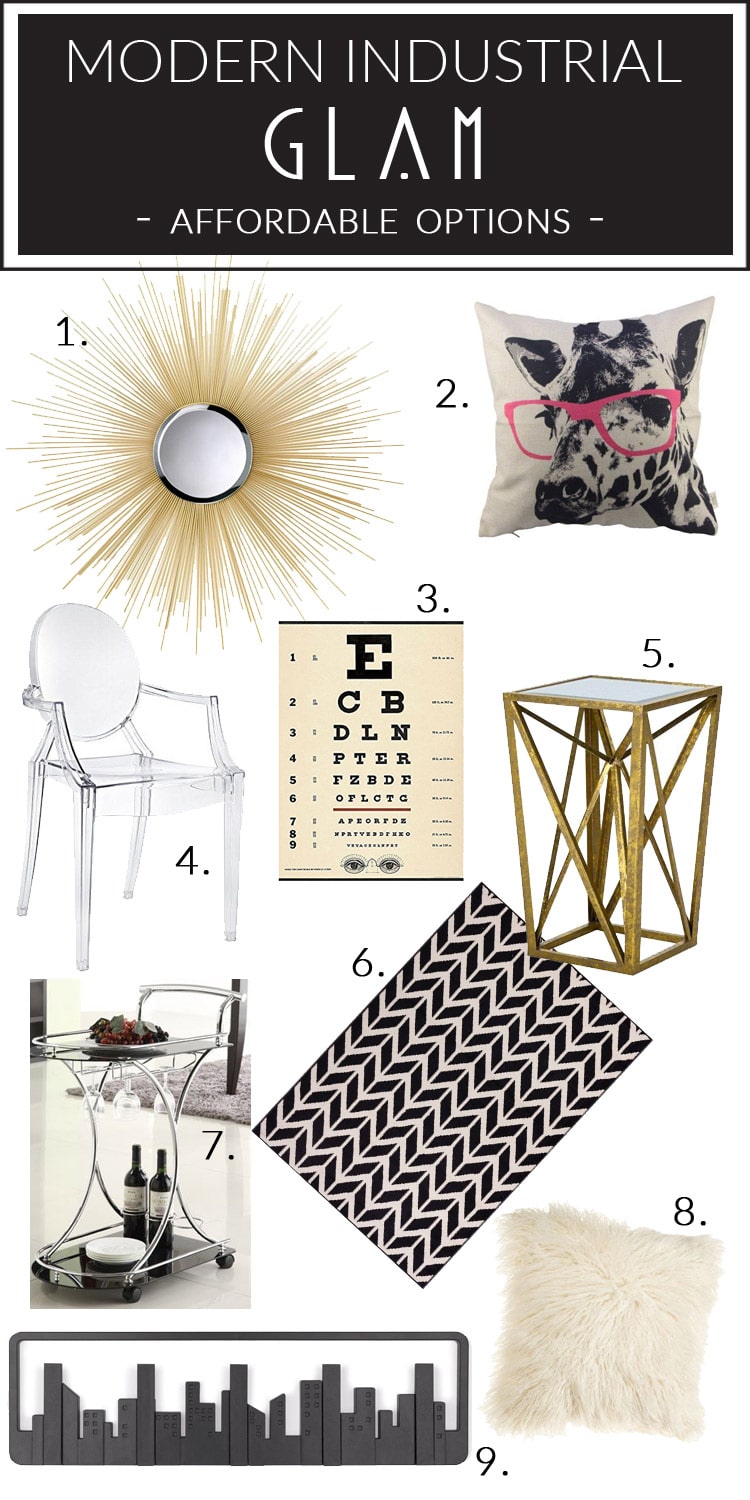 Product Sources: 1. Sunburst Mirror | 2. Giraffe Pillow Cover | 3. Eye Chart Art | 4. Ghost Chair | 5. Geometric Glam Side Table | 6. B&W Rug | 7. Chrome Bar Cart | 8. Fur Pillow | 9. Skyline Coat Rack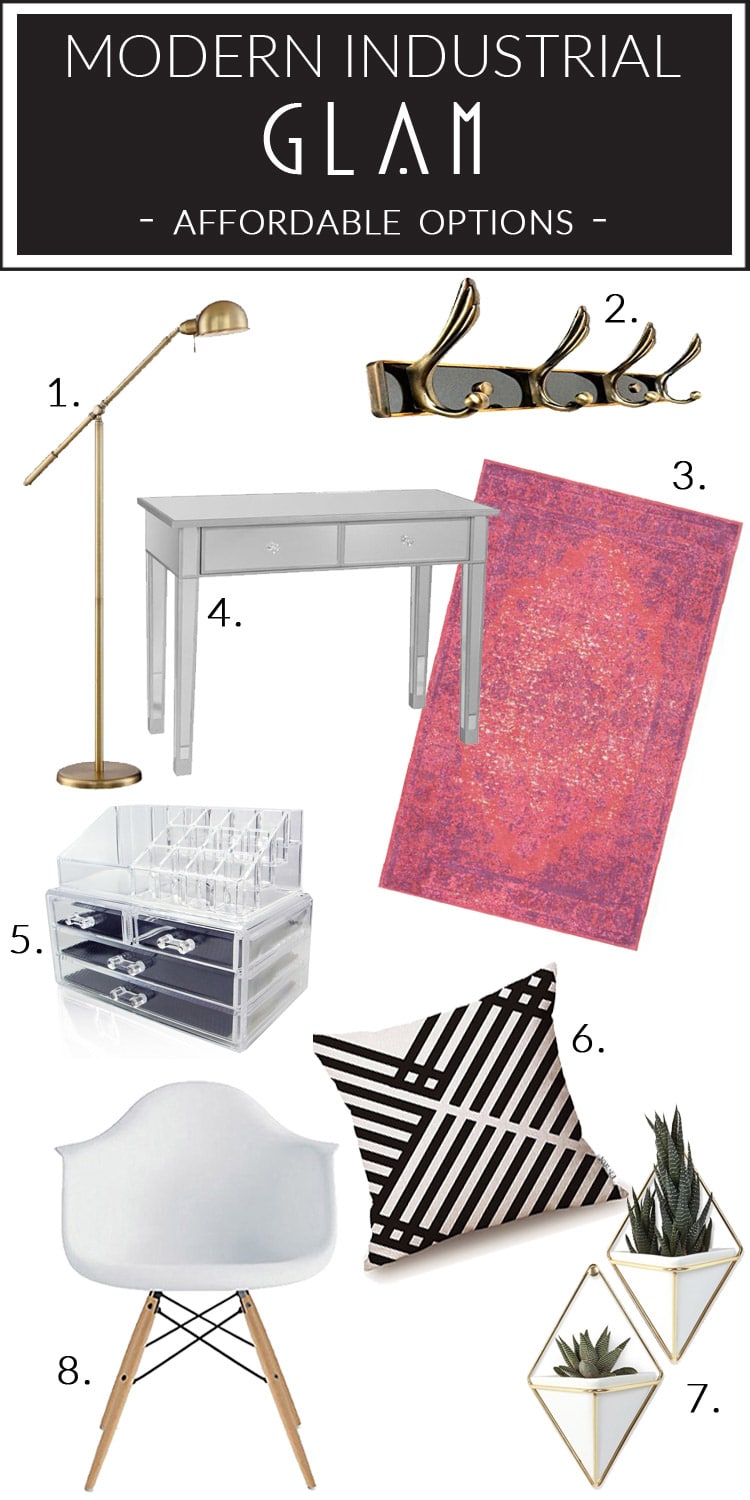 Product Sources: 1. Gold Reading Lamp | 2. Deco Coat Rack | 3. Pink Overdyed Rug |4. Mirrored Console |  5. Acrylic Makeup Organizer | 6. B&W Geometric Pillow Cover | 7. Wall Mounted Planters | 8. Modern Chair
That eye chart poster is under $10 for a good size piece of art – what a deal! I've got it in my Amazon cart right now, along with the gorgeous deco coat rack. I think it would be perfect in the bathroom for robes! I would have already placed my order, but I'm trying to decide if I "need" to pick up that black and white geometric rug as well. It's a bigger investment, but at the same time, a total steal for a stylish 8 x 10 ft rug. I think it might be the perfect next step in the living room transformation!
Now that you've seen my Modern Industrial Glam style, make sure you click over to visit the next house on the list, which happens to be my great friend Angela from Blue i Style. You can also find the entire list of participating blogs below!
MONDAY
TUESDAY
WEDNESDAY
THURSDAY
FRIDAY