Oh dear, we are quickly running out of days to finish our bedroom makeover. In good news, I'm LOVING the parts that have come together. In bad news, we only have 5 days until I need to be taking photos. Oh, and I'll be out of town 2.5 of those days. YIKES!!!
If you're a first time visitor, welcome to the madness! I'm at the end of a wonderfully chaotic process called the One Room Challenge (ORC), and our One Room is the master bedroom. You can get all caught up on the before photos and my plan for our Uptown Meets Downtown bedroom back in this post.  Once you've read that, hop back here for the latest happenings in the room.
At the end of last week, we had a super scary list left. We put a huge dent it in, but do still have some major things left. Here's the list from last week:
Paint Wall
Paint & Install Dresser Pulls
Install Fan
Install Drapes
Install TV – Take 2 (new mount on order)
Pick Reading Table & Lamp
Buy or Build Frames for Bathroom Door Wall
Pick New Bedding
Pick a Reading Chair
Build 30×40 frames for the Gallery Wall
Gallery Wall between TV & Big Prints???
Install Bedside Lamps (which may be another small building project)
Big Secret Art Project
Accessorize
Room Photography
Getting all the drop cloths off the floor and the furniture moved to the right spots was a HUGE relief. Even though messes of tools and supplies are covering much of the space, something magic happened when we moved the bed against the feature wall and got a few accent pieces moved in.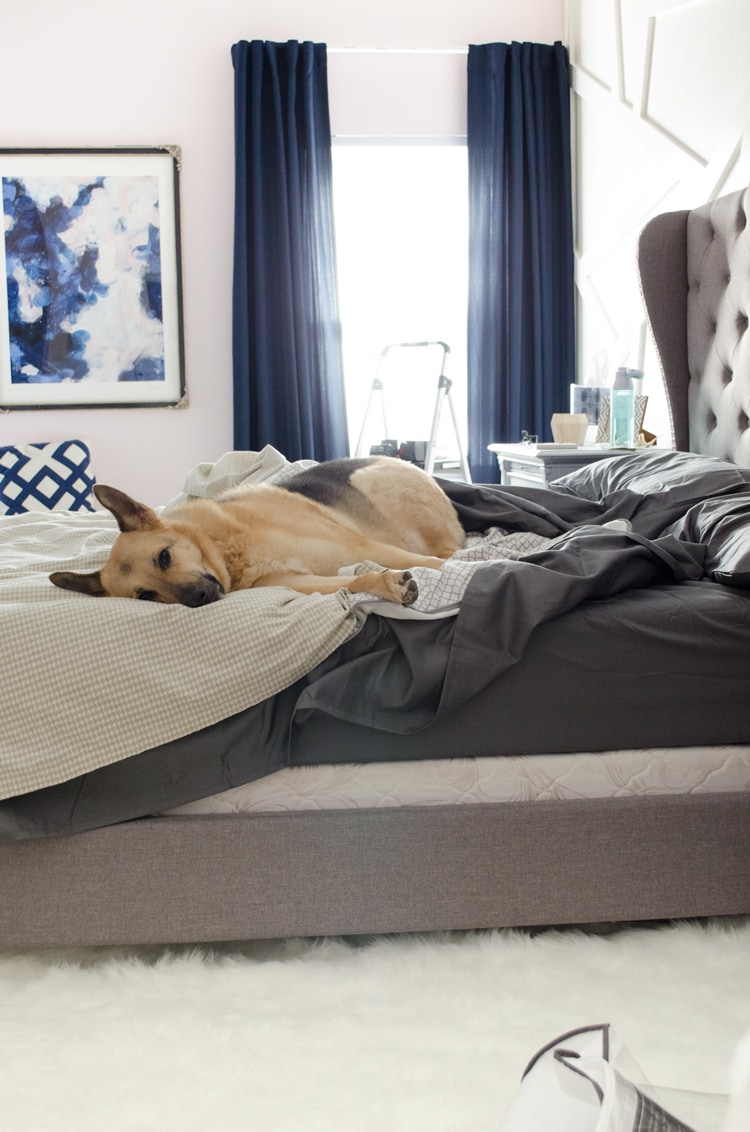 I'm pretty sure I could leave the room in this half disaster/half perfection state for a long time and still love it. Clearly Maddie agrees. She looks pretty dang comfy in the new space, right!?!
Thankfully, we've got the pressure of the One Room Challenge to keep us moving and motivate us to get the room all the way done. That meant I couldn't lounge around all day in bed like the dog. I had to get serious!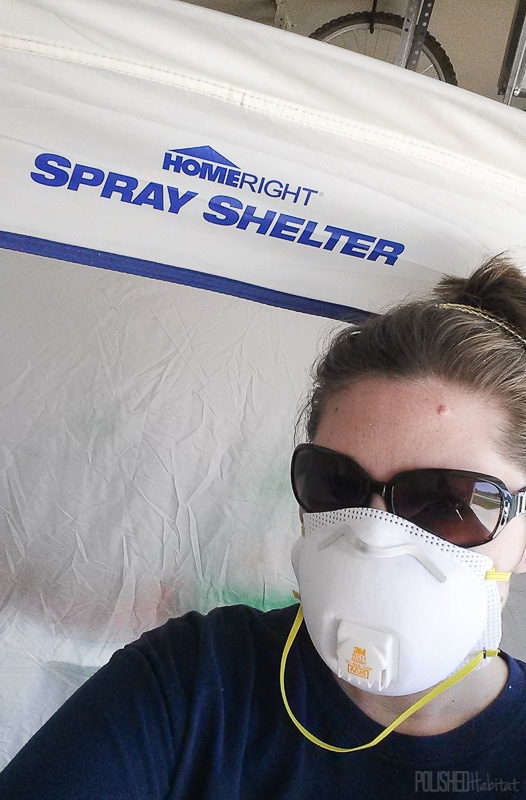 I've been hoarding a pile of items that all needed to be spray painted so I could pop up my Spray Shelter and get all the painting done at once. If you're a regular reader, you know I LOVE the Spray Shelter because I LOVE to spray paint, but have a tendency to get it everywhere.
HomeRight is a returning sponsor for me in the One Room Challenge, and they offered up a Spray Shelter for one of YOU. Stay tuned to the end of the post for the GIVEAWAY!!!!
Here's what it looks like set up in the garage. I assembled it all by myself in 8 minutes and 22 seconds. Yes, I timed it because I was super curious. Based on the tiny bag the whole thing is stored in, I'm impressed every time I set it up into a huge tent.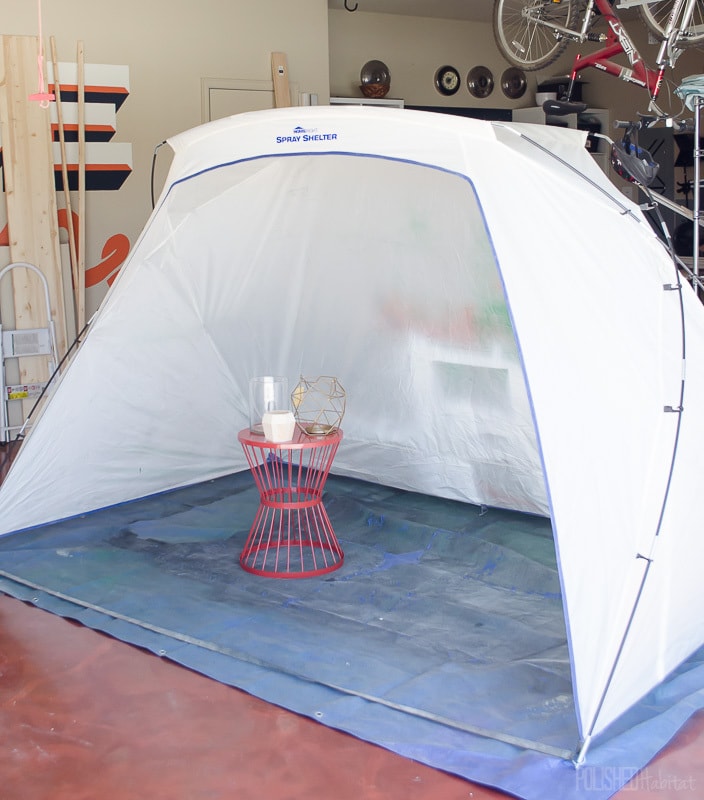 And can we talk about that chic table? It's an outdoor table I found at Lowe's for the budget friendly price of $39.98! As soon as I saw it, I knew it wanted to be gold.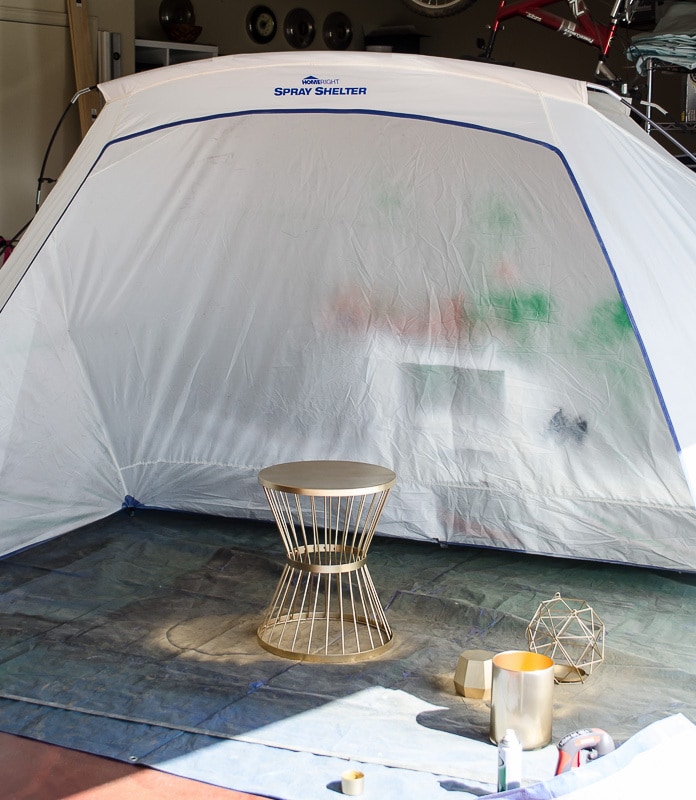 The newly gold table will go into the reading corner, next to the chair that I spent hours looking for, only to find it in my own living room. Yep, after way too much time spent trying to find the perfect comfy chic chair at the perfect (aka low) price, that could be delivered on a tight schedule, I gave up. Or had a brilliant idea. We already own a gray IKEA STRANDMON chair that works pretty well in the space. Long term, I'll still be looking for something absolutely perfect that is less matchy with the bed.  I'd rather go with this now and wait for the dream chair later than rush into something I'd regret by next month. Doesn't the chair look great?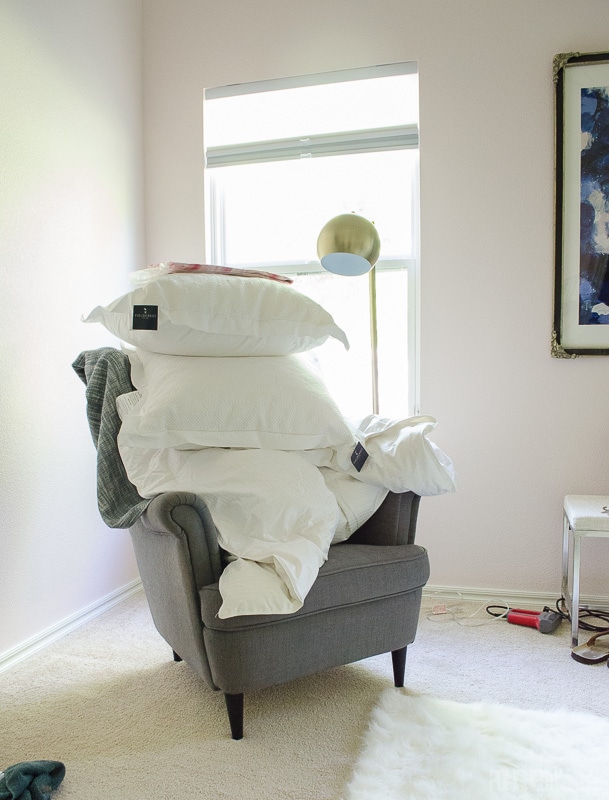 Oh, so sorry, the chair is buried right now. And I don't want to give TOO much away before the reveal next week. Hehehe. Since I cheated you on the chair corner, here's one more thing we crossed off the list last week. We framed the vintage building art with new frames (thank you Hobby Lobby 50% off!), but instead of using them as we bought them, I painted them with the leftover Rust-Oleum Metallic Accents paint I used on the dressers. I'm totally obsessed with that stuff! I used a combo of the lighter Sterling Silver with the darker Real Pewter to give the frame some depth.
Random side note, that building still exists in downtown Tulsa and many of the floors are now apartments. We toured one last year and want to live there SO BAD. If they were for sale and dog-friendly, I'd be 100% in. 
The hardest part of this week has definetely been the building of the 30″ x 40″ frames for each side of the TV. Seriously, it's been a MAJOR what can go wrong, will go wrong fiasco. Night after night, something happens and we have to go back to the store, spend more money, and push things back a day. I know we'll get them done. We built 6 with no issues in the office last year! The delay is freaking me out though.  I'm not making the call on what other art to add to that wall until the frames are done and the big art is hung. Which means I'll have very little time to both decide and implement.  Yikes! The ideal scenario would be the wall looking "done" with just those pieces, but I just can't decide until I see the spacing. The secret art project for above the bed is in progress now, but requires some more work as well. And we have two sets of wall-mounted bedside lamps, but I'm not sure either are going to be what I really want. Which would mean more last minute shopping. Eek.
Send lots of happy thoughts for our final week, we're going to need them! And don't forget to enter the giveaway for the HomeRight Spray Shelter below. On mobile, you may need to click the words "a Rafflecopter giveaway" to enter.
Don't forget to hop over to Calling It Home to see what the other 150+ One Room Challenge participants are up to this week.