I teamed up with Bon Jovi to write my Week #3 One Room Challenge update.
Here's what we came up with:
Woah, we're halfway there
Woah-oh, livin' on a prayer
Take my hand, we'll make it I swear
Woah-oh, livin' on a prayer
Pretty catchy, right?
Okay, okay, MAYBE Jon has no idea who I am. Or what's going on in our kitchen.
But it VERY accurately describes the current situation.
We'll make it, I swear, but it's going to take some teamwork and prayer!
Although Corey was in LA at the Adobe Max conference 5 days this week, I still made progress while I was living up the single life…at home in fuzzy pajamas.
The upside of being a team of one this week meant learning a new life skill.
I was trying to knock out all the smaller projects I could, like painting the pantry door. To paint the door, I needed to remove the old door handle because it is being replaced with something more modern.
It took a minor amount of elbow grease and a bit of figuring out how to access the hidden screws, but overall the process was easier than I expected. So easy that as soon as the paint was dry, I was confident I could install the new handle as well! I was right – the install took MAYBE 5 minutes. Anyone could do it!
I love the new slim square lever! And the SW Tame Teal paint makes me do a happy jig every time I see it.
The next part isn't anything you'll see in the reveal photos, but while I was shopping for other kitchen items, Amazon convinced me I needed a new silverware drawer organizer. The other one wasn't big enough so always slid around. I love that this model expands to fit.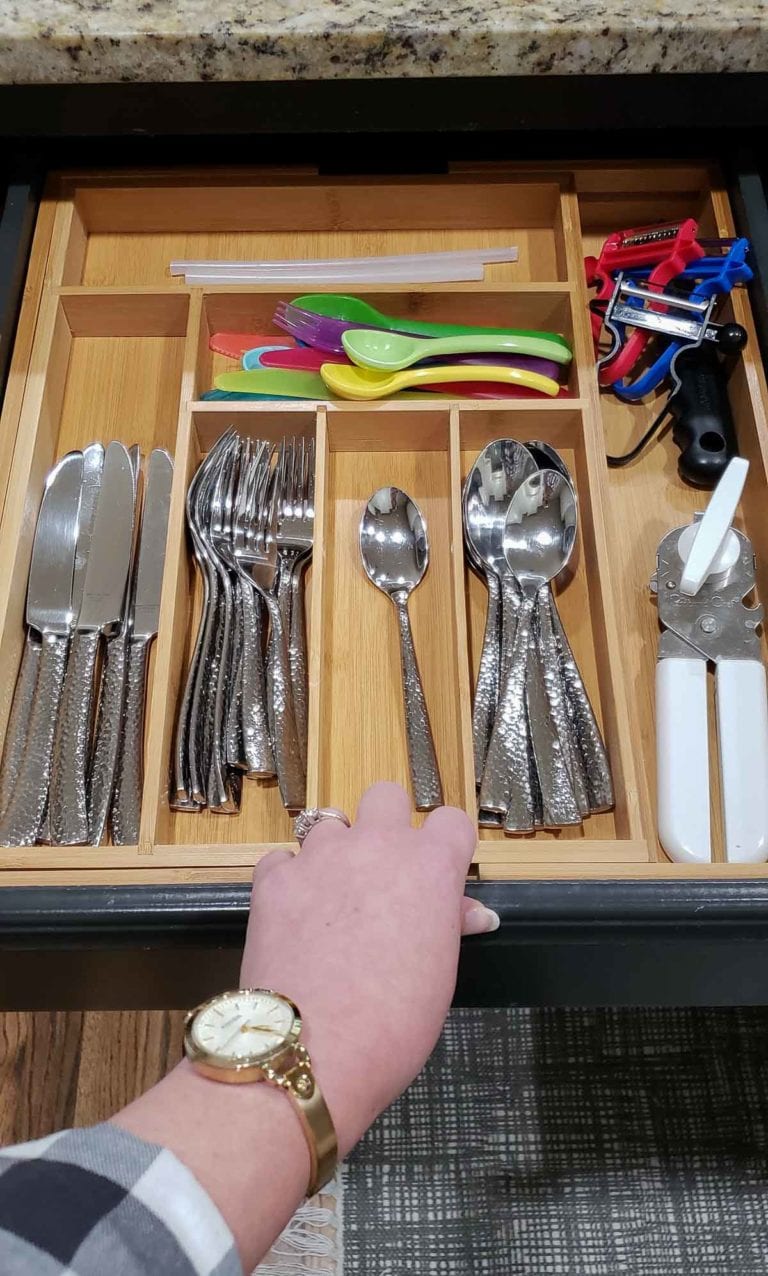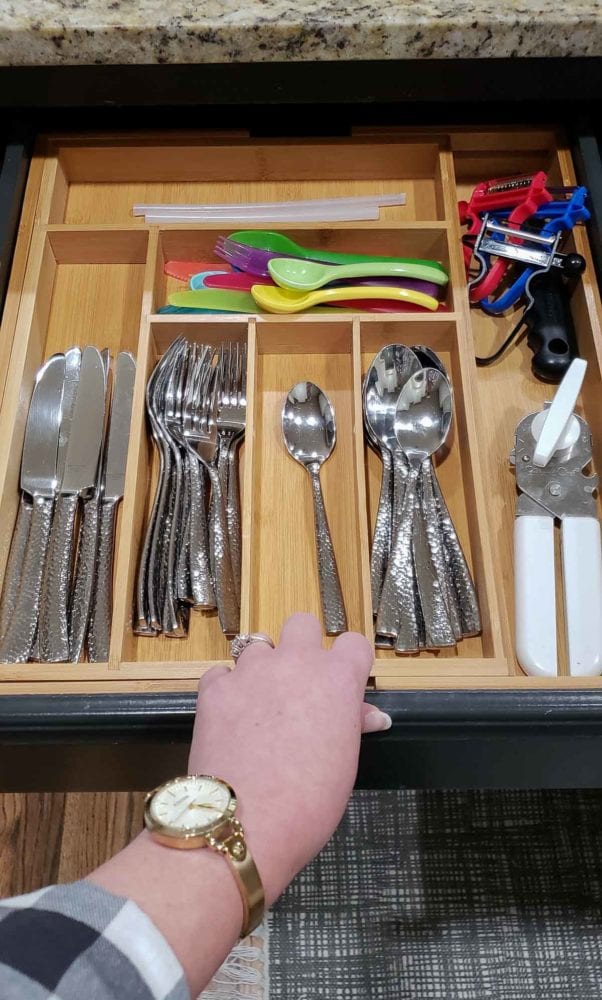 The old silverware organizer then found a new home in another drawer. Ahh, sweet, sweet organization.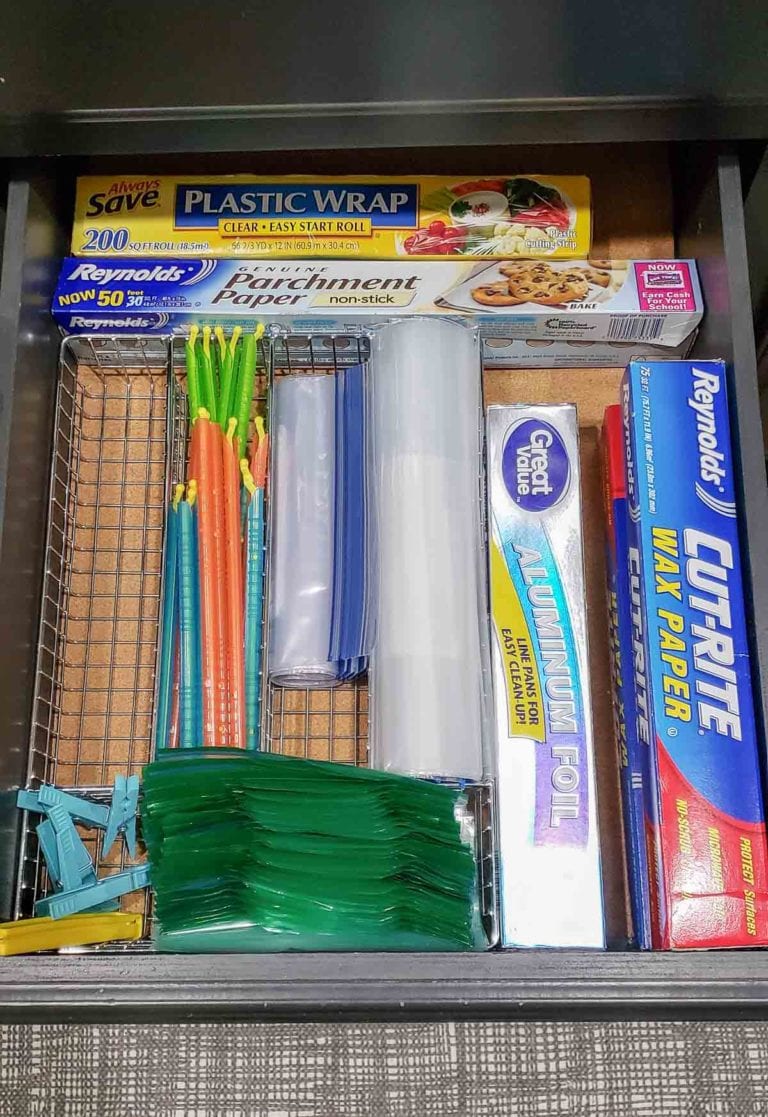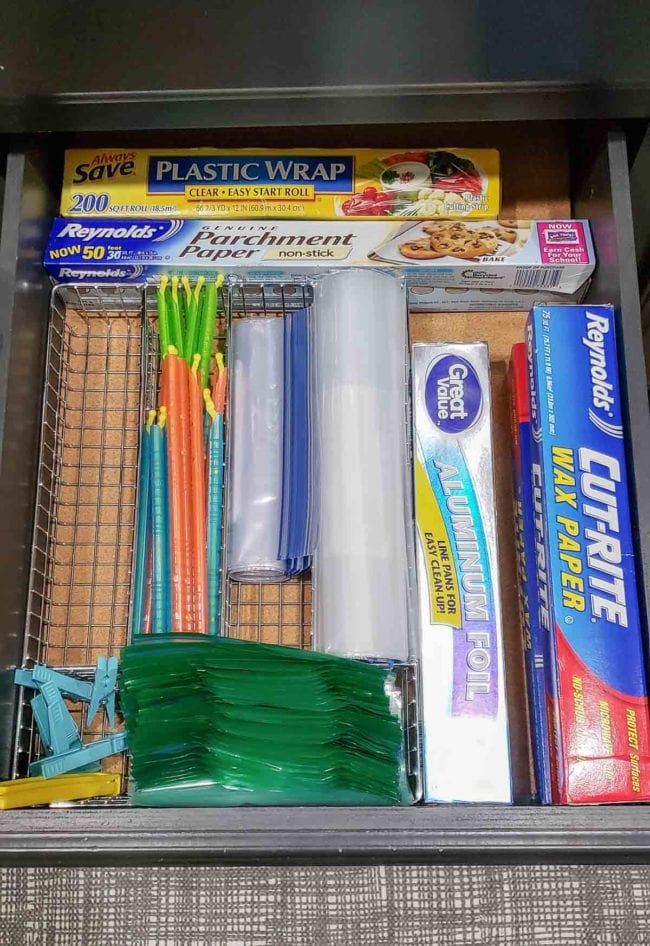 I spent Tuesday evening painting the wood legs of all our kitchen chairs soft gold. When the sun hits them, they're perfect!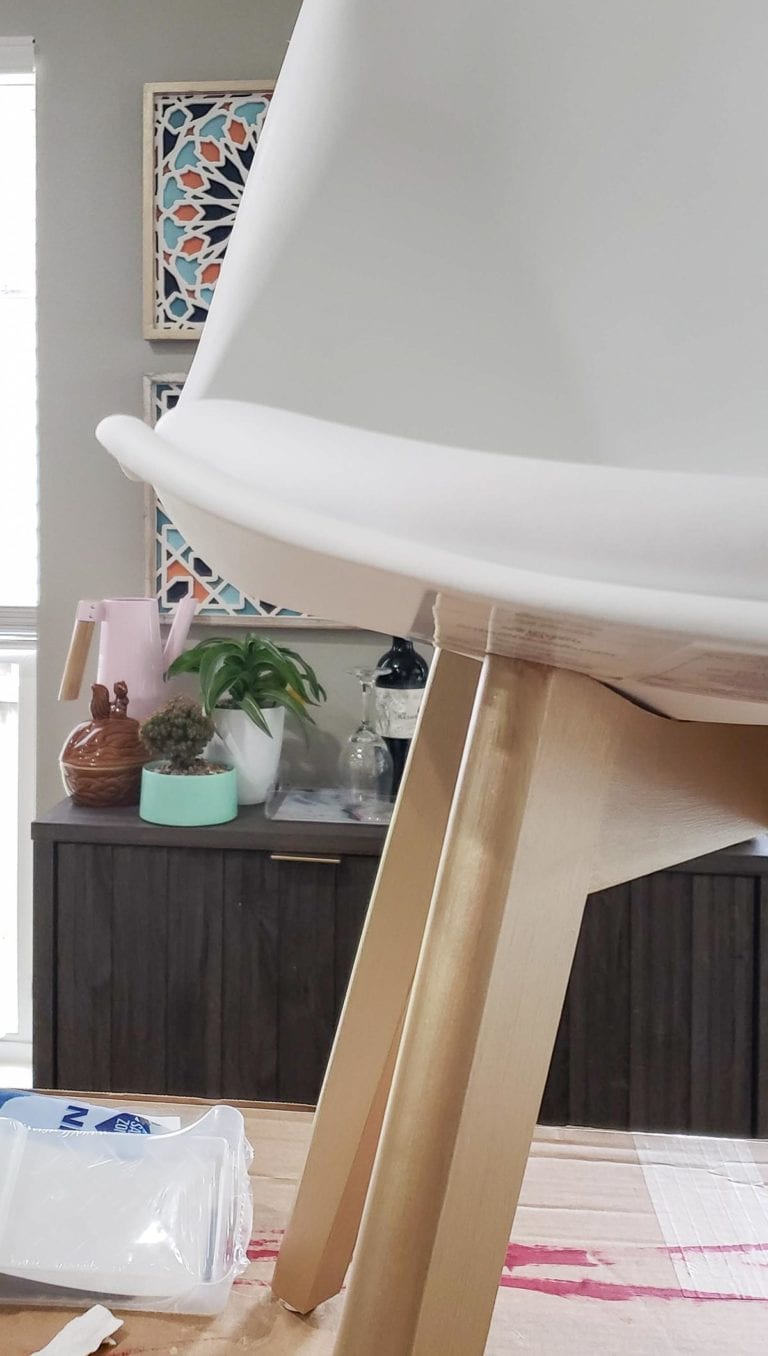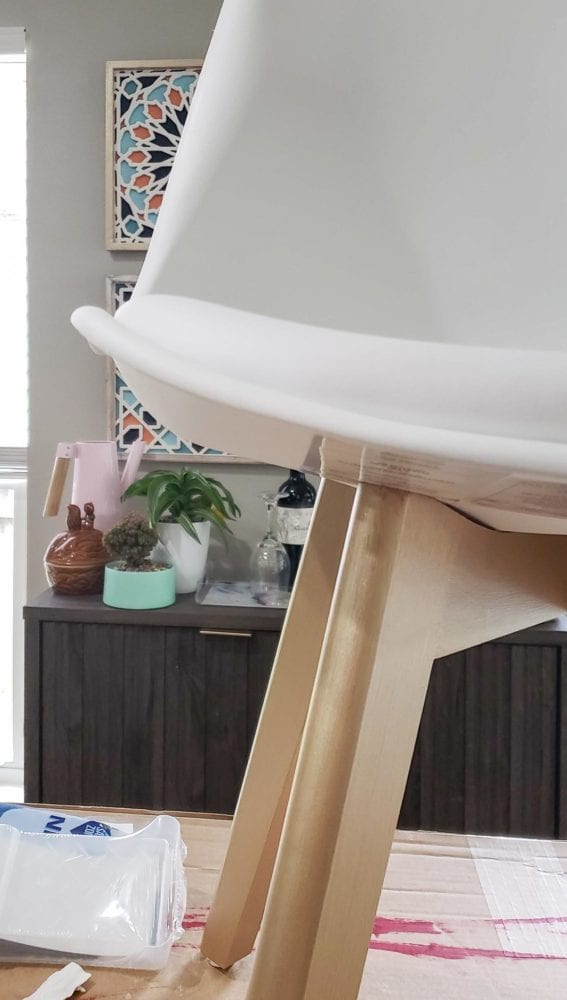 However, stay tuned because the legs may change again.
Sometimes, they just look sad tan when the light isn't hitting them. I'm going to wait until the rest of the area comes together and then decide if they should be another color. The best thing about paint is that you don't HAVE to get it right the first time.
The next pic has a sneak peek of the new shoe cabinet hardware, and a scary peek of what not only the dining room, but the living room and entryway look like this week. Pretty decor becomes so chaotic when it's covered in cardboard!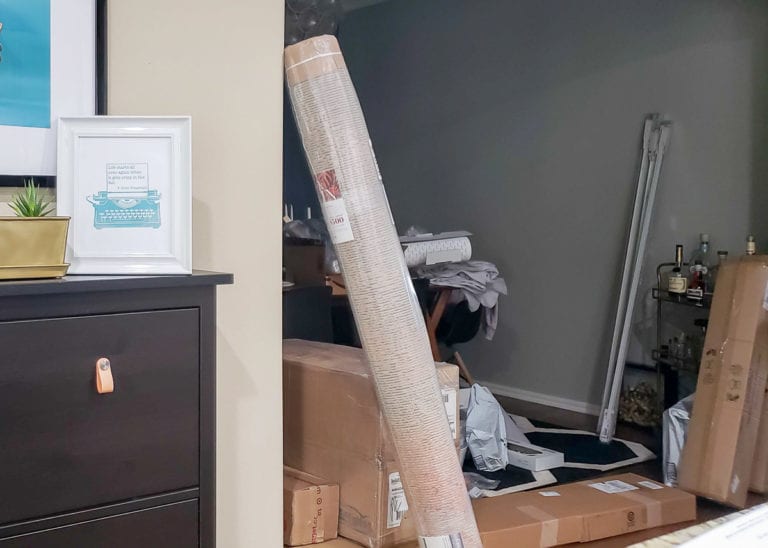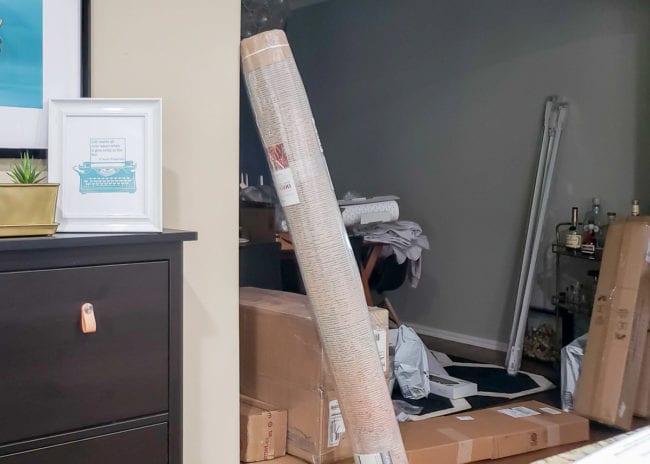 I've been torn between wanting to show you everything as we go and wanting to keep some things for the reveal, so true to my personality, I landed on a middle ground.
Here's HALF of one of the new barstools!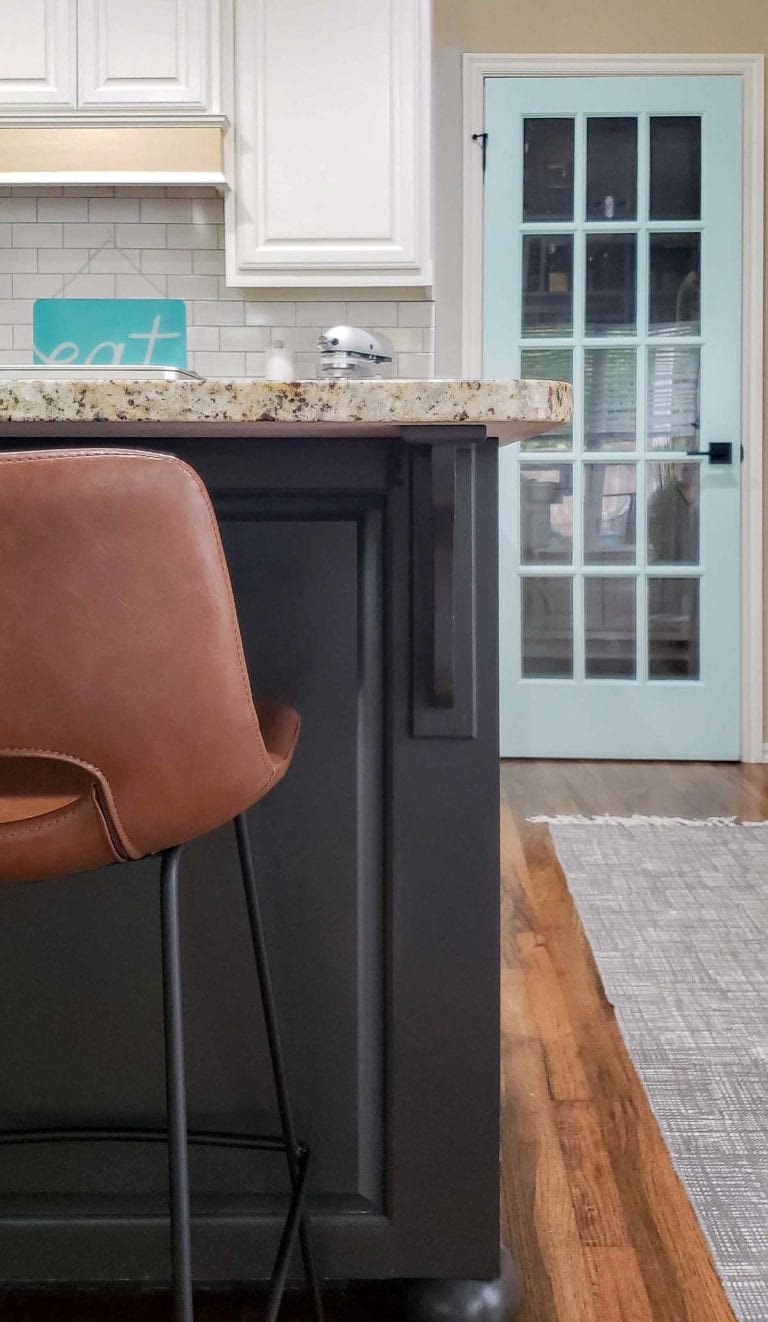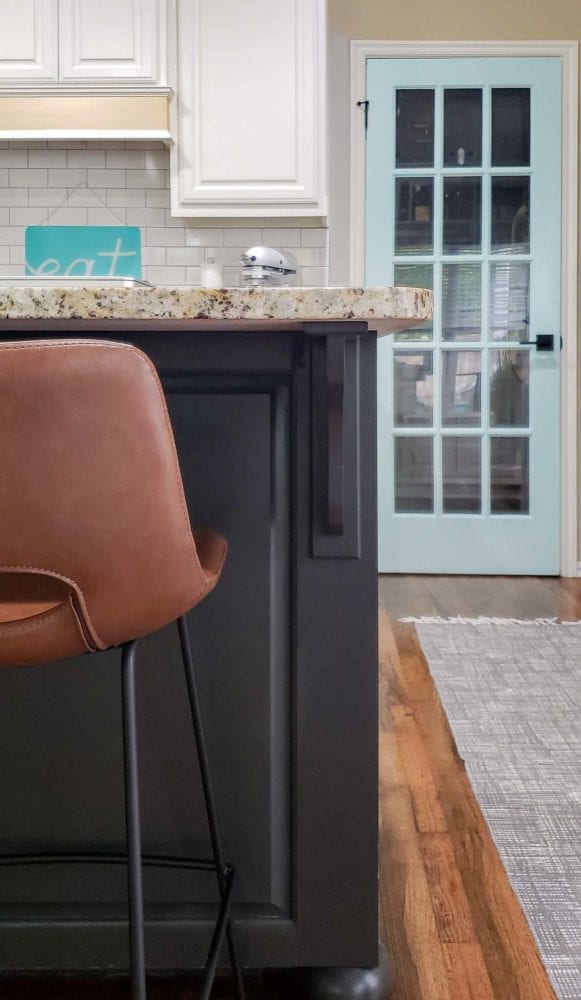 The barstool buying process was quite stressful. Every time I found one I loved, the store was out of stock until after the One Room Challenge.
And not just one or two stores…FIVE different cognac leather counter-height barstools were sold out. The upside is that I spent so much time searching that I have an awesome list of leather barstool options now. I'll share those in another post soon!
Here's a little recap of what I finished and what we have left.
FINISHED THIS WEEK:
Assembled New Barstools (woo hoo!)
Installed New Hardware on the Shoe Cabinet
Painted a Gold Band on the Vent Hood
Painted the Base of the Kitchen Nook Chairs
Painted the Pantry Door
Installed New Pantry Door Handle
Fixed Scratches in Wood Floors (Using My Simple Wood Floor Scratch Repair Tip)
Hours of Online Shopping, Resulting in A New Secret Plan for the Kitchen Nook Wall
Organized a Couple Drawers in the Island
NEED TO DO:
Prep & Paint Island
Wall Paint
Island Light Fixture
Nook Light Fixture
Hanging Herb Garden
Install Door & Drawer Hardware
Install Nook Shelves
Attach Pull Out Trash-Can to Cabinet
Move Art
Install Curtain Rods/Curtains
Install Window Film
Decorate All the Things
My real goal for this week to is to tackle things in a logical order and not the order of my whims. We'll see how that goes.
Don't forget to check out the One Room Challenge site to see what everyone else is up to this week!