Fixing the scratches in our wood floors turned out to be way easier than I expected. Now it's part of our spring cleaning routine.
I think it was the same week that we moved into this house that the brand new hardwood floors suffered their first big scratch. Someone innocently slid a dining room chair that we hadn't put felt pads on yet, and we said goodbye to the perfect floors.
Over the past few years, we've acquired plenty more scratches and I started counted down the days until it was time to have the wood floors refinished.
Then, I had an idea for a quick fix and after a little trial and error testing, it worked even better than I hoped with NO sanding required!
I'll show you my new favorite trick, and then tell you what DIDN'T work for me.
Materials for Scratch Repair:
1 Minwax stain marker to match the dark grain of your wood
1 Minwax stain marker to match the lighter parts of your wood
Paper towel or clean cloth
(PS: This is NOT sponsored, just what I found to work. I would NOT recommend buying those markers on Amazon. I was going to link to them for you, but the prices were 3 times higher than in-store and they didn't have very many colors.)
Here's what one scratched area looked like before: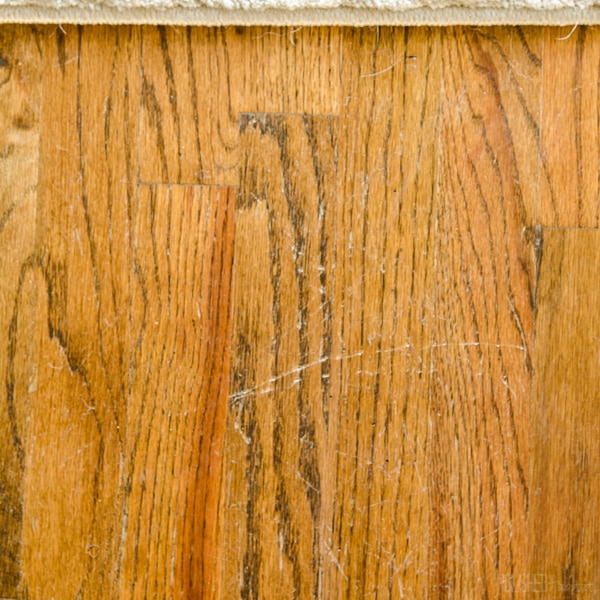 Step 1: Use the darker marker to dab just the section of the scratch where the grain should be.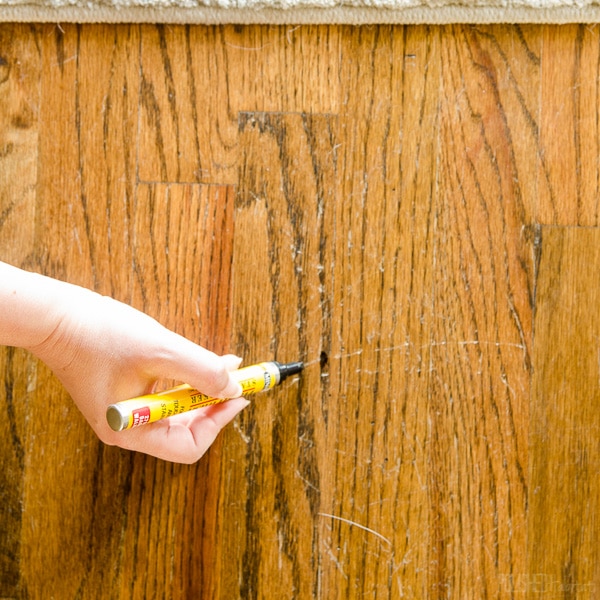 Step 2: Quickly wipe away any excess stain.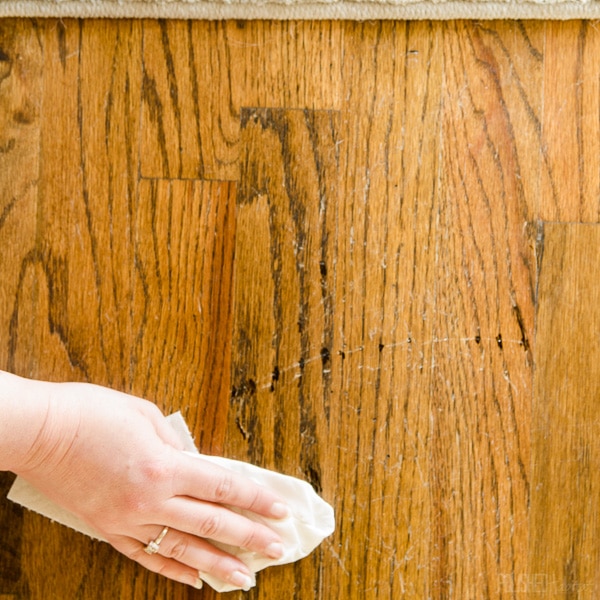 Step 3: Use the lighter marker to go over the whole scratch. You can go right over the areas you already used the dark marker on.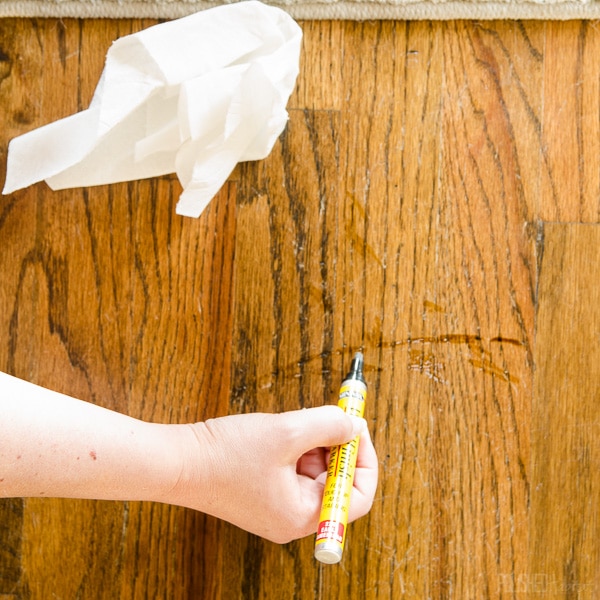 Step 4: Quickly wipe away excess stain.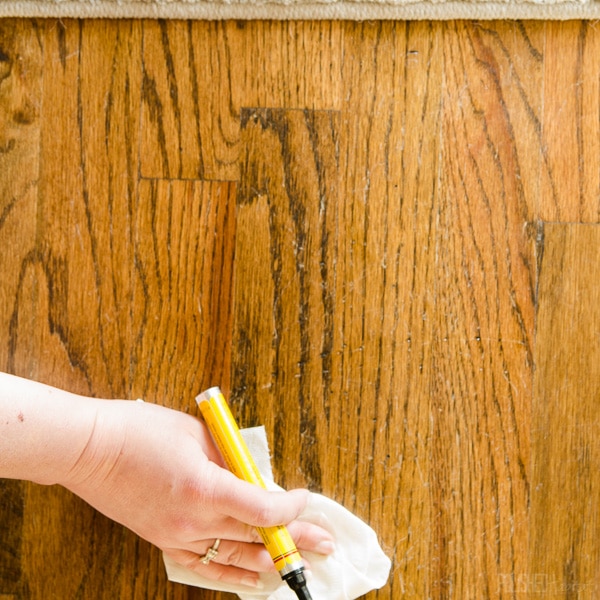 Your scratch may be perfectly filled at this point or you may need to repeat the steps. In some spots, our floors are darker and I needed to leave the stain for a minute before wiping the excess.
IMPORTANT: Test out the markers for the color match in a hidden area before tackling any prominent scratches. I don't want you to make the floors worse than they started! When in doubt, start lighter because you can also go darker.
What Didn't Work:
I first tried a Minwax Blend-Fil pencil, but I wasn't a fan.  It's waxy, which I thought would be great to even out the scratches, but it filled the scratch with a solid color and didn't look natural to me. I also tried it on a piece of wood furniture, but the consistency was still strange.
Then, I tried just a single color marker. It looked better than the before photos, and the scratches weren't AS noticeable from a distance, but you could definitely still see them. Adding in the 2nd color made a huge difference!
Two markers was the winning formula! Here's one more look at the before & after.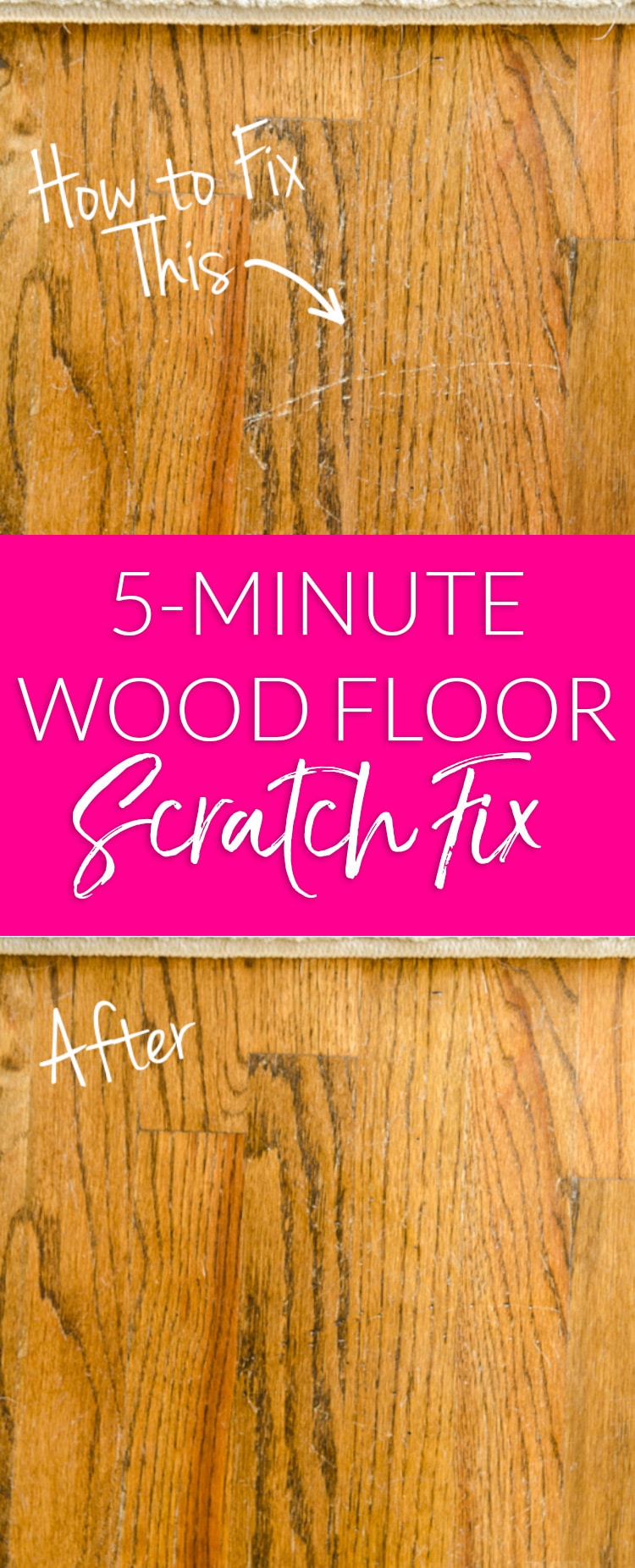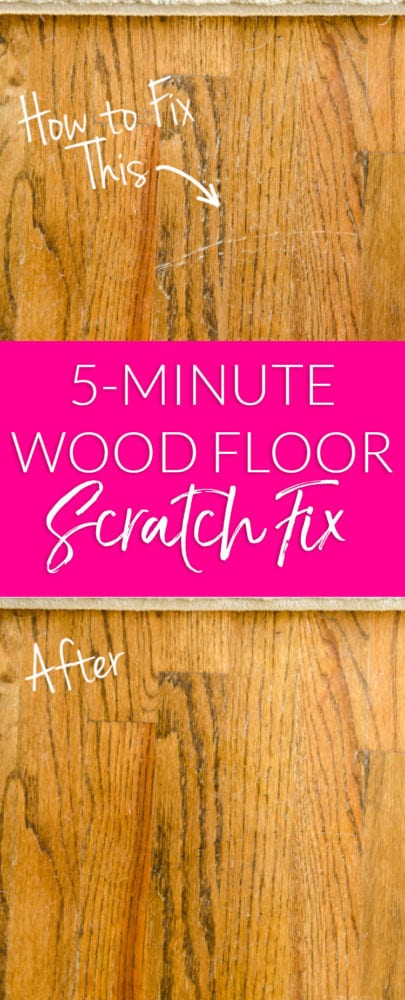 Not bad for about one minute of work, right?
For more fast decorating & organizing ideas, check out the rest of the Fast Fix Friday series.