Who has overnight guests around the holidays? We've talked before about a few things to do to make them more comfortable, but what about those real-life essentials that need to be done in the 48 hours before they arrive?
I find that of all meals, breakfast routines are a bit more sacred for people. And by breakfast, I mostly mean coffee. 🙂 Plus, some people are naturally early risers and just want a piece of toast and coffee at 6 AM, while others eat a full breakfast, and a third group tends to not be hungry until almost lunch (I'm in that camp).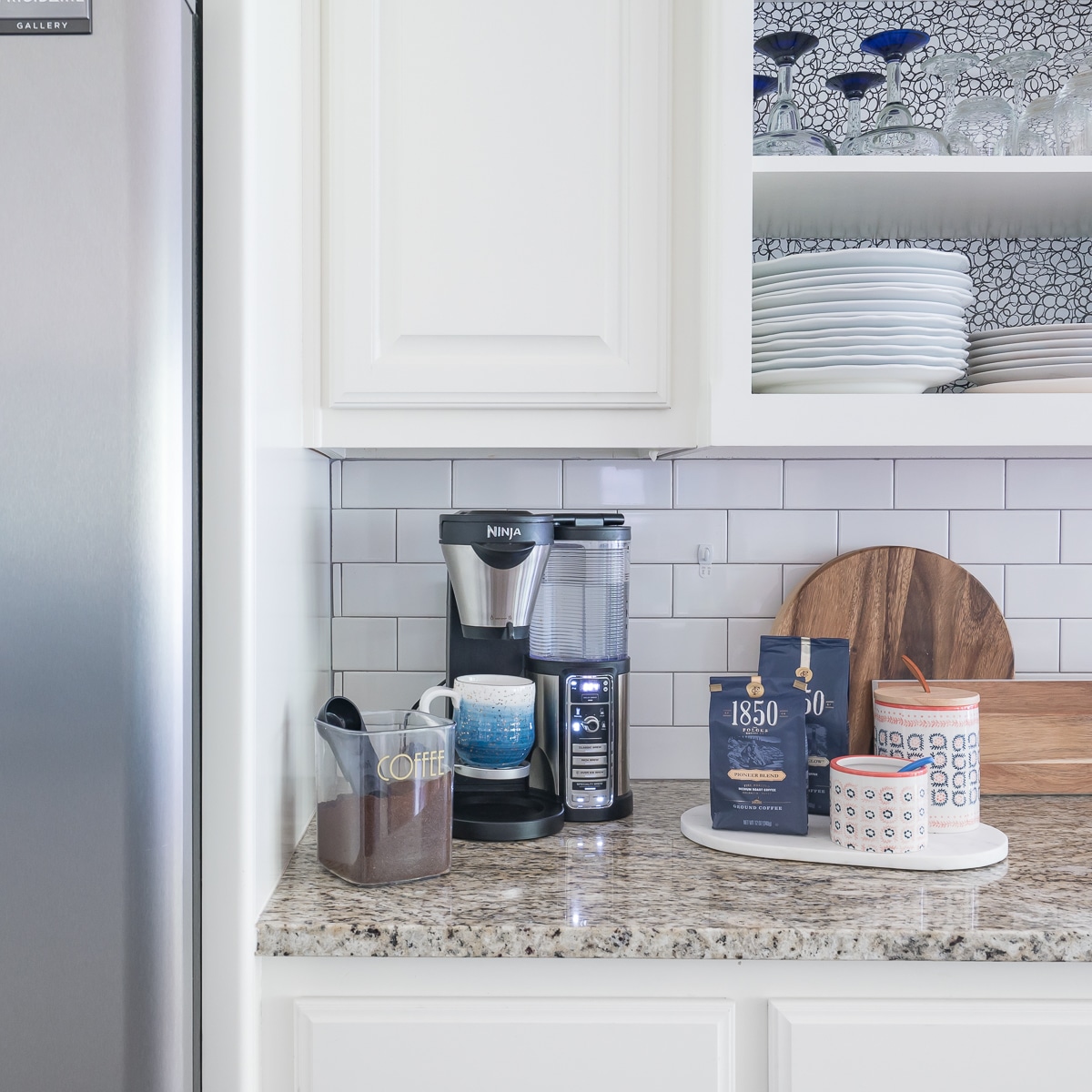 Give your guest a call or text 48 hours before the visit to ask about morning routines and offer to pick up any specific creamer, yogurt, or other drinks they love. I've not always been perfect at doing this one, but it makes me happy when I can grab something that will get their day off to the best start. I find that asking specific examples (IE: "What's your favorite soda?") gets people to open up a bit more about preferences.
Since you're headed to the store anyways, be sure to check your toilet paper and hand soap stash in the guest bathroom!
The last thing you'll want to add to your guest prep shopping list is Febreze In-Wash Odor Eliminator. It's handy for every home, but essential if you've got dogs or cats. You can print out a $4 off coupon here before you head out the door to Walmart. (11/26/18 Update: There seems to be a problem with the coupon today, I apologize for the inconvenience and I'm waiting to hear back from Febreze on whether we can get a new link.)
If guest towels and extra blankets aren't in a rotation of being routinely used, I find they develop a bit of a stale, musty smell. I used to think it was something that only happened in older homes, but one day I opened our rarely used linen closet upstairs. It smelled like a vintage grandparents house!
We also keep a few towels in the guest bathroom, but it could easily be 6 months between uses. I started to think about the dust and other smells that must infiltrate them and realized that I needed to start washing the towels before we have company.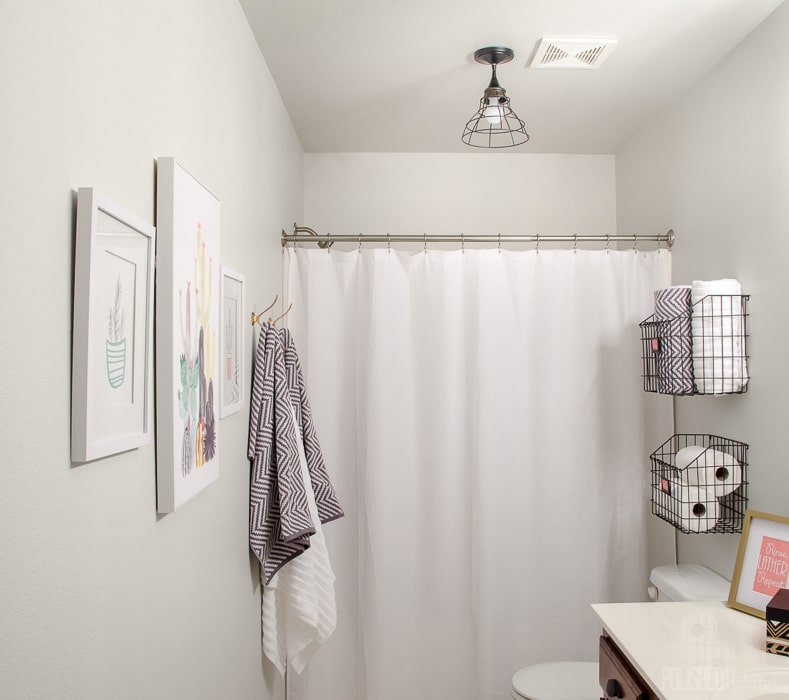 To make sure the towels smell fresh and with no lingering mustiness, we started using Febreze In-Wash Odor Eliminator the day before we're expecting guests. It works with your normal detergent and traps tough smells to eliminate them instead of just masking them. Brilliant!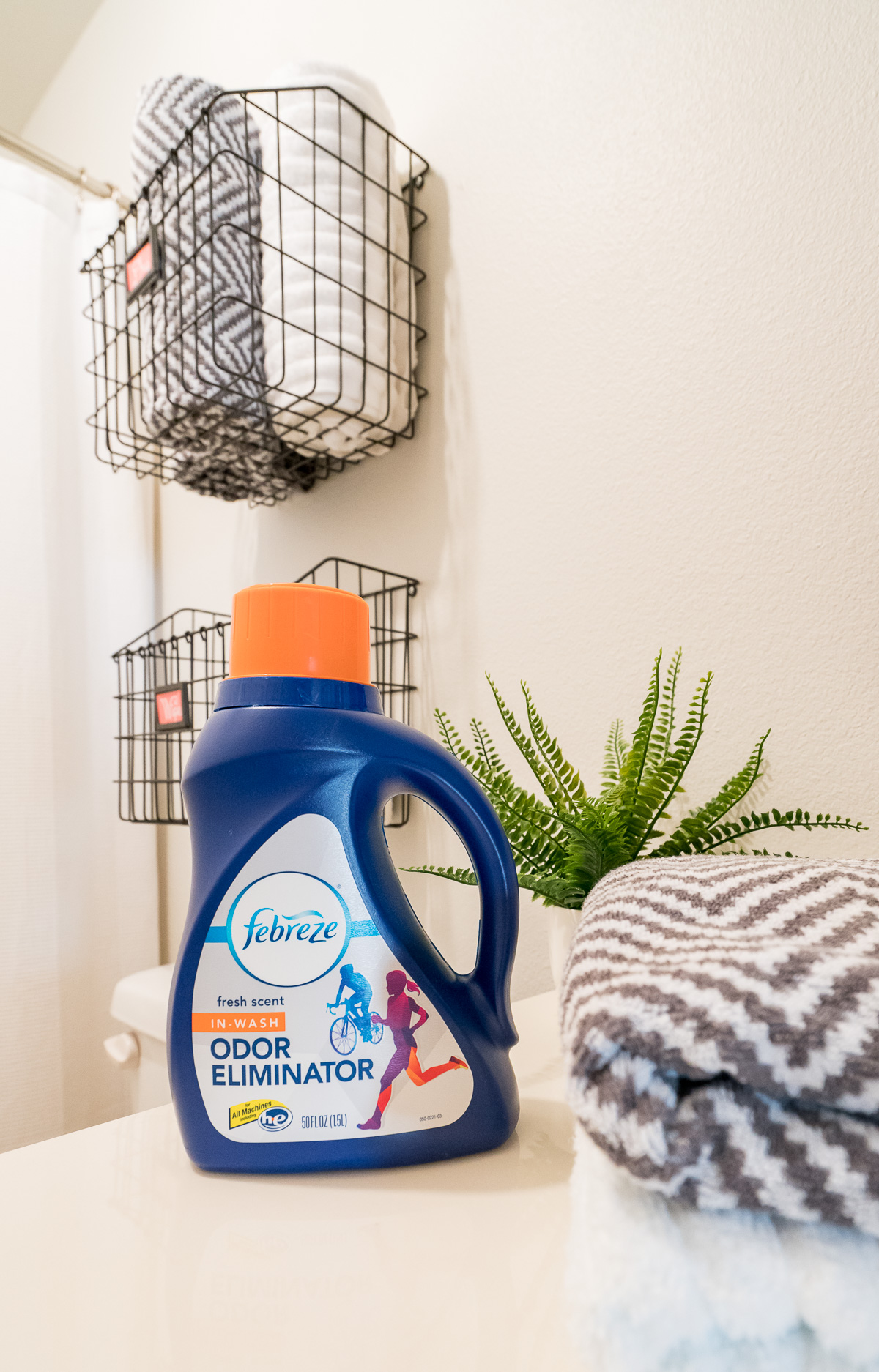 We actually use the product in three different loads of laundry related to guest prep.  The next one is all about Maddie. Her favorite spot to lay in the house during the day is actually the guest bedroom because it gets the most direct sunlight. She follows the sun from the bed to the floor depending on the time of day.
I couldn't have planned it better, I went upstairs to take a couple of pictures for this post and found her snoozing on the floor!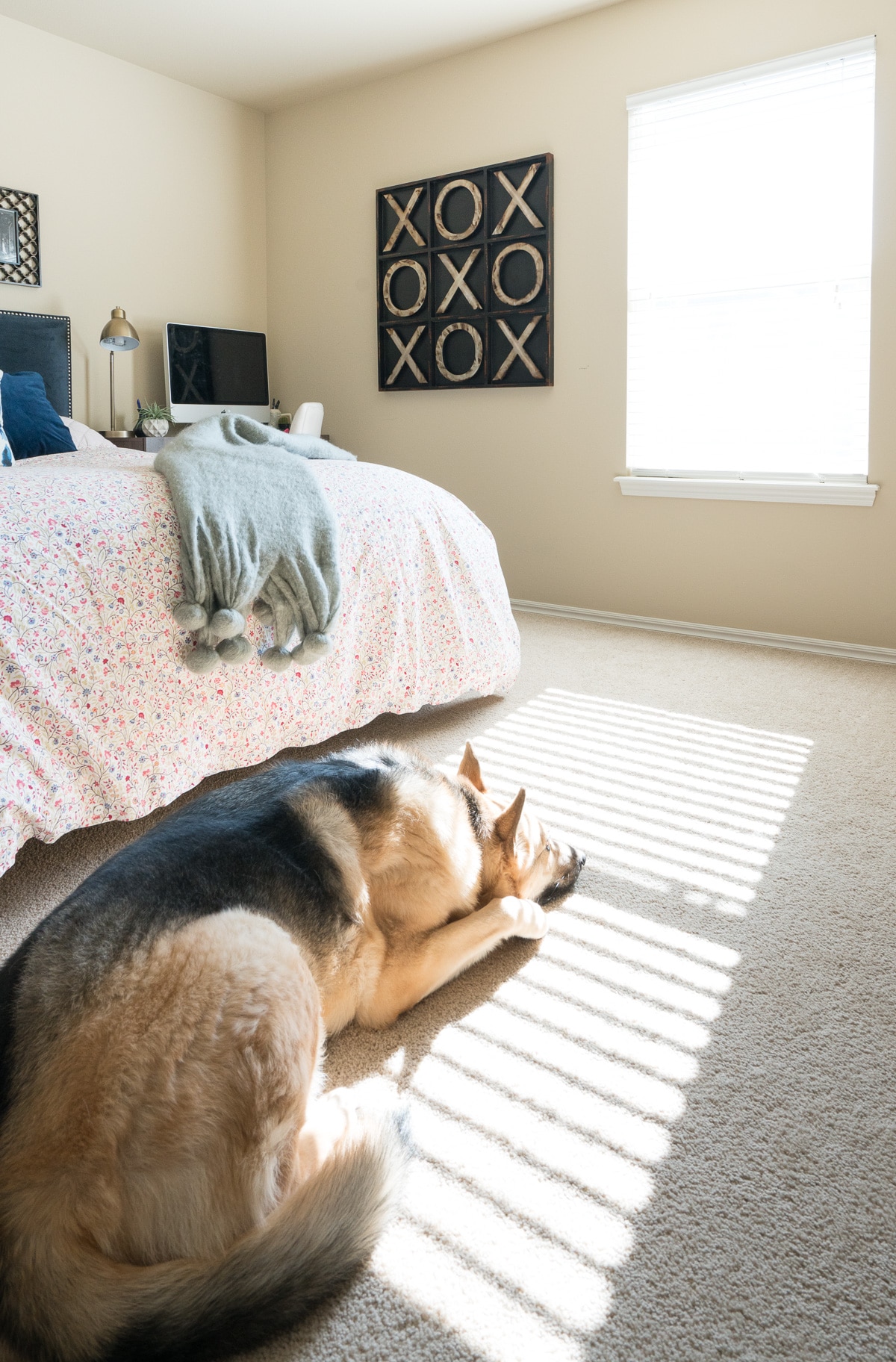 As much as I love her, I'd be horrified if a guest came and the room smelled like dog. To make sure we get 100% of the dog smells out of the duvet, I also wash it with Febreze In-Wash Odor Eliminator within 48 hours of company arriving. And as soon as it's clean, we vacuum, dust the room, make the bed, and shut the door. Sorry, Maddie.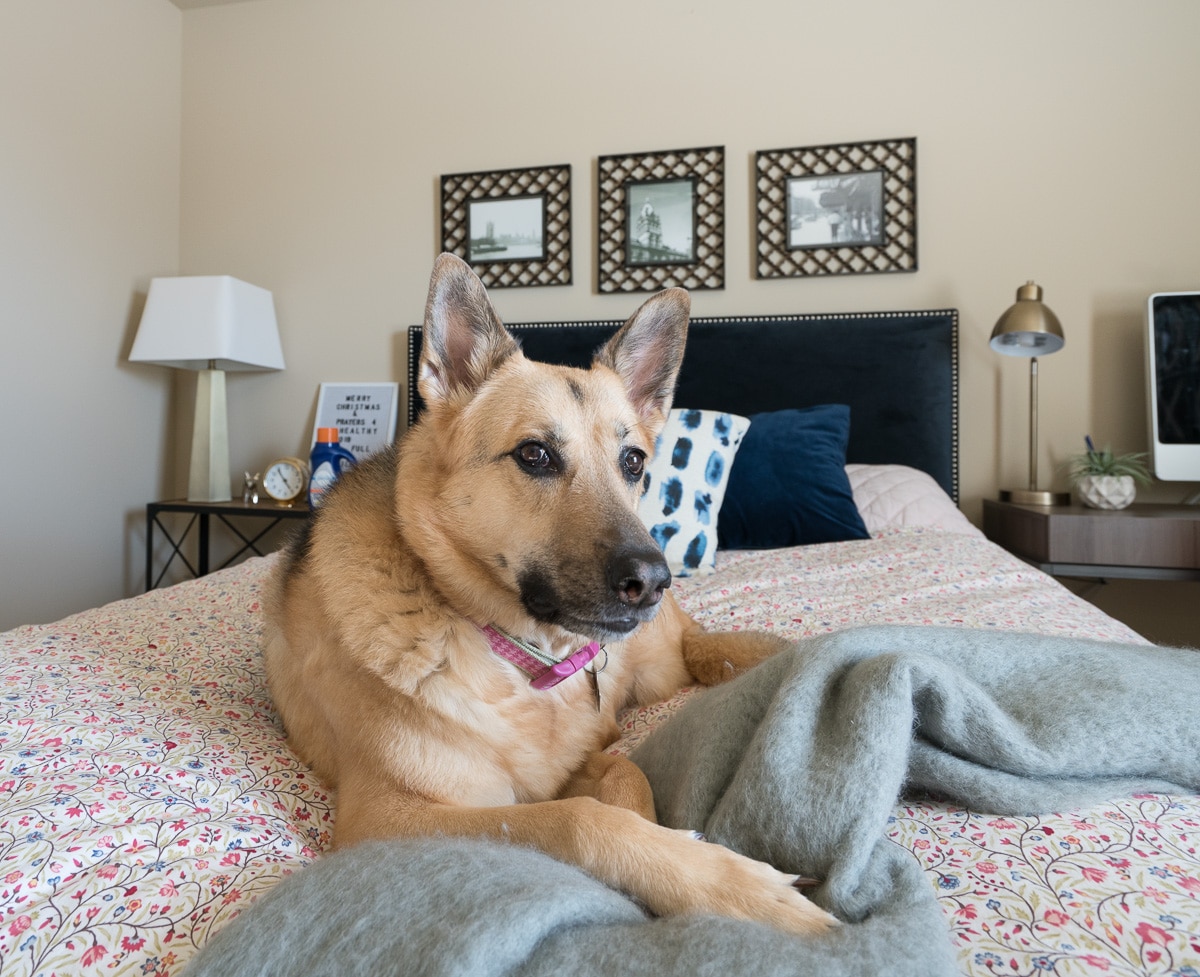 The final items we try to wash before company arrives are the throw blankets in the living room. It gets chilly on our couch in the evenings because it's surrounded by windows.  We always use the same two blankets. The rest just linger in the blanket basket until extra people are at the house and need them.
I noticed last winter that they also get a musty odor – I'm guessing from just collecting dust and pet dander when they aren't being used? Yuck.
Usually, I don't realize it until it's too late, so I'm adding washing the throws to my rotation of guest prep now.
Speaking of throws, it's not just the blankets that get funky. Our throw pillows like to collect dog hair. Maddie's not allowed on the downstairs couch, but the pillows still attract her hair. I never notice how bad they get until I'm inviting someone to sit down on the couch.
You'll probably be able to skip this one if you're free from furry pets, but one of the last things we do before company arrives is lint roll all the throw pillows and the couch.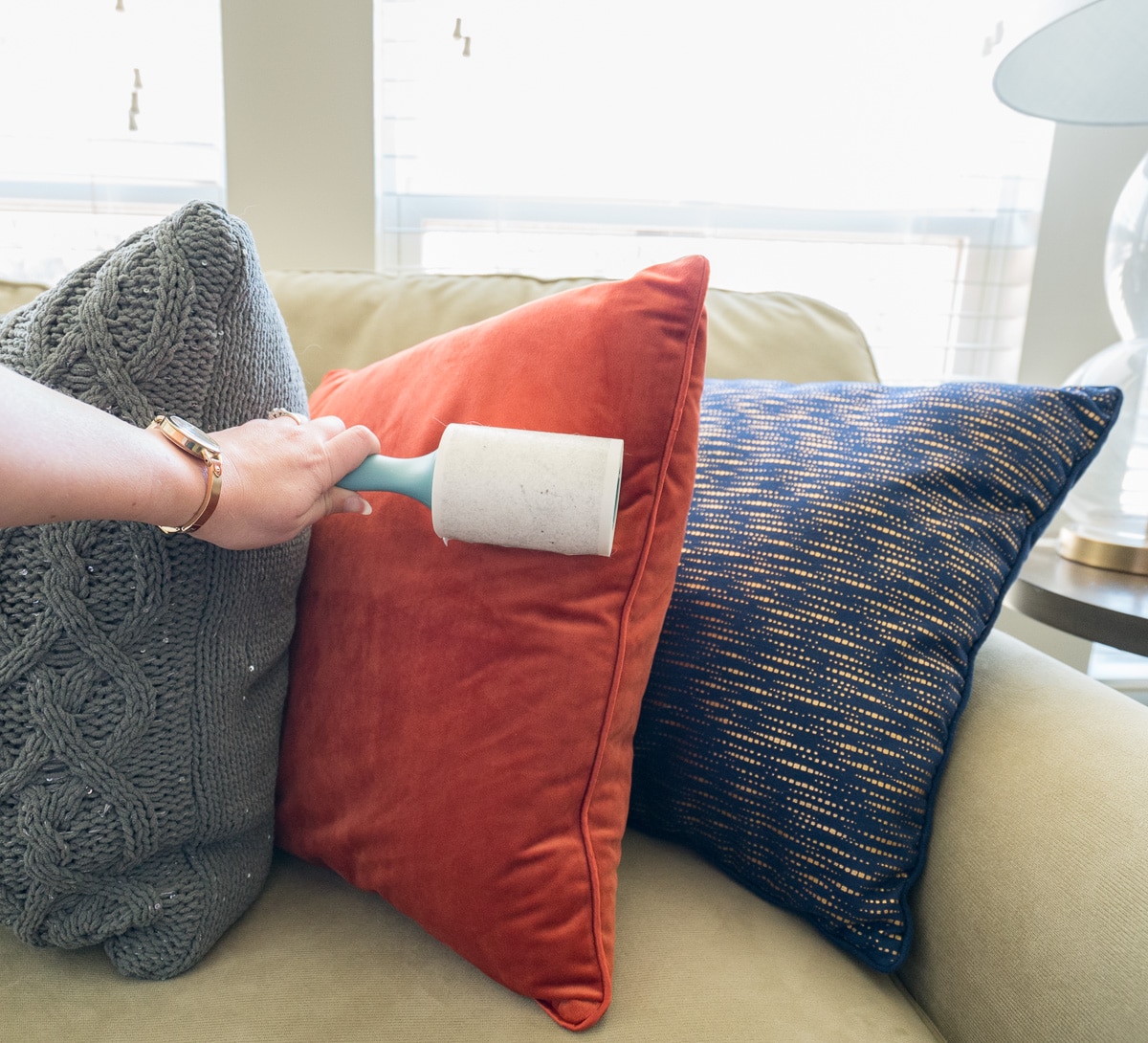 It was nice for me to realize that I have a relatively short to do list to tackle before guests arrive. It always feels a little overwhelming, but writing everything out makes it seem very doable!
We still have to run through the usual things we do to clean the house as well, but doing these couple extra tasks is a small trade-off for getting to spend extra time with family or friends and making them comfortable while they are here.
Here's the summary of my task list:
– Ask about grocery needs/requests, especially coffee & breakfast preferences
– Wash towels, bedding, & extra blankets
– Lint roll any pillows and furniture as needed
Are there any other things you do before hosting overnight guests?
Don't forget to print your coupon for Febreze In-Wash Odor Eliminator before the next trip to Walmart! Or if you prefer, you can order online from Amazon! 
I need to print the coupon for myself while I'm thinking about it!  We've been keeping a little secret that we're adding a new puppy to the family in 3 short weeks. And as cute as they are, puppies and their blankets can get stinky fast. I'm excited to have this new weapon to keep the house smelling fresh during this upcoming crazy time!