Our family is gearing up for fall. There's much to be done, many meetings to attend and seemingly endless items on my list. I'm sure you can all relate!
Doing a deeper cleaning of the car is one of the tasks I tackle at the start of each season. I used to dread it, but found an efficient routine that saves time and leaves me with a sparkling clean car.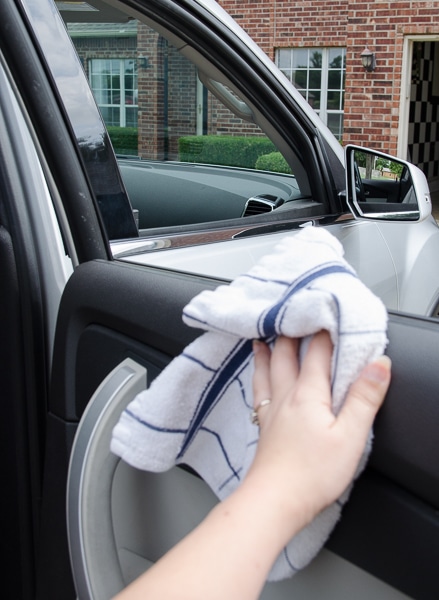 Weekly Routines for Car Interior Cleaning
Once a week, we implement the "It Doesn't Belong In The Car" Box.   I grab an empty box or bin, and put everything that has been stowing away in the car inside. Random jackets, receipts, and toys usually make this list. To stay focused on the car, everything goes quickly into one box and I (or the kids) empty the box before bed. This routine keeps the car clutter from getting TOO out of control.
My other secret weapon is a stash of car cleaning wipes (affiliate link) stored in my door. When I'm stuck waiting for a kiddo or in the bank drive-thru, I grab one of the wipes and give the dash a quick dusting.
Seasonal Routines 
As I mentioned, I also do a deeper cleaning 4 times a year when the seasons change. As the weather cools a bit, and leaves begin to show off, I know it's time for the fall clean out of my van.
To motivate myself to stay focused on the car, and to convince me that the process will be faster than I think, I set my phone timer for 30 minutes. It's amazing what I can accomplish in that amount of time!
Here's the process I work through to quickly make the car look detailed without the high price tag.
Start Cleaning with the Glass – I'm not sure how the inside of our car windows get SO dirty, but it's one spot that I can't skip. Because overspray from the glass cleaner always ends up on the dash, I tackle the windows first.
Dash & Doors – For the dash, I spray cleaner directly onto my cloth. If I don't, overspray from the dash cleaner ends up on my newly clean windows. That's not okay! While I'm working on the dash, I also give the inside of the doors a good wipe-down. Especially the door handles and any other place my children's sweet fingers have smeared Cheetos (uh, I mean some healthy snack)! I also keep a few Q-Tips handy for any random crevices.
The Seats – Next up, I quickly wipe down (my seats) or hardcore vacuum (the kid's seats) the upholstery. If you have leather, this is the perfect time to apply a leather conditioner to prevent cracking and protect your car (and it's resale value down the line!).
The Floor –  Yikes.  My children somehow manage to bring the outdoors, in.  You're welcome to join us for a nature study inside our van and I guarantee you'll find something new to explore.  Since I prefer nature in the forest and not in my mode of transportation, I spend the rest of the time sucking up broken leaf fragments and random cheerios.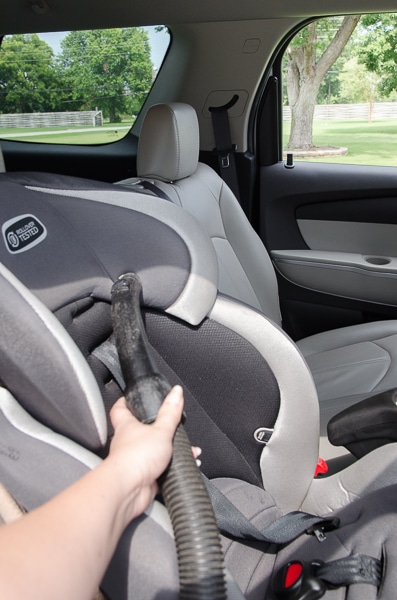 Bonus Tip for Dirty Upholstery: Using club soda, dish soap and vinegar (1:1:1 ratio) – mix and use a scrub brush to clean the upholstery. Do a spot test in a hidden area to make sure the solution is color-safe for your car. I've never had any issues, but better safe than sorry!  We use a shop vac at the end and it looks like the professionals at a car wash and doesn't take very long.
It could just be me, but I always swear my car is happier when it's clean and cared for. As you can tell, I don't keep it spotless ALL the time, and I'm okay with that.  But the weekly routines combined with my seasonal deeper clean keeps everything from getting too embarrassing.
PS: Recently I was given a Softy Scrubby as a gift. I was skeptical at first, but it's replaced my Scotch Brite pads; I love it! I usually use it in the kitchen to get those stuck on eggs off my favorite pan. But this week I'm going to use it on the car seats and dash! I think it's going to work way better than my usual cloth.
As a reward for getting the car clean in under 30 minutes, I'm purchasing a new vanilla clip-on air freshener and something beautiful to hang from my mirror. I just saved at least $50 doing the job myself, so it's the least I can do!
Do you have any other tips for keeping the car clean with kids?