Have you been drooling over all the beautiful inspiration boards people have in their homes? I've moved on from drooling over theirs to drooling on mine! And it was EASY! And it was CHEAP!
My "little" craft room organization project has taken on a life of its own. As the scope expanded, I dreamed of the big blank wall being covered in cork. And what comes after dreams? Shopping!
I scoped out the big cork boards at Target, and they weren't that expensive. I think about $25. But I wanted TWO. AND I wanted a matching dry erase board in between the two cork boards. See how my dreams grow & grow? 🙂 My budget didn't magically grow at the same rate as my dream, so I decided to see if there were any cheaper options.
Fast forward a few days to me wandering around Hobby Lobby. I hit the craft store jackpot. They sell 23″ x 35″ cork boards AND white boards for $14.99 each. But wait, there's more! The cork boards were 50% off!!! Are you kidding? $7.50 each! Why yes, I'll take two please.
Then the real fun began and I got to transform my basic boards into beauties. It ended up being really easy and I am over the moon in love with the final product.
Start with a plain cork board: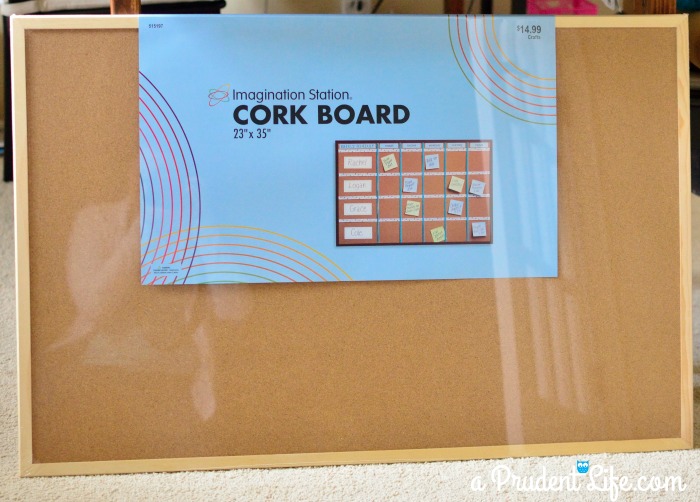 Pick out coordinating fabric, ribbon, and paint. I forgot to take my fabric when I bought the spray paint, so ended up buying two colors. A gray primer & Krylon ColorMaster Smoke Gray Gloss. I started with the primer, then compared it to the fabric.
The primer had the slightest blue tint compared to the fabric, so I added a coat of the Smoke Gray after I took the picture above. It was a better match!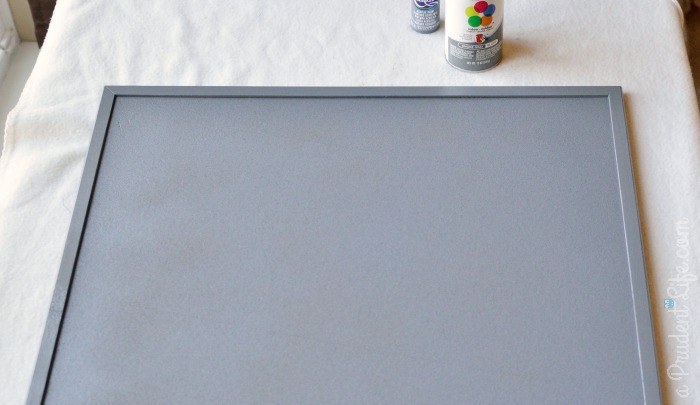 After the paint was dry, I was ready to add the fabric. I picked out a beautiful duck cloth, but I'm sure any fabric with a little weight would work. I lined up the straightest edge of the fabric with one edge of my board so I only had to make three cuts.
You know the most awesome thing about working with a cork board? You can push-pin your fabric to hold it in place!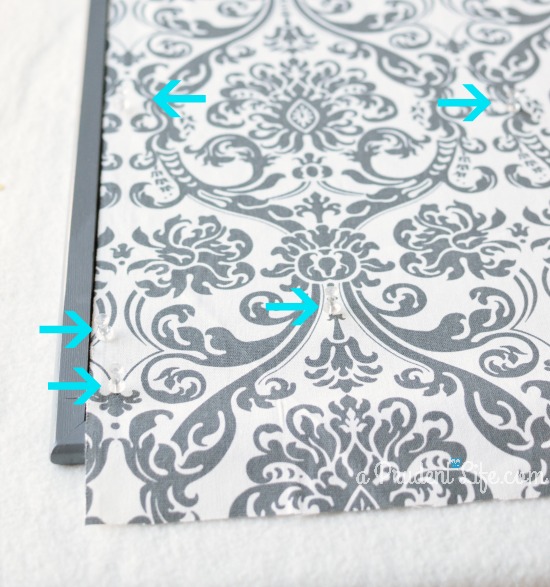 If you try this, make sure you add a row of push pins along the middle of the board. It's a huge help when we get to the spray glue in a minute.
Once I had the fabric push-pinned to the board, it was time to cut. I grabbed my rotary cutter and carefully used the frame as a guide.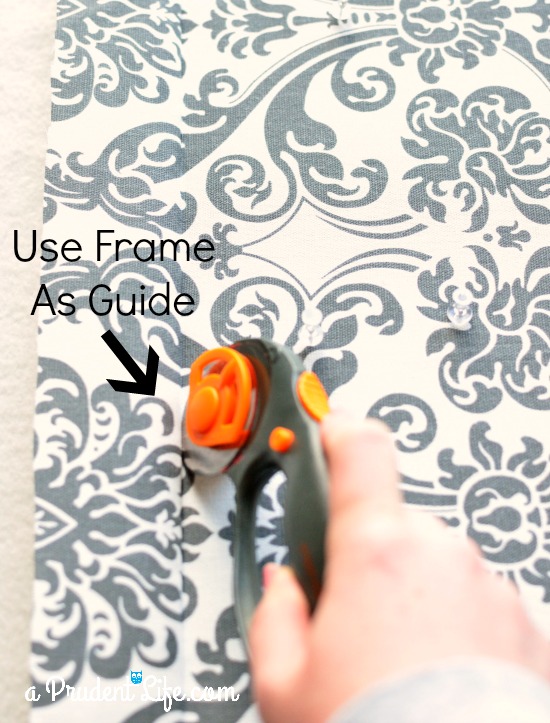 Once all the sides were cut, it looked like this: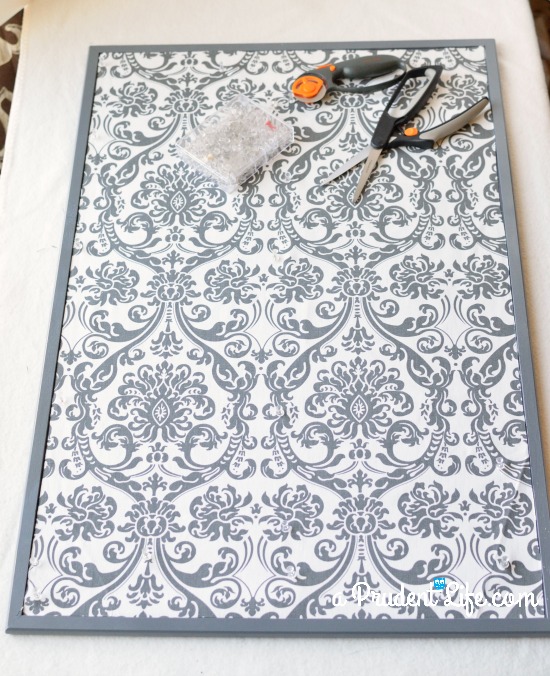 And that was the point I fell in love!
The fabric was still just push-pinned in place though, so it was time to make this board permanently beautiful! Leaving the push-pins along the center and on one side, I removed them from the other side and folded the fabric over.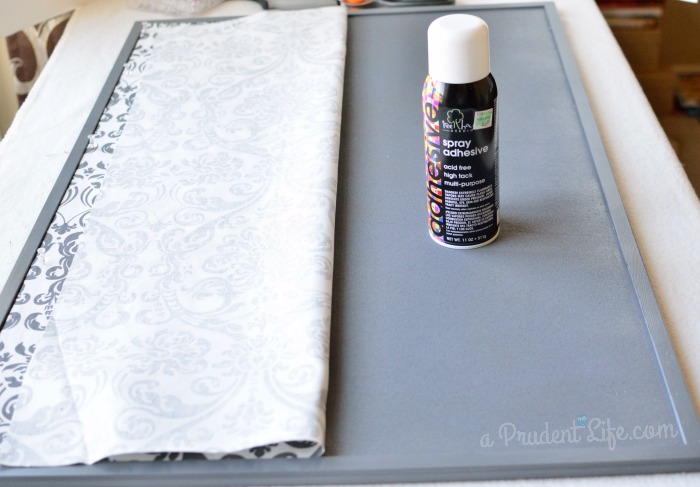 I used a light coat of spray adhesive on both the fabric & cork board. Then I SLOWLY rolled the fabric onto the cork, starting with the middle and smoothing as I went. After the middle, I smoothed each corner one at a time. Then the rest of the push-pins were removed and I followed the same process on the second side.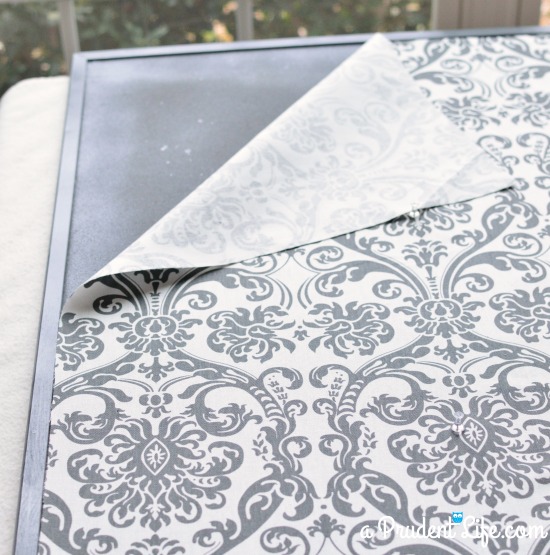 Almost done! As a finishing touch, I found some awesome ribbon to use around the edges. I cut the first edge at an angle and pinned it in place. That made it really easy to cut the ribbon the perfect length without measuring.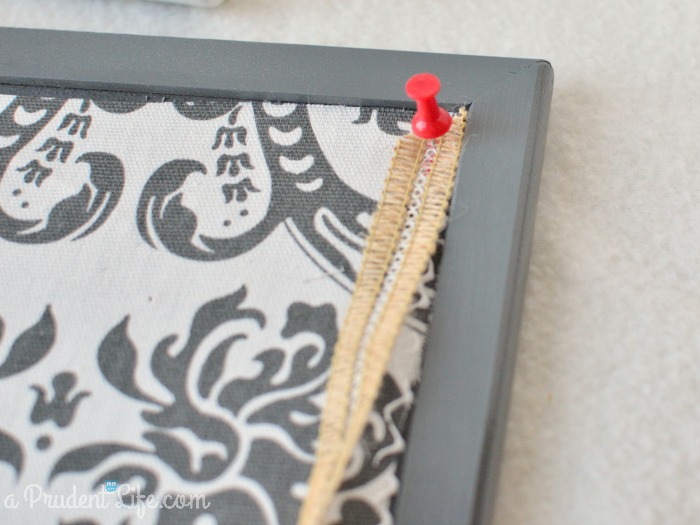 Once the first ribbon was cut, I held the ribbon in the air and gave it a coat of the same spray adhesive. This made it SO easy to attach the ribbons. I worked my way around the frame cutting & attaching one side at a time.
And that was it!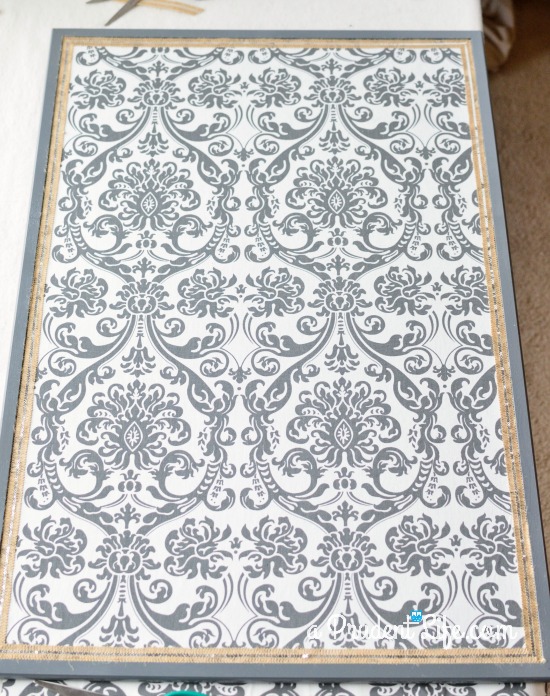 I finished the second cork board the same way. The white board was really fast because it just needed ribbon. I didn't realize it at the time, but I never even had to use a tape measure during this project!
Here's a peek at all three! You'll get to see them all hanging up during the craft room reveal. Can't wait! Together the total size is about 3 feet x 6 feet.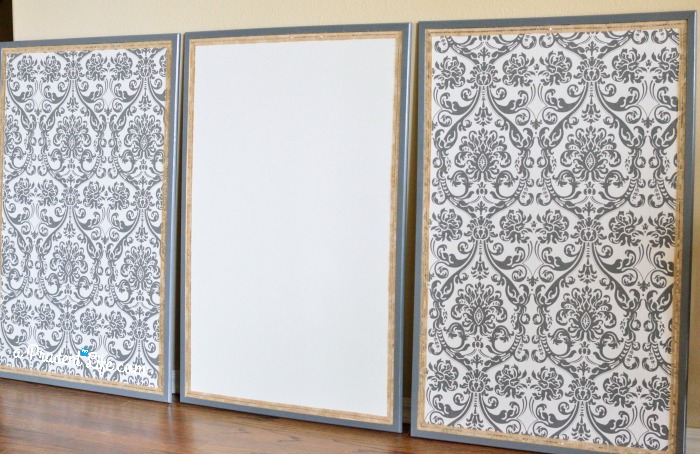 Cost Breakdown
Cork Boards(50% off sale): $7.50 x 2 = $15
White Board (40% off coupon) = $9
Duck Cloth (1 yard, 30% off sale) = $6.50
Ribbon(50% off, 3 rolls @ $1.50) = $4.50
Gray Spray Paint = $5
Spray Adhesive=$5
Total Cost = $45  ($15/board)
Isn't that incredible! The boards make such a huge impact for the low price. We actually already had the spray adhesive on hand, so my total was really only $40 for all three. Crazy!
If you don't have a Hobby Lobby in your area, I did find a similar board on Amazon for $10: Quartet Cork Bulletin Board, 2 x 3 Feet, Oak Finish Frame (MWDB2436M)
 (affiliate link).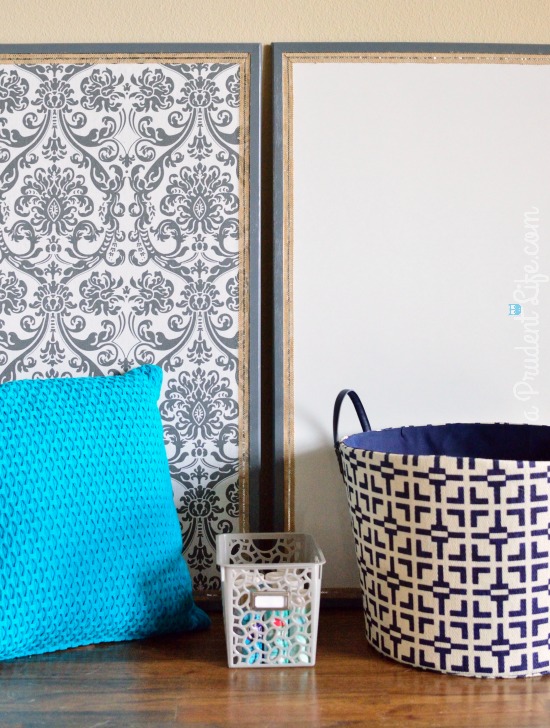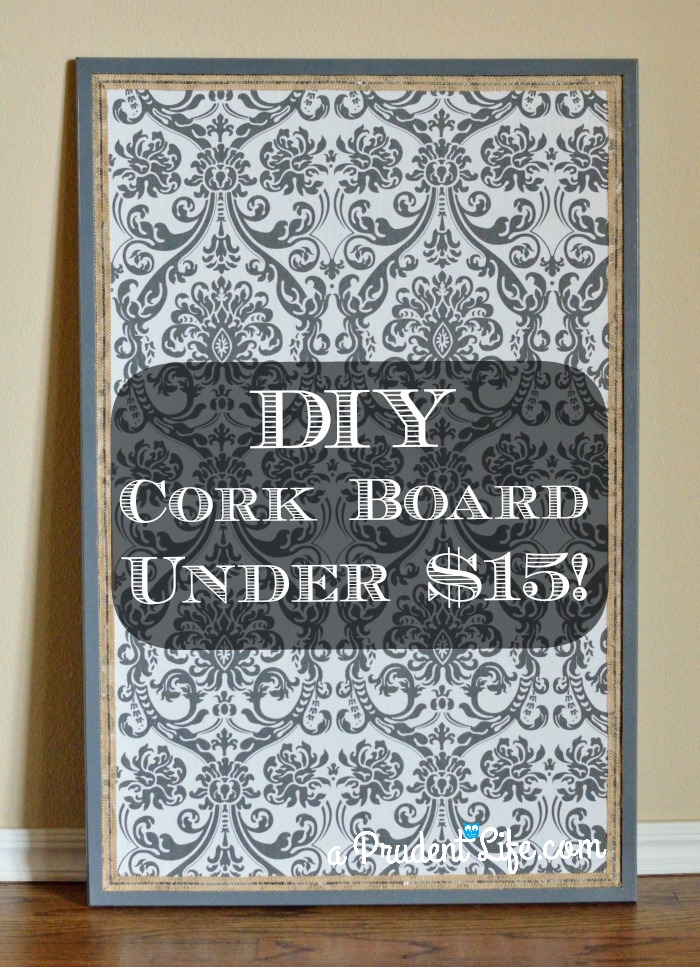 Do you still use a real cork board for inspiration, or do you stick to Pinterest?
Don't miss any of the craft room series! 
Craft Room PLUS Guest Room – Reveal Part #1
Craft Room Organizational Details – Reveal Part #2
{Create} Art & Refinished Frame – Craft Room Project #1
Placemat Repurposed into No Sew Pillow – Craft Room Project #2
Cork Board Upgrade:Drab to Fab – Craft Room Project #3
Clearance Lamp Customization – Craft Room Project #4
3 Frugal Frame Updates- Craft Room Project #5