I'm crazy excited to finally show you guys what I've been putting together in the craft/guest room over the past few weeks. This project started as just getting the craft supplies under control. As you'll see, the craft area had turned into a hot mess! I started gathering things for the space back in January. As I thought more about the room, my mind wandered past the craft space into the guest room. Before, "guest room" meant bed shoved into the corner & covered in linens that didn't match the mood of the craft space. Pretty soon, my scope officially expanded and I was going for a 100% room revamp.
Here is the horrible before: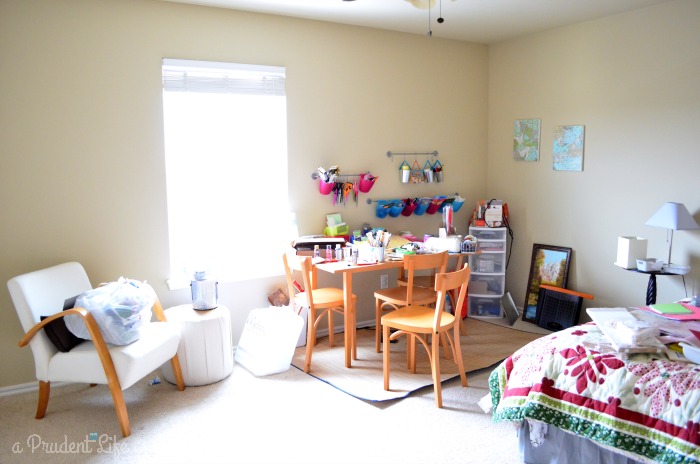 I had the IKEA Bygel rails already, but they were a disaster. A couple of them were organized, but most had random things inside. Like my passport cover? How they heck did that get upstairs? Same thing with the plastic drawers in the corner. They seem like they would be good storage, but stuff got shoved in them when we moved (2 years ago!) and while most of the contents were craft related, I never even opened those drawers. I probably shouldn't admit that one of them was still taped shut from the move!
I'm going to have a second post that shows the organization details up close, this post is all about the room design.
Room Design Goal
Unify the craft & guest spaces while giving them the feel of distinct spaces. 
Here's what the corner from the before picture looks like now. So much better!
In addition to the functional wall rails & shelves, I wanted to add some art to make a gallery wall. The windmill picture in the center was painted by my husband's granny and I LOVE having something from family to inspire me in this space.
I would also like to thank Brother for having turquoise accents on my sewing machine. It wasn't planned, but it helped make the decision to keep the machine out and easily accessible. It was on the floor before, and I NEVER used it. I'm hoping to change that this year.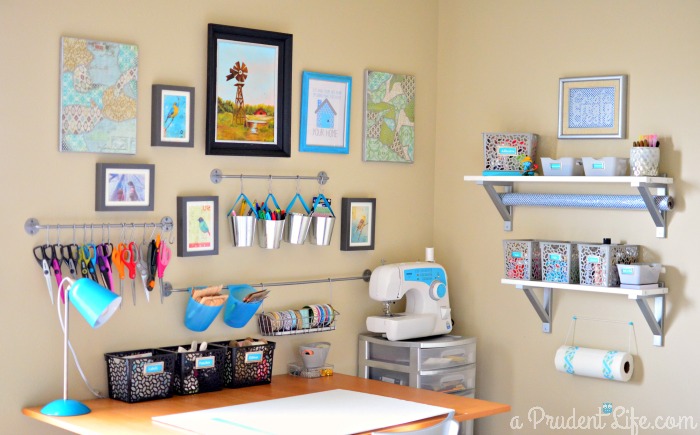 The home printable came from the SohoSonnet Print Shop on Etsy. I've got a closer look at it in an upcoming post on some frame makeovers I did in the space.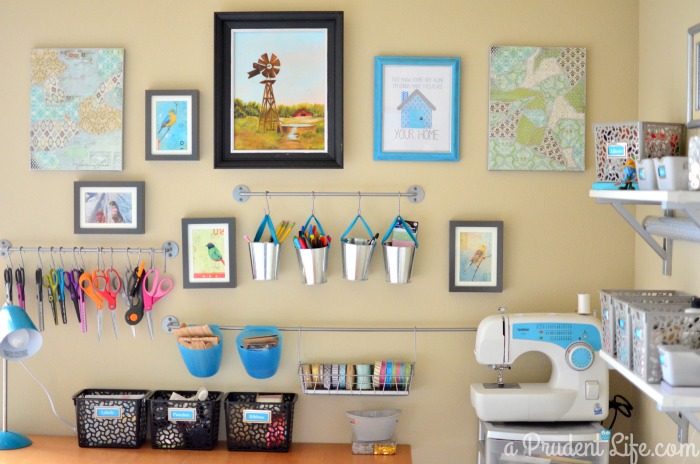 If you don't have an IKEA nearby, I found a set of rails and hooks on Amazon!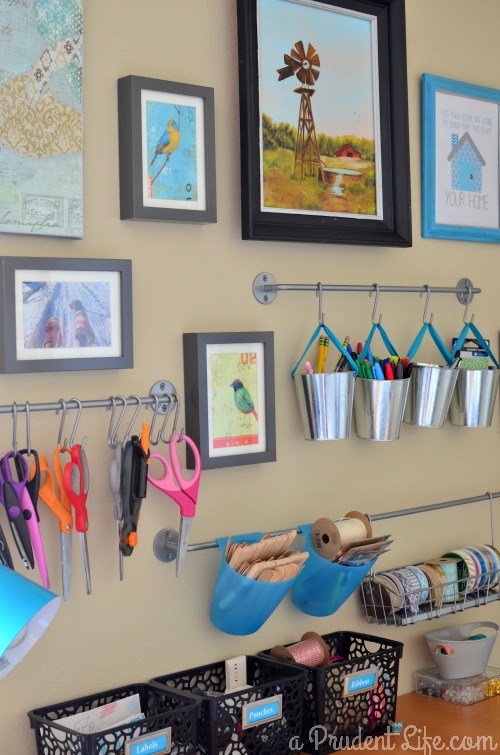 Wacky tip – a piece of yarn and two push pins make an amazing paper towel holder! You use the towels straight from the wall, or easily move the whole roll to your desk for messy projects. When the roll is empty, just use a new piece of yarn!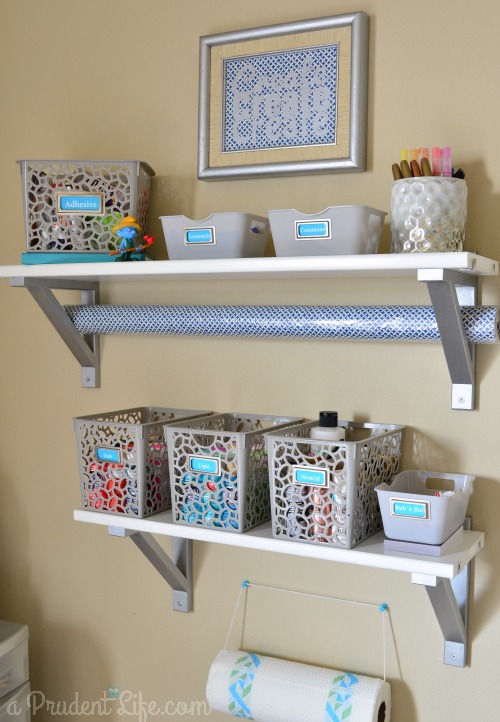 Here's a closer look of one of the inspiration boards in use!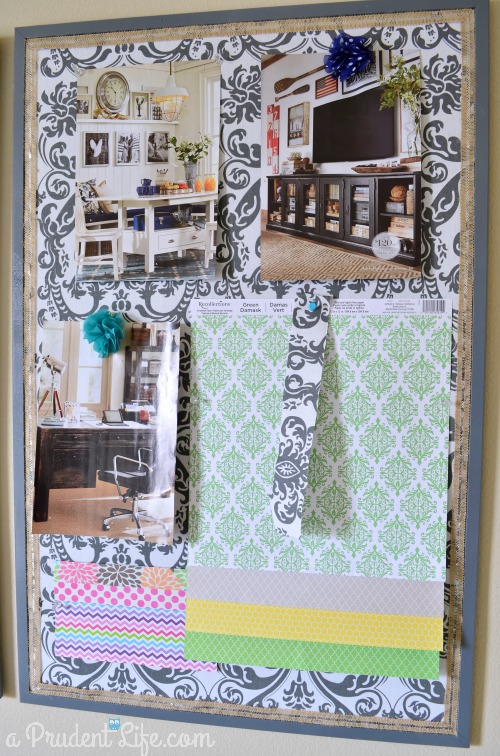 On the other side of the window, I have a reading nook. It's a great place to hang out and flag inspiring products when new catalogs come out!
The navy & cream basket under the window is the trash bin! I needed a something larger and prettier than my white plastic bin. I also needed something to pull the navy from the bedding to that side of the room. Win-win!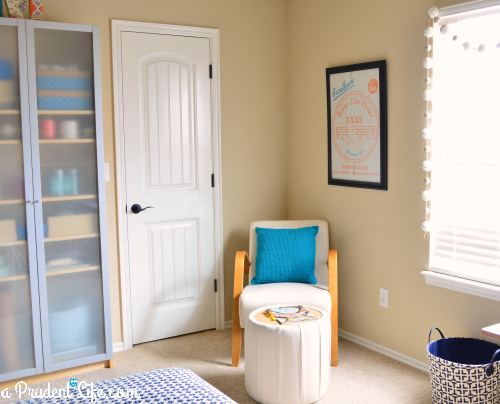 We've had this IKEA bookshelf and chair about 13 years! The chair is perfect for this space because it isn't as large as a traditional armchair.
The art above the chair is actually a dish towel! Can you believe it? I found it in a package with a solid turquoise dish towel for $5 total. I attached it to foam core with spray adhesive. I already had the frame making this a REALLY cheap project. I was born in Minneapolis, so it is great to pull that part of my history into my space.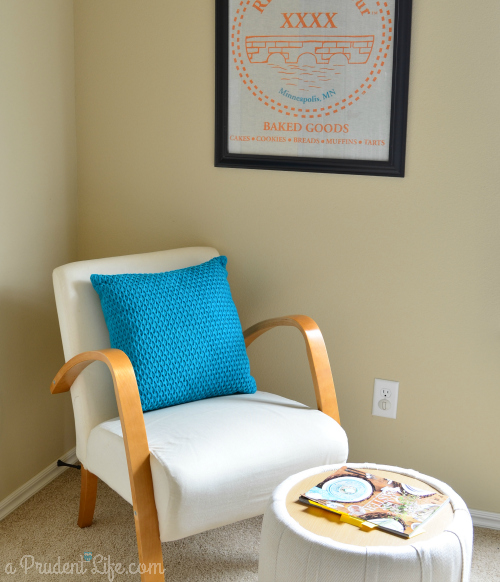 Next is the view you would see from the chair. I'm in love with the Nate Berkus bedding we found at Target! AND it was on clearance for $40 – perfect for my budget. We've never had a headboard for this room, and it wasn't in the budget to even build our own right now. THEN I found a ton of turquoise round placements for $1.12 each (Target again). $10 later, I have a faux headboard until we upgrade!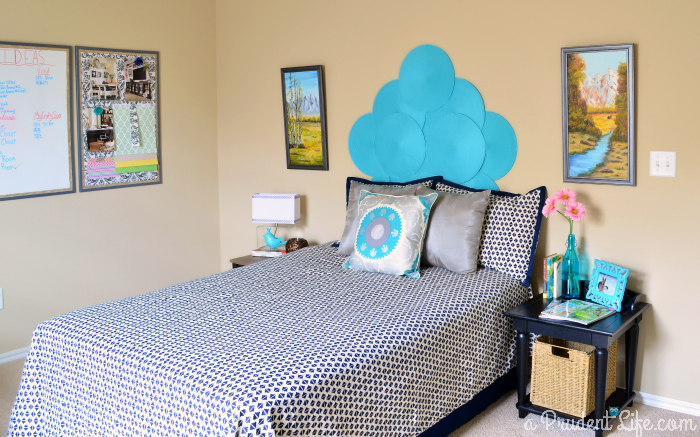 The paintings on the bed wall are also by Granny. I updated the frames to coordinate with the room. The cute birdy lamp details are here. The table under the birdy lamp was also customized. More details on that next week!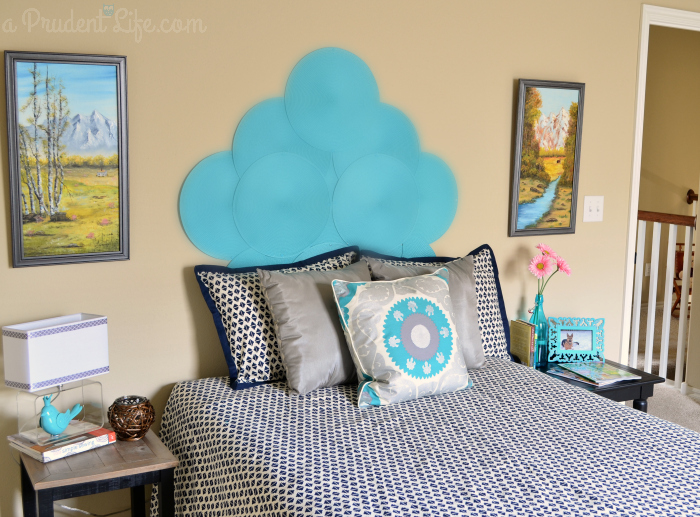 I added a few books & magazines so guests can take some time to relax. Or maybe I will never leave this room!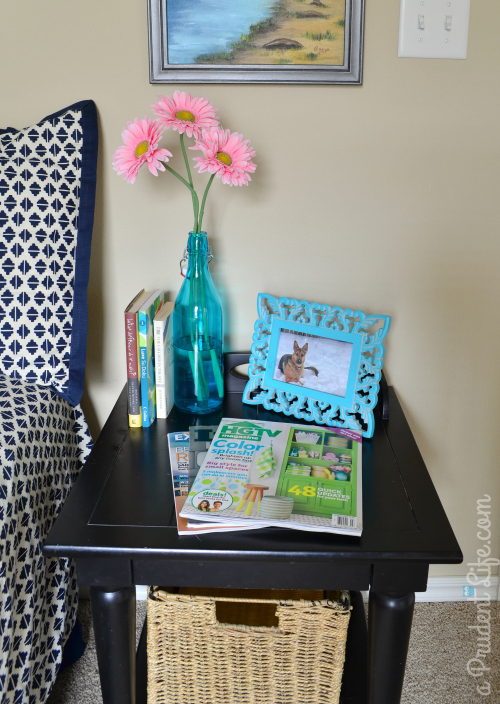 Budget Breakdown
Craft Area:
Plastic Baskets (Target Dollar Spot): $9
SohoSonnet Printable: $6
Bird Postcards & Frames (IKEA): $8
Craft Desk Lamp (Target Clearance) $6
Wall Shelves (IKEA EKBY VALTER & ANTONIUS): $26
Cork Board/ White Board Wall: $45
Silver Spray Paint (Chair & Plastic Drawers): $5
Navy & Cream Basket for Trash (TJ Maxx): $15
Total for Craft Space: $120
Guest Room Space:
End Table (Marshall's): $30
Birdy Lamp: $8
Small Vase on Bird Table (Lowes): $6
Faux Headboard Placemats: $10
Tall Turquoise Vase (Marshalls): $5
Turquoise Frame on End Table (Target Clearance): $6
Duvet Cover (Nate Berkus Target Clearance): $40
Turquoise & Silver Throw Pillow (TJ Maxx?): $10
Bedskirt (Target): $13
River City Flour Art: $2.50
Total for Guest Space: $130.50
Total for entire room makeover $250.50
While $250 is not an insignificant amount of money, I'm pretty happy that I was essentially able to create two very functional spaces in my home for that amount. I purchased the items over three months, and was able to keep costs down by taking my time waiting for the right deal. Finding stylish budget friendly bedding  was one of the hardest challenges. I couldn't believe I found the 50% off Nate Berkus bedding in the color I wanted!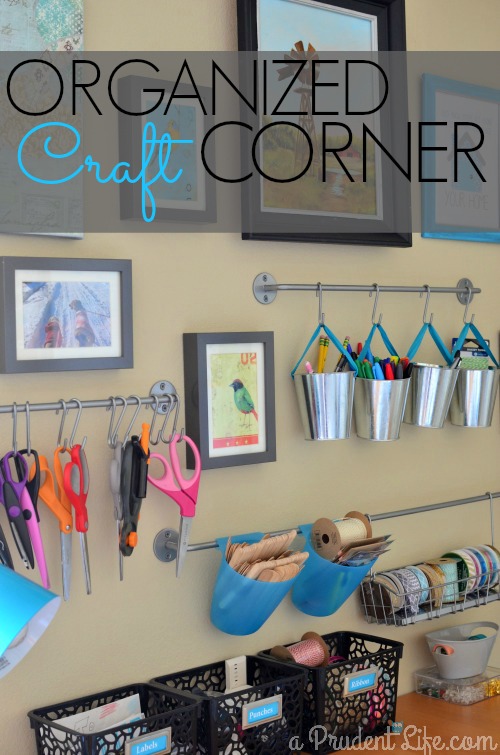 This is the first time I've planned out an entire room at once, and it was a blast! Figuring out how to balance the turquoise, navy, & gray/silver throughout the room was actually fun for me. I pretty much want to hang out upstairs all the time now. I can't wait to show you the organizational details in another post.
I've done a few craft projects in the room already, and it's great to know where everything is. And because the space is pretty, I put everything up before leaving the room!
Don't miss any of the craft room series! 
Craft Room PLUS Guest Room – Reveal Part #1
Craft Room Organizational Details – Reveal Part #2
{Create} Art & Refinished Frame – Craft Room Project #1
Placemat Repurposed into No Sew Pillow – Craft Room Project #2
Cork Board Upgrade:Drab to Fab – Craft Room Project #3
Clearance Lamp Customization – Craft Room Project #4
3 Frugal Frame Updates- Craft Room Project #5
$30 End Table Makeover  – Craft Room Project #6