Great news – I'm making some good progress on the craft room organization & beautification project and can't wait to show you guys next week! This week, I'll be sharing a few of the smaller projects that are going into the room.
Today, I made a new piece of wall decor for a total cost of $0 out of my pocket. Gotta love a free project!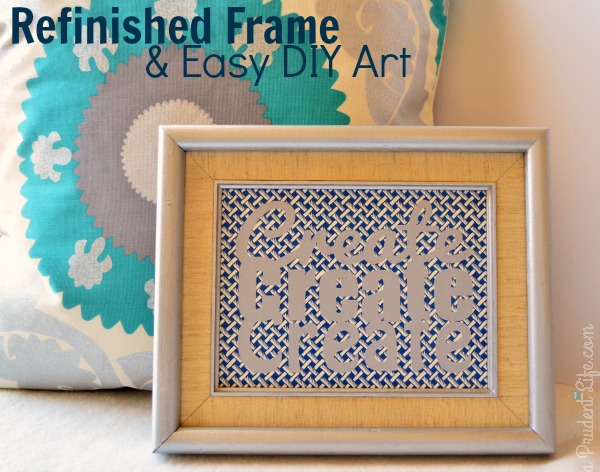 I started with an old gold & linen frame. This is where the project takes an unexpected turn! It seems every project I've done lately involves making something gold. For example, check out the office trash can, IKEA frame, & even my bathroom closet. The craft room is going the opposite metallic direction – silver! That means the gold on this old frame had to be covered up.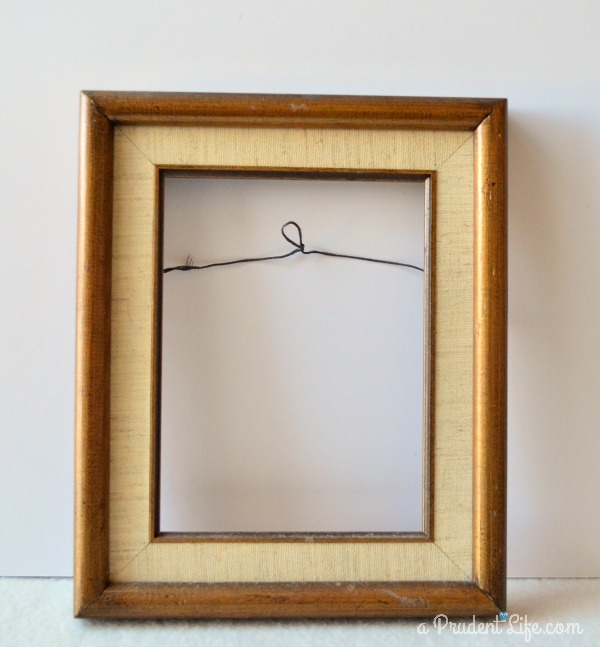 After I cleaned the frame, I taped off the linen part so I could get painting. I used my favorite silver craft paint – Dazzling Metallics in Shimmering Silver. I did three thin coats of paint to get good coverage without drips.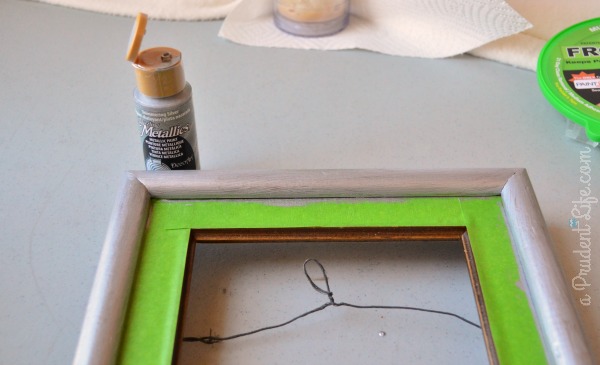 Once the paint was dry, I removed the tape to see how things were looking. I was toying with the idea of painting the linen. Lucky for me, it was an easy decision once I removed the tape. I loved it!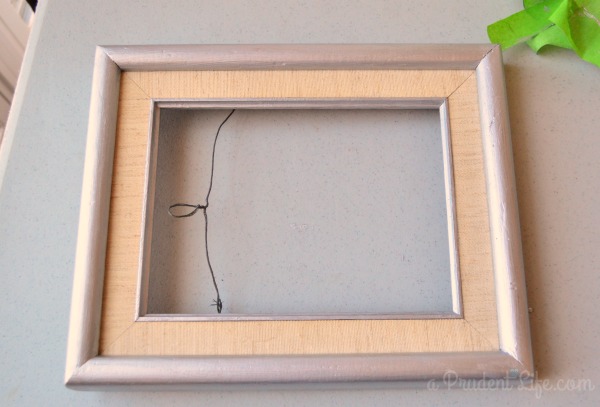 Next up was finding something to frame with my new masterpiece. The frame originally held a canvas painted by my husband's grandma. I love the painting, so covering the original canvas was not an option. I decided to wrap a piece of cardboard with wrapping paper that matches my new craft room decor. I attached it with some spray glue, but tape would work too.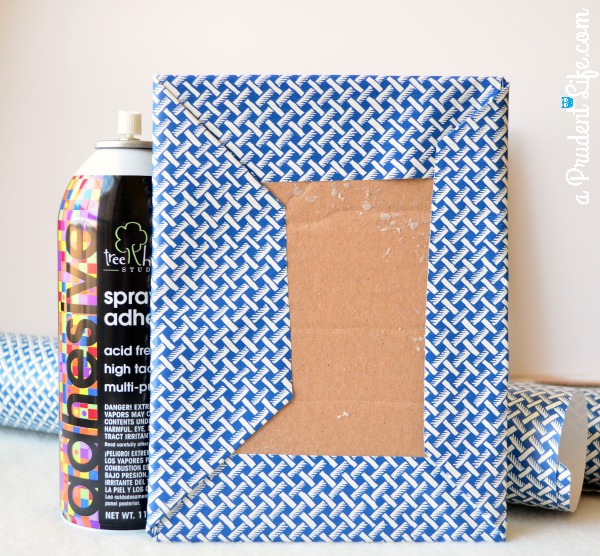 The cardboard was large enough that it could be wedged into the frame and stay there on its own.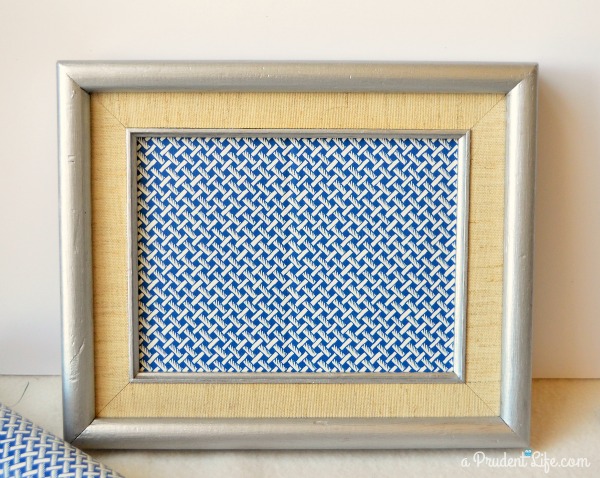 You could actually call it a day at this point – it's pretty cute like this right? I took it a step further and made it into word art perfect for a craft space – create, create, create! I cut the words out of silver scrapbook paper with my Silhouette and spray glued them to the wrapping paper. If you don't have a Silhouette, you could paint the words, use letter stickers, or make the whole thing on the computer & print it out.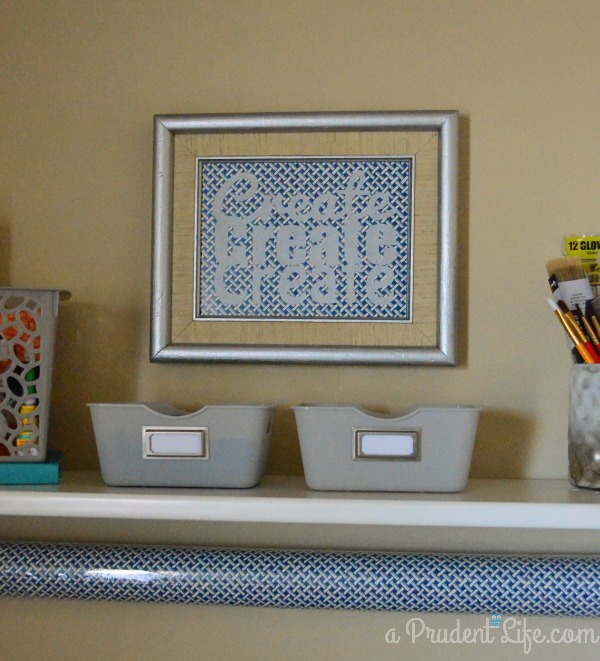 I'm loving my new art! It looks so cute above my new shelves. And yes, that is a little sneak peak of my new space! As you can see, labeling bins is still on my to do list 🙂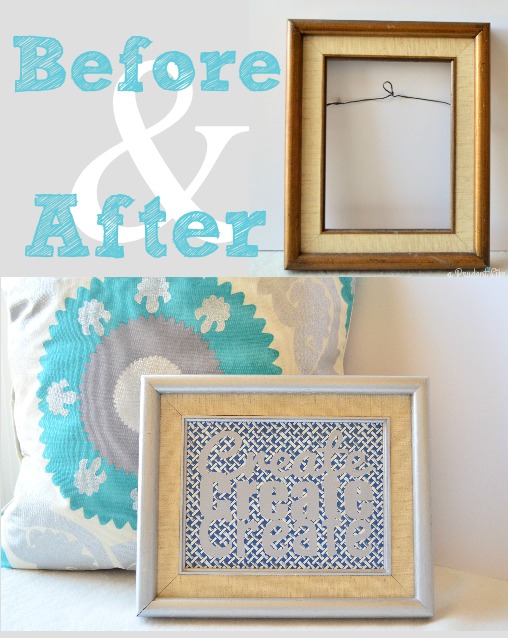 What do you think of my frame turning silver when the rest of the world seems to be turning gold?
Don't miss any of the craft room series! 
Craft Room PLUS Guest Room – Reveal Part #1
Craft Room Organizational Details – Reveal Part #2
{Create} Art & Refinished Frame – Craft Room Project #1
Placemat Repurposed into No Sew Pillow – Craft Room Project #2
Cork Board Upgrade:Drab to Fab – Craft Room Project #3
Clearance Lamp Customization – Craft Room Project #4
3 Frugal Frame Updates- Craft Room Project #5