This project has only been on my list for two years. From the day we put together our IKEA BORGJSO bookshelves, we've known that we wanted to do something different for the backing.
Wallpaper, wrapping paper, paint and fabric were all on the table as options.
Fabric was my first choice, but I wasn't sure if I could find something at the right price. I went to JoAnn to do some fabric scouting, and if you follow me on Instagram, you know what happened next. I fell in LOVE…with the most perfect new line of fabric designed by Nate Berkus. AND it was 50% off.
I resisted every temptation to buy it before I went home to measure the bookcase. Silly me forgot that part before the scouting trip. Do what I say, not what I do!
Once I had the measurements, I used the tip from week #2 of Low Budget, High Design and came up with an extra 20% off my entire purchase (including sale items!) coupon on my phone. It was a good day.
DIY Bookshelf Backing Supplies
In addition to fabric, you'll also need the following supplies. I added affiliate links to Amazon in case you don't have something on hand.
Foam Board (I get mine at the Dollar Tree!)
Sharp Utility Knife
Tape Measure (Link to my girly Toolkit)
Old Scissors
Long Level or Yard Stick
Fabric Scissors (Optional, but SO helpful)
Gorilla Glue Shipping Tape 
You'll need enough foam board to fill the back of each shelf.
For fabric, you'll need the size of back you want to cover, plus 3-4″. So if your shelf back is 10 x 28, your fabric would need to be 13×31.
How to Cover the Back of a Bookcase
To get started, measure the back of your first shelf and subtract 1/8″ to give yourself a little wiggle room. Mark your foam board with the measurements and use the utility knife to cut the board down to size.
Hang the board over the edge of a table so you don't cut your actual table. I like using a level between my free hand and the cutting hand as a protective device. Utility knives can be mean. Safety first!
There are various ways you could attach the fabric to your new backer board, including spray glue, but it was too dang hot outside for that.
I wanted to tape it if possible, so I could switch out my fabric later without re-cutting all the backer boards.
I dug through our adhesive drawer and came up with some Gorilla Glue shipping tape that I think came in a swag bag at a conference. I tested it out and holy cow was it strong.
I pre-cut lots of pieces so I could grab them quickly. I found it easier to pull a LONG piece off the roll and then cut it into smaller pieces with old scissors. The tape will gum up the scissors, so be careful that you don't use your fabric scissors for this part!
With the foam board and tape ready, it was finally time for the fun part! I used the board as a template and cut the fabric with 1 1/2 excess all the way around.
Following the numbers below, fold the fabric over, pull it snug, and tape the long sides in the order below. You are NOT taping the short ends at this point, all six pieces of tape are on the long sides.
All four corners should now look like the below picture. To get really crisp corners, I came up with a little trick.
Pick a corner and cut the fabric at an angle, aiming to end your cut right around the foam board.

Now there is a flap that we can tuck over the foam board, like this:
So then it will look like this:
Once you've done the tucking on both sides, the end is near! Just pull the remaining fabric tight and tape it down.
Booyah – a perfectly crisp corner!
When all the sides are done, place the pretty board at the back of your shelf and take a moment to admire it. It should fit tight enough that pressure holds it in place.
Once you are done admiring your first shelf, measure for the next one. It'll go way faster, I promise!
Here's what mine look like now. Yep, I'm still in love with the fabric.
I'm still working out all the styling as we finish the rest of the office, but here's a peek at two shelves.
I posted the above picture on Instagram as I was styling and a few hours later the craziest thing happened.  I got a notification on my phone that about caused my heart to stop.
Yep, at 3:07 with 21% battery remaining, Nate Berkus liked my photo. Life is good!
Wallpaper or Wrapping Paper Backing for a Bookshelf
Update: As much as I still LOVE this fabric, it didn't work when I created a more feminine office. Instead, I used this exact technique to recover the same bookshelves with a pretty white wrapping paper with gold spots!
We also swapped out the hardware to gold bar pulls.

The fabric has a richer look overall, but the wrapping paper was a free fix (I already owned it). I'll eventually find the perfect new fabric. Until then, they still look good!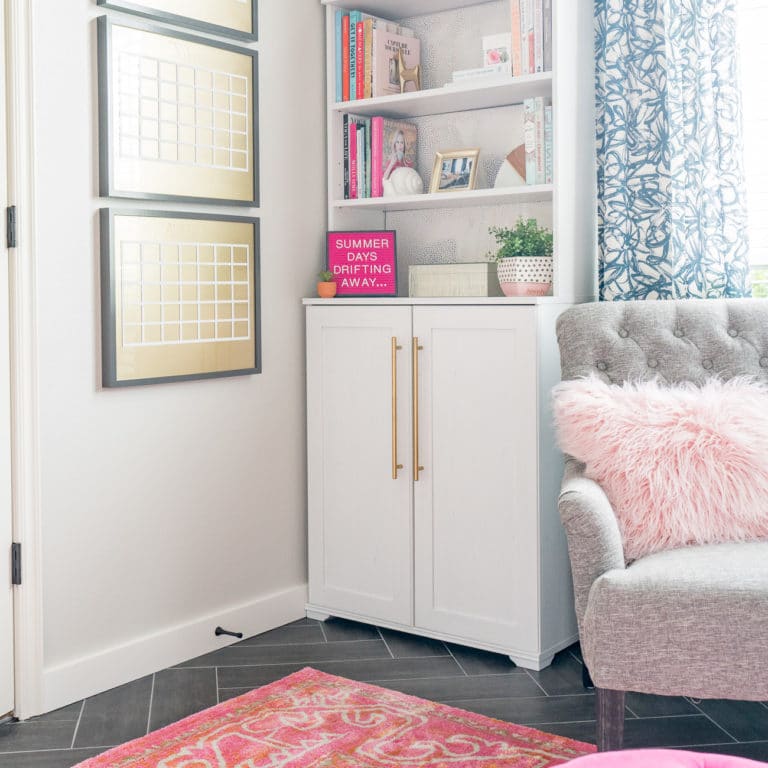 Here's a handy pin if you want to remember this fabric backed bookcase hack for future projects!