With temps in the upper 90's this week, it doesn't feel 100% like fall in Oklahoma, but today is officially the first day of fall!
I thought MAYBE if I got the house ready for the season, the weather would cooperate and cooler days would follow. It might have worked, because the forecast for next week is looking much better.
Thankfully, I had a deadline to get the house clean and decor done because I'm taking part in a tour of several blogger's fall home. If you're coming from Bright Green Door – WELCOME! You'll find the next stop at the end of the post.
I've stuggled with fall decor the past few years trying to find the balance of a warmer feeling that still has a bit of a modern edge. Understandably, many fall accents you find in stores have a strong rustic or farmhouse feel.
Last year, I added more navy to the house for fall, but I really missed having orange accents.
This year, I'm really happy with the balance between pops of traditional fall colors and the normal feel of our house.
I also focused only on simple decor changes that added function or didn't disrupt the way we use our house. Sometime pretty seasonal decor isn't that practical and I wanted to avoid that trap!
I started in the entryway, taking the pool bag off the coat rack and swapping it for our coats. I also added a basket to the bottom of the tiered cart for gloves and some fresh flowers.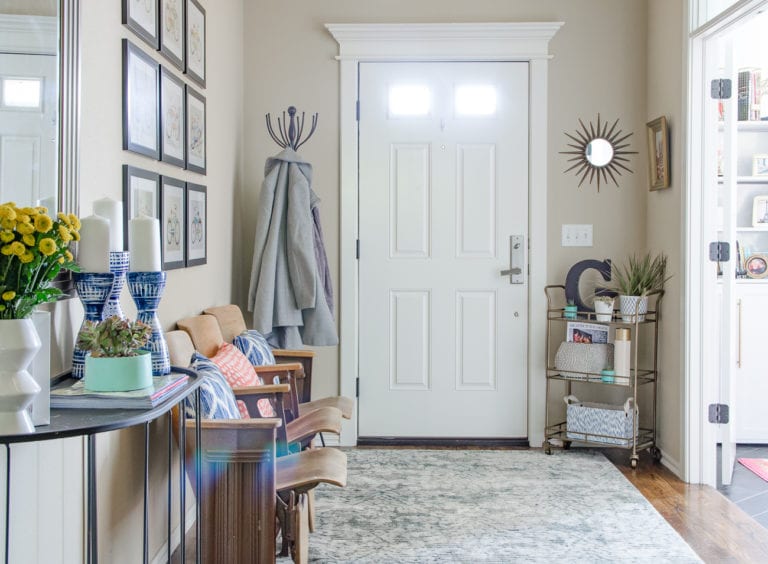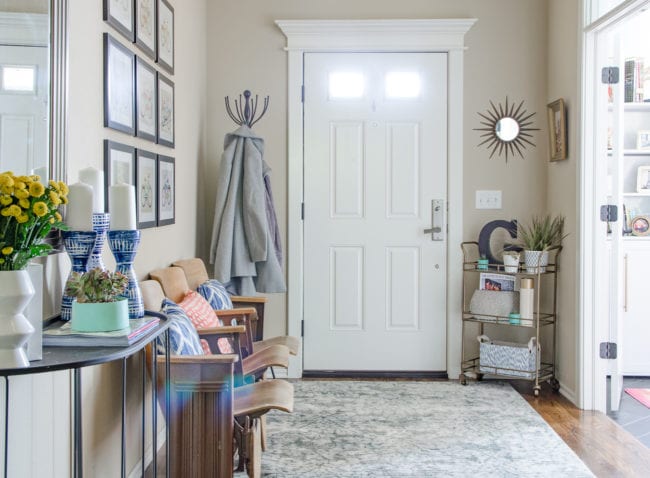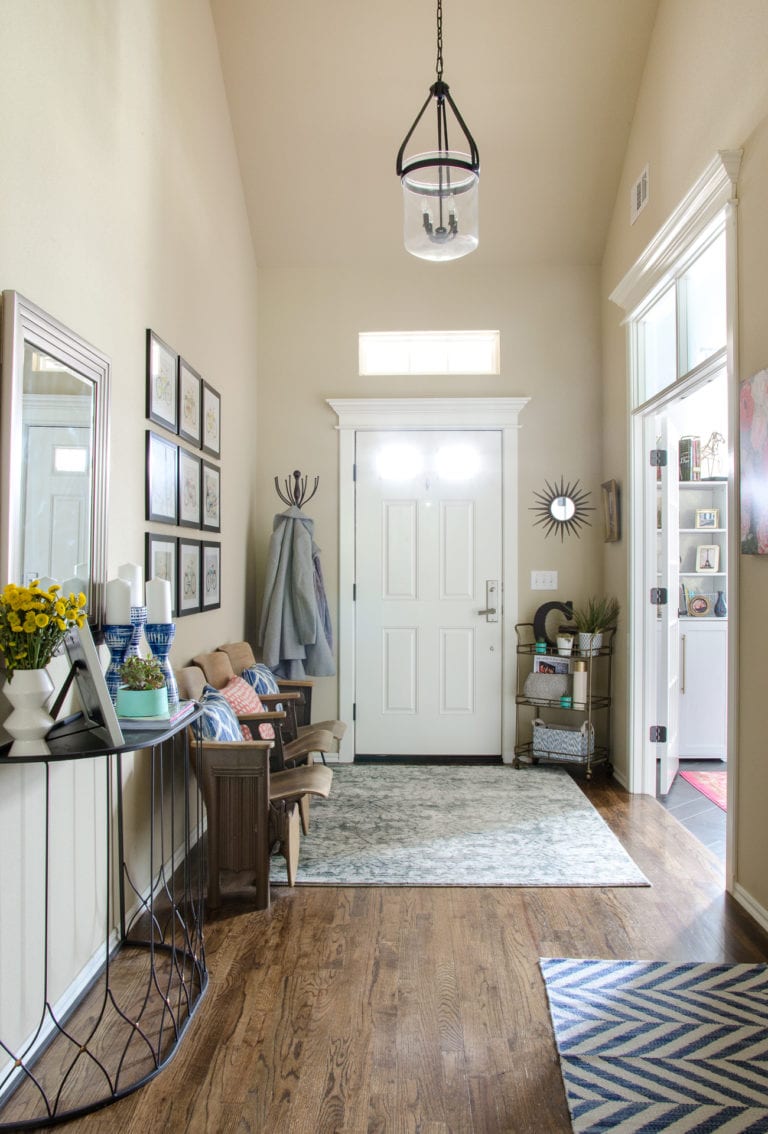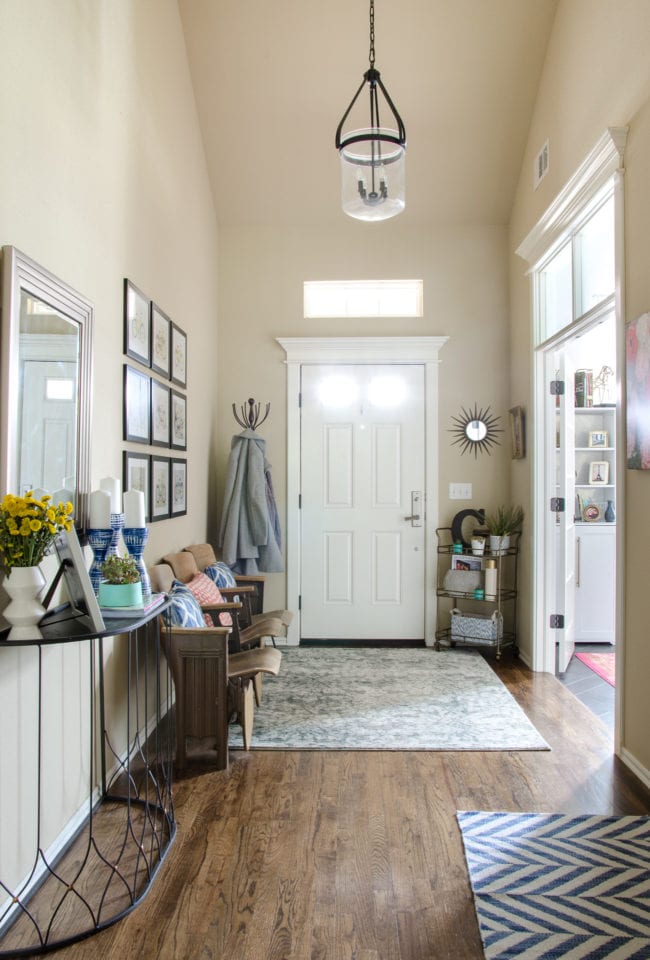 Down the main hall from the entry, we get to the kitchen, kitchen nook, and living room. Those are the only spaces I decorated just for fall.
I moved some of the summery teal and pink accents from those spaces to the office, bedroom, and bathroom. I love that those rooms got a free minor refresh!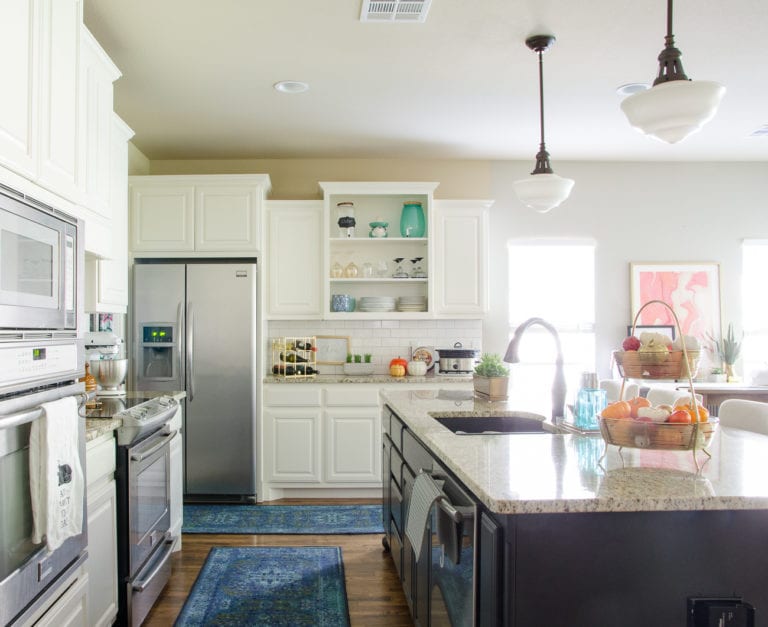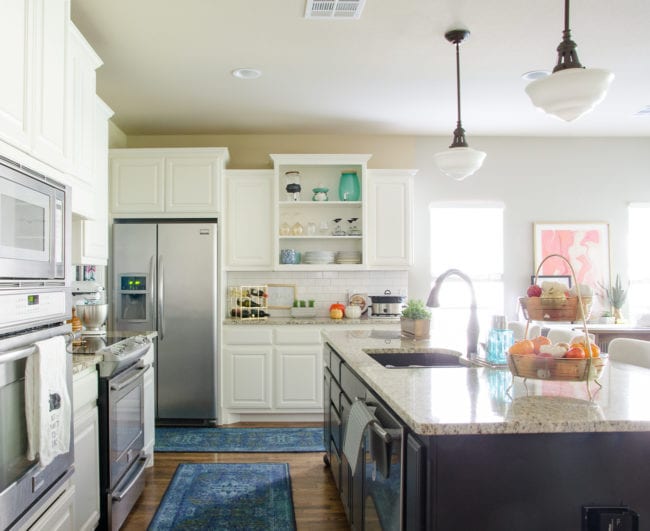 Teal works really well with orange, so I did leave a bit of it in the kitchen.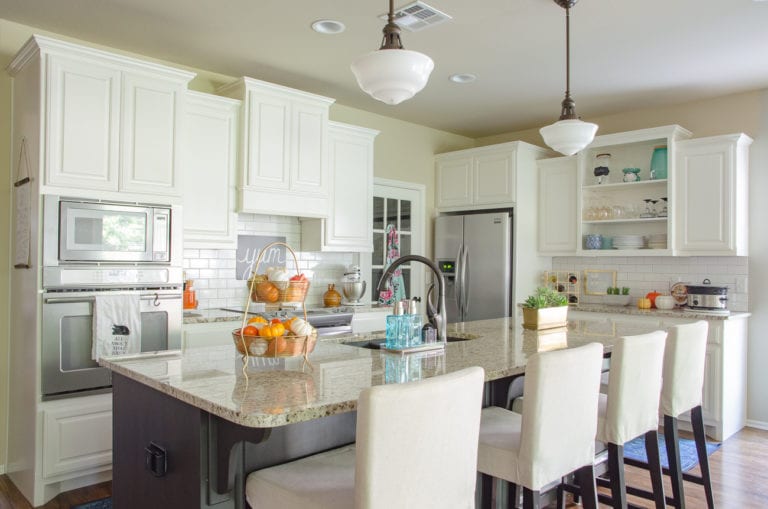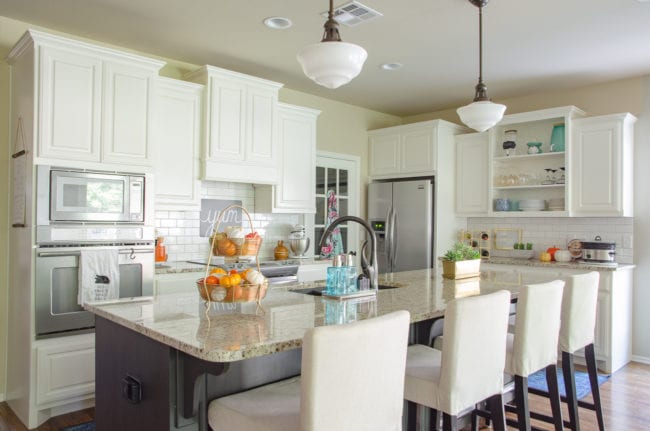 I already had a ton a small faux pumpkins, so to modernize them I bought one new package of white & gold pumpkins from Hobby Lobby.  I added all of them to my gold tiered fruit basket and then tossed in a few white and orange real pumpkins from Trader Joes.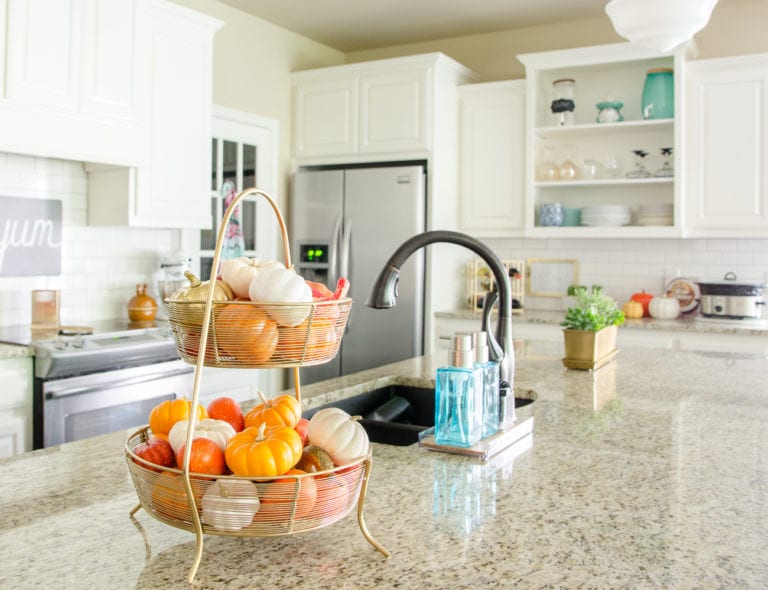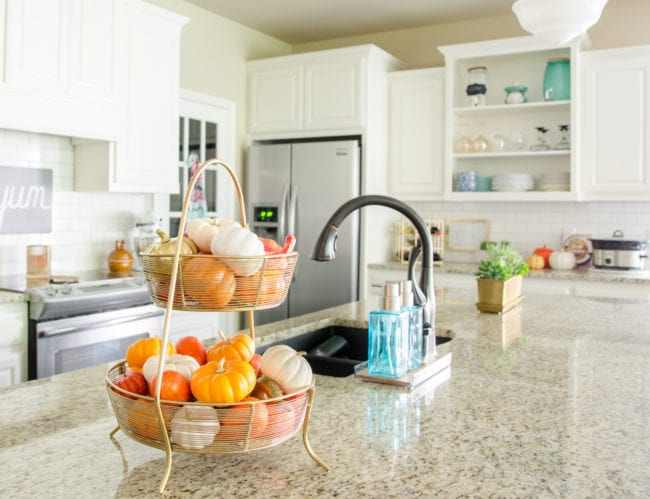 We use the island a lot every time we cook, so I limited the decor to one item on each end.
The side countertop isn't regularly used unless we are entertaining, so it was a great space to add a few more touches of fall. The orange and yellow pumpkin containers used to be Corey's Granny's, so I was happy to find the perfect spot to display them. When I saw the white one at Target, I knew it had to come home to complete the set!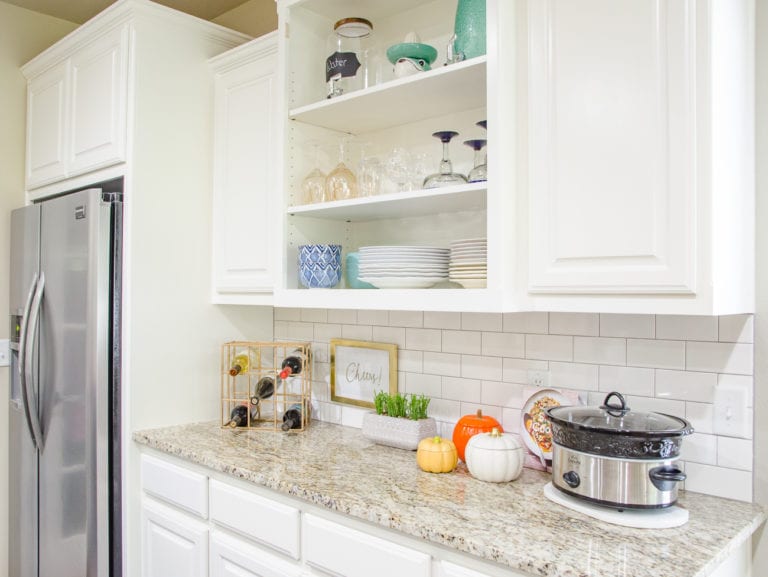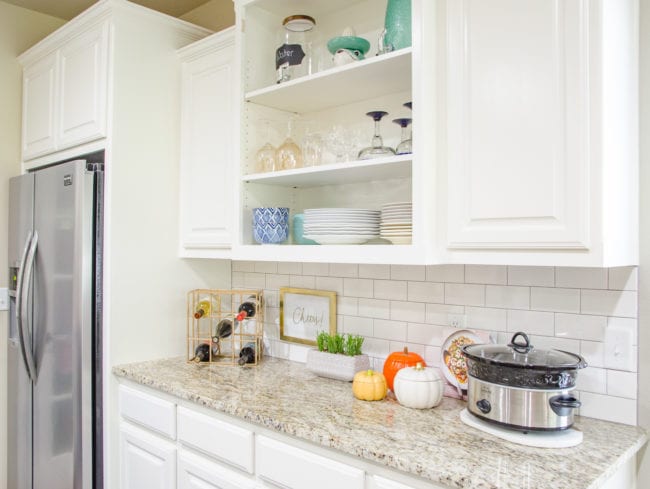 Last year, I hand grand plans to use the slow cooker more often in the fall and winter. I used it a grand total of…
….drumroll…
ZERO times.
To make sure that doesn't happen again, I decided to bring it up to the countertop and display it along with Martha's new Slow Cooker cookbook. There are tons of recipes we want to try, and having the visual cue should make sure we don't forget about them!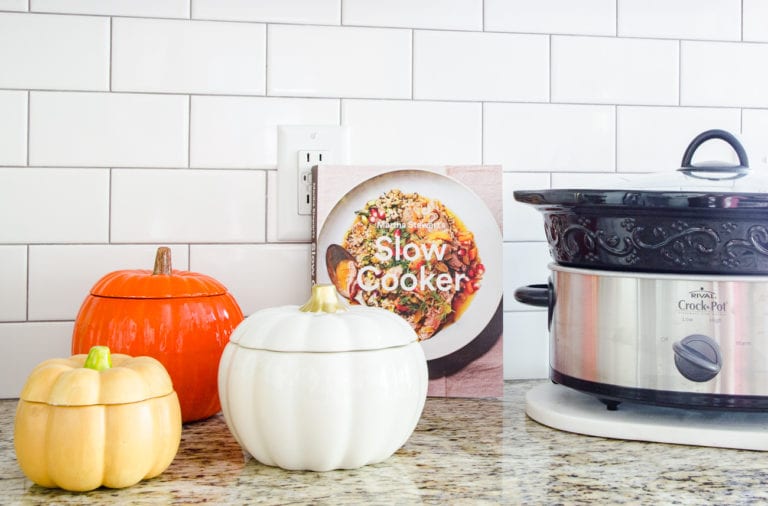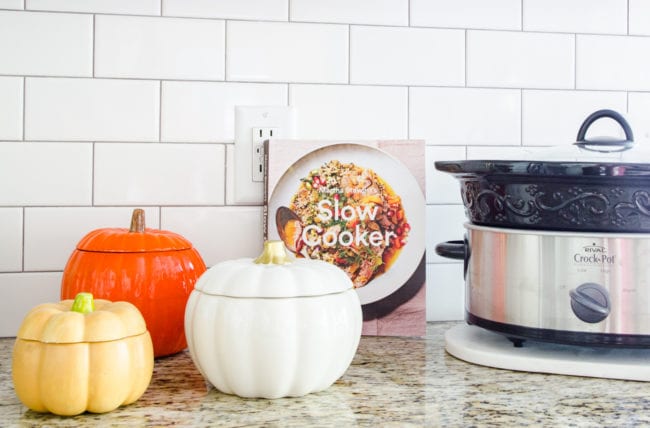 Can't leave the kitchen without another look at those pretty pumpkins!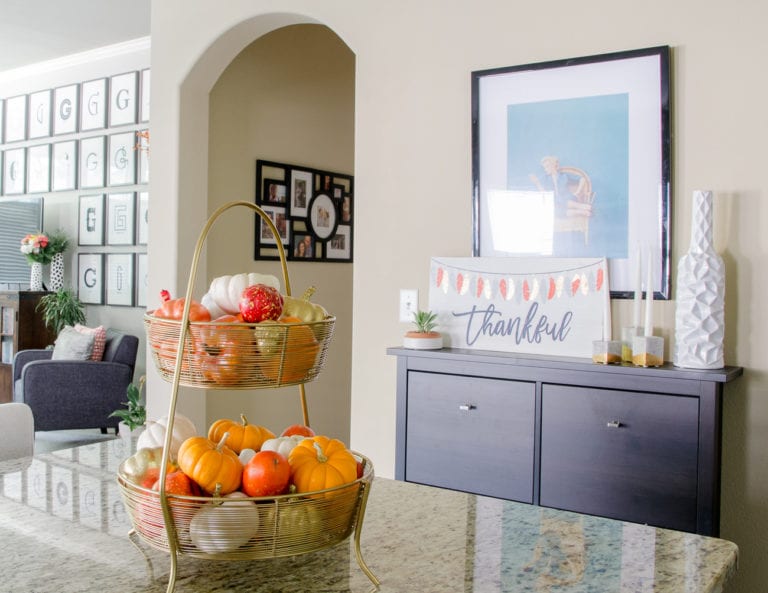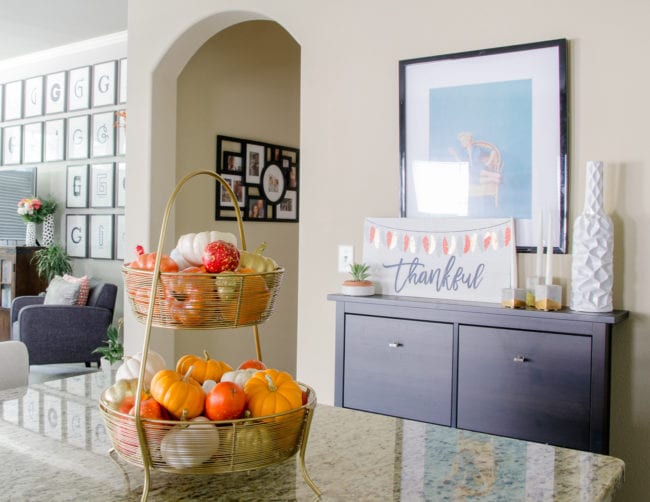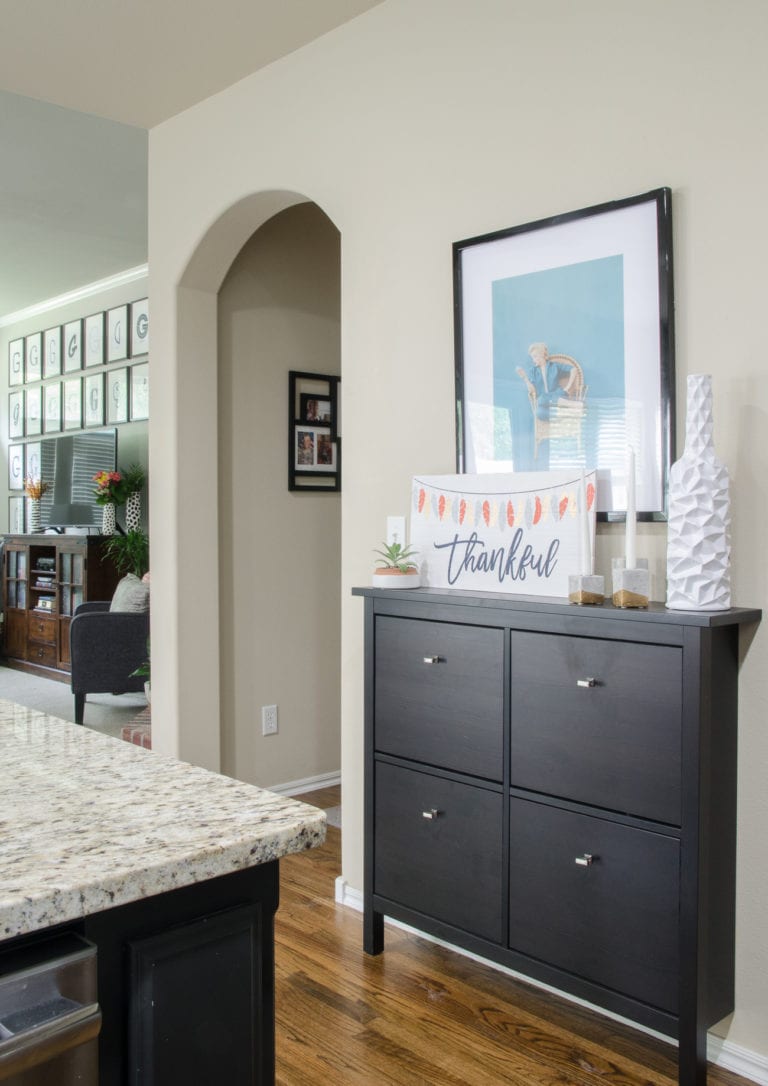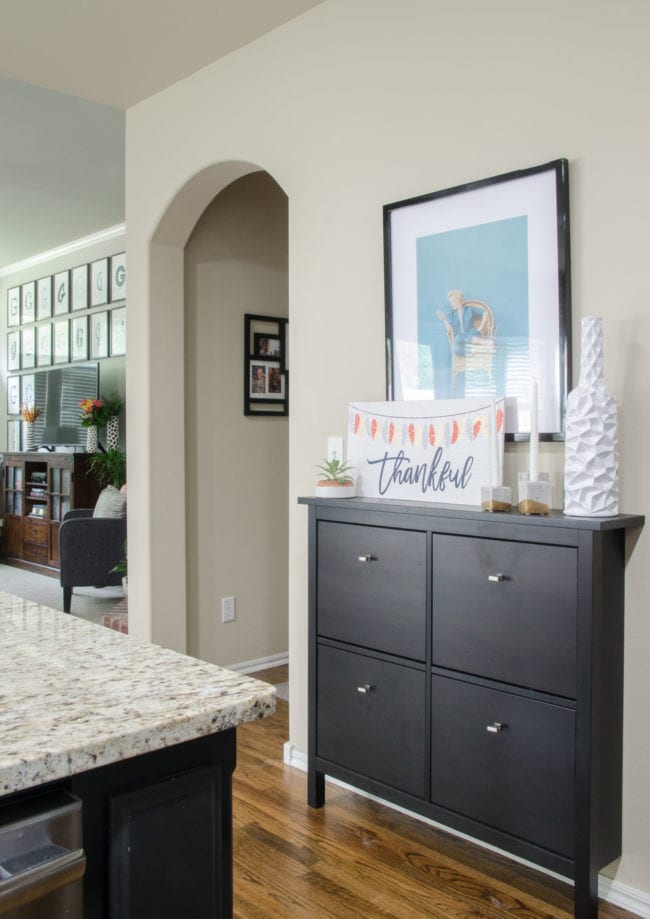 I didn't change much in the kitchen nook. Last year, I styled the table, but then realized we never ate there because there was too much decor in the way.
This year, I kept it simple with a modern white pumpkin on the table. The black framed print is the only other new thing in this area, and it will probably stay in this spot year-round. I opted to leave the pink watering can out because I use it quite often and seeing it reminds me to water the plants. You'd think the plants would do that, but the watering can is always what triggers me.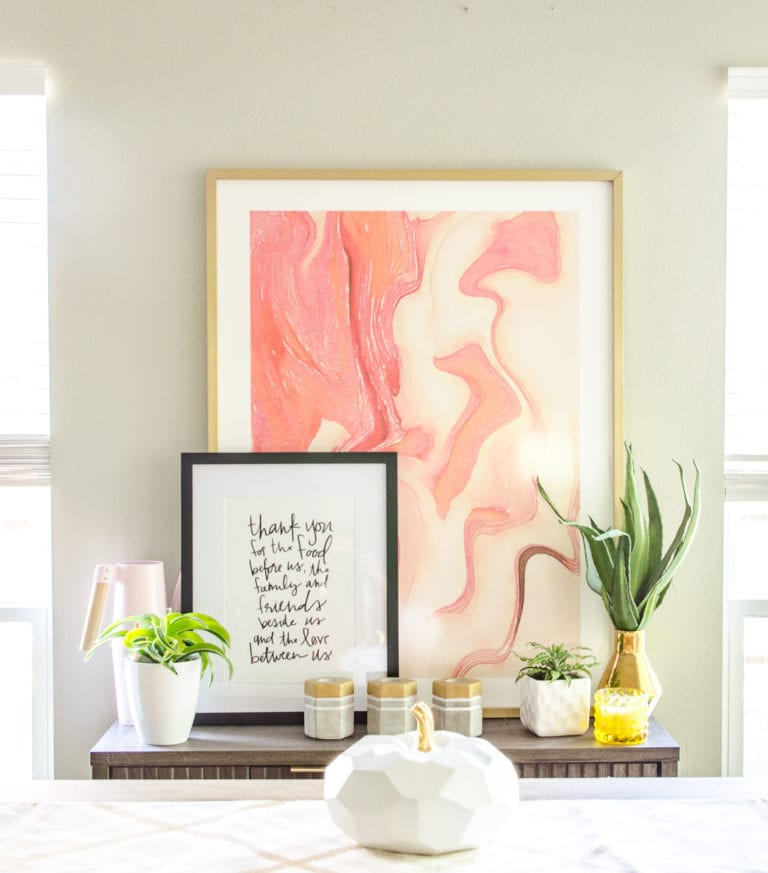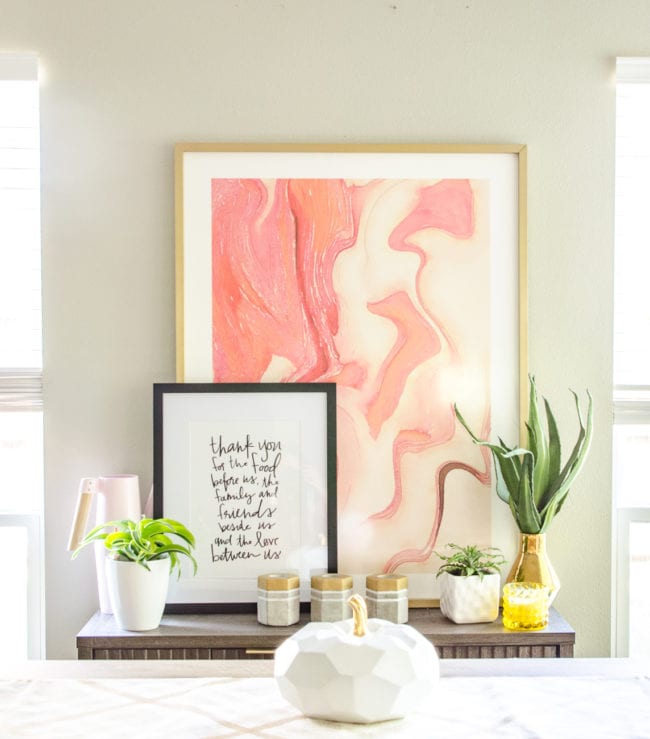 It's a good thing Marshall's only had one of these white geometric pumpkins, because I probably would have bought them all!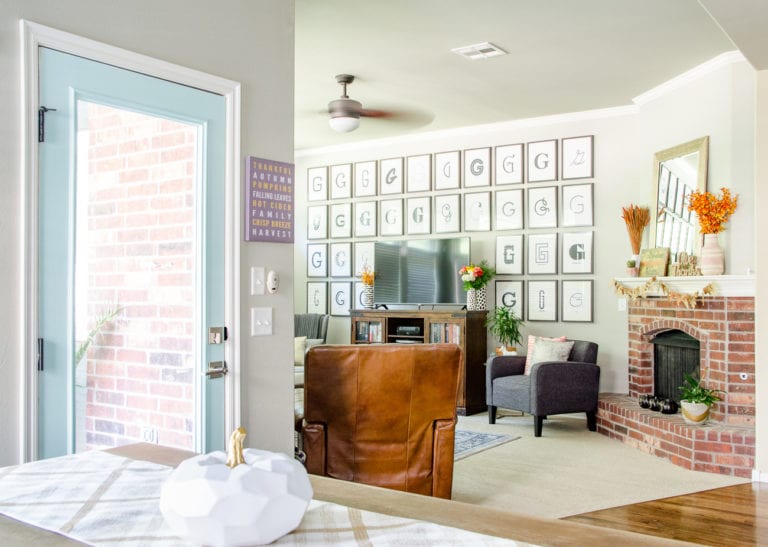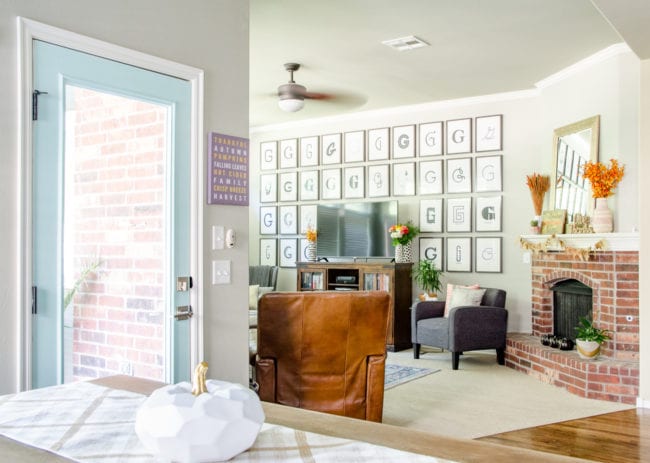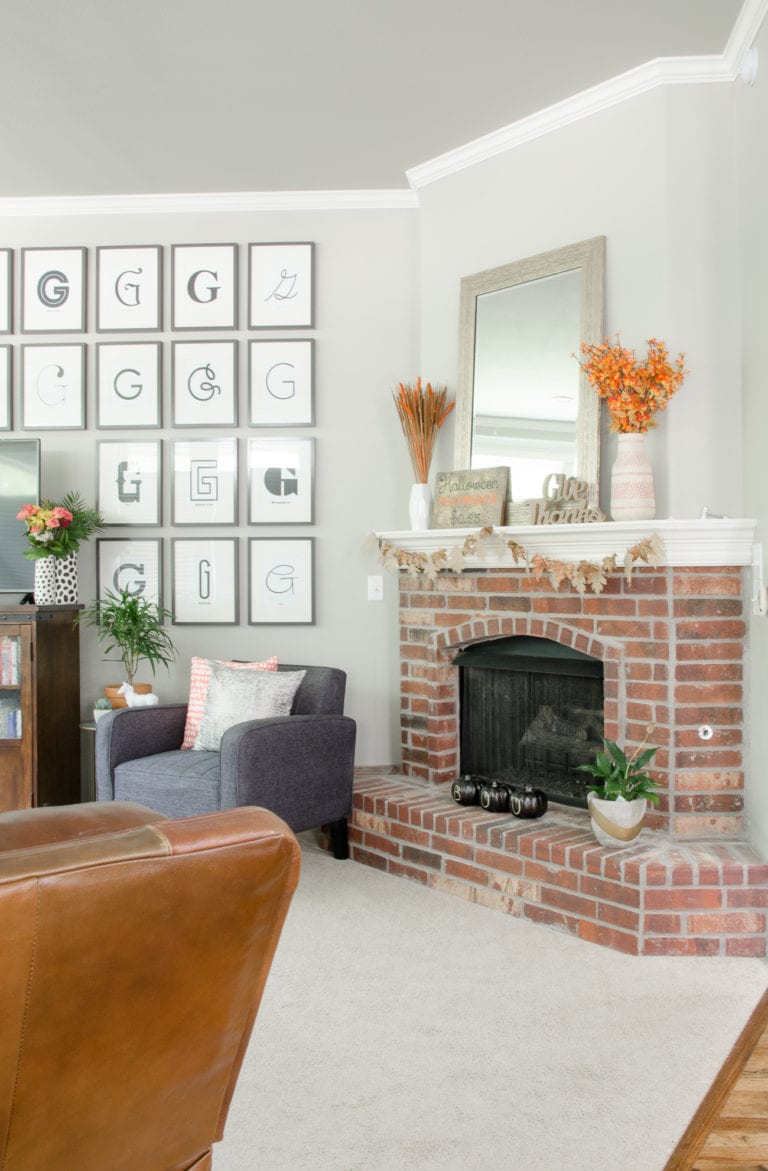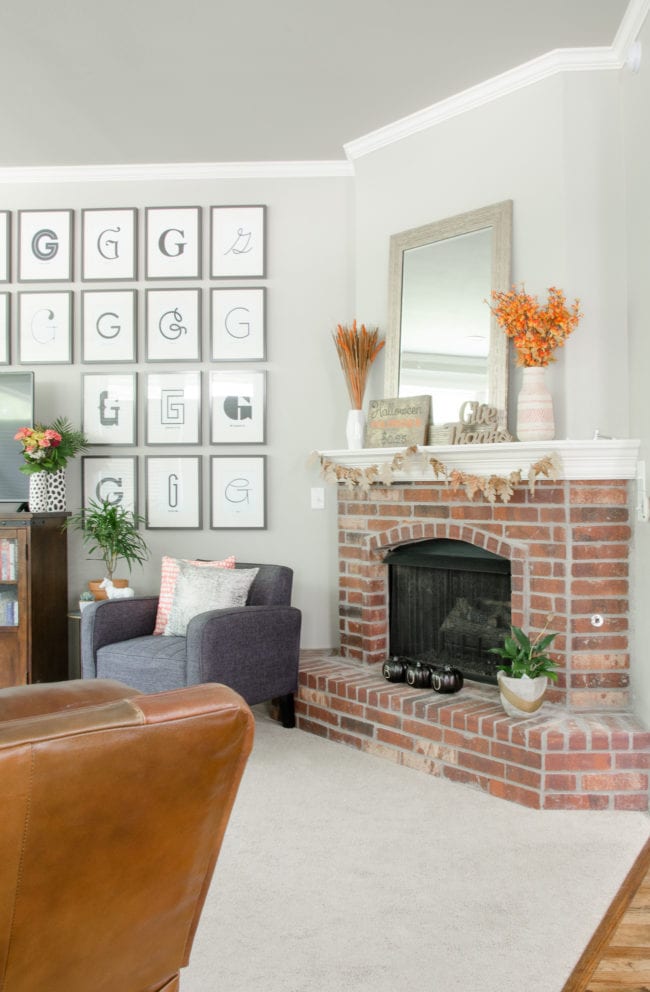 The living room didn't need many changes. I added a mum to the side table, and swapped out some of the pillows.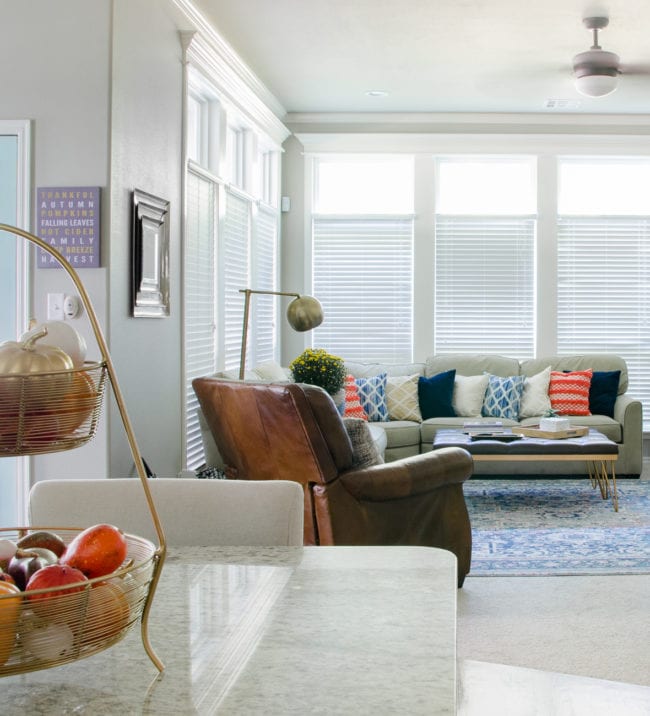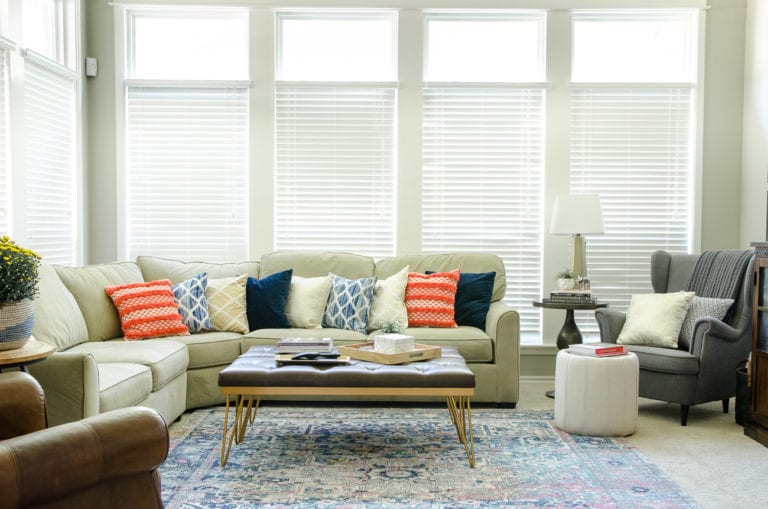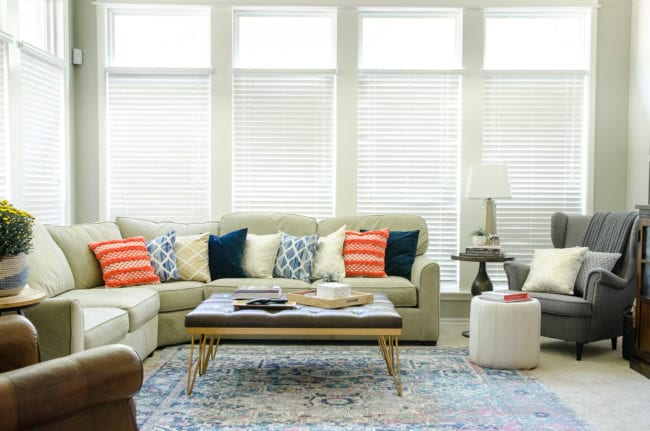 I was able to pull the fireplace together using only things we already owned. Love it when that happens!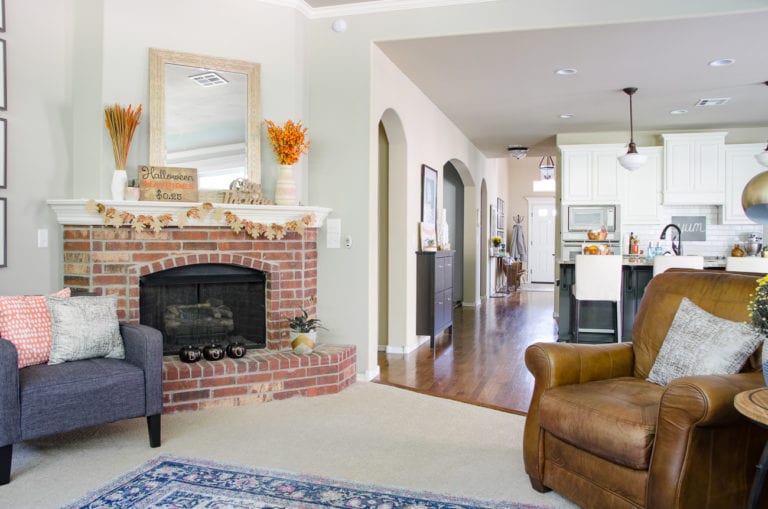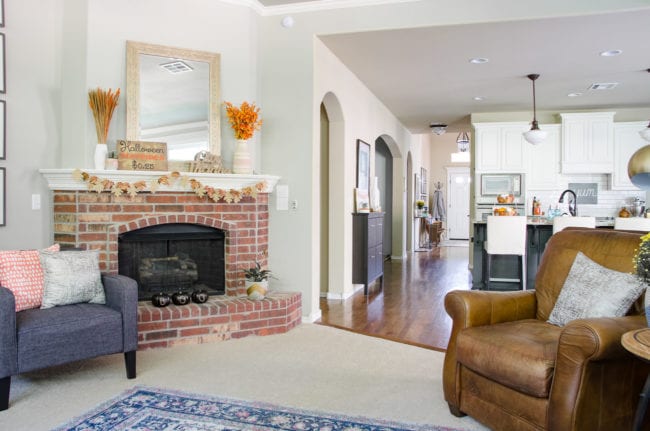 That's it for our fall decor this year! It's just enough to give the house a fall feel without going overboard.
To celebrate the first day of fall, I've got links to several more fall tours today. Next on the stop is Thoughts From Alice!
And here's links to everyone on the Hello Fall Tour!
Bright Green Door * Polished Habitat * Thoughts From Alice * Green with Decor * Farmhouse 1820 * Saw Nail and Paint * Our Home Made Easy * Up to Date Interiors * Just Call Me Homegirl *