Sometimes I get reader questions that are best answered as a new article because I realize the answer could help all of us. Including me!
The questions make me slow down to think through the WHY of decorating so I can do a better job explaining it in a way that lets you replicate it but in your own home and style.  I always want you to be able to create a home YOU love, not necessarily something that looks like our house. Make sense?
Here's the question I received from Bobbi, who is moving into a new home and getting ready to hang art in her new space.
What advice or rule of thumb do you use to group wall art? I do not have the room to put one picture on each wall so I will be grouping. Do you go by size, color what? – Bobbi M
An important question, right?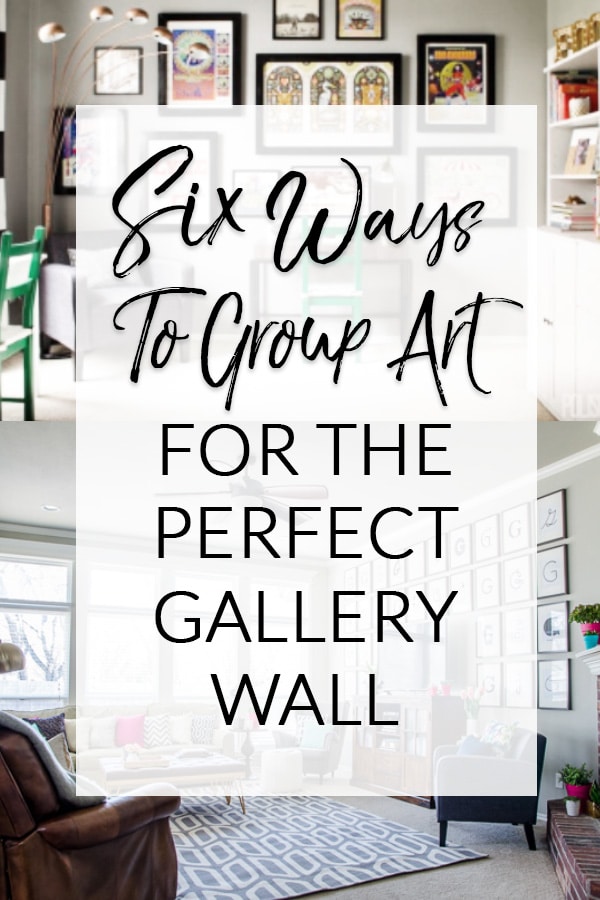 The great news is that there are several ways to get this RIGHT.
The biggest key is knowing the reason you've grouped your collection together.
Find a common thread, and you'll be surprised how well you can put together a beautiful gallery wall!
Here are few ideas and examples to get you started!
Group By Subject Matter
Have you ever seen a gorgeous collection of oil painted portraits, landscapes, or seascapes all hung together? Even when they are different sizes and styles, somehow the subject matter unites everything into magic.
Group by Theme
Theme sounds like subject matter on the surface, but there's a bit of a difference. In the subject matter grouping, you might have all paintings of barns. But with a farm theme, you could expand the grouping to include cows and related items. Here's an example we put together in my mom's house.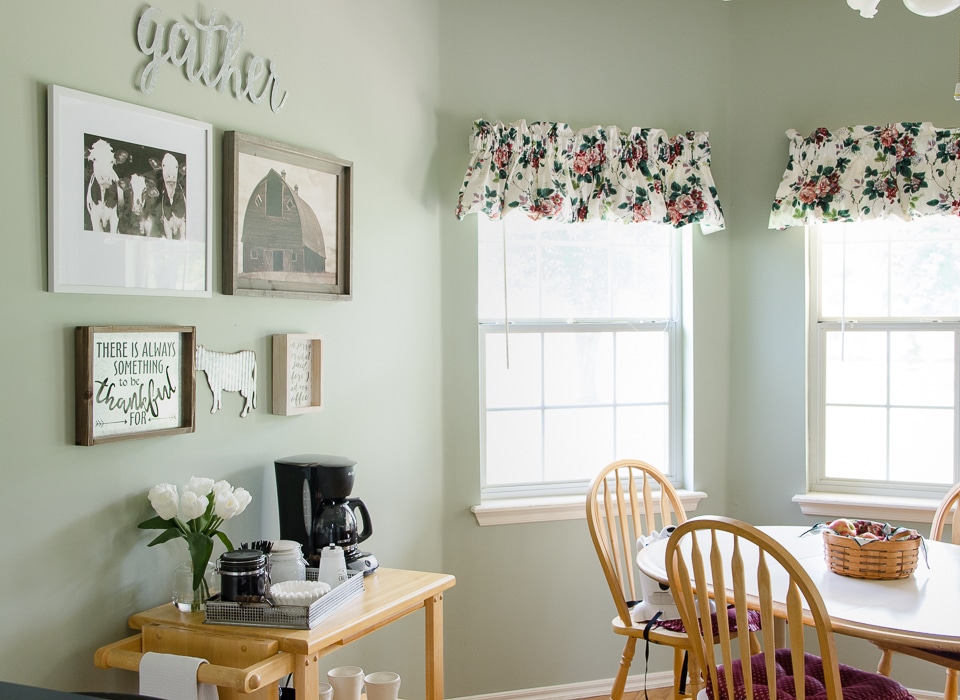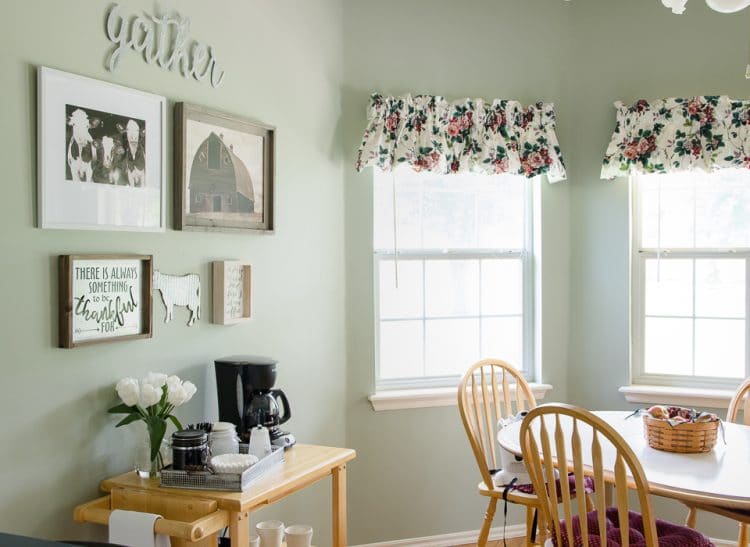 Unite Different Art with the Same Frame
In the game room, we used a collection of colorful concert posters together, uniting them with the same black frame. While they're all music-related, the theme of each poster is different. Records in matching frames were also mixed in.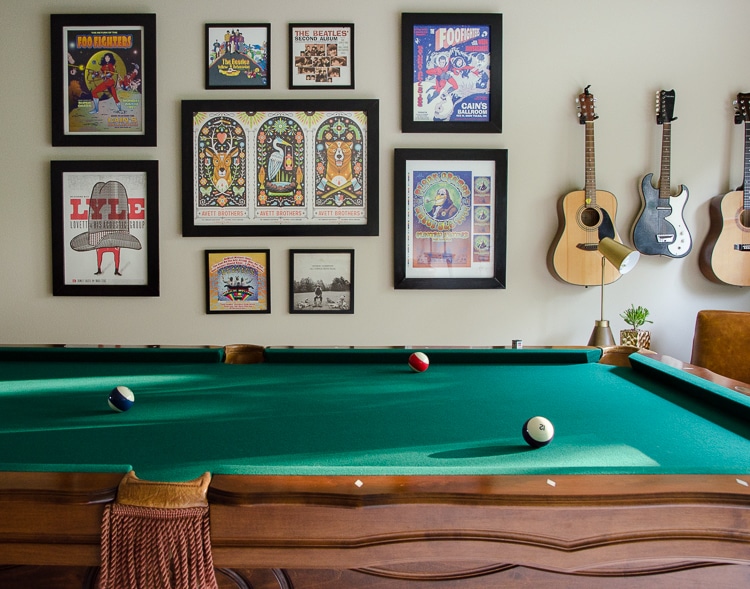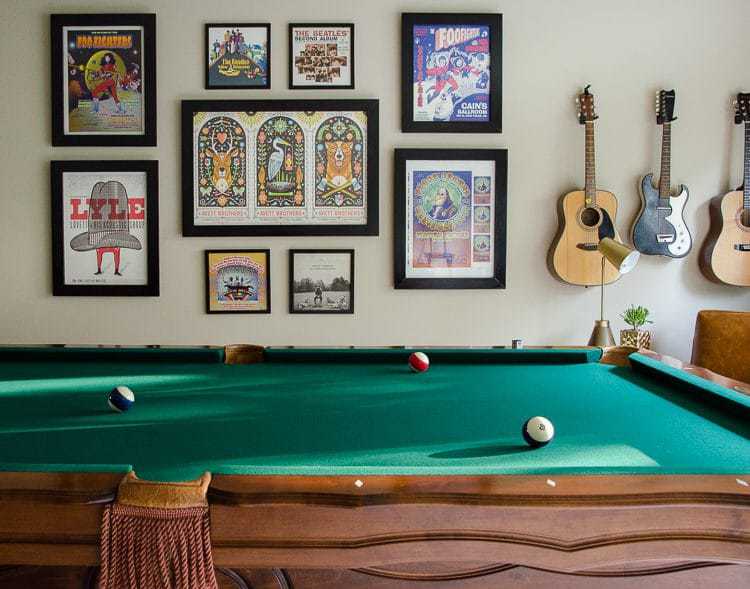 Before we turned my office into a pink haven, the same gig posters were around Corey's desk. The arrangement was different, but you can see how the frames still pull everything together.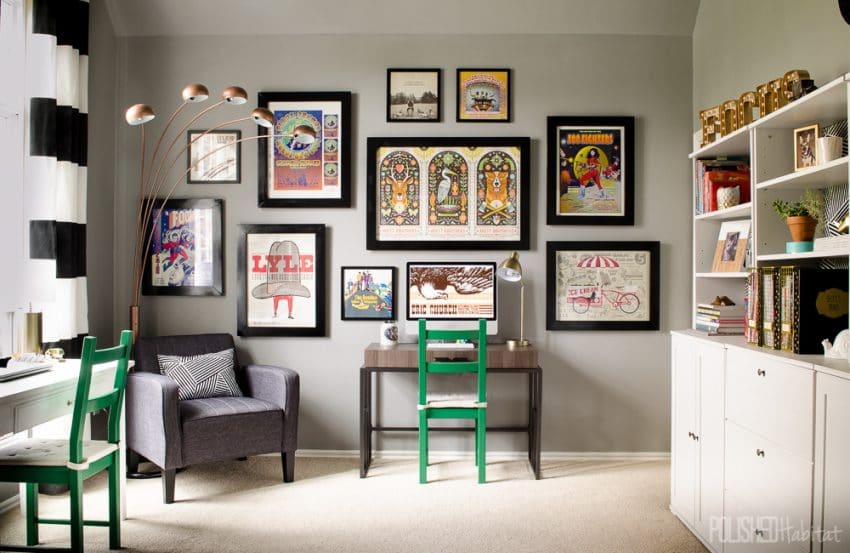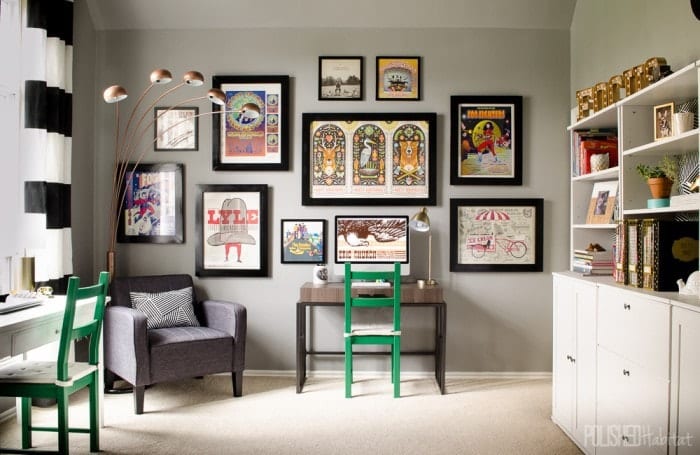 As you saw last week, we just replaced the gallery wall below with one large piece of art, but it's still a fun example of uniting art with the same frame.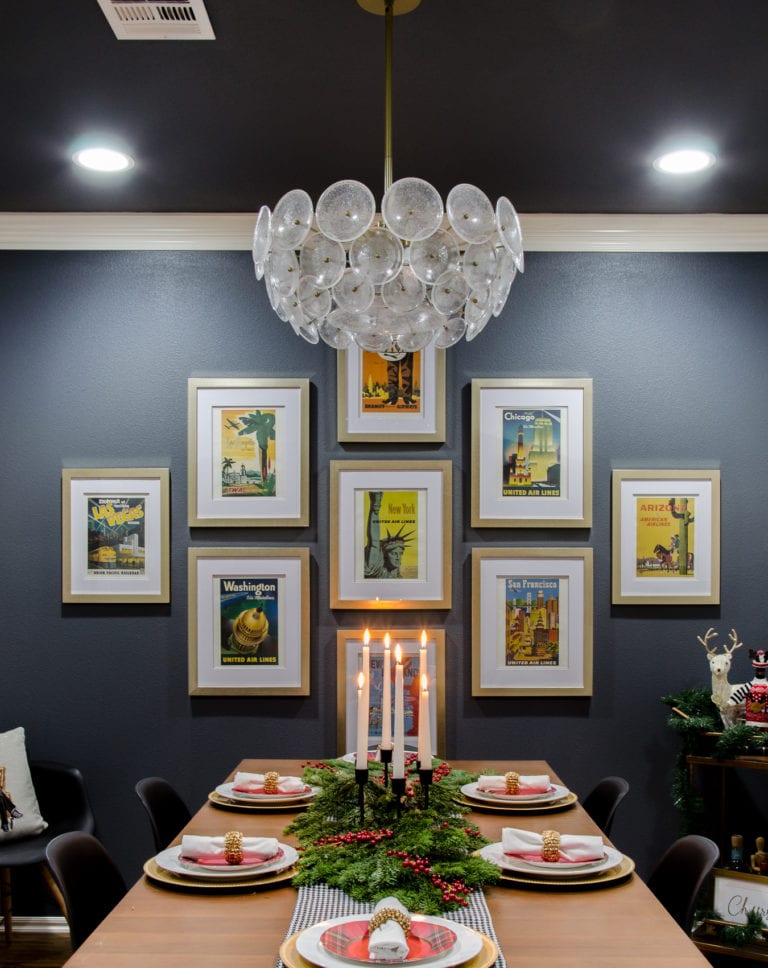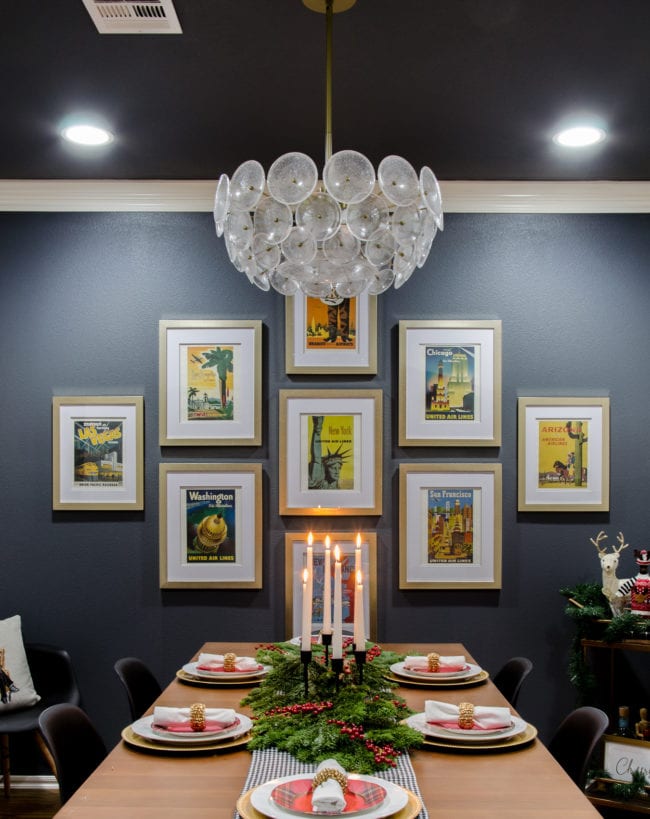 The same frame approach works with neutrals as well as it does with the colorful prints above. Here's a small area we put together for Christmas.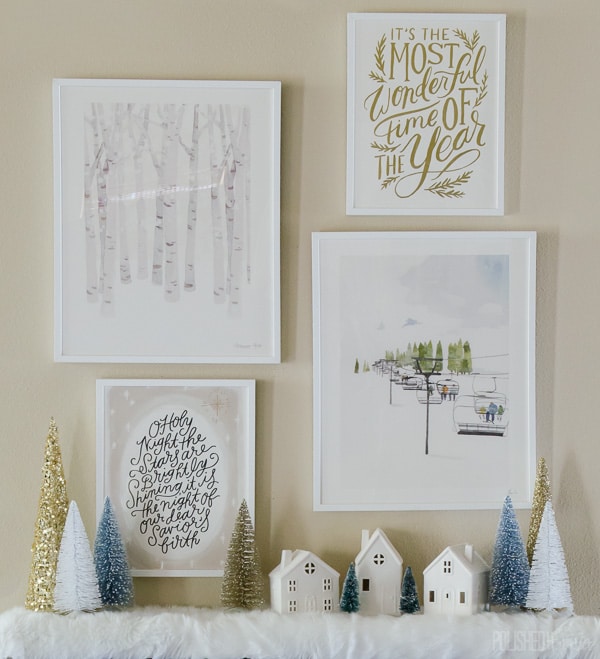 By Art Medium
Whether you love pastels, oils, or photography, you can group different pieces in the same medium together beautifully. I love seeing a wall of black and white prints. I don't have any in our house (yet) but found some beautiful examples.
Repeating Art + Frames
This one works best when you're starting from scratch versus trying to pull existing art together, but it's also one of my personal favorite so worth mentioning.  People are generally either drawn to symmetry or asymmetry.
I'm firmly in camp symmetry as you'll see in the next two examples. In the entry, we had been looking for the right large art for years.  We ended up going a different route and buying 9 prints from the same series at an art festival locally. It's hard to tell from this view, but the bicycles are all slightly different and numbered 1-9.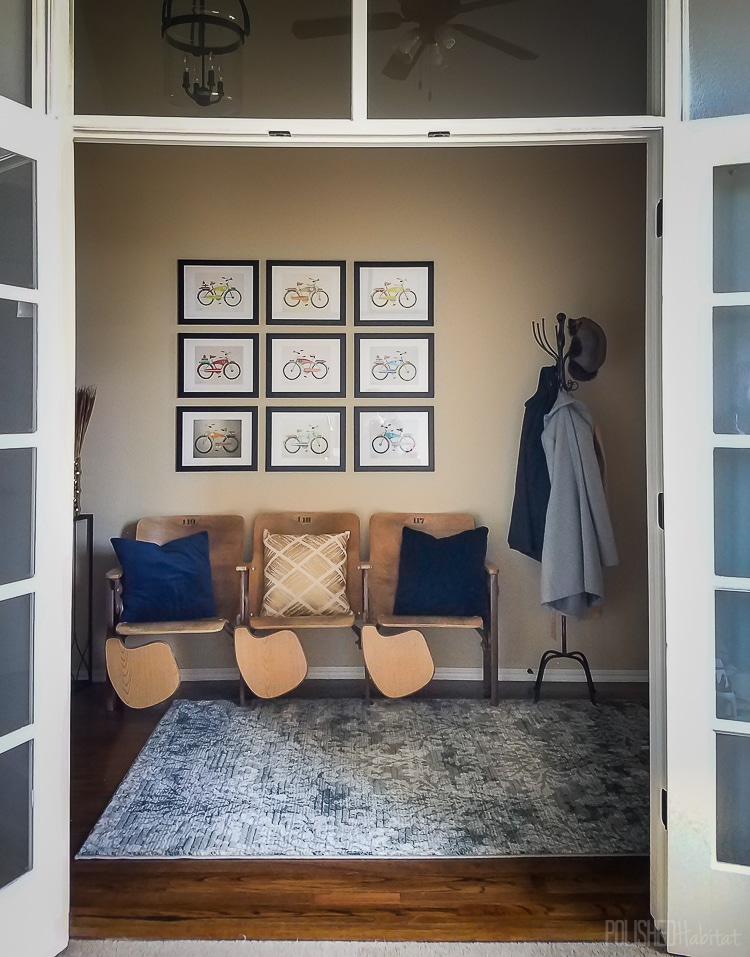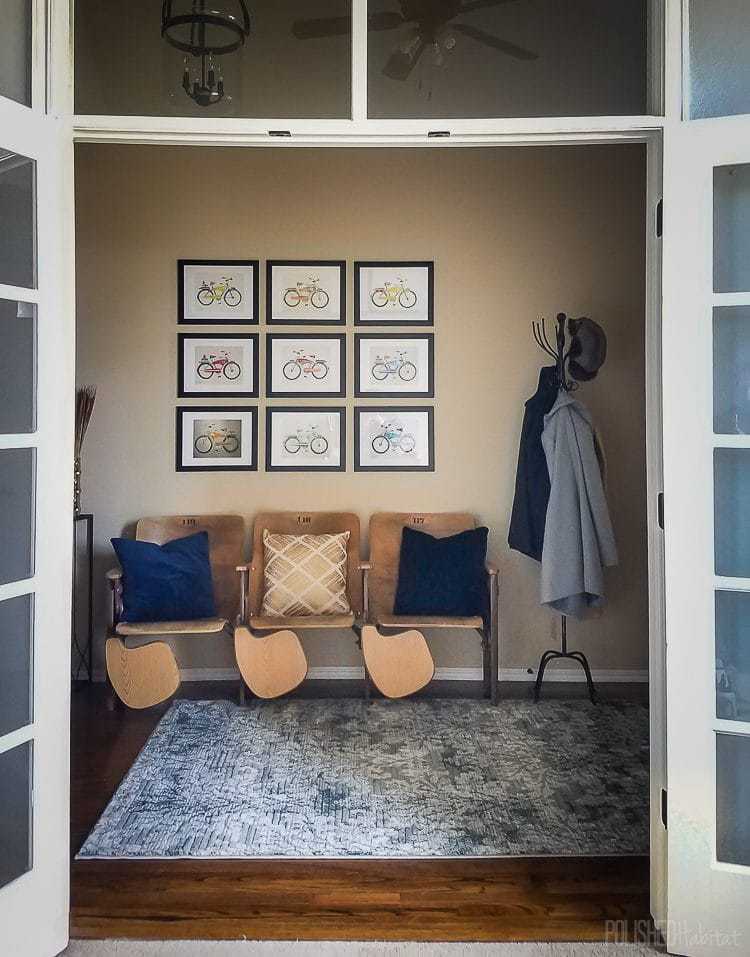 Even the artist thought it was strange that I was buying 9, but they work really well together to create a significant impact at a much smaller overall price. Don't be afraid to think outside the box when putting together your wall!
In the living room, we took the symmetry and same frame approach to the max with the typography wall. We created all the art and printed it at home, so the only expense was the IKEA frames!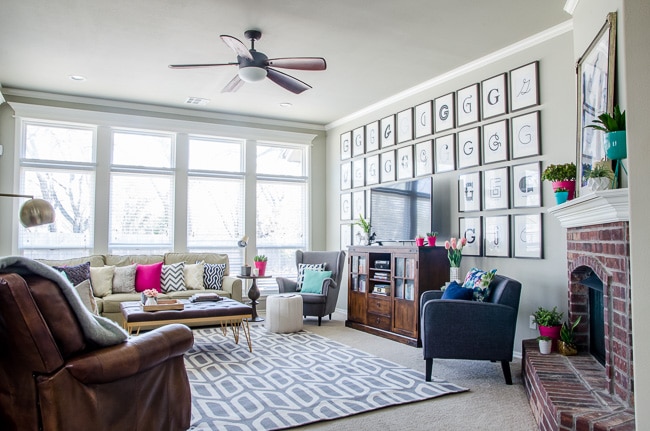 Break the Rules
All the options above are fairly safe ways to put a beautiful wall together. That doesn't mean you HAVE to choose one of them. You can mix and match or go rogue.
I found an example of a stairwell that is beautiful with a variety of frames, subject matters, and art mediums. You may notice though that some colors repeat, which helps pull the seemingly random pieces together.
Whichever approach you choose, we like layout out each piece of artwork on the floor to get a full visual before we start hanging. It lets me play around with different options before hammering the first nail.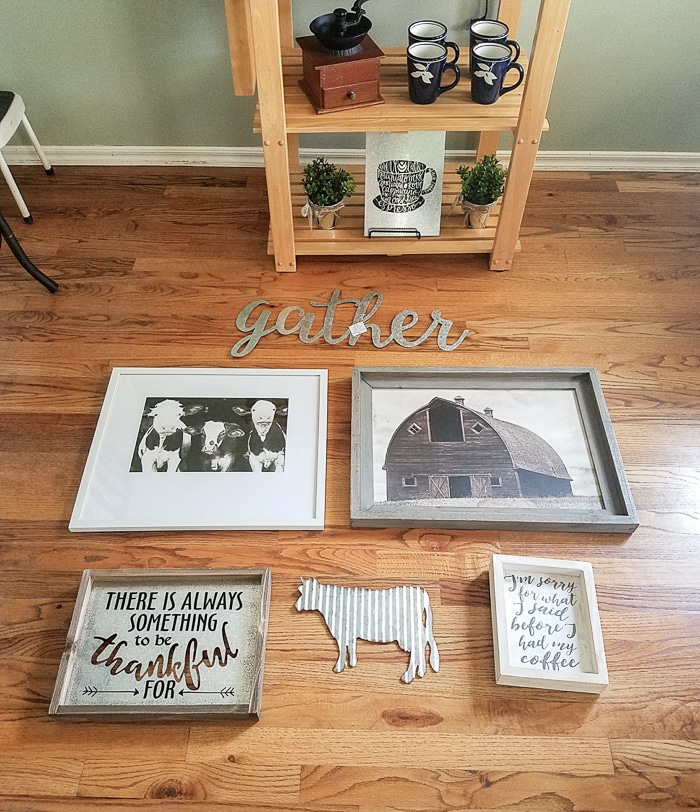 Hopefully seeing these different approaches will help you create your own gallery wall!
Which approach is your favorite?