I'm developing quite the affection for removable wallpaper. I've always liked the idea of adding a bit of texture or pattern to our walls, but after living in a house that required too much wallpaper removal, I've never wanted to add the serious stuff.
Thankfully, removable wallpaper came along and changed everything!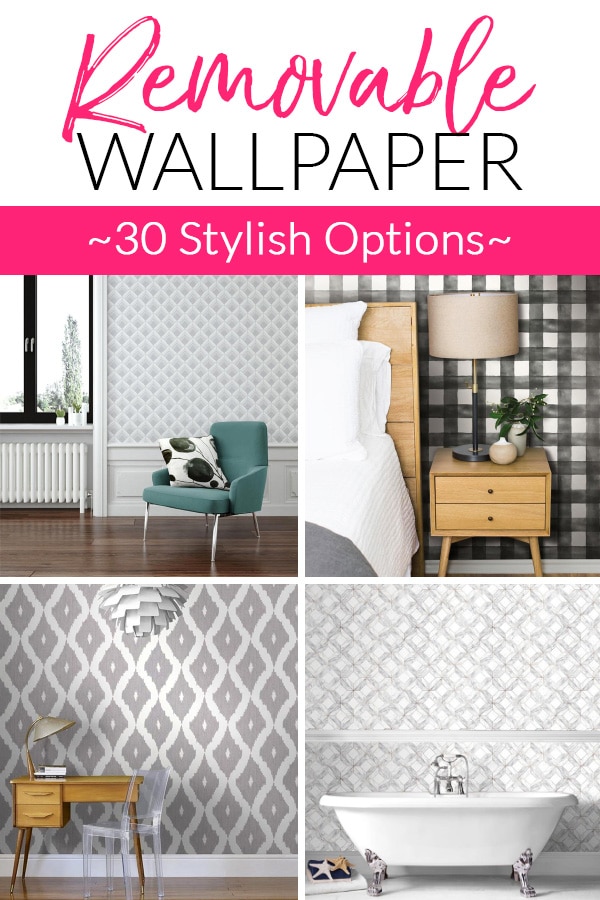 Where, oh, where was this magic when we had a rental apartment? It's such a great alternative to add personality when you can't paint.
I've been researching options for our powder bath, along with "brick" patterns for a wall in the game room.  Along the way, I've run into styles that would be perfect for our master bath and as feature walls in the guest bedroom.
I feel like I'm only a few steps away from having my own wallpaper-addict show on HGTV.
As I shopped around, I was surprised to find that Home Depot seems to carry the best selection online with hundreds of different styles available for shipping to your home or local store.
Before we make any decisions, I thought it would be fun to pull together 30 of my favorite options for adding big style without a permanent commitment.
Keep in mind that removable wallpaper is not all applied the same way.
It comes in peel & stick /self-adhesive (similar to contact paper), pre-pasted (dunk the wallpaper in water to activate the paste), and paste the wall (adhesive is applied to the wall directly).
All three styles are designed to be removed in full strips with little to no wall damage.
Some brands indicate they are great for bathrooms and others aren't recommended for damp areas, so be sure to read the descriptions of each product before ordering!
Removable Brick Wallpaper
I'm going to start with the brick-look papers because this project has been working it's way to the top of our to-do list. We had considered adding actual thin bricks to the window wall in the game room, but that's quite a permanent, pricy, labor-intensive job.
We might still decide it's worth it the commitment at some point in the future, but for now, peel and stick brick wallpaper seems like such a better option.
When I started my research, I had no idea there was such a variety of brick styles and colors available. You can click on any of them to learn more.
| | | |
| --- | --- | --- |
| Classic Brown & Red Brick – Paste the Wall- | Vintage White – Paste the Wall | Soft Black & Gray – Paste the Wall |
| | | |
| --- | --- | --- |
| Gray Brick – Pre-pasted | Black Brick – Self-Adhesive | Classic White – Peel & Stick |
 Classic Patterns
You can't go wrong with any of these classic patterns. They'd be perfect in a powder room!
| | | |
| --- | --- | --- |
| Black Buffalo Check – Pre-pasted | Blue Paisley – Pre-pasted | Gray Buffalo Check – Pre-pasted |
| | | |
| --- | --- | --- |
| Navy Stripe – Pre-pasted (comes in 6 colors) | Silver Classic Deco (Comes in 3 colors) – Paste the Wall | Black and White – Paste the Wall |
Map & Architectural Wallpaper
My love of maps and architecture won't come as a big surprise if you've been reading awhile. While the love is old news, the cool wallpaper options from Home Depot in this category were a shock!
| | | |
| --- | --- | --- |
| Blueprint Architectural (4 colors) – Pre-pasted | City Map (4 colors, including GOLD!) – Pre-pasted | Downtown Architecture (2 colors) – Pre-pasted |
 Modern Mix
These patterns have a modern twist, but not in a trendy way that will feel outdated by next week.
| | | |
| --- | --- | --- |
| Navy and White Modern Squares – Self-Adhesive | Black and White Diamond – Self-Adhesive | Navy & White Modern Diamond – Self-Adhesive |
| | | |
| --- | --- | --- |
| Silver Leaf – Paste the Wall | Blush & Gold Geometric – Paste the Wall | Gray and White Modern Quilt Squares – Self-Adhesive |
Go Bold
Feeling a bit braver?
These bold wallpaper patterns would make a huge statement in any space. I love that the swimmers just look like a geometric pattern from a distance, but reveal themselves in more detail as you get closer.
| | | |
| --- | --- | --- |
| Modern Black Tropical – Self-Adhesive | Bold Pink Abstract – Self – Adhesive | Navy and Blush Abstract -Self Adhesive |
Marble Magic
I've been debating what to do with the wall behind our mirrors in the bathroom for years. The master plan is adding tile. However, I eventually want to replace all the flooring in the bathroom, so I don't really want to choose something that matches what we have now.
I think I stumbled on the perfect solution. This marble-look wallpaper has thin metallic gold "grout" lines. They will help tie the marble into our existing wood cabinets and tile just enough to make it work!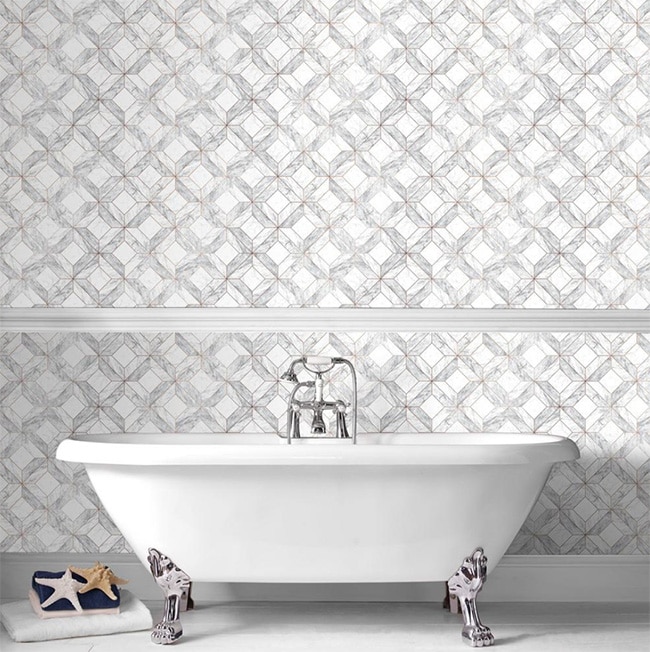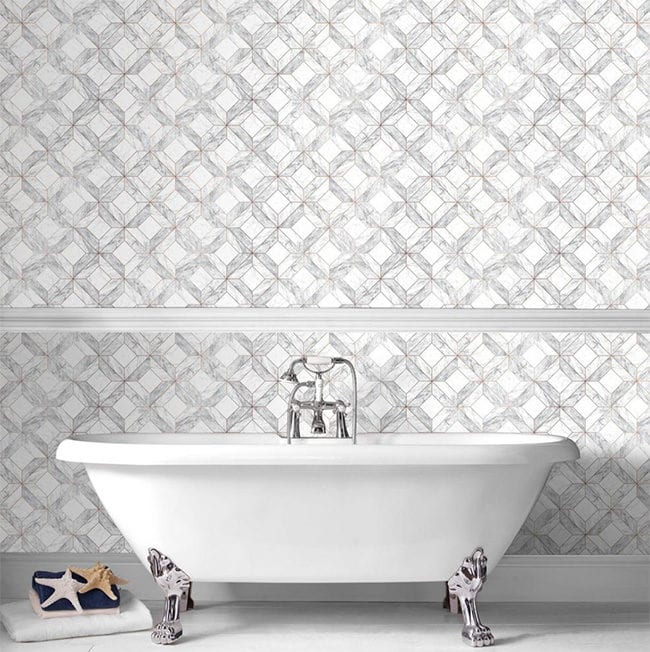 You can see the wall I'm talking about behind the mirrors in the next picture. Wouldn't it look fabulous with a little of this marble love?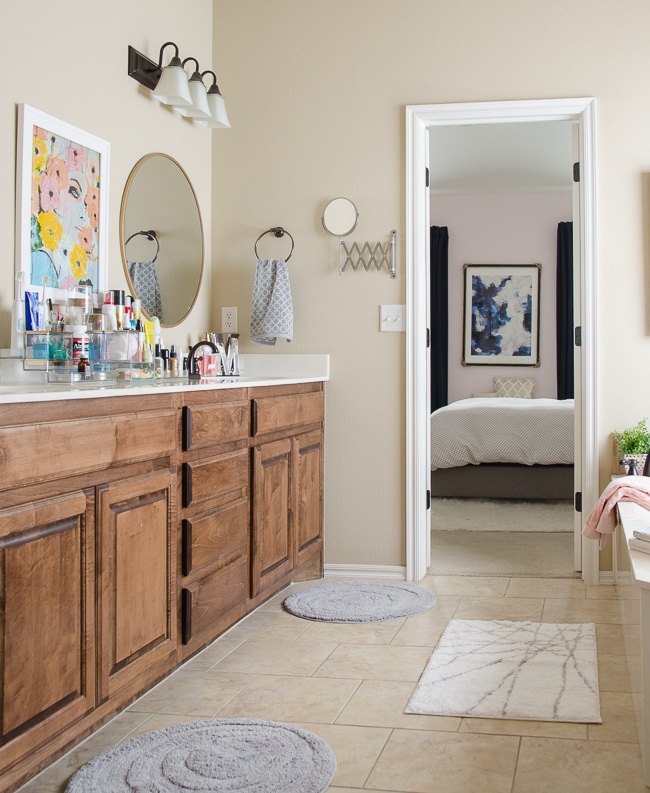 Whew! See what I mean about the variety of removable wallpaper options available online from Home Depot?
Let me know your favorite from my list (or from all the options here) in the comments below!