Even though I know ANY day, week, or month of the year can be a fresh start, there is something alluring about planning and organizing in January. One of the most frequently asked questions I get in real life is "What's Next?". As I'm finishing up something huge, like the master closet, I often don't have an exact answer other than "sleep". At our old 1970's outdated ranch, we had a master list of projects we wanted to do. Getting all the dreams down in one place helped with prioritization and with budgeting. When I knew exactly what was next, it was easier to make sacrifices.
Here's a peek at the dialog inside my head during these decisions: "Starbucks or the bathroom tile? Tile for sure." OR  "Starbucks or some vague notion that I want to update the house? Hmm. Starbucks is right here IN Target, where I am, and who knows when we'll update the house. Bring on the Peppermint Mocha."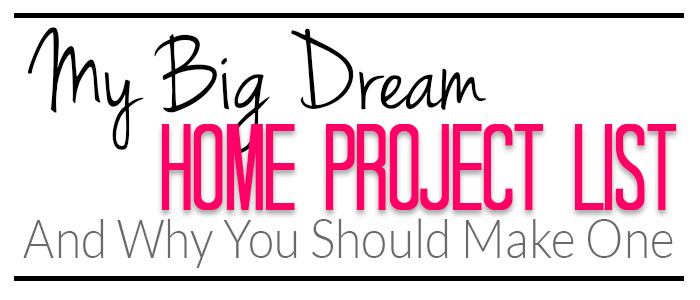 We lost our mind for awhile and abandoned the priority list concept and have operated on more of a whim based method. I definitely don't regret any of the projects we have done, and once I had the whim, I was excellent at rationalizing why I chose it. But, not having a big priority list has also meant I'm not as focused on saving because I don't always have that clear vision of what's next. In the past, it also meant coming up with projects for the blog that didn't really fit into any kind of grand plan. I would do something, then have no idea how to photograph it for you all because I didn't know where it was going. Thankfully, I stopped that madness over this year. But, I still wanted to mention it because the same concept applies to everyone. Either we DIY something we have seen online, or we buy something on a whim with no idea where it is going in our house.
Instead of relying on the rationalization of whims, I'm starting this year with a BIG list. It is 100% NOT possible to do all this in a year, neither budget or time wise. But, if you don't acknowledge everything you'd like to do, you can't properly prioritize it.
To get started, grab a cozy blanket and a notebook and make a list of your wildest dreams for your house. Think about these questions as you make your list.
Which spaces make you CRAZY?
What rooms do you know have untapped potential? 
What areas just need a coat of paint and a new rug?
What rooms would you make over if you won $10,000 to be spent on the house? What if it was $100,000?
What do you wish your home had?
One little caveat I have to mention is that you MUST approach this process with the correct frame of mind. It would be easy to make a big list of ideas for your house, and then slip into huge dissatisfaction with your current situation when seeing all the things  you'd like to do. Especially when you are most likely NOT able to tackle everything. If you start to feel that way, think back to a time when you were SO grateful for your home.
When we were building this house, I seriously kept thinking they would say there was some mistake and it wouldn't be ours. It seemed too good to be true (even though we had saved and planned for years). When picking all the finishes, we prioritized saving money in areas that could be easily changed and upgraded later, like lighting. At the same time, our tastes and style have evolved, leaving us with even more things we would like to update. BUT, anytime I get frustrated that I can't snap my fingers and make all the changes I would like, I think back to how in awe I was when they handed us the keys at closing. I've felt that same excitement when we closed on our two prior houses as well. It helps me remember that I can be extremely grateful and still plan to make things even better at the same time.
With that disclaimer and advice out of the way, I got started on my list. At first I was trying to prioritize as I went, but I realized I needed to follow the rules of brainstorming and just list out everything I thought of today. Later this week, I'll share some printables that helped me prioritize my list and organize all my home improvement plans into one place. I'm pretty excited about my new method!
Here's the master list I brainstormed along with a few photos of the spaces I'm talking about. Maybe it will help spur some ideas for you!
Dining Room – Updating/replacing everything except the wood floor and the bar cart. And Jackie O, she might be able to stay too. We bought the existing table and chairs about 10 years ago for a different house. I'm ready to sell them and go for something different, like a big round table. The buffet wasn't ever supposed to be in the room, it was a major OOPS that was supposed to be a different color and go in the entryway. Except we grabbed the wrong boxes at IKEA and figured out the best way to make the piece work somewhere. But now I'm ready for an intentionally designed room. The space has SO much potential to be better.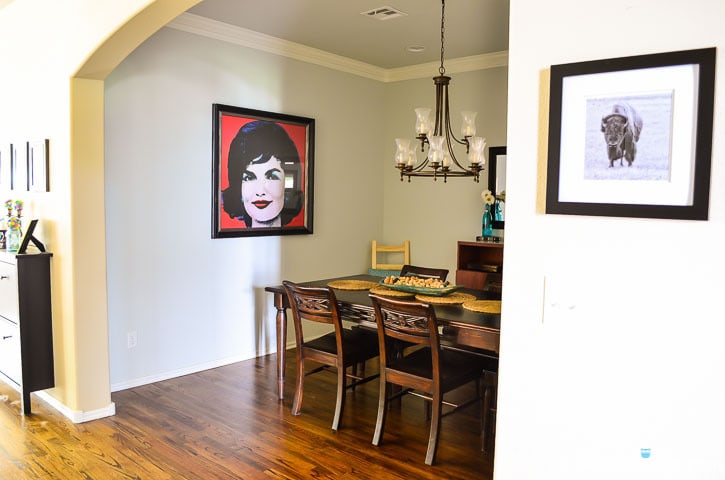 Entry Way – This sounds like a small project, but it's quite intimidating. We need to paint, but the ceilings are extremely tall and the walls and ceiling are both continuous into several other spaces. There is also a big need for artwork, character, and storage/organization. If that wasn't enough, I've got a crazy scheme concocted to replace the archways off the main entry/hallway with squared-off moulded openings, like you would see in a much older home.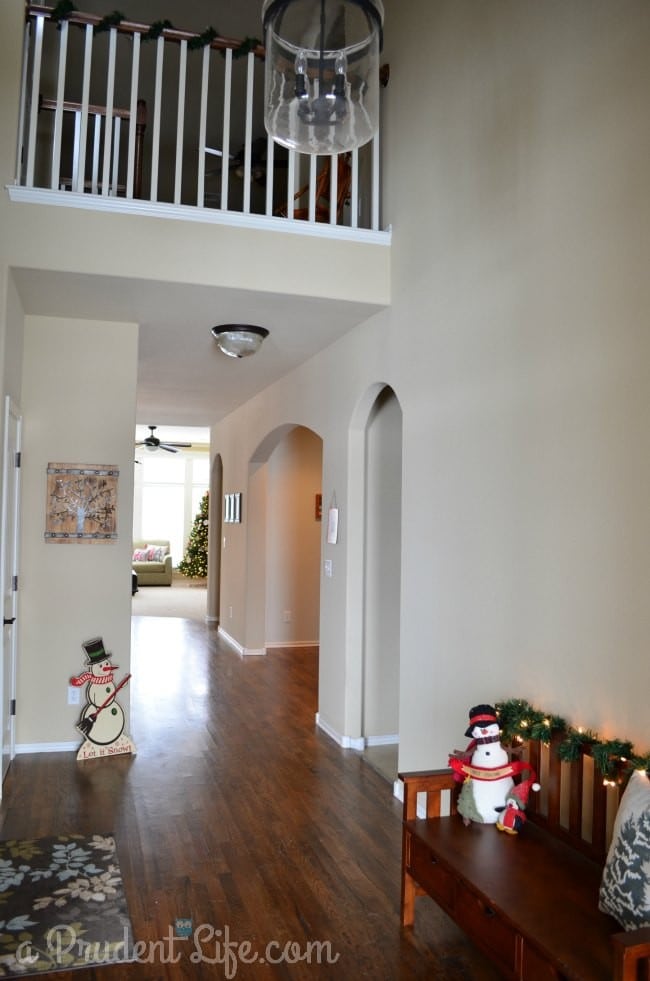 Master Bedroom – The bedroom has tons of potential, but instead is very plain with empty walls, our 11 year old matchy-matchy furniture, and a bit of clutter. We'd like to transform it into a relaxing chic retreat. In the photo below, the side table between the windows is what I'm using as a desk now (painted white), which means there should be a big empty space now. Which would be bad enough, but random things have accumulated there. And I sold the frames that were hanging in that space, so it's quite barren. No good.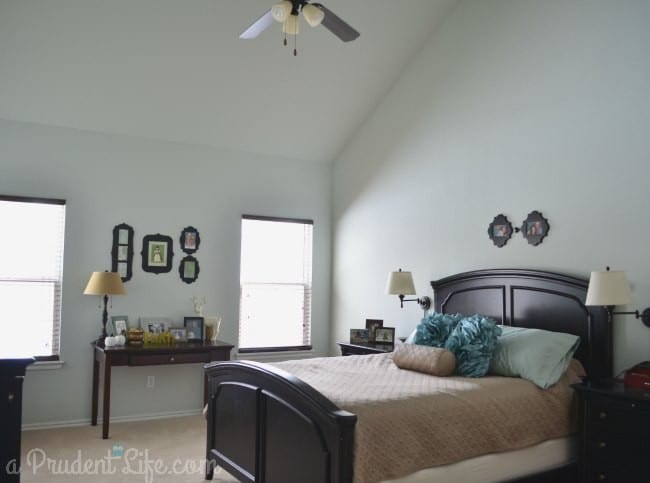 Coat Closet – This has really been my only organizing fail. And you know why? Because it was done on a whim! I needed something to post in May of 2014, so I impulsively tackled the closet without a master plan and without following my own organizing rules. Luckily I didn't spend much time or money on it, because it's in need of a major 'take 2″.
Tornado Shelter Closet – Our under the stair closet is a bit of a decor reverse mullet. The front is regular closet, then it turns into business in the back. It's a big metal box to keep us safe. I need to work on the area both in the shelter, which could use some organization of emergency supplies, and the space in front, which is completely underutilized and basically a catch all for random things that don't have homes. Because it makes sense to block your path to safety with a huge tub of paper recycling, right?
Finish last section of garage floor – Yep, THAT gorgeous copper floor from 8 months ago still has one section left to finish. It's the spot we had all the garage stuff when we did the rest of the floor. Plus we wanted to take good step by step photos so we could do a great tutorial. A combination of crazy weather, procrastination, and my husband's crazy-busy summer at work meant this project kept getting pushed back.
1/2 Bath Update – The tiny 1/2 bath needs some big personality. The vanity is cool, but the walls are asking for drama. A new mirror, rug, and maybe lighting would transform the space in a big way.
Hallway to Master – We have new artwork for this hallway, but need frames, along with paint and possible moulding and new lighting.
Kitchen – Pulls/Knobs, organize cabinet contents & a few other updates. It looks good now, but for not a lot of time or money could be way better.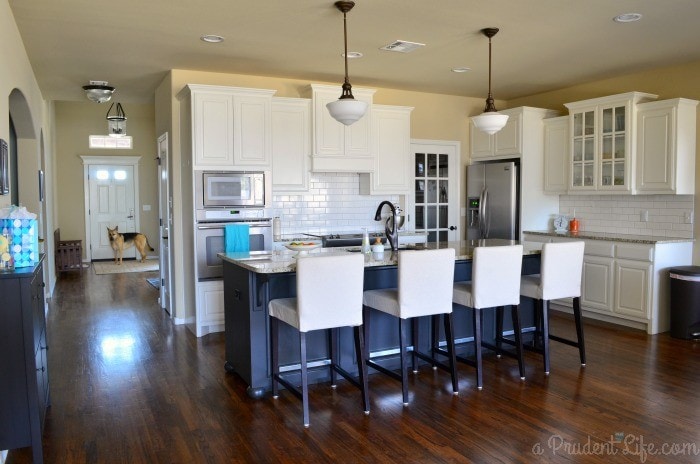 Craft Room Closet – It's currently a HUGE mess. HUGE. Everything needs to come out, and it would be great if a wrapping station could be included in the after.
Garden – Install raised bed for veggies out back in time for spring planting.
Master Bathroom Refresh – Paint, art, rugs, maybe mirrors and lighting. Unless we win the lottery,which would mean we'd have to play the lottery. But if we did, there would be a lot of marble tile getting installed in lieu of just a refresh.
Patio Refresh – Add storage and a painted or real rug, maybe outdoor curtains?
Living Room – Paint, new ottoman/coffee table (DIY?), rug, lamps
Game Room – Right now the game room is also serving as a place where old furniture goes to die. We'd love to add a pool table, game table, and transform it into a proper game room. Maybe a chic modern take on an old English pub?
Front Porch/Yard – Add a bench and potted plants
Office – My mind has been on a larger desk, comfy desk chair, and a a rug. Yes, I know, I just updated the office this year. BUT, for my desk and chair we used things we already owned, so these updates would be a continuation of last year's work. The small desk is a better scale for the room than what I was using before, but working here all day, I know I need to come up with something between the HUGE table and the tiny desk. For the chair, I've been working on various wooden dining room chairs for two years and it's time for an upgrade. The rug has been needed all along, but wasn't in the original budget. The bigger dream would be different flooring all together, but since this room already looks pretty good, it can wait.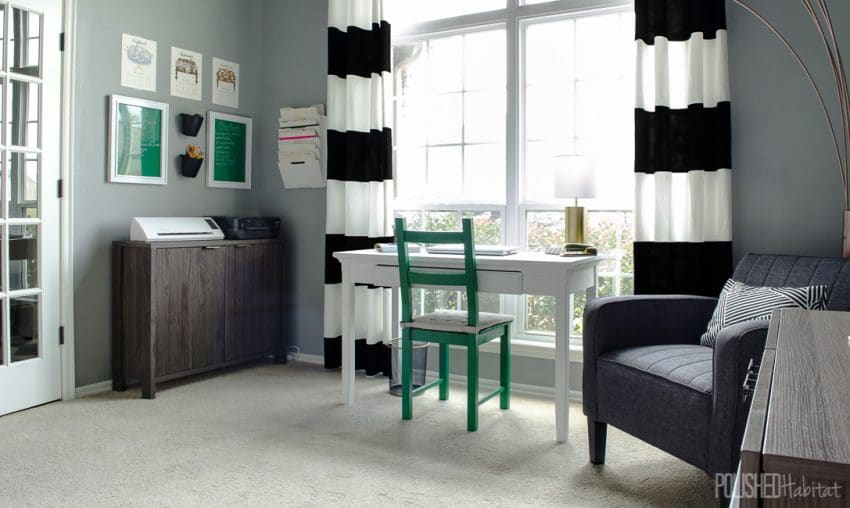 Crazy Dream List
Unfinished Attic into Theatre Room
Backyard Landscaping & Pool
Whew, that's quite a list I've got going. Even if we just get a couple of these thing done, I'll be thrilled! The next step is PRIORITIZING these crazy lists into something doable.
Click the image below to continue….