I finally have some pictures to share from my sister-in-law's baby shower! She picked out some super cute monkey bedding on her Target registry, and that was all my mom and I needed to be off and planning. It was so fun to check out all the ideas on Pinterest and then merge them into our own vision. Here we go!
This is how every gathering starts at our house. Maddie takes her job as greeter very seriously. Do you think Wal-Mart would hire her?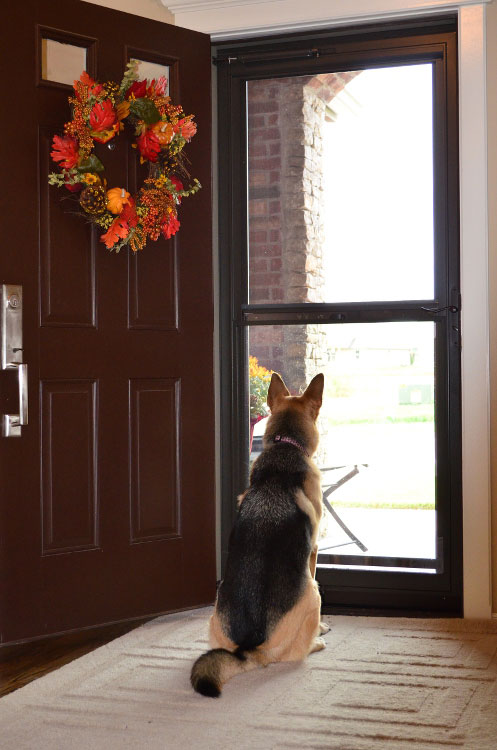 We picked the dining room to be one of the focus areas. It gave us room for the cake and gifts, as well as some wall space for cute decorations.
The main wall normally has a mirror, but we replaced it with a vine of irresistible monkey clothes, shoes, socks, etc.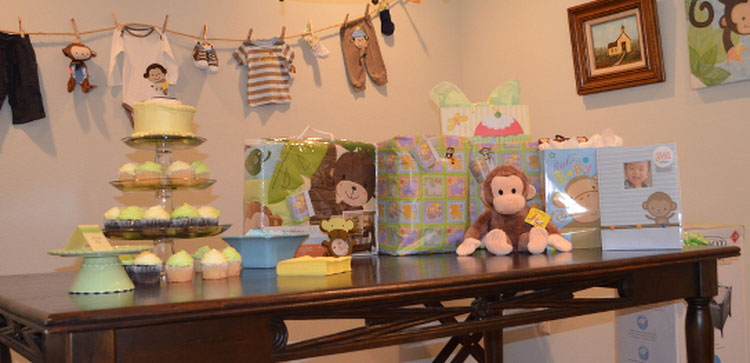 Instead of oddly placed holes in the upper corners of the room, Command strips saved the day again. We propped the middle up on the screws that normally hold the mirror.
The monkey vine was also used as one of our games. Guests had a chance to look at it as they came in and added gifts to the table. Later, as we were visiting in the living room, we passed out cards and asked them all to write down everything they saw hanging on the wall. It was a close competition that involved some serious controversy surrounding the counting of socks.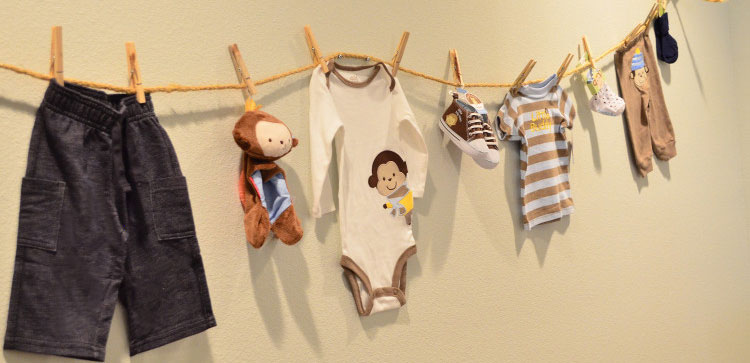 Final pic from the dining room is a canvas monkey for baby's wall. Mom found it at Hobby Lobby and it matched the bedding really well. Instead of wrapping it, I added it between two existing paintings to complete the room.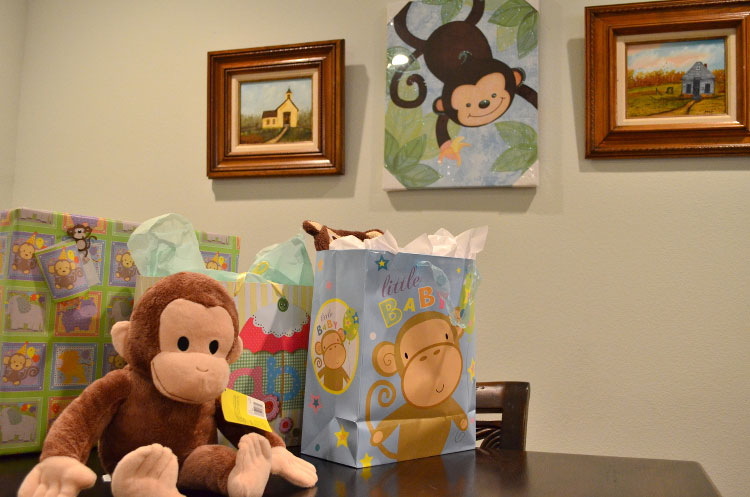 Next up was the food. Mom found a great idea to label the food using the theme. We made simple table tents made with clear labels, cardstock, and rick rack.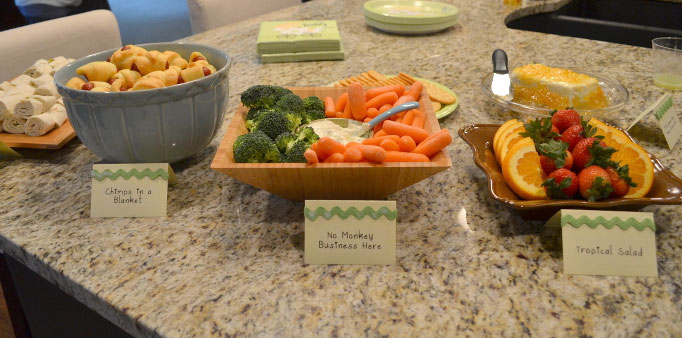 You know how you buy things sometimes without a plan, but you just KNOW that you need them? I found this yellow and white polka dot ribbon at the dollar store, and for $1 I knew I could find a great way to use it. And I was right!!!
Before this weekend, I had no idea my punch bowl liked to play dress up. But from now on it will look naked if I don't add a coordinating bowtie. The monkey in the middle is just a 3d scrapbook sticker from a Hobby Lobby 50% off sale.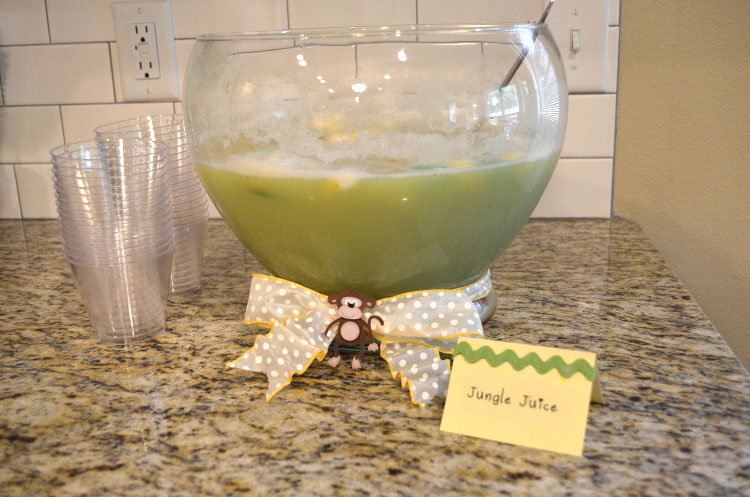 The punch bowl lived on a counter across from the food along with game #2. We made a gift basket for mom-to-be filled with baby essentials like nail clippers, pacifiers, the classic butt paste, etc. Once everyone had eaten, we passed the basket around the living room. They were all trying to remember everything in the basket. Instead, it was Price is Right time! We asked them to write down the total value of all the items including the basket. This was alittle tricky because the basket came from the Dollar Tree for….you guessed it….$1! The green bags on the left were the game prizes.
If you need a great green punch recipe, The Casual Craftlete has a great Lemon Lime Sherbet Punch.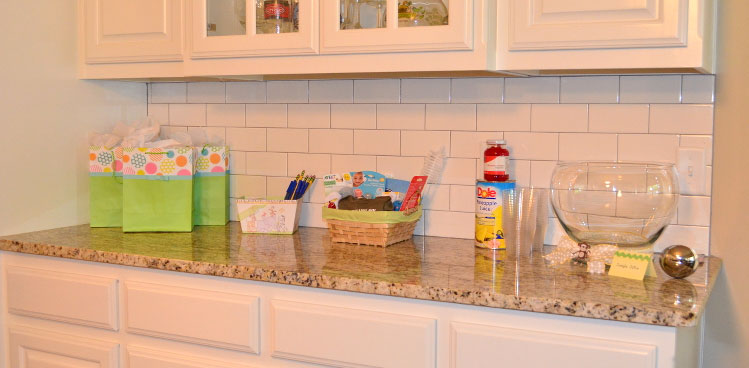 One of my favorite small treats for any kind of shower or party is quick, but stills adds a little touch of your theme. You can use scrapbook paper to wrap over the original labels from mini Hersey bars. Everyone thought it took a long time, but with a paper cutter and double sided tape it is actually very quick.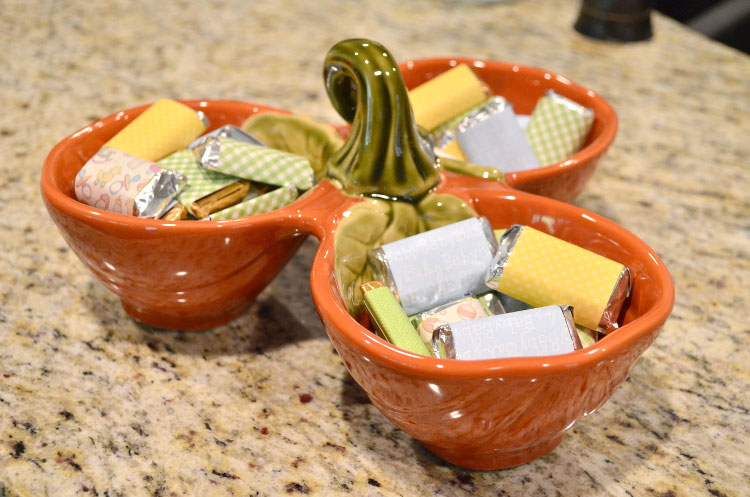 I'm SO excited for my nephew to arrive.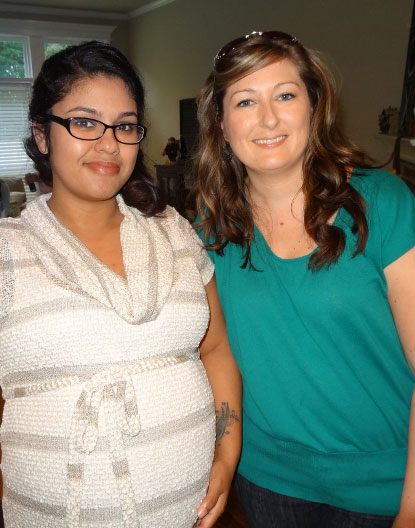 Now for confessions. Not everything went well. In addition to completely forgetting to take a picture of my sister-in-law, my mom, and myself together, I had a banana situation.
What could go wrong when you have a peanut butter loving mom-to-be and monkey theme that screams for banana's? A lot.
It all started well. I found a new product that is pretty awesome – Jif Whips Peanut Butter. I realized it was the perfect consistency to be piped.
Look how pretty it was: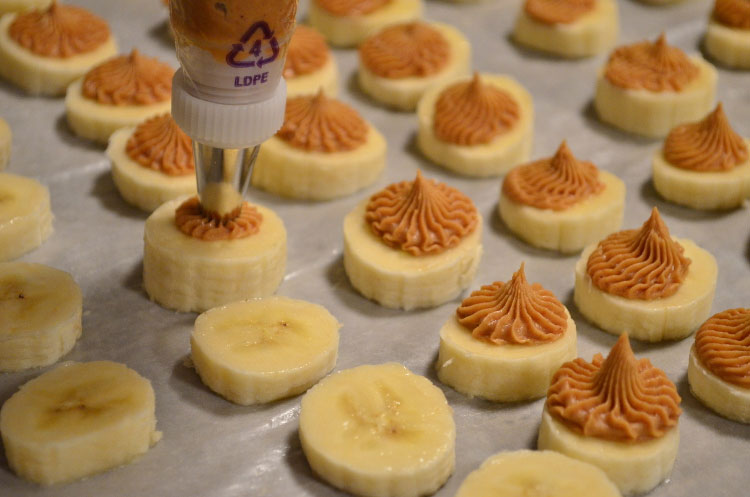 Then the trouble began. I had a recipe that said you could freeze banana slices with peanut butter on them for quick healthy snacks.
They forgot to mention that frozen bananas are one of the fastest melting items. Ever.
First they turned into a gooey mess, then to add insult to injury, started turning icky brown. Even the ones covered in chocolate melted! So the "Goin' Ape" bites ended up goin' in the trash. Oh well! You win some and you lose some. And this shower definitely had way more wins than loses!
For more creative baby shower ideas, check out this post from Stroller Envy!