I was pretty confident I LOVED my loyal readers before I launched the reader survey last week, but you seriously blew me away with your kindness and grace. I'm going to leave the survey open awhile longer (take it here if you haven't), but I've already got some great ideas based on your feedback.The giveaway winner was emailed this morning!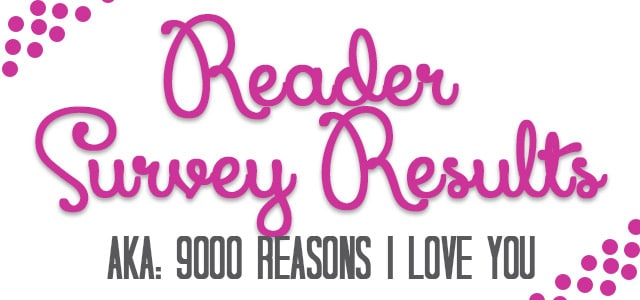 Those of you that have taken the survey already induced some serious happy-dancing with both your multiple choice responses AND your gracious comments. The fact that 92% of you DON'T care if I post the same time and days every week lifted a 100 lb weight off of me. Consistency is probably the number one "rule" beat into your head when people are giving you advice on growing your blog. And I do get it. But I also know my content is better if I create & write when I'm inspired instead of when the clock tells me to.
One of these days I will be ahead and will pre-schedule content to be published in an orderly fashion, because I totally understand those that come direct to the blog looking for new stuff on certain days. I'm just so thankful for your grace while I'm in the season of inconsistency!
The second weight lifted off of me was the frequency of posting. The highest percentage of you said 2-3 times per week, with 2nd place being 1-2 times per week. Hallelujah! During the weeks I've only posted twice in the past, I have felt a sense of failure. Now I know that instead of being a failure, I'm in line with your expectations. Again, I completely understand those of you who picked higher numbers. It's a huge compliment that you want to see MORE.
The types of posts you ranked as your favorite was not as surprising, but still very helpful. Organizing and DIY Decor ranked first and second, with Silhouette projects in last place. I know some of you do love them, so I don't think they'll ever go away entirely, but I also know the audience is limited so I'll keep them to 1 or 2 per month at the most. Holiday decor was also toward the bottom, which was another relief. Bloggers feel pressure to create projects for every holiday and I've backed off from that already this year. When I have a great idea that is holiday related, I'll definitely share it, but I'm NOT going to be creating a St. Patrick's Day tablescape just because it's March.
The idea to do a Splurge vs Steal column was a huge hit! I'm working on the first one now and will get it posted for you this week.
Video tutorials were the least favorite new idea, which was more great news. I hate the sound of my own voice in recordings and have little desire to be on camera. But everyone is saying you HAVE to do video to stay current. Thanks for debunking that myth for me 🙂  There may be occasional videos because some tutorials would just be more helpful that way, but now I don't HAVE to force anything into a video format.
When I asked what you struggled with, organization came up over and over again. More than one person mentioned organizing paperwork. I'm still trying to perfect a system for that myself. I'm getting closer to having something that works long term and will share it when I'm convinced it's sustainable! Decorating and time management were also frequently mentioned.
For improvement opportunities, I am grateful for the person that suggested reorganizing how my home tour page is laid out. I had been considering changing it and now I know it isn't just me that it bothers. For example, right now, our old house is at the top of the page because the posts are listed in date order and I just shared the old house last month. Someone else asked if I have posted the floor plan of our current home, so I'm thinking I'll add that to the top of the home tour page, and maybe make each room on the floor plan clickable so you can navigate though my home. I can't promise WHEN that will happen, but I'm thinking it sounds like a great project for June.
I could go on forever sharing your great feedback and comments, I've reflected on all of them and come up with several other post ideas that I haven't mentioned. Comments like the one below make me want to do a reader survey once a month!
Love, love, love your blog! Even when I think it may be a topic that doesn't interest me, I find myself reading along anyways! I have gotten some of my best tips and tricks in posts that I may not have thought would be of any interest to me initially.
My dream has ALWAYS been to have my own business.  The day I realized that I could help others by providing valuable content AND it could be a business (much like a magazine), I felt like I had found the answer to what I was supposed to be doing. All my years of searching and taking seemingly unrelated classes like interior design and accounting came together into one passion. My husband fully supported my dream and we sacrificed by living on one income while I worked day and night on the blog, putting the small amounts I earned right back into it. Fingers crossed, I think this month I will be transferring money out of the blog account into our personal account for the first time. It's not going to be a lot, but it represents 15 months of faith that I CAN do this.  It represents that it is okay to chase dreams and that there is a world of people you've never met that will encourage you along the way.
In the next few weeks, I have a couple posts that I'm crazy excited about. Next Monday, I'm  going to reveal my new organized exercise corner. Think mix of beauty and function like my craft room gallery wall. Another is a set of three dollar store vases that I'm going to transform using three different (but simple) techniques. I'm also working on a post about making a welcoming guest room. All three of the posts are sponsored by products you wouldn't expect, but I think they'll be super valuable to you. I can't wait to see what you think about them!
In between those posts, I've got other fun stuff planned, like a free printable inspired by our pantry wall.
I feel like this has been a LONG essay that needs to end with….
IN CONCLUSION, you guys are AMAZING, you've give me TONS of great ideas, you've supported my dream more than you'll ever know, and I am humbled and thankful for every single one of you!