Here in Oklahoma, spring means frequent storms. Even as I write this, the forecast for the afternoon shows tennis ball size hail, damaging winds, and "a few tornadoes possible". Yuck! As much as I love flowers starting to bloom and the return of flip-flop season, I rather skip the bad weather and move right to summer.
My strategy for spring decor is pretty simple. I focus on adding plants, flowers, pink, and turquoise to our main living areas in affordable ways.  I'm equal opportunity when it comes to real vs fake plants and flowers.  In the entryway, I used some faux pink flowering branches on the console. Next to the front door, I used a real fern on the top of the cart.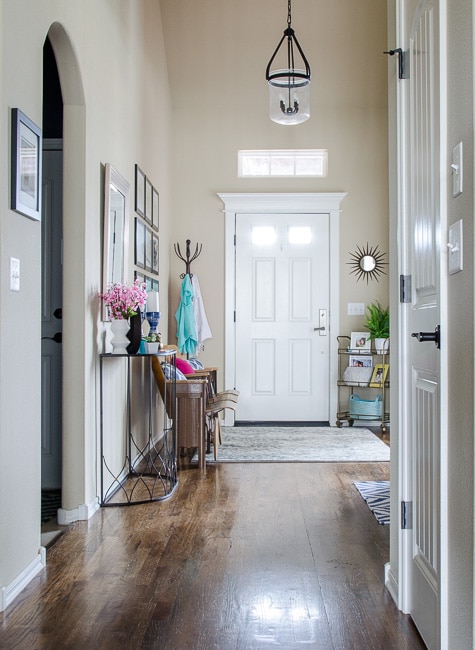 We should be done with heavy coat weather now, so the coat rack was updated with light jackets. Luckily, my wardrobe matches my decor.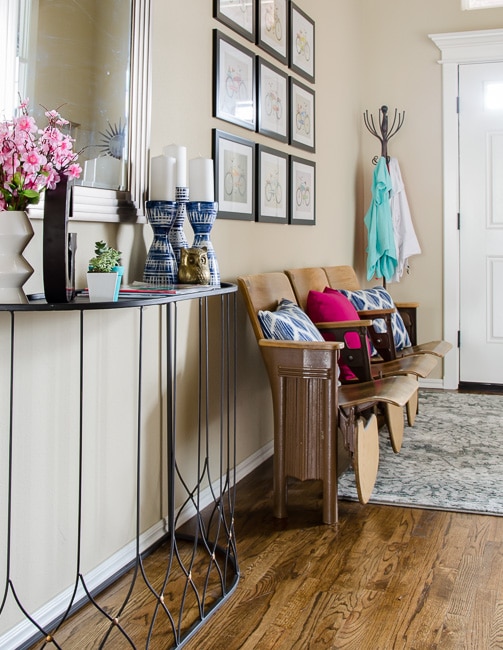 Backing a bit further from the entry, the same spring theme continues. It's worth noting that this same decor will stick around through Christmas, so even though I keep calling it "spring", I don't actually redecorate for summer. Fall will just be the addition of a little orange into the mix.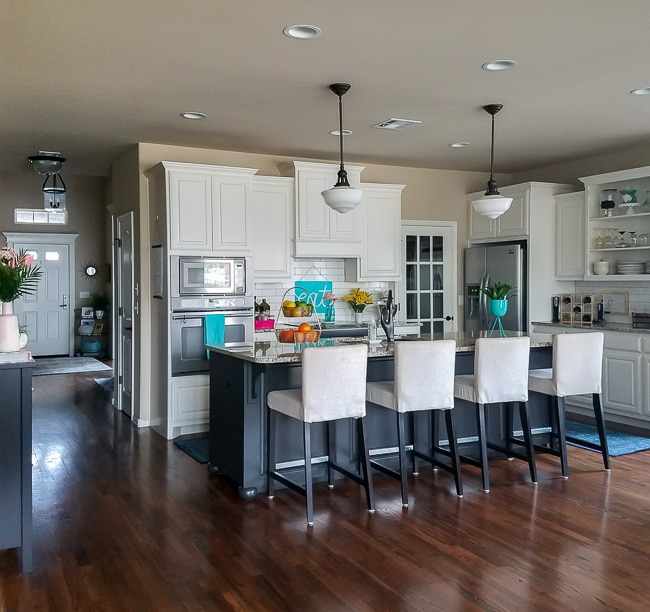 I mentioned something being removed, and you may have noticed in the above photo.  I've been dying to remove the glass doors from our upper cabinets to have more of a casual open shelf look. We finally did it last night!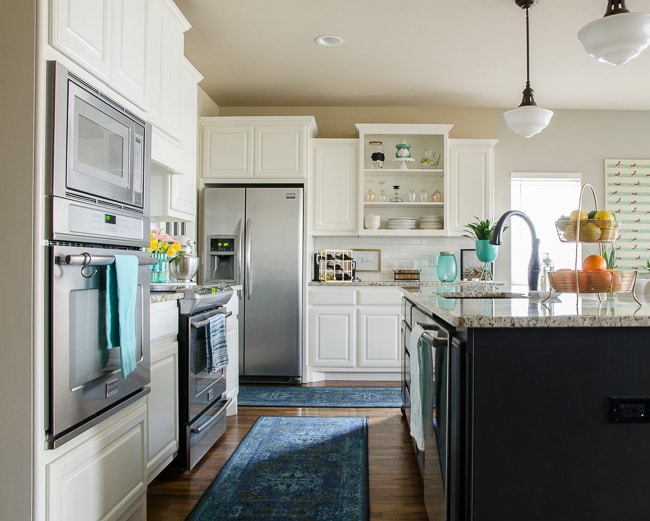 Just removing the doors changed the feel of the kitchen for FREE.
 I did splurge on a new gold tiered fruit stand (affiliate link) at Target.  I love having citrus easy to grab for a snack (oranges & tangelos), margaritas (limes), or water (lemons).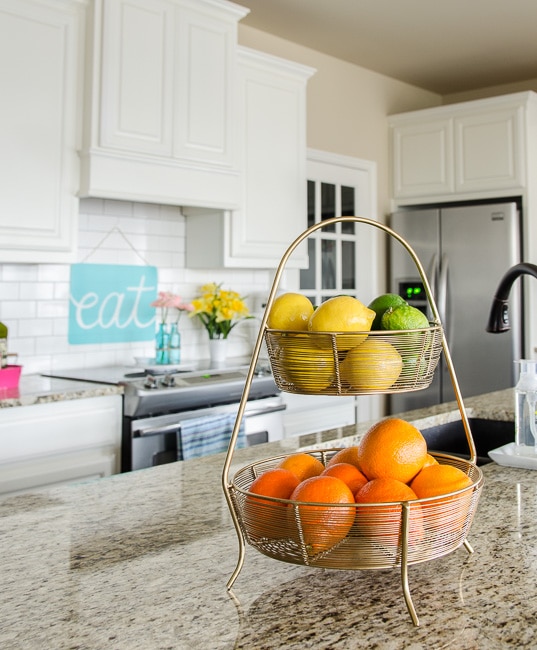 The wall-mounted wine rack we had between the nook windows was retired because many seemingly normal size wine bottles didn't fit in it.  I was frustrated every time I tried to restock. Who needs added frustration? The wine moved to a rack on the counter, and I replaced the rack with an old piece of art we already owned. The colors in it aren't my favorite, but it works until we find something perfect.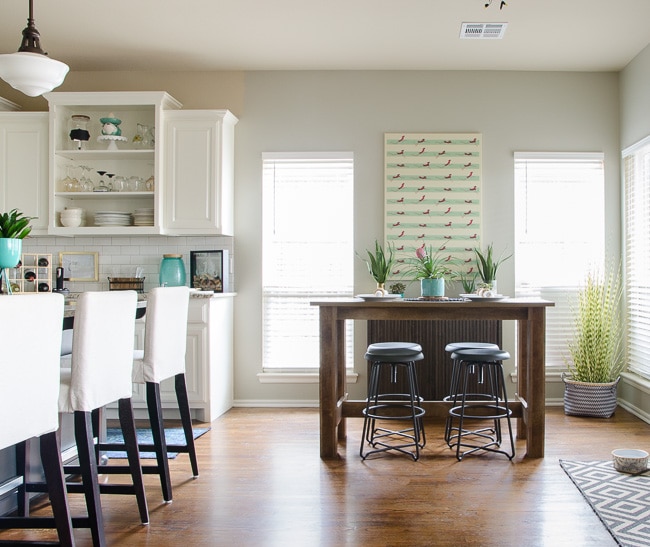 The tall plant in the corner above was a recent clearance find at Hobby Lobby. I  couldn't pass up $23 for something so tall! I imagine you'll see it move all around the house in the future.
Here's a close up of my favorite plant of the moment. Isn't the pink fan cool?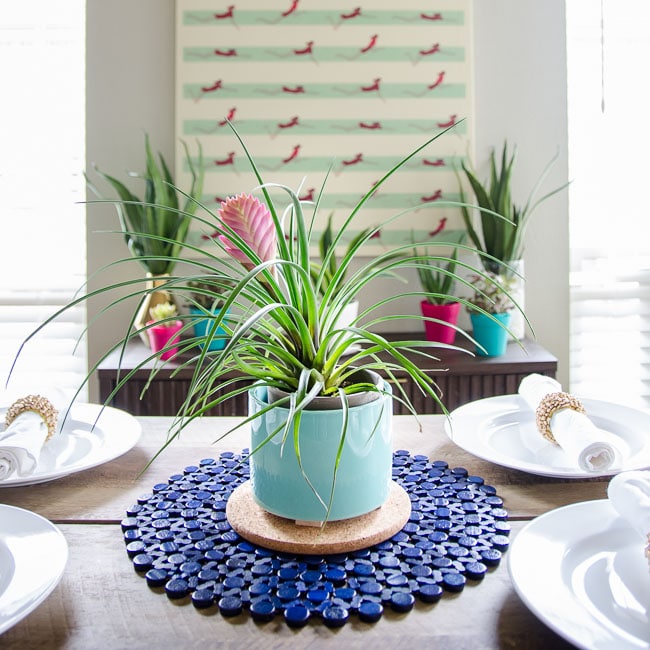 That one is real so fingers crossed I can keep it alive!
On the other side of the kitchen, I updated the decor on top of the cabinet. Because it was past time for the snowy winter art to get packed up.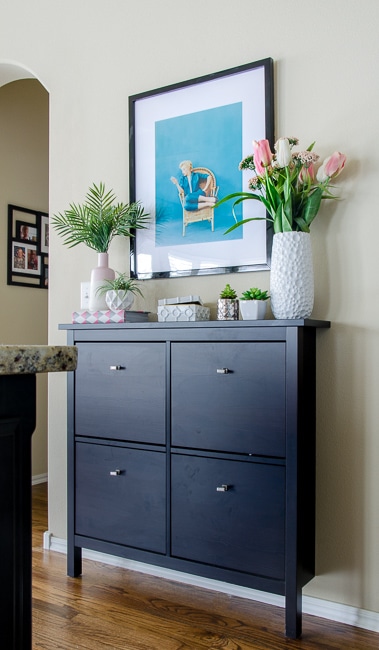 I didn't take new photos of the living room or bedroom since I've shared those recently. If you missed them, click on the images below to see more!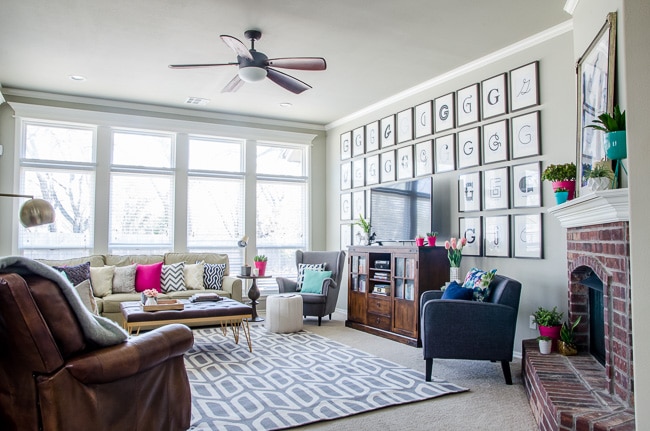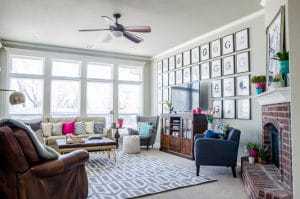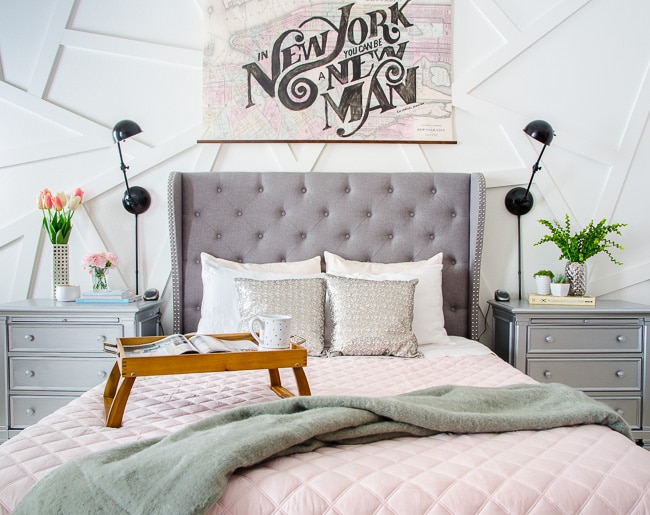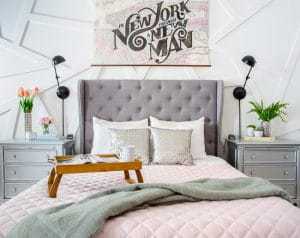 So that's how we decorate for spring/summer around here. Nothing fancy or pricey, but all the plants and colors still add lots of life and happiness!