I'm not sure I've ever mentioned before that I'm pretty competitive, especially with myself. I LOVE conquering a challenge. When I read about the Craft Lightning series by The Country Chic Cottage and 30 Minute Crafts I jumped at the chance to participate. The project this month was to create a teacher appreciation gift in under 15 minutes.
I had some really cute food safe glass jars on hand from Target's Dollar Spot. I decided to use them to make sweet & sour candy jars that could double as vases when they were empty. Everything I used for my project is in the picture below. It didn't even need the serious hot glue gun, just my cheap low temp version. 🙂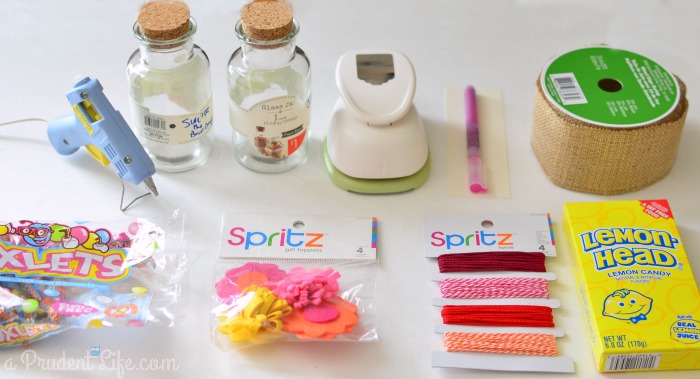 My biggest time challenge was getting the labels off the jars. To save time, I left the jars in soapy water while I glammed up the cork lids. I found some really cute felt flowers at Target for $1.50. They came with their own adhesive squares on the back, but I added hot glue for more stability.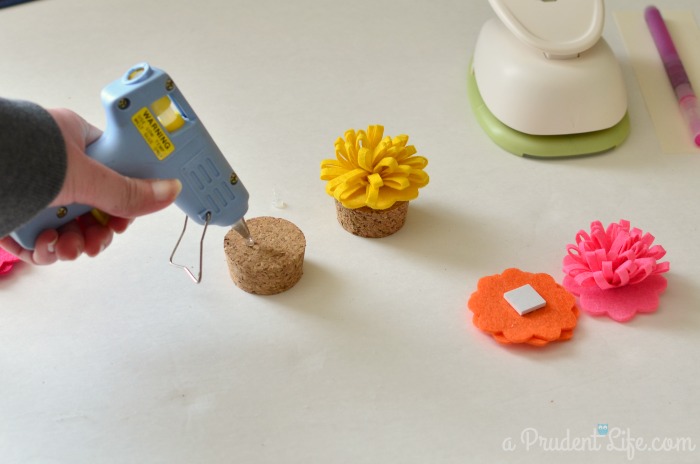 Next I pulled the jars out of the water and scraped off the outside layer of the labels. You can see that the gummy residue was left behind, but that was a good thing because it helped with the next step!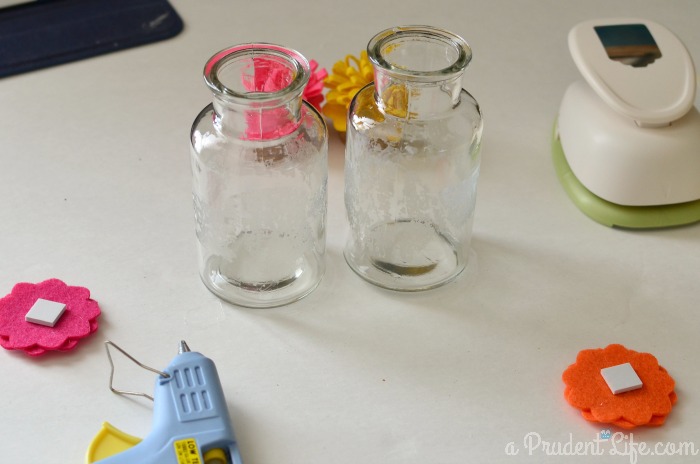 I used burlap & gold ribbon in a band around the jar. The sticker residue held it in place! I only needed to hot glue the ends of the ribbon down.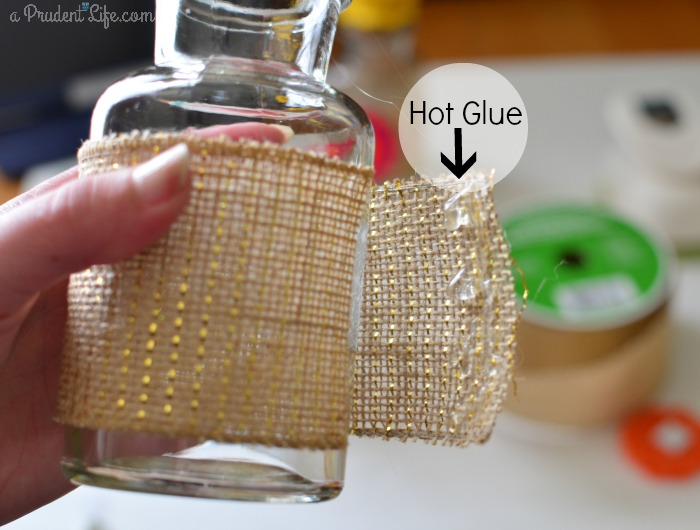 Next it was time to embellish my burlap with another flower. This time I applied hot glue around the edges of the flower before attaching it.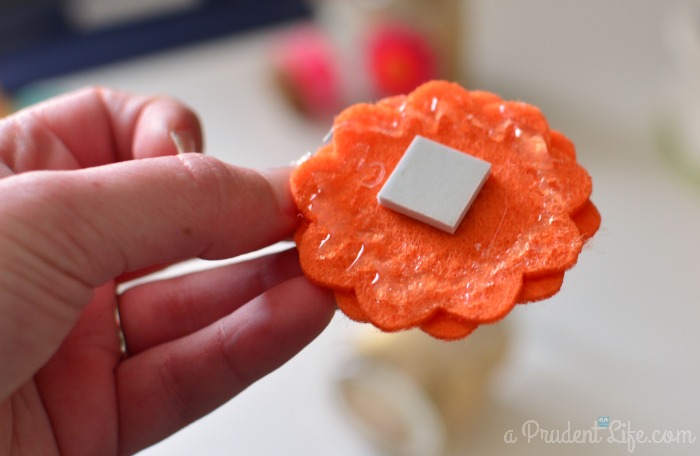 Once both the flowers were attached, I needed to make my sweet & sour labels. In a 15 minute challenge, there isn't time to get too fancy.  I used my favorite craft punch (similiar one here*) and my Martha Stewart Glitter Marker*
 to make my tags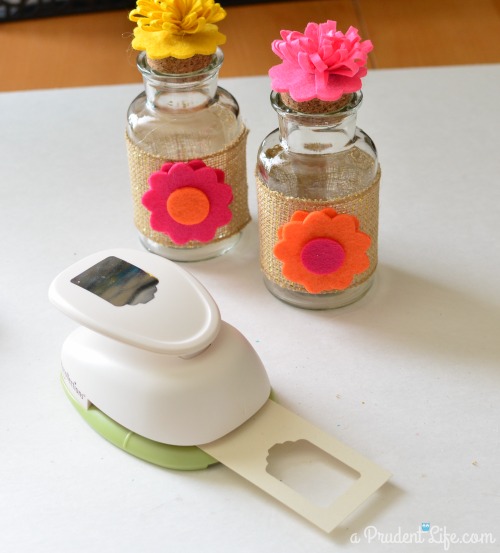 I attached the tags with twine (also from Target) and all that was left to do was to fill these babies up with candy!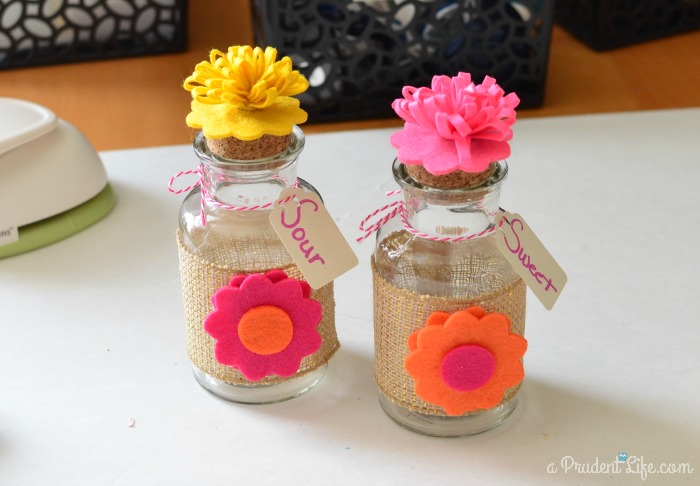 The sour jar was filled with Lemonheads and the sweet jar got some cute spring colored Sixlets.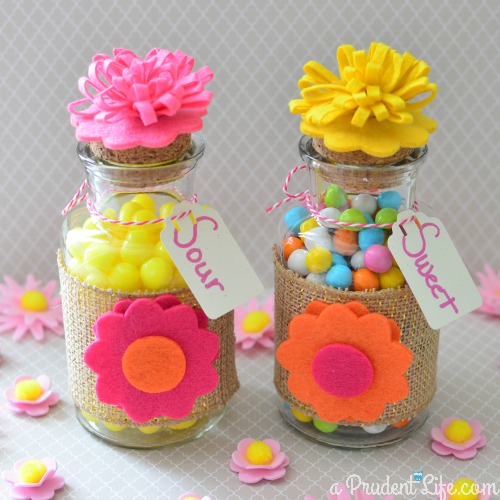 I love that the labels can easily be untied so the jars can be reused. They would make really cute vases or desk organizers.
It was so fun racing the clock for Craft Lightning. I was a little worried when I realized my jar labels didn't slide right off, but soaking them for a couple minutes while I glued on the toppers really saved me. The rest of the project was really fast. I can't wait to participant in the next round!
Now that you've seen my 15 minute teacher appreciation idea, make sure you check out all others. You can find them by clicking on the button below!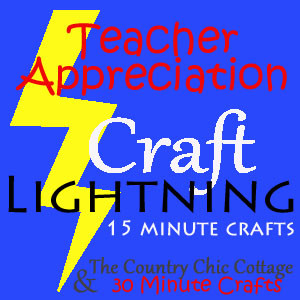 *Affiliate Disclosure: Please note that when you click links to other websites and buy items, I may receive a small commission. Using affiliate links to show you the products I use helps me offset the cost of running the blog.  The products used in this post were all purchased by me.
Post linked up at these great parties: Inspire Me Please, Link Party Palooza, Craft Frenzy Friday, Hit Me With Your Best Shot, The Makers, DIY Showcase Sunday, Link It Or Lump It, Frugal Crafty Home, Do Tell Tuesday