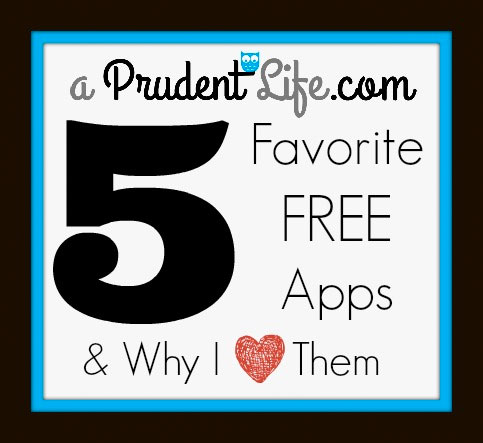 The following apps are recommended based on my experiences with them on the android platform, but they are also available for iphone.
Don't tell the developers because freebies are the best, but I would actually pay for the first four apps on the list. I hope you love them as much as I do!
1.  Trello

My obsession with Trello was actually the inspiration for this post. It is a simple concept that also happens to be a sanity saver for people whose brains organize things in grids (Me! Me!). Basically, it is a way to combine every kind of list you have in your life into one space. AND you don't have to dig through your purse for a scrap piece of paper, you can access the list online via the website or from the mobile app.
To get started, separate your life into "organizations". Each organization can be shared with different groups of people. I have two organizations – Blogging and Personal. Next step is making "boards" within the organization. Think about boards as your master lists. For the blog, I have boards for all the different facets of blogging that I am trying not to forget. My boards titles are marketing, conferences, monetization, "tech-y stuff", blog posting ideas, blogroll, and "to learn, buy or do". Within the boards, there are "cards" that can be sorted into sub-categories. So, if  I have an idea for a blog post, I can quickly add a card to the blog posting ideas board. My sub-categories for my blog posting board match the categories I have on my actual blog. So when I realize I've been light on the 'money matters' posts, I can quickly review the ideas I have pending.
You don't have to have a blog to embrace Trello. On the personal side, I use the checklist function for my grocery list, my reusable trip-packing list, and a list of Netflix shows to watch (I know Netflix has a queue, but these are shows I've read about online or heard about from a friend, on the go, it is so much easier to make a quick note in Trello). I'm also planning on making a vacation board sorted by possible destination. And don't forget, you can share these boards.  My husband can add things to the grocery list without having a standalone app just for groceries. Here is a screenshot of one of my boards. Each topic listed can be expanded to add comments or have a deadline set.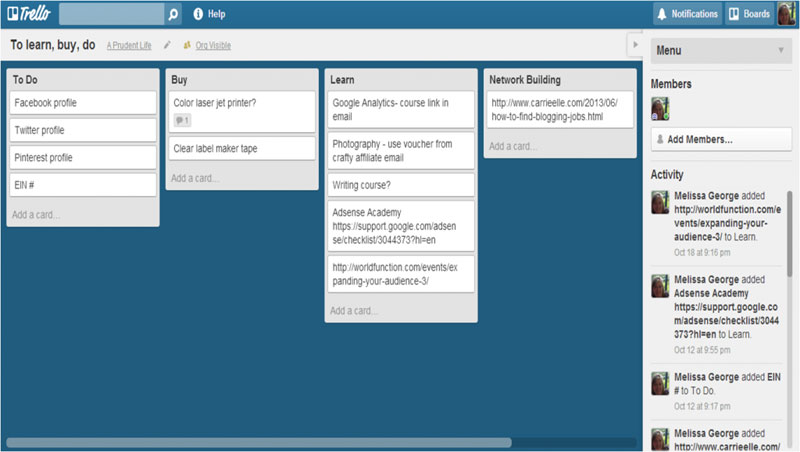 Sorry for the long-winded explanation. Seriously, I LOVE this app. And I love that I am so much less stressed every time I make a new card and therefore have one less thing for my brain to remember!
2. MyFitnessPal

I've heard that one of the keystone good habits in life is keeping a food diary – regardless of whether you want to gain, lose, or stay the same weight.  I completely agree based on personal experience. When I am logging my food, I do seem to be more disciplined in all areas. I can't promise that there is a direct link, but it works for me! You can log your food & exercise in the free app, or at myfitnesspal.com.
I love the app because it includes a barcode scanner that makes entry easy. You can even scan all the ingredients in a recipe and add it to the food library. The next time you make the recipe, you can just search for it and not enter all the separate ingredients again. If you've never logged your food before, I'd recommend giving it a try for at least a week. It's fascinating to see how your food intake breaks down into percentages of carbs, protein, and fat. My big disclaimer is that they seem to assign almost everyone too few calories, especially for weight loss. The target calories can be manually changed when you login to myfitnesspal.com. Check their forums for guidance if you are interested in calculating a more accurate calorie target. I overlook this flaw because it can be corrected, and the rest of the features are amazing for a free app.
3. YouVersion

Wow! This bible app is so much more than your basic Bible. There are more translations than I knew existed, making it a great reference for bible study. I love being able to quickly change from KJV, NIV, and Holman to see the slightly different interpretations. There are also translations into 375 languages. THREE HUNDRED and SEVENTY FIVE! Wow! But it doesn't stop there, there are also 550 reading plans available. I love that you can search these by topic depending on what you would like to study, like marriage, attitude, or a particular person from the Bible. And wait, there's more! You don't even have to read, YouVersion will read to you. And it has videos. And there is a new YouVersion app on the way just for kids. I LOVE LOVE LOVE that this app is free for people around the world to access God's word. The price has no impact on the features, and it is continuously getting better.
I have had this app for years without knowing it came from my own state of Oklahoma. I am now proud to attend Life Church, which created the app and made the amazing commitment to give away YouVersion along with many other bible resources. Just felt like I should mention the affiliation even though it has no bearing on my recommendation and I don't receive any financial or other benefit from promoting it.
 4. Kindle Reader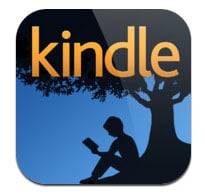 Did you know that you don't have to own a Kindle to use the Kindle Reader app? You might have noticed by now, but I love freebies! With the Kindle app, I can cross between reading books on my tablet when I have it  and my phone when I am unexpectedly stuck waiting for an appointment.  It can get really dangerous to get hooked on reading via the Kindle app, because it is OH SO EASY to click a button and buy book after book. Luckily, there are a few resources for FREE books. First, check your local city/county libraries website. Ours has a huge selection of ebooks that we can electronically borrow for 2 weeks and read via the Kindle app. Second, there are frequent free book offers on Amazon. Some websites are dedicated to tracking these offers. I use Inspired Reads and Pixel Of Ink.
5. Shopkick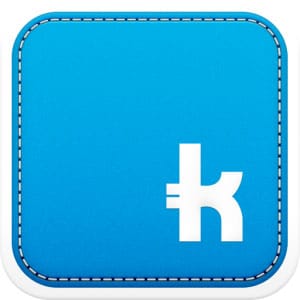 Need to earn alittle extra mad money? With Shopkick, you can earn "kicks" for visiting stores, scanning products, and flipping through "look books" in the app. Tons of major retailers are involved, making it easy to rack up kicks during a trip to the mall. It does require a little time, as you often have to unlock the kicks by flipping through a look book, which is a short curated catalog. Keep yourself entertained while stuck in a grocery line by unlocking all your offers. You can feel silly scanning the barcode of some toilet paper at Target,  but the end result is free giftcards so it is totally worth it!  There is a great selection of cards to choose from, like Starbucks, Sephora, and even The Ritz-Carlton!
I use Shopkick to earn little treats for myself that don't impact our family budget. You can join through my link https://get.shopkick.com/palmdale10574 or by searching for shopkick in the app store on your android or iphone. I get free kicks for every three people that use my link, but I totally understand if you don't!
That wraps up my most used and loved free apps. Do you already use any of them?  Leave a comment below with your favorites!