Oh my goodness. This is not the report I expected to be giving when I told you I was participating in 40 Bags in 40 Days.
Remember how I had the worksheet all printed & ready to take on the world?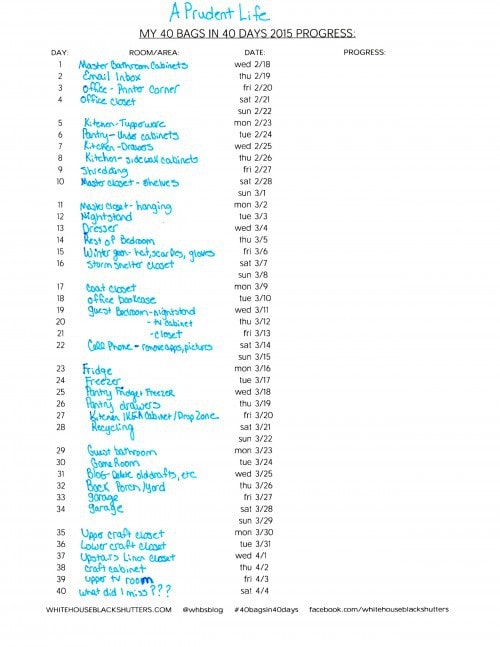 Let's just say it's a darn good thing I'm big on progress over perfection this year! I started off strong by eradicating the disaster under my bathroom sink.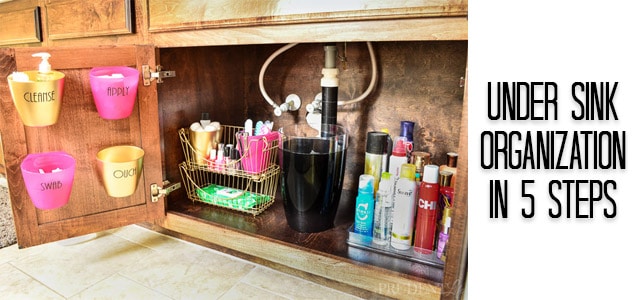 But, as you can see, I did a whole organization project instead of just decluttering. One of the reasons I wanted to take on the challenge was to work on incremental progress. I wanted to get rid of things from cluttered spaces WITHOUT waiting for a total makeover. I gave myself a bye on this one because I had already scheduled a makeover under this sink, so I wasn't REALLY breaking my rules.
Another day I tackled my overflowing blog email inbox. I'm happy to report that I successfully decluttered it all the way to zero.
But you know what, I organized it with a new system as I went. Lots of new folders are helping me keep things tidier. So, I didn't really stick to my declutter only plan with this task either.
In the office closet, I WISH I would have taken a before photo. It was a dumping ground. We got rid of SO MANY things. THREE bags of trash, a huge pile of things to garage sale, and not one, but TWO broken printers. Some of the boxes in that closet had been moved from our first house to our second TEN years ago. We went through everything with a focus on getting rid of as much as possible and not worrying about the organization part. I'm sure you can guess what happened next. As I put things back, I organized. Not all in pretty makeover organizing, but I was strategic and made the most accessible shelves into a shipping area for my Etsy supplies.
Here's a little snapshot of what it looks like now: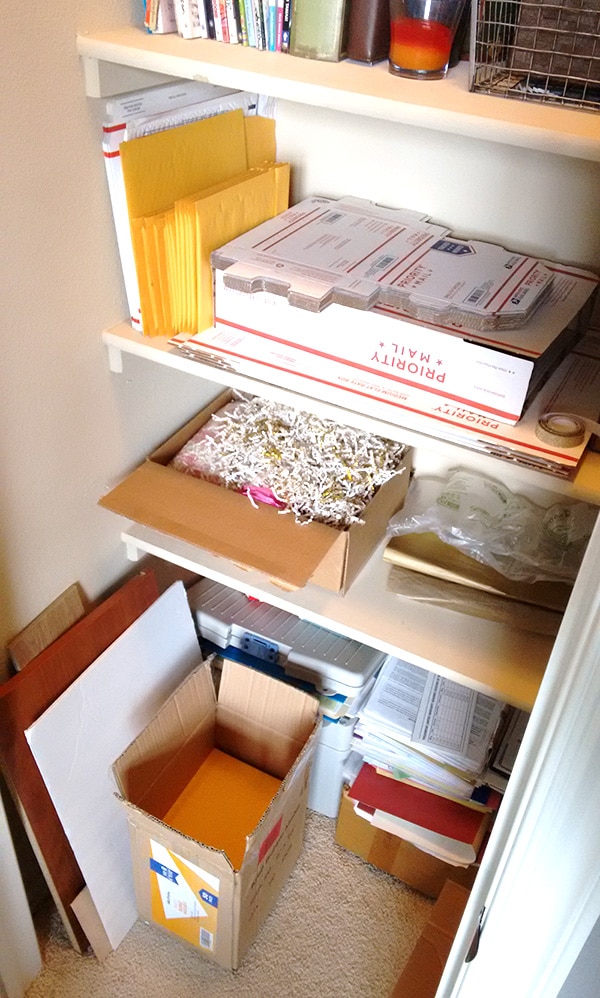 As we were spending hours on the office closet, I realized that I just love the IDEA of 40 Bags in 40 Days.  I may even join in again one year. Most people can probably complete it as I planned to, by setting a timer and going to town on a different section of their home for 15 minutes each day.
I've got a way more compulsive personality. Once I start something, I want it done all the way and I want it done in a way that makes me smile every time I see it.
I'm keeping my 40 bags in 40 days worksheet as a guideline of areas that need help this year. I can tackle them a few a month until I've conquered the house. My 40 Bags in 40 Days plan wasn't a failure, it just turned out a little differently that I expected. I think the biggest life lesson that I've seen over and over this year has been that things that work brilliantly for some people won't work for you (and vice versa).  At some point in my life, I would have beaten myself up for not sticking to this plan for 40 days. And I certainly wouldn't have told you guys I stopped less than 25% of the way through. But being willing to stop and adapt when something isn't working is as important as saying yes to trying new things.
[Tweet "Changing a plan isn't the same as quitting. Never be afraid to adapt and modify to meet your goals. @aprudentlife"]
I know some of you planned to join me for the challenge. How did it work for you?