While I may have grown up in the age of painfully slow dial-up speed internet, my daily life now relies on a fast Wi-Fi signal at home. I need it for every aspect of Polished Habitat, plus it provides entertainment since we don't have traditional cable and is required for all the smart home features we've added over the last year.
Sadly, the Wi-Fi signal in my office was much slower than the rooms closer to our old router. And you know I'm not happy if I can't stream Gilmore Girls while I work!
Plus, the cameras outside our house were often warning us that the Wi-Fi signal strength was low. We ignored the issues for a while because the process of selecting and installing new routers felt overwhelming.
I finally researched enough to know that we wanted a mesh system. That means that you have multiple hubs throughout the house creating a blanket of coverage in every room instead of one central unit trying to send a signal every direction.
Since we'd have multiple hubs around the house, it was essential that they be discreet and fit into our decor.
When we saw Samsung's SmartThings Wifi system, I was shocked at how small they were able to make the hubs!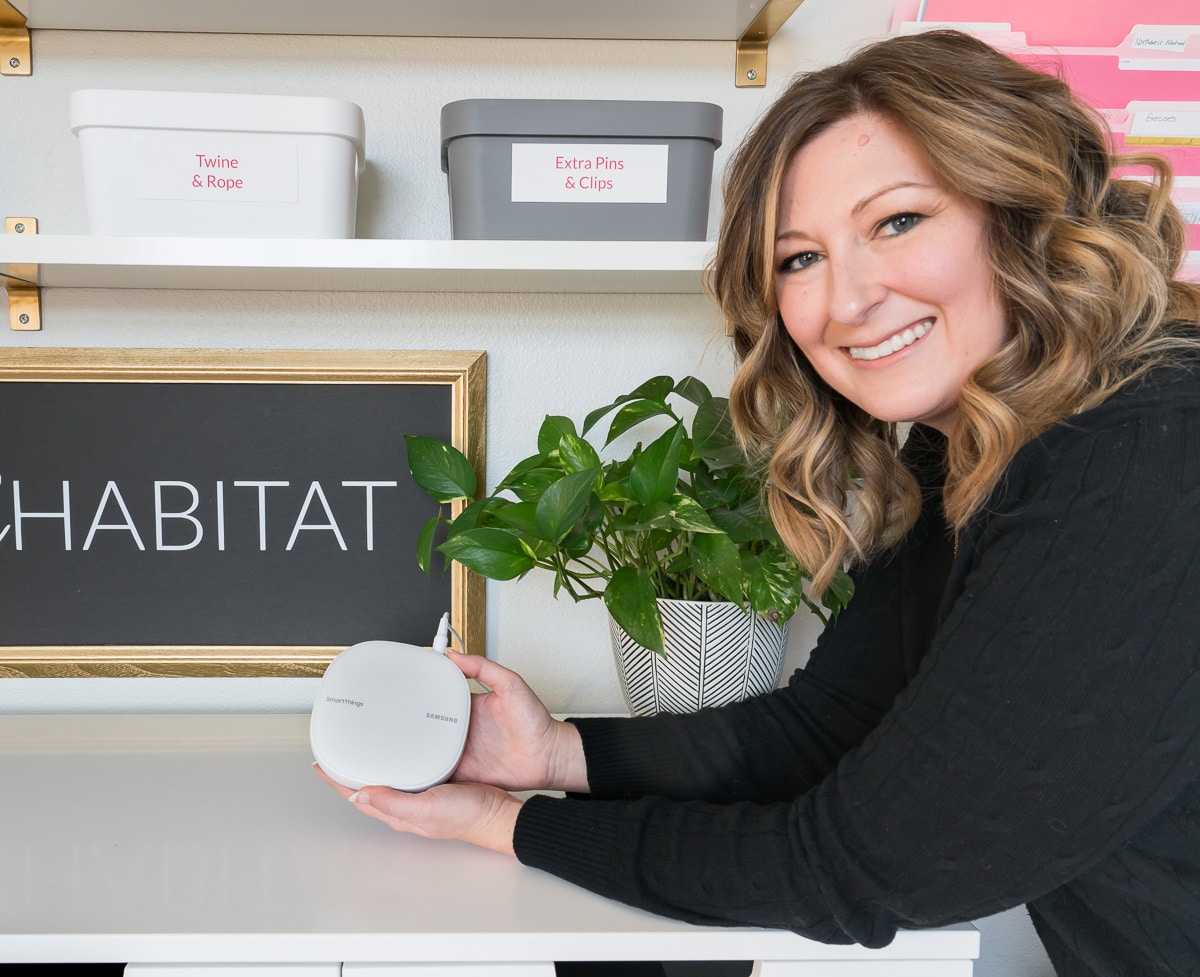 Could something so cute and unobtrusive really work?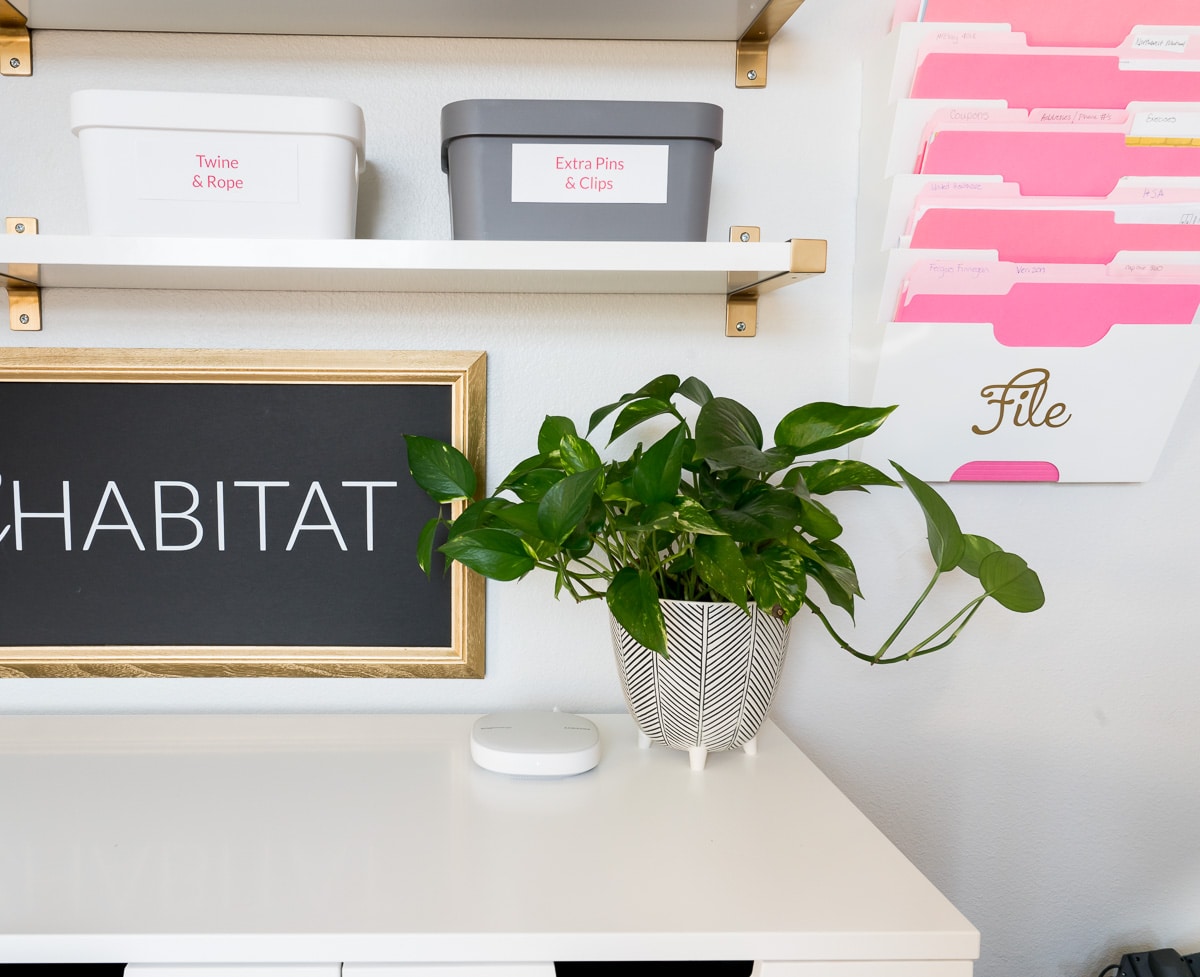 The answer is a huge YES!
I can't believe I lived with a giant black router in the bedroom for so long.
The Samsung SmartThings Wifi system is MORE functional than I expected. The 3-hub bundle covers up to 4,500 square feet, so every nook and cranny of the house has a great signal. Plus, the brilliant engineers added technology that learns our internet habits over time and sends the strongest signal to specific hubs as needed.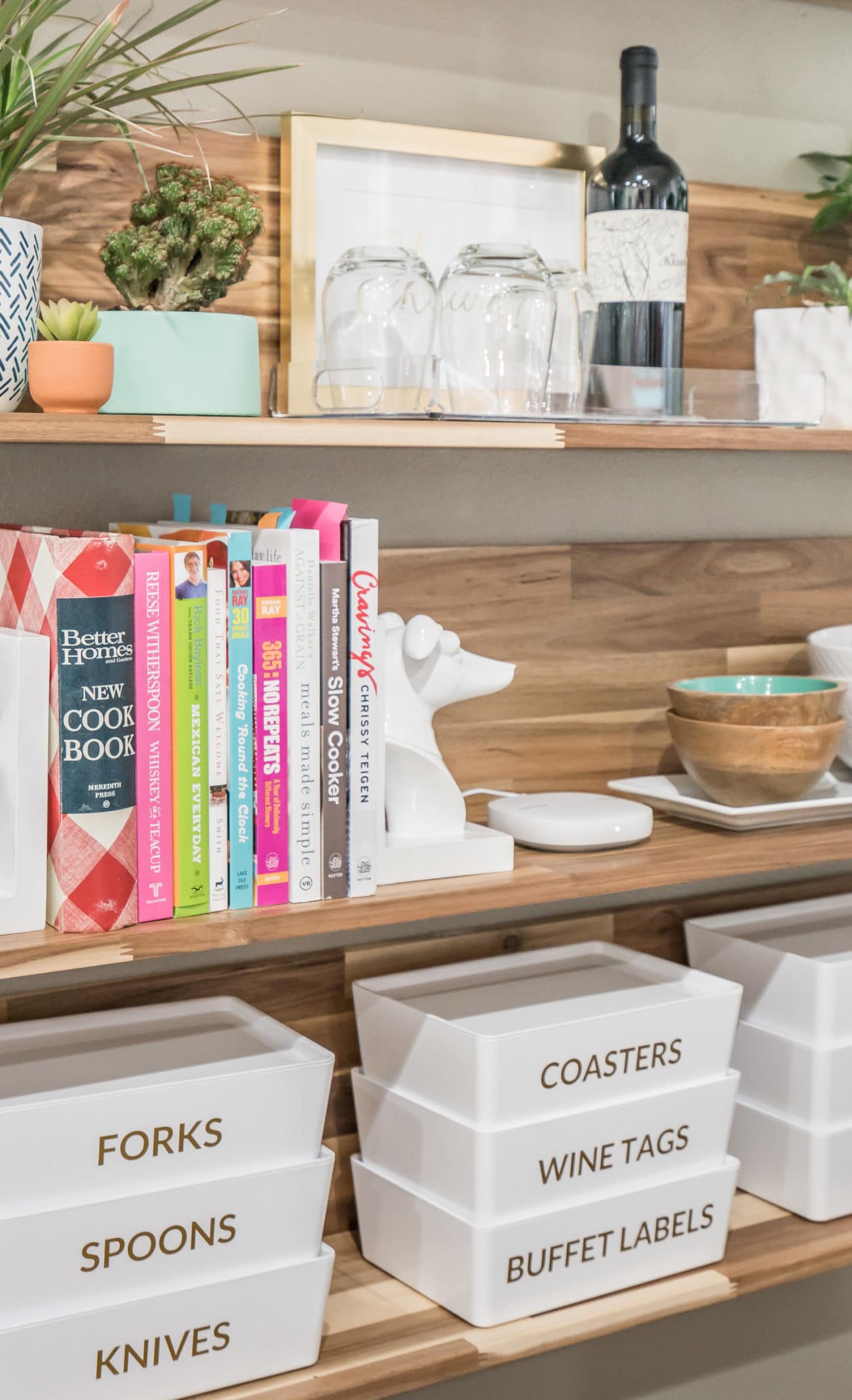 For us, this means most of the signal will be concentrated downstairs. Despite that, the upstairs signal is still stronger than ever because we put a hub in the game room.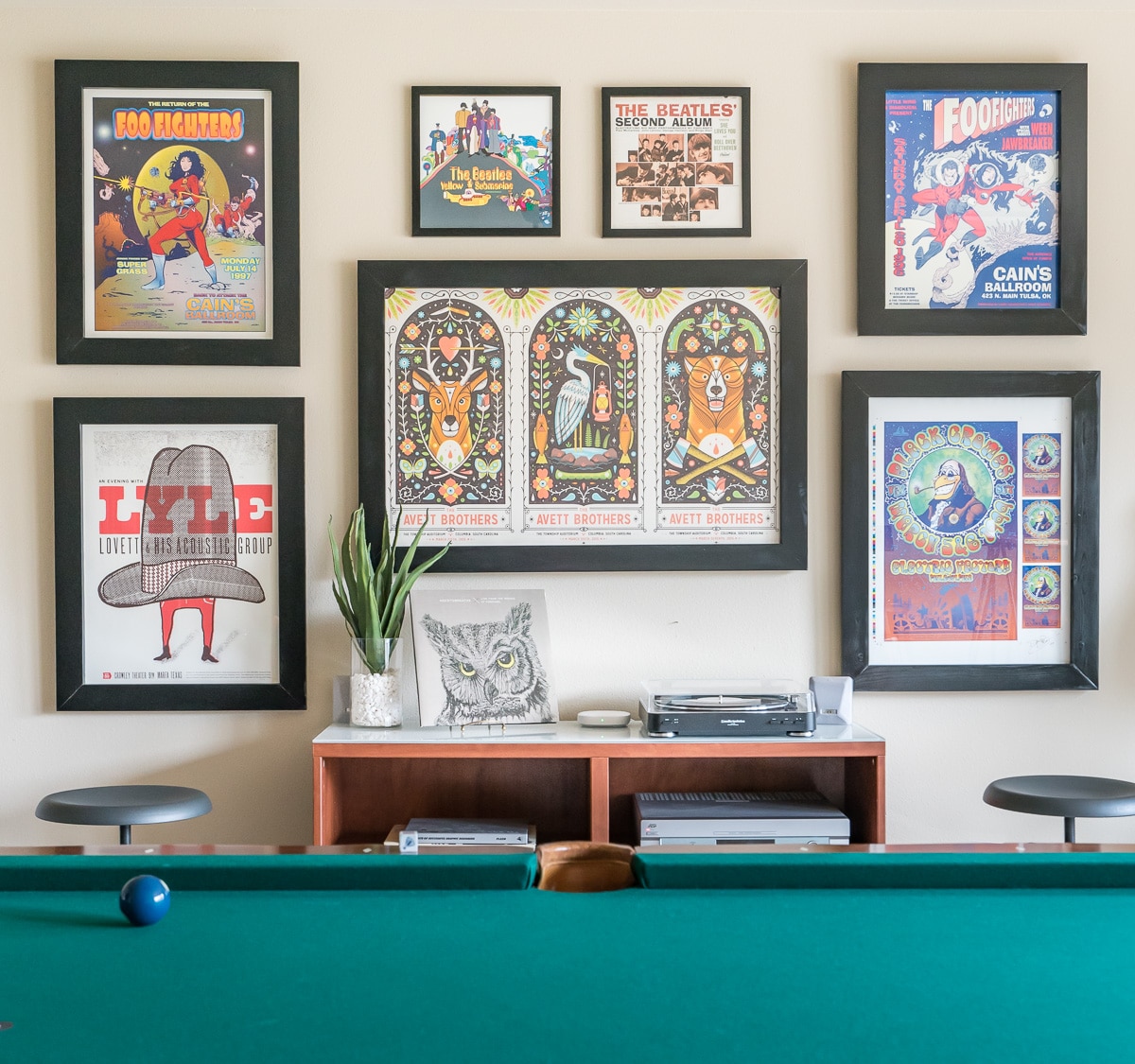 Delivering fast internet to every room in the house is just the beginning!
CONTROL WHEN DEVICES CAN ACCESS THE INTERNET

The system comes with the Plume app, which makes it simple to monitor and control Wi-Fi for your family and guests. For example, we can individually freeze any device's access to the internet at any time.
The freeze can be a one-time occurrence or pre-scheduled to repeat. It's such a helpful parenting tool!
You can customize the freeze by day of the week or use the built-in settings, like "School nights." That selection freezes the Wi-Fi access from 8pm-6am on Sunday-Thursday on the selected device. Brilliant, right?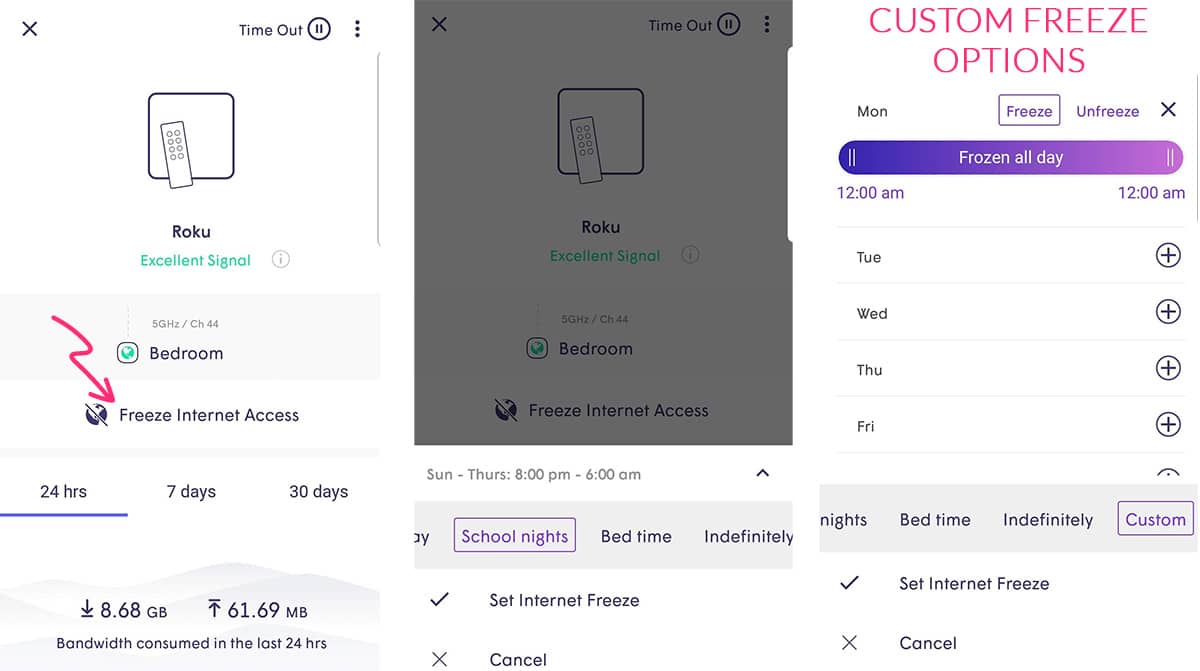 MONITOR BANDWIDTH
If you have limited bandwidth from your internet service provider, you can also monitor usage by individual devices to see who/what is using the most each day, week, and month.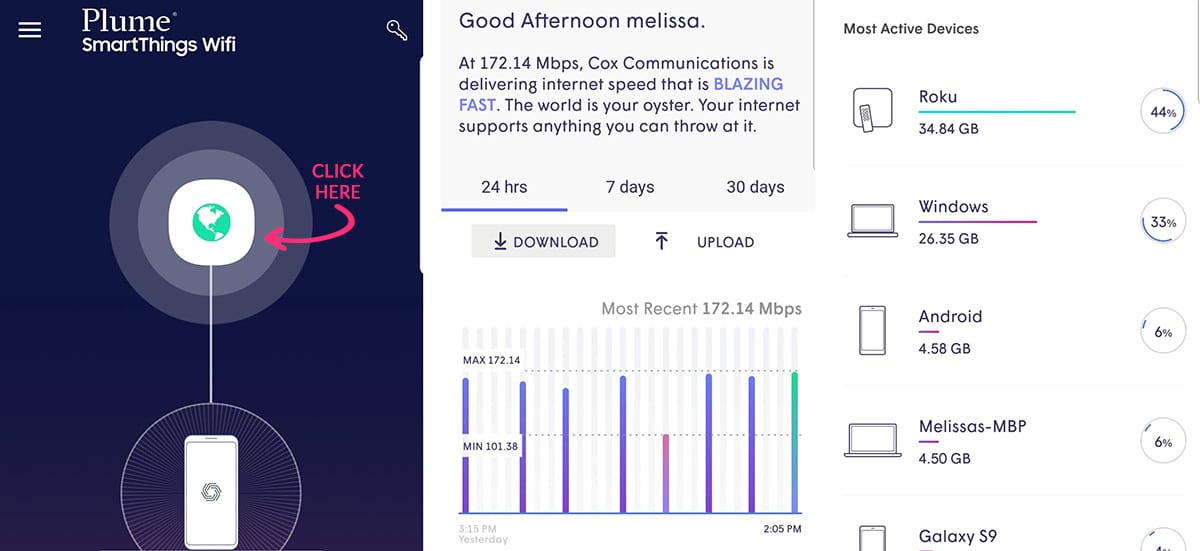 It was quickly clear that video streaming is using the largest portion for us. The Roku controls our bedroom TV and the item marked Windows is our living room TV. I'm interested to see if my computer and phone (Samsung Galaxy S9) move up the list now that we're past the holiday and weekend.
CREATING GUEST ACCESS
Those features are perfect for a family, but it's just as simple to customize the Wi-Fi experience for guests. In about a minute, I can create a new guest log-on and control what they're able to do in our system. For example, most visitors will only need access to the internet, while some may also need access to the Wi-Fi printer.
We can even leave a guest network open all the time for family and friends, then set up another to expire after a set timeframe for one-time use. I hate to confess this, but before now we've let anyone use our main network because it was too complicated to set up guest options.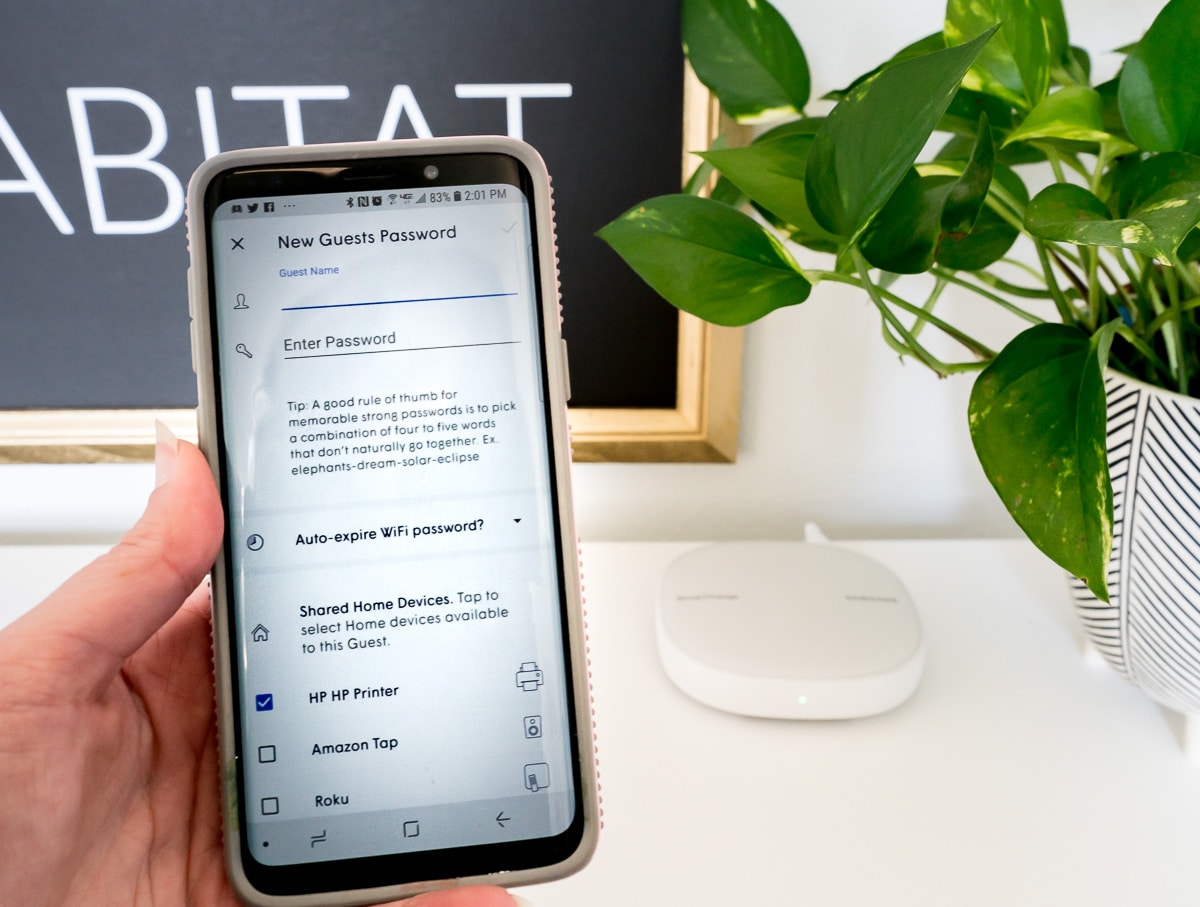 You'd think that great coverage and the Plume features were enough, but Samsung really hit it out of the park and there's more!
SIMPLIFY SMART HOME TECHNOLOGY
The SmartThings Wifi system also serves as a SmartThings hub to control hundreds of different smart home devices. Some smart home technologies require a hub to work, and this system replaces the separate hubs and allows you to create "scenes" for all the different items to work together.
For example, if you have Schlage smart door locks and SmartThings compatible smart lightbulbs or switches, you can set an evening scene to make sure your doors are locked and the exterior lights are on every night at sunset.
While we LOVE all the smart home features we've added over the last year, I do wish we had selected items that were all compatible with SmartThings so we could control the whole house from one app. We currently have to use multiple apps because we didn't plan ahead. The great news is that they have multiple brand partners in every area you could imagine. The smart home integration is NOT just limited to Samsung products.
For our future smart home additions, we'll definitely start our research with the products listed in the SmartThings app.
EASY INSTALLATION
Remember when I said I was overwhelmed by the thought of changing routers? The install process couldn't have been easier!
You plug the first hub into your modem and a power outlet, let the app find it, and then give it a name. Bam, done!
Then, plug in the power cable of the next hub to any outlet within 40 feet. This one won't need an ethernet cable, it only plugs into the wall. Click "Add sub hub" in the app and walk through the same simple steps. I took screenshots of each step to show you how simple it is.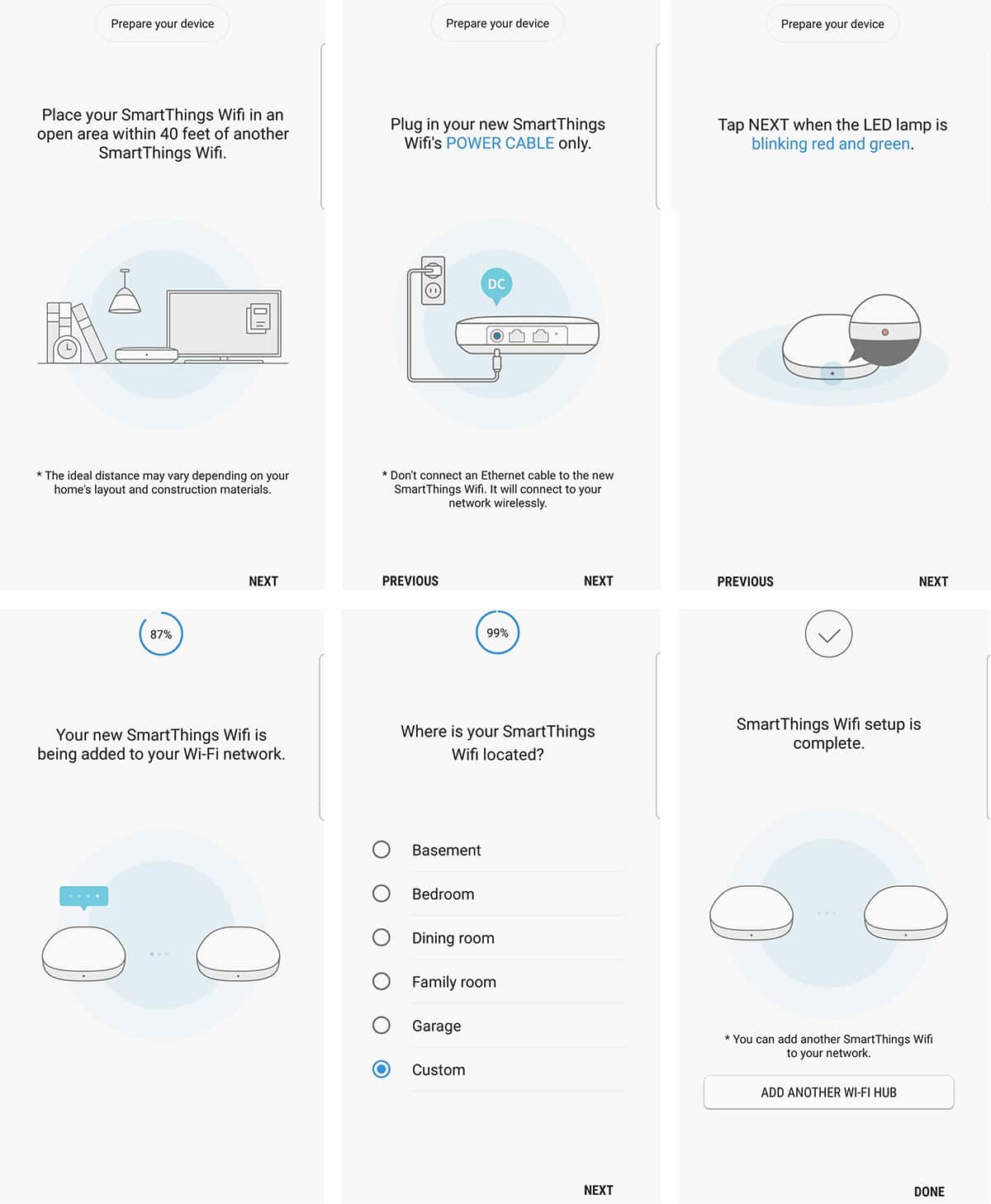 If you want all these features, but don't need 3 hubs, the Samsung SmartThings Wifi can also be purchased as one individual unit that covers up to 1500 sq feet. On the flip side, for larger homes, you can add-on up to 32 additional hubs.
I can happily report that working from my office is no longer frustrating!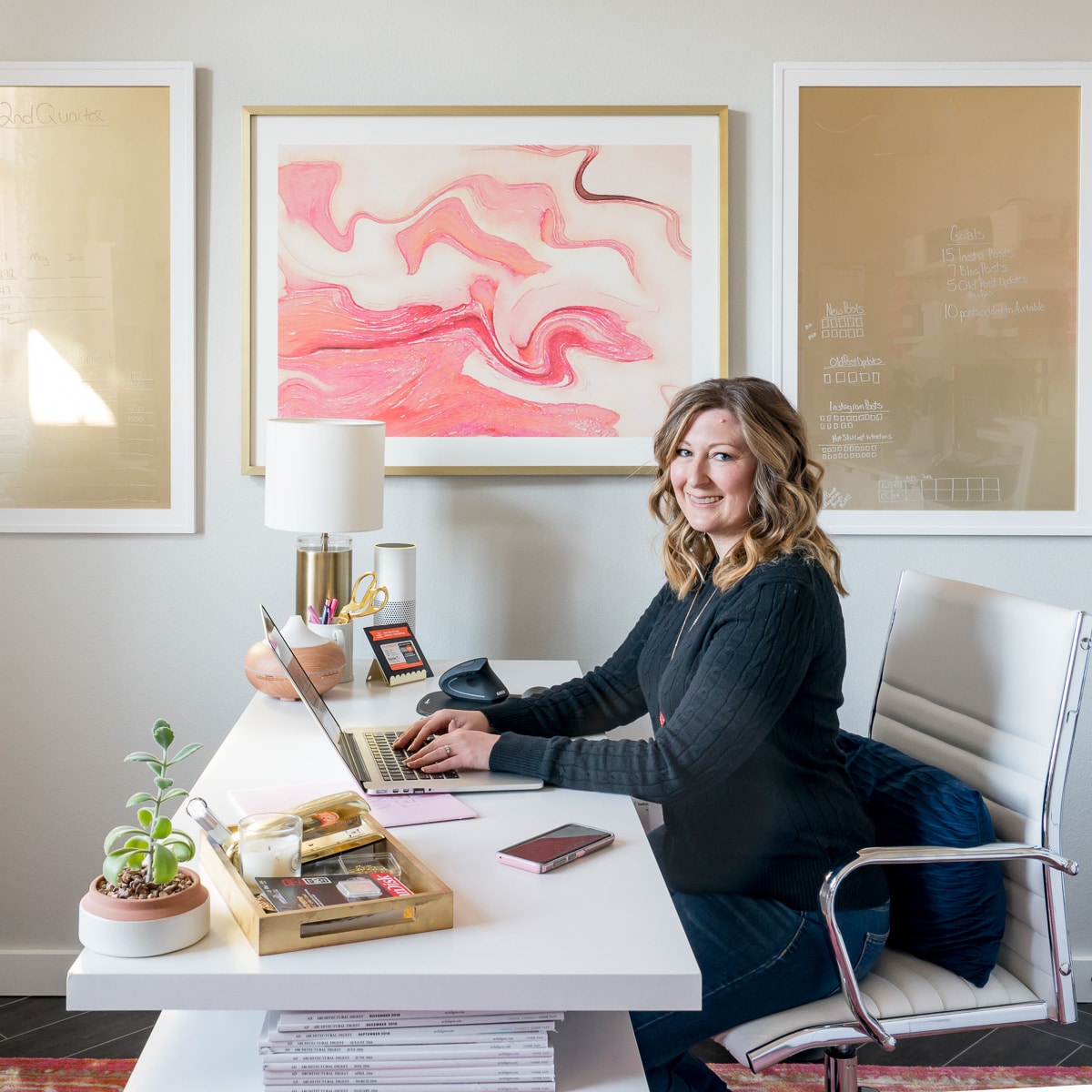 Let me know if you have any questions I didn't address in the comments below!