Have you got a baby or kiddo with an out of control closet? I recently had the chance to organize a baby's closet, and had fun thinking of affordable ways to add flexible storage that will grow right along with baby.
I shared the before photos and my plan a few weeks ago, but here's a quick recap if you missed it. It's a pretty standard double door closet, that already had a great amount of hanging space.
Closet Organization for Kids

There were a few big problems that all boiled down to stuff that didn't belong in the closet being in the way of things that needed to be there. During my first visit, we sorted through the closet and removed all the non-baby items. Some were able to be donated, and other items went to the attic. We also talked about what needed a place in the closet that didn't currently fit.
Here's the list of what we needed to add.
Extra wipes & diapers
Shoes
Socks
Books
Toys
Space Heater and/or Fan (Seasonal)
Storage for Sentimental Items
Donation Basket
With all that in mind, I measured the space and came up with a plan that would work great now, but leave lots of flexible room as baby grows into little girl.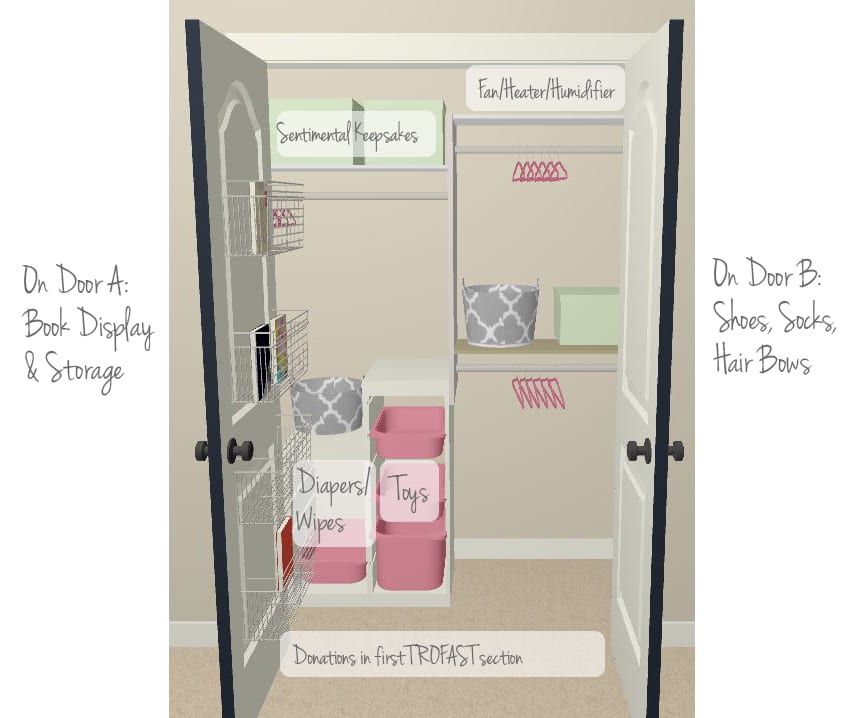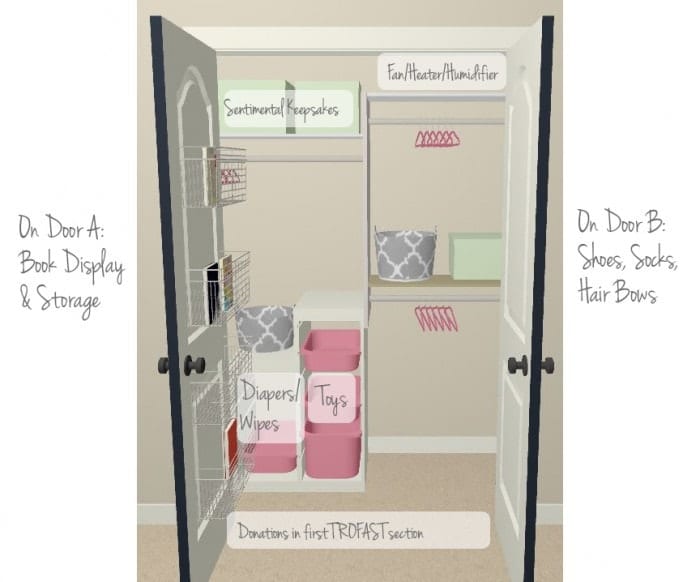 And here is what it looks like now!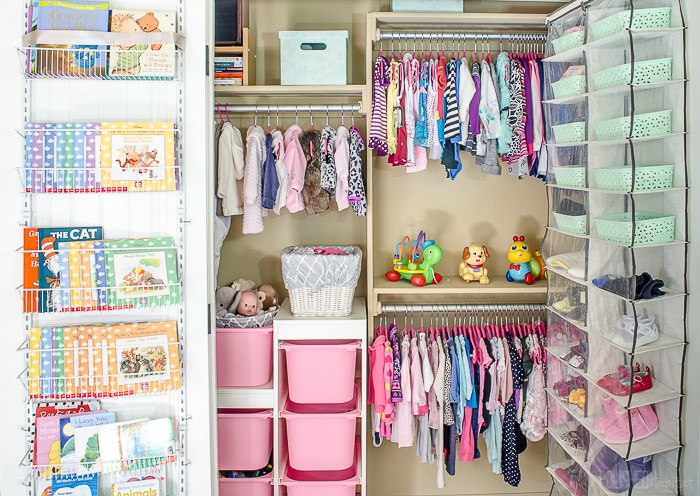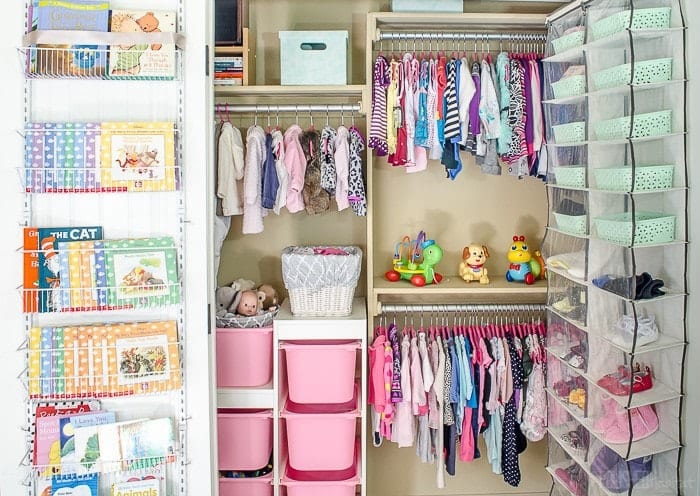 There are a lot of things I love about how this turned out, but one of them is that there was ZERO construction, painting, etc. Everything is non-permanent and flexible,
I knew I wanted to use the back of the closet doors to add easily accessible storage, and I had one of those rare light bulb moments with a vision of one door becoming a library. I wasn't sure HOW, but I was obsessed with figuring it out!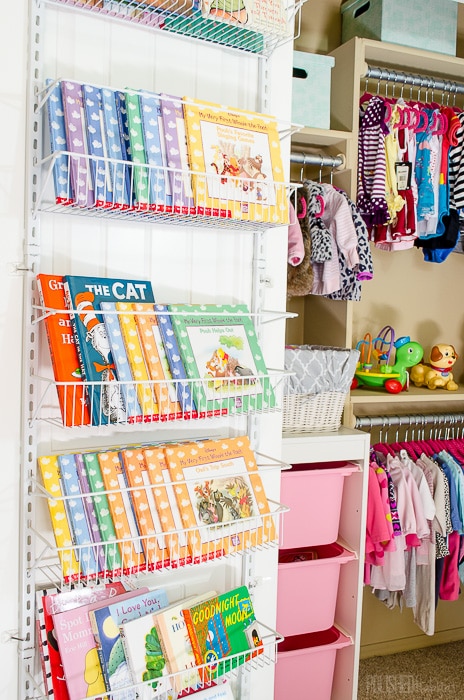 The solution was way easier than I expected. I bought this pantry organizer!  They come ready to hang on the closet door, but I found that it didn't stay as tight to the door as I wanted. It swung when we opened and closed the door. Luckily, wire utensil Command hooks perfectly hook into the holes and keep everything secure. It's an added cost, but I wouldn't recommend doing this project without them.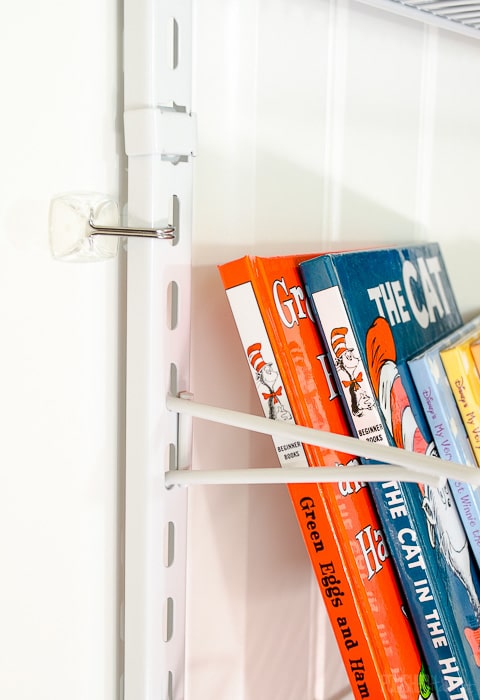 I used the braces that came with the organizer to keep the books from flopping every time the door moved. For the very top section, we were out of braces, so we tied a wide ribbon across the books. It works just as well!
For the bottom sections, I used super cute mint green plastic baskets from Target to hold the smaller books. Sometimes you get really lucky and bins fit PERFECTLY. Happy day!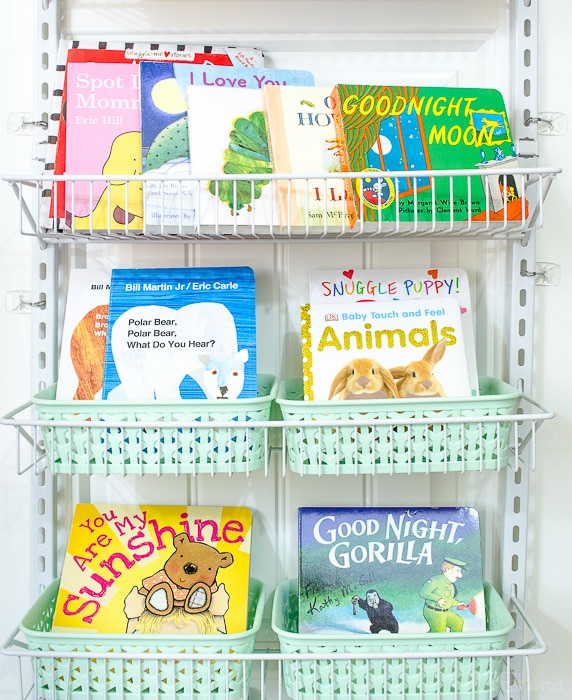 Inside the closet, we added an IKEA TROFAST unit. Toy storage galore! The large TROFAST bins are also great for things like extra wipes & diapers that don't fit in the changing table. This little girl is just getting to the age of accumulating toys, so for now we are leaving the bins unlabeled. As she gets older, the toys may get divided out into labeled categories.
On the upper closet shelf, I added some marbled mint milk crate bins from Target. They are being used for those sentimental items that baby has outgrown, but mom wants to keep.  Side note: I REALLY want to redo my office closet with all this mint cuteness.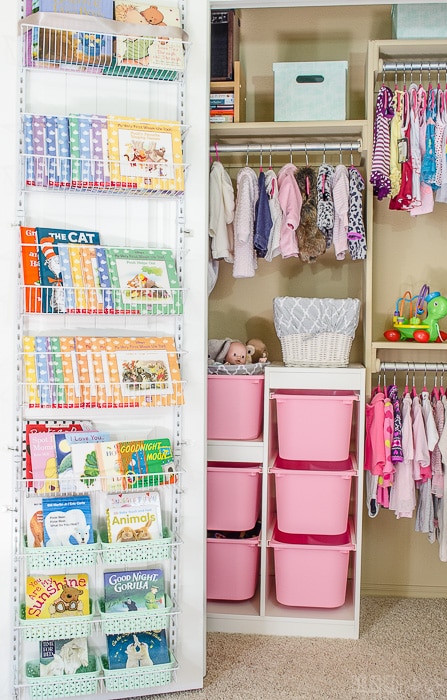 Another big change in the closet was a hanger swap. Uniform hangers make the space look less busy, and the velvet slim hangers save space and keep clothes ON the hanger. We ordered a pink polka dot version from Amazon that are ADORABLE. Reviews say these work great up through kids size 6-8, so the family will get years of use out of them.
As we did the hanger swap, we also sorted the clothes by size. Everything the current size went on the bottom row, with bigger sizes up top and then winter gear on the opposite side of the closet. If you just have one hanging rod, check out this tutorial for super cute size dividers.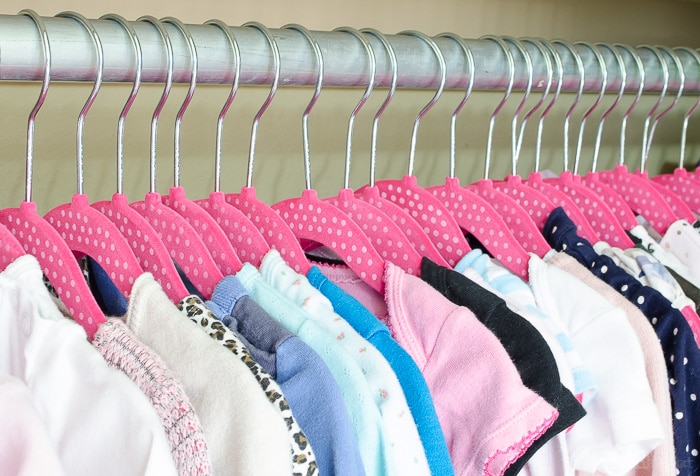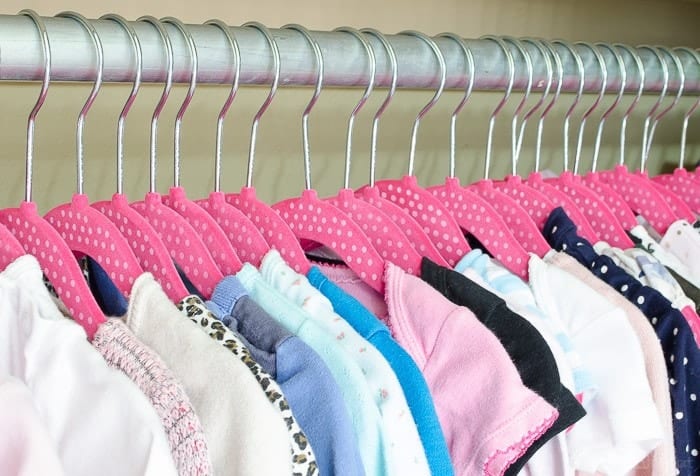 On the right side of the closet, we reused an existing wire shelving unit and filled it with larger versions of the mint Target bins. These are great for clothes that are outgrown and needed to be sorted for donation/passing on to others. Now if something doesn't fit anymore, it gets tossed right into the bin.  Extra blankets also live in one of these big baskets. SO MUCH STORAGE!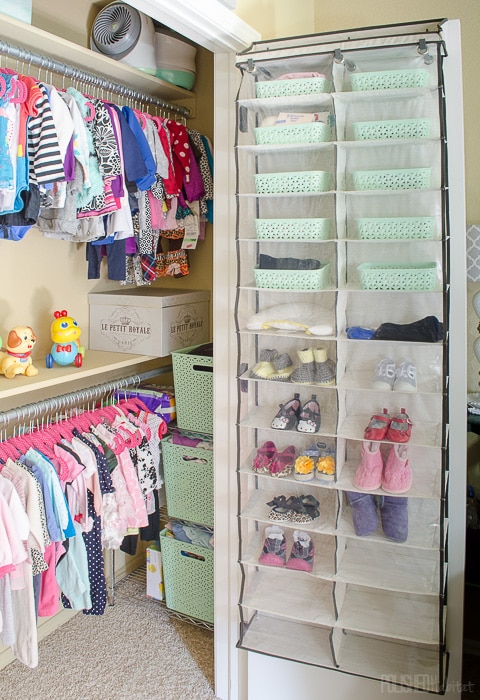 As I'm sure you noticed, we didn't let the second closet door go to waste. I found an over the door shoe storage unit that I like SO MUCH BETTER than the usual kind. The openings are deeper, so each one is essentially a little shelf. You can get the same one at Target or Amazon.  The openings are the exact size to hold those same small mint bins I used for books on the other door. And inside the bins there are lots of little baby socks!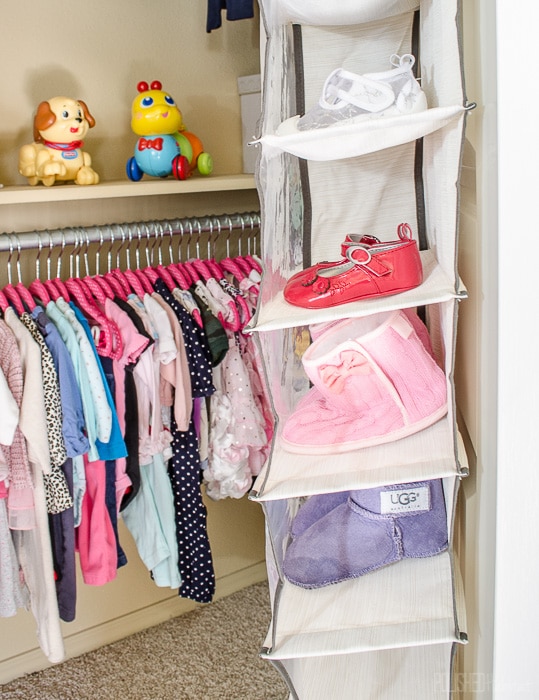 I was so honored to help this family change a spot of stress in the house into a spot that works for them and makes their busy mornings a bit easier.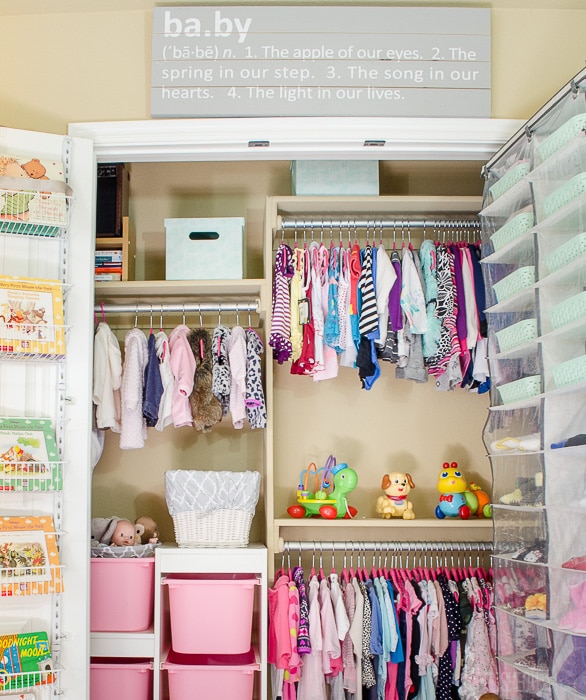 Baby Closet Organization Shoppable Source List
Closet Door Book Organizer – Amazon or Target
Command Hooks for Book Organizer – Amazon
Velvet Kid's Hangers – Amazon
Small Mint Bins – Target
Large Mint Bins – Target
Marble Mint Milk Crate Boxes With Lids – Target
Closet Door Shoe Organizer – Amazon or Target
And here's one final pinnable image that shows the before and after in one place. What's your favorite part?