This is a sponsored post written by me on behalf of Miracle-Gro. All opinions are 100% mine.
You know those projects that you put off for YEARS because the scope is scary?
Our backyard has solidly been in that category since we moved in.
Each year, it's actually gotten worse instead of better because of drainage issues. Areas have changed from grass to mud and in turn, we spend less time out there. Which meant it was easier to be lazy and defer some other maintenance, like cleaning up tree damage from storms last year.
This summer, I'm determined to make the backyard somewhere we want to hang out in the fresh air. This whole project started with the simple plan of building a few simple raised vegetable beds. That's still the first phase of our plan since I need to get the veggies planted ASAP.
Before we could space plan anything, I watched the yard on sunny days to figure out which areas would get enough sun for vegetables.  Once I knew the general area, we started sketching out different options for both the raised beds and some expanded outdoor living space.
Here's our wish list:
–Vegetable Garden
-Dining Space
-Outdoor Living Room
-Additional patio surface (so we have room for both dining & living spaces)
-Fireplace/Firepit -Build an Island Around the Grill
-Stop the constant yard flooding/swamp situation
Which is a pretty far cry from what we've got happening right now.
And here's looking back at the house.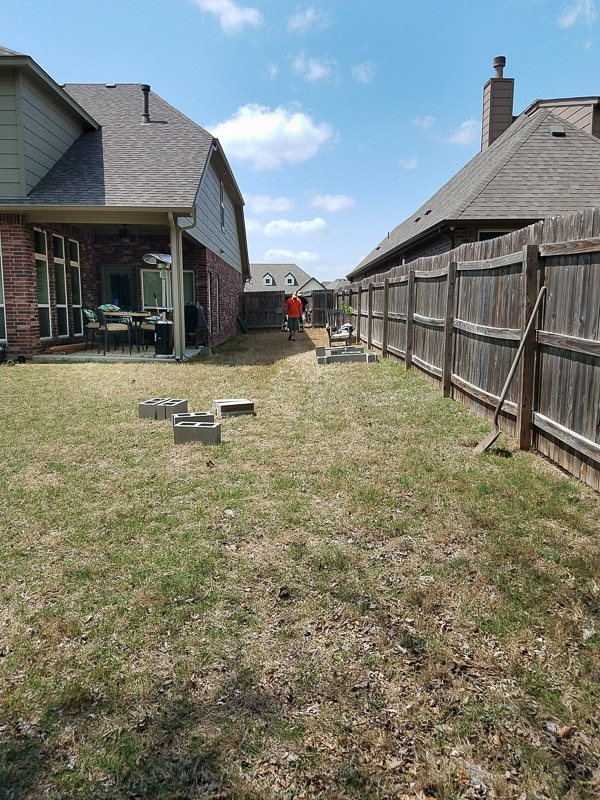 We had a day of major rain last week, so I snapped a couple photos to show how bad the yard gets. The darker area along the back is briskly flowing water. It travels under the fence from the neighbors to the left, and races through our yard fighting to get under/through our fence to continue on down the street.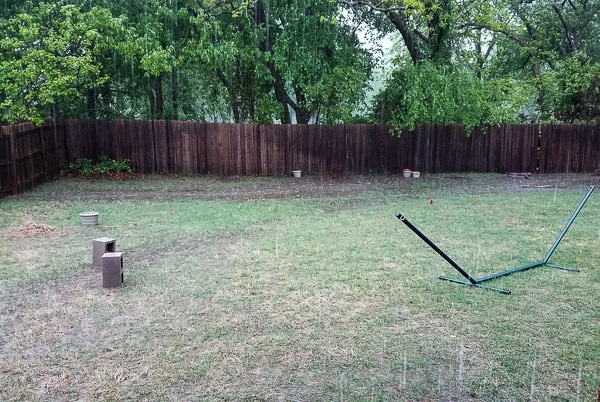 And then the side yard. Yikes.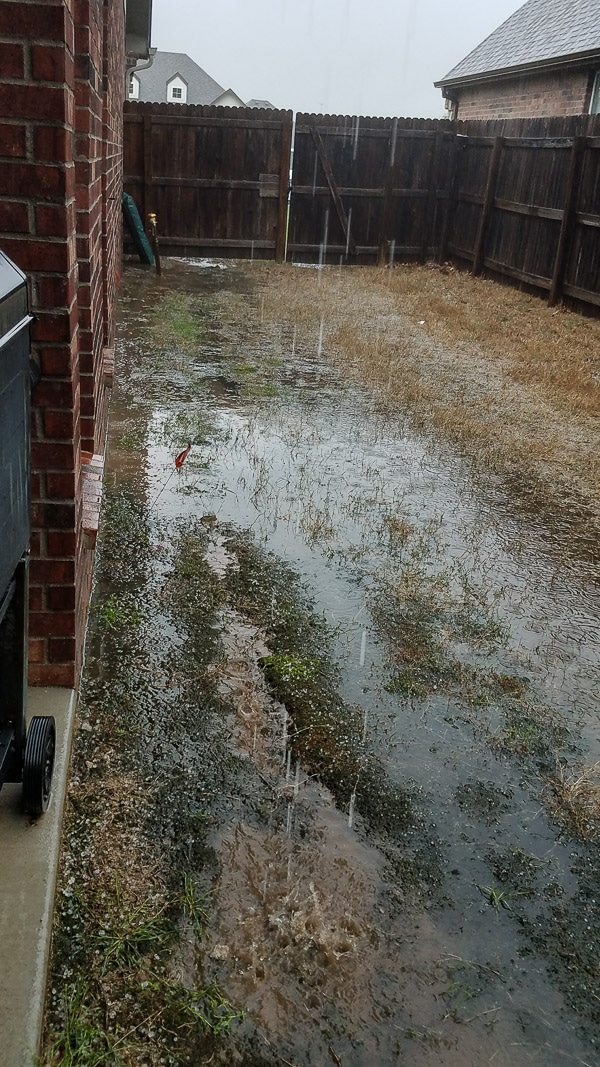 That's the current reality, but here is a rough idea of the direction we're heading.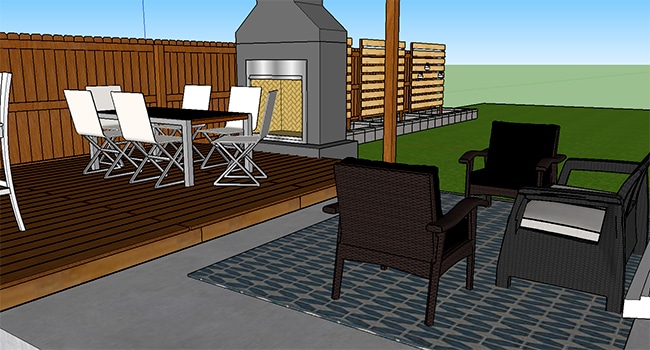 As with anything, as overwhelming as this whole project is, we realized it could be broken down into less scary steps.
Honestly, the first one should probably be the drainage, but we're starting with one of the vegetable beds so I can get a few things planted ASAP! We did the horrible #adulting thing and also called for a consult about the drainage. Until we know how the water situation will be solved, we're holding off on the other two beds and the deck. Fingers crossed we come up with a solution that costs less than an airplane and takes less time than college.
Anyways…the raised beds will go in this area, along the fence as seen in the rendering.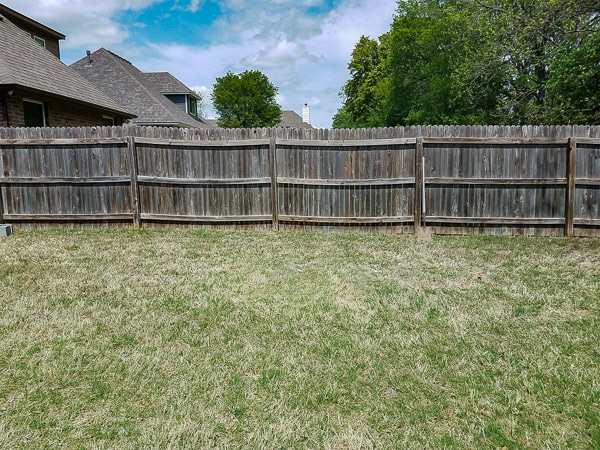 After MUCH discussion, we decided to go with concrete blocks over wood for the base of the beds. They're heavy to work with, but will look better long-term with less ongoing maintenance. Since the blocks are so heavy and bulky, we have to take multiple trips to the hardware store to pick them up. I was dreading having to take even more trips to get enough planting mix to fill in the beds.
Then, I found a way to have premium soil delivered from Amazon!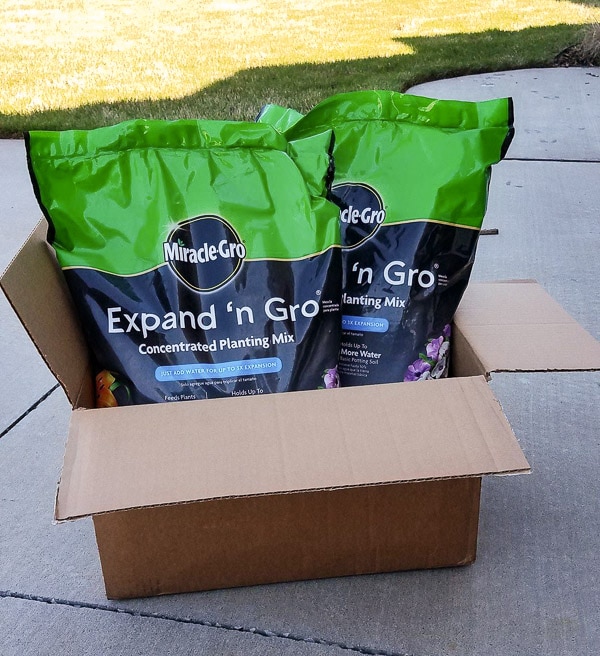 Have you seen the Miracle-Gro Expand 'n Gro Concentrated Planting Mix?   Once it's delivered from Amazon, you mix it with water and it expands to 3x the starting volume. Because it starts out concentrated, it's lighter to ship and to handle.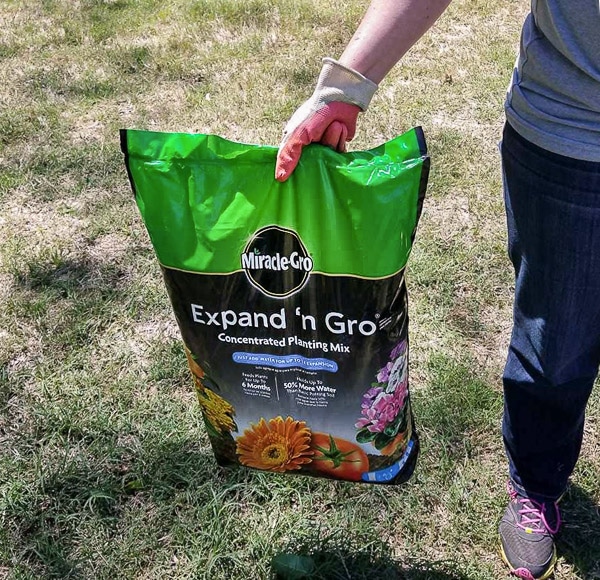 I don't have a green thumb, so I'm pretty excited that the Expand N' Gro includes nutrients that last 6 months and that it holds water 50% better than traditional soil. I need all the help I can get!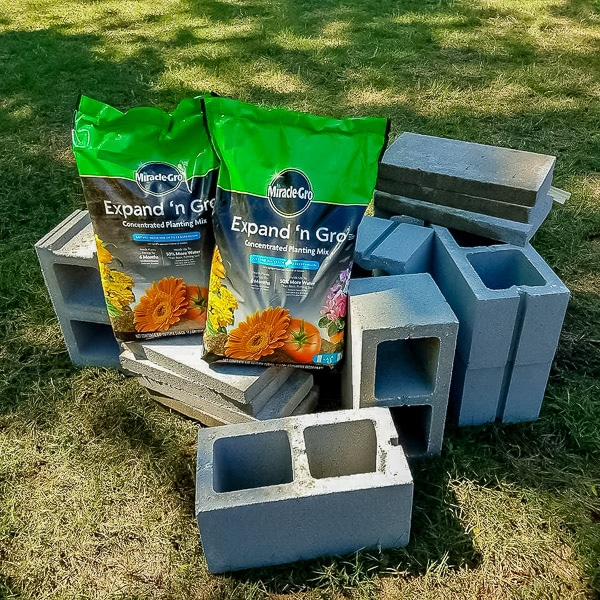 Side Note: The Expand n' Gro isn't just for raised beds, it great for pots or to improve native soil in in-ground beds. Since it takes less space to store, I'm going to switch to using it for my indoor plants as I repot them into larger containers.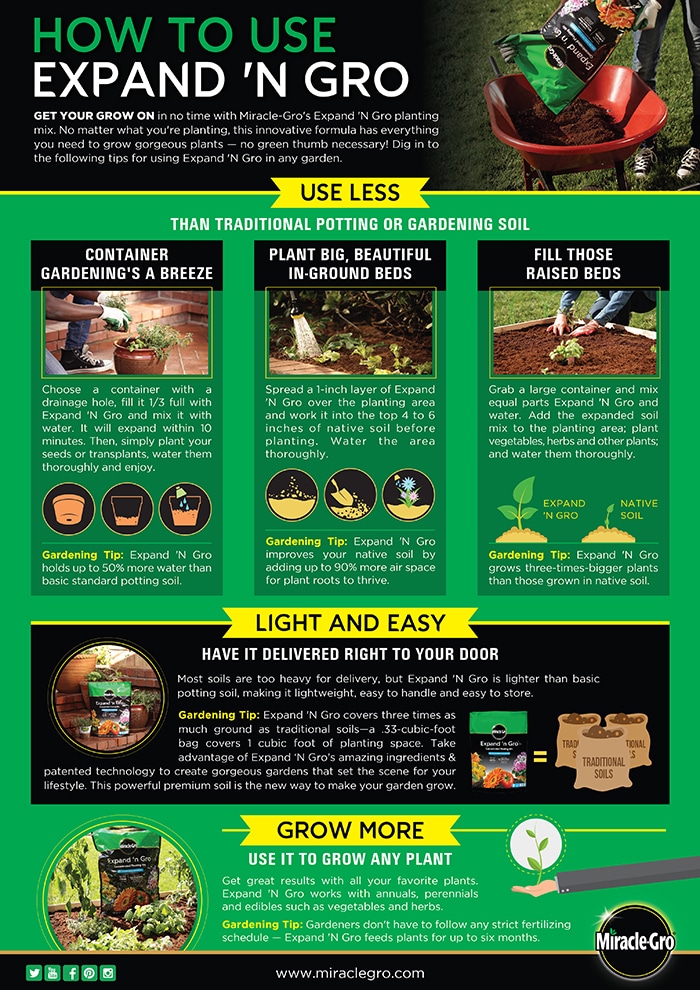 Now that we've got all the materials in the yard, we're so excited to get the first bed built. I might have already gotten started!
UPDATE: See the first completed bed here!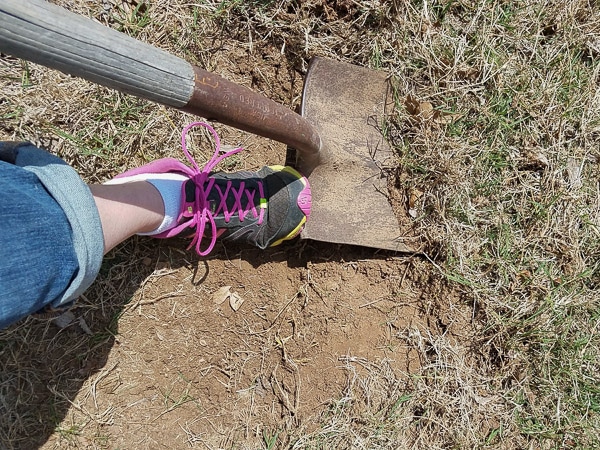 I can't wait to see how it turns out and share the results with all of you soon! I can almost taste the homegrown tomatoes already.