Struggling with storage in a space space? Kathy has some great ideas!

Hello Polished Habitat friends!  After such a busy summer, it's so great to be back in the swing of things and with you for another renter-friendly post.
Rentals are notorious for having small closets, cabinets, and sometimes minimal square footage.  Finding a home for all of your belongings can be challenging.
After living in 6 rentals in the past 12 years, I've come to find that I consistently fall back on using the same beautiful storage solutions over and over again.  So if you are a renter and/or in a small space, grab a cup of joe or tea and let's chat!
Use pretty containers – For those items that you use daily but aren't the prettiest, look for nice containers that can work with your decor and conceal your items.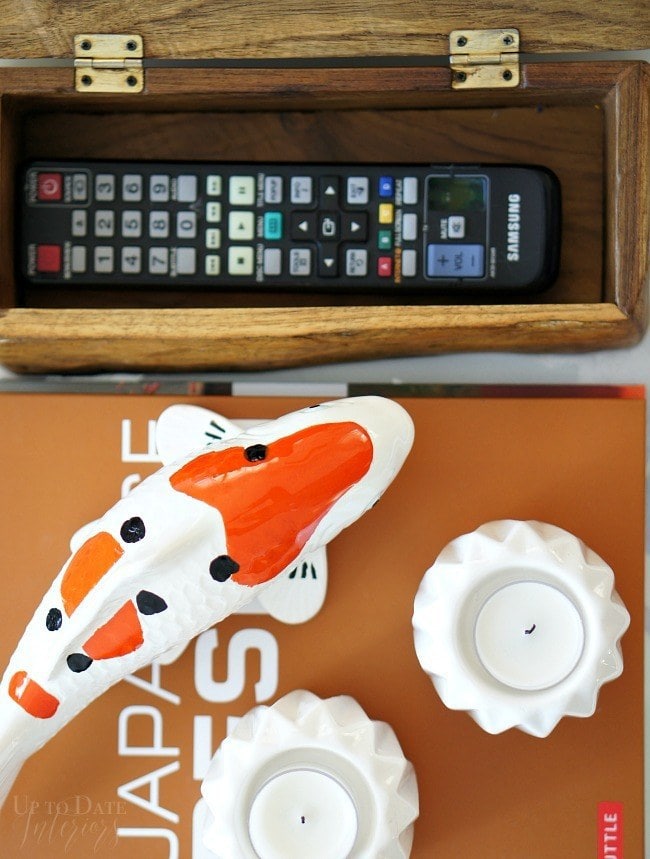 A jewelry or wood box is perfect to hide remotes.  Decorative tin boxes work great to hold craft or school supplies.  During the school year, a large basket by the front door is a life savor for containing backpacks, library books, and other things that come in and out of the house on a daily bases.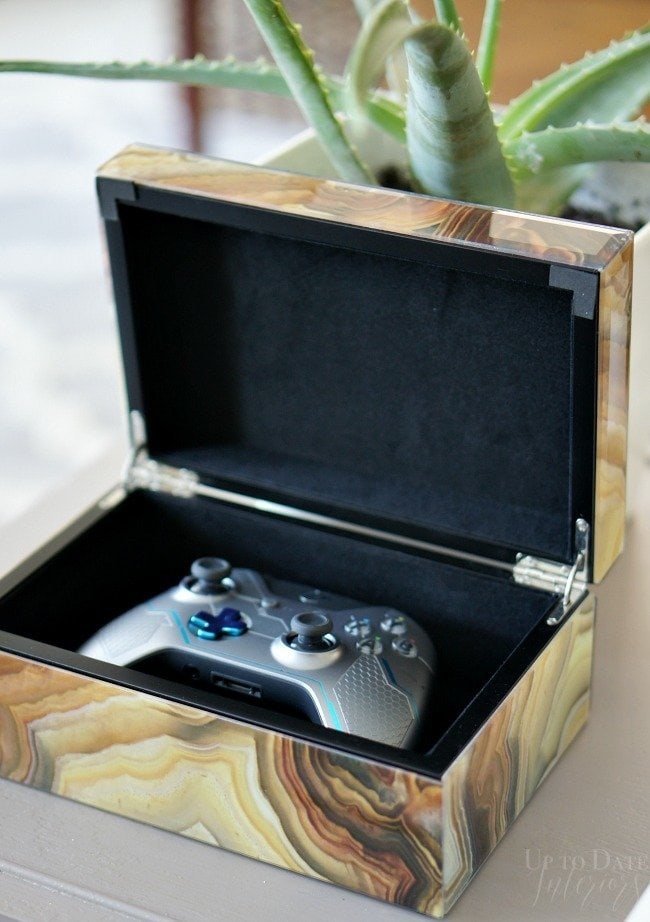 As a bonus, keeping these things in close reach but hidden in plain sight will help keep the space neat and clutter free.
Add hidden storage to open shelving – To help add more storage to your small space, anything that you have that looks nice and can hold things is fair game.   Display things you would normally store in open containers, like bed or table linens, in a basket and save other items for containers with lids.   A small piece of luggage, vintage picnic basket, trays and large bowls are good options and sit nicely on bookcases and open shelving.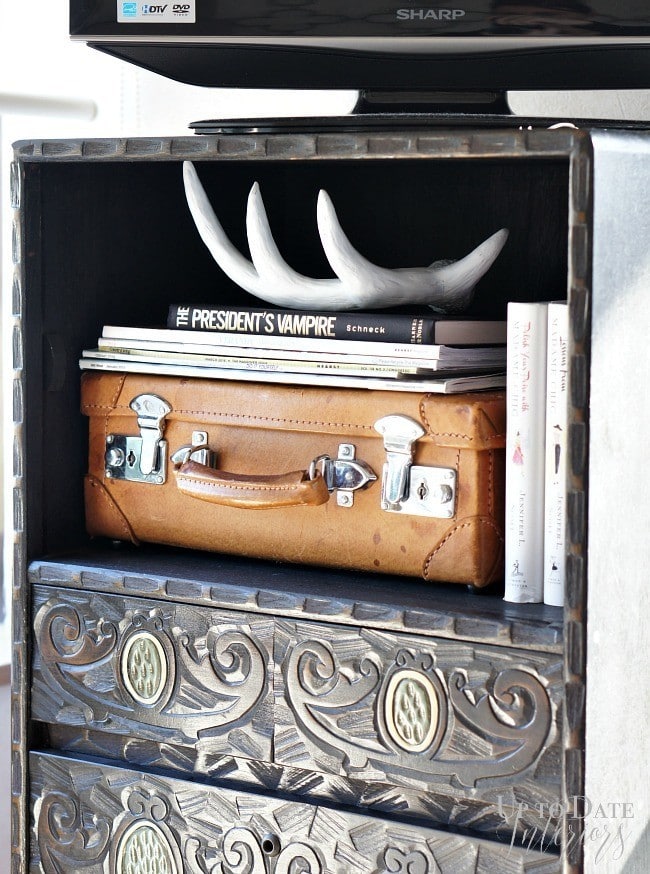 Keep it slim –   Don't give up square footage for extra storage!  Leggy furniture is perfect for stashing items under and the slim profile keeps a small space from looking heavy.  Tuck baskets and bins under leggy chairs or side tables to hold books, DVD, throw blankets, toys, and pet items.  The extra layer adds a fun texture and brings more interest to your furniture.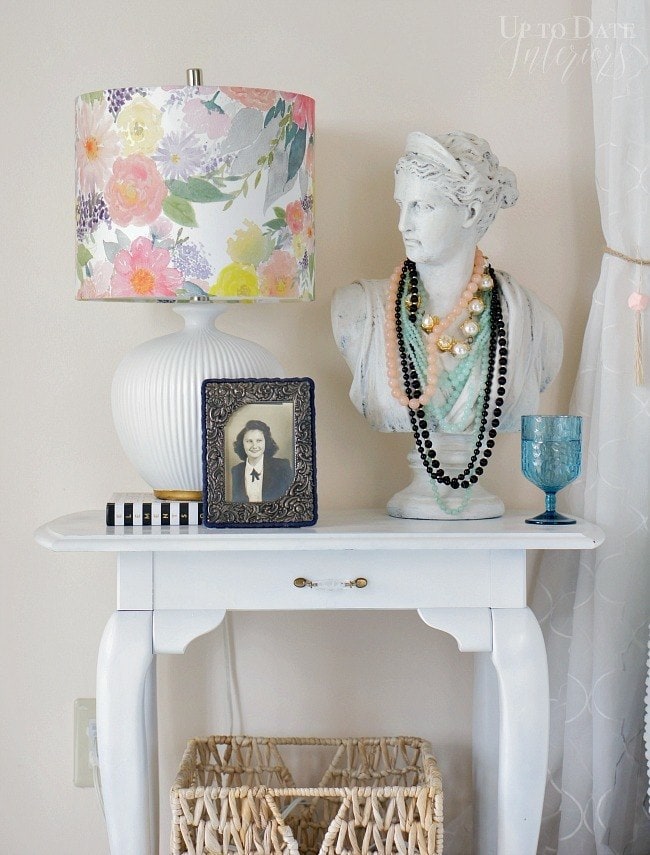 Non traditional side tables –  Speaking of side tables,  another option for more storage is to use a small chest of drawers for a sofa side table.  It will hold (and conceal) more items than traditional open sofa tables.   Larger chests/dressers can be used as a foyer table, buffet, sofa table, or as an accent in any room.   These pieces are great when you are limited on closet space.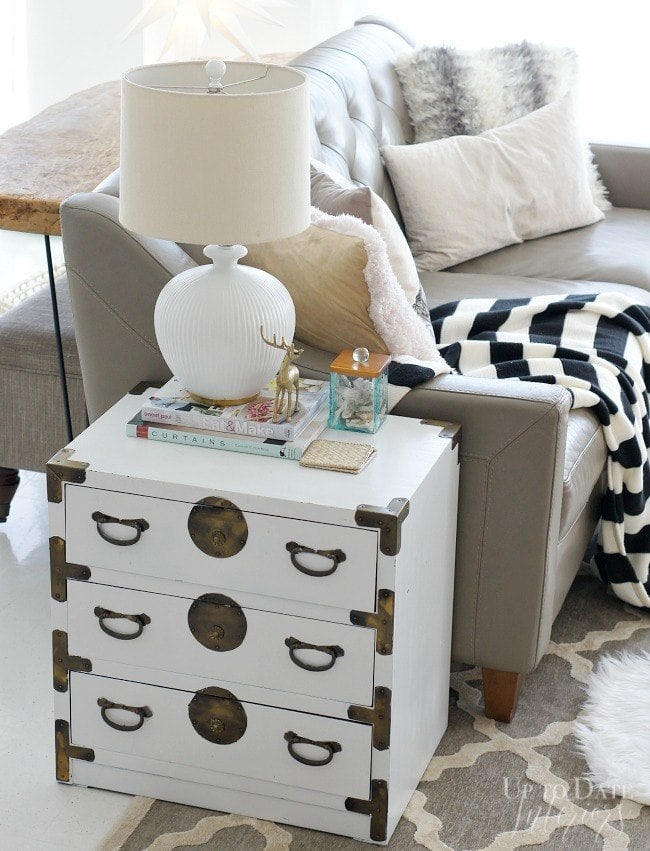 Multi-use furniture –  I love using pieces of furniture that have multiple functions in our rental.   If you can sit on it, place a drink on it, and store something in it, it's a win!  My favorite piece is a storage bench  that gets used as a coffee table, extra dining room seating, and sometimes tucked under a sofa table. While doing all that, it secretly holds DVDS and blu-rays!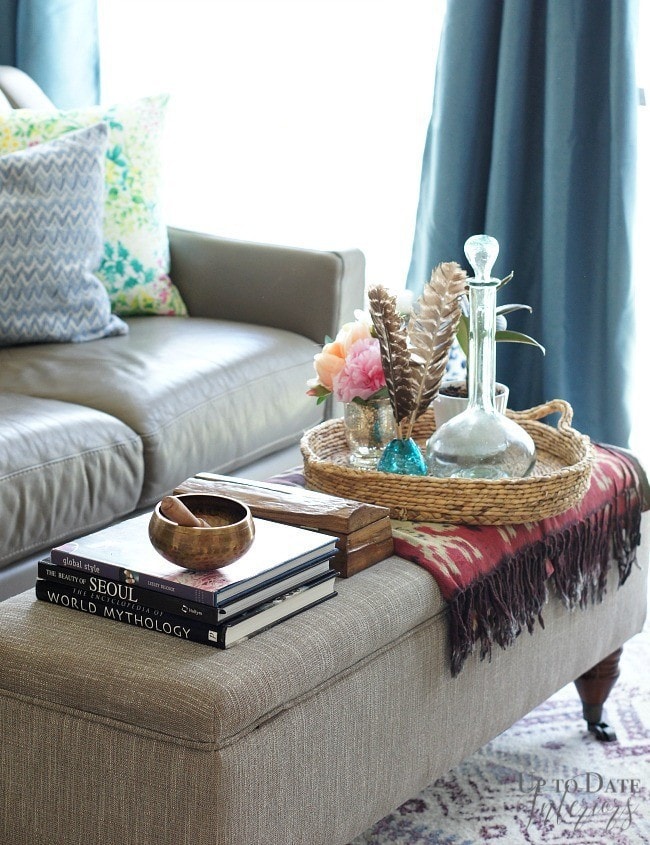 The stuff behind doors – Don't forget about the items that sit in your closet or cabinet.  Keep them neat and organized in inexpensive labeled bins and the entire family will know what goes where.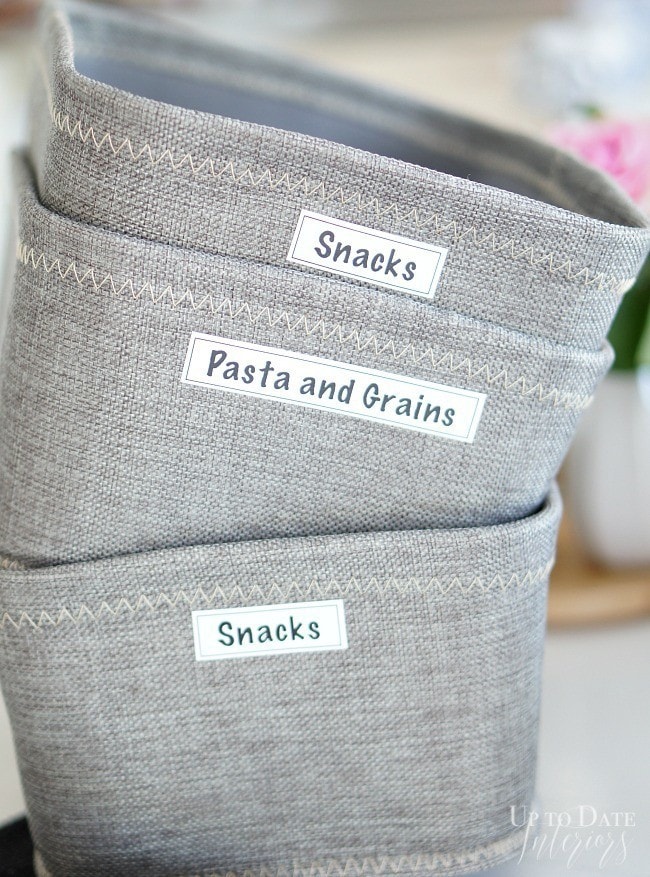 Hopefully these tips for beautiful storage solutions in your rental or small space will inspire you and help you enjoy your space even more.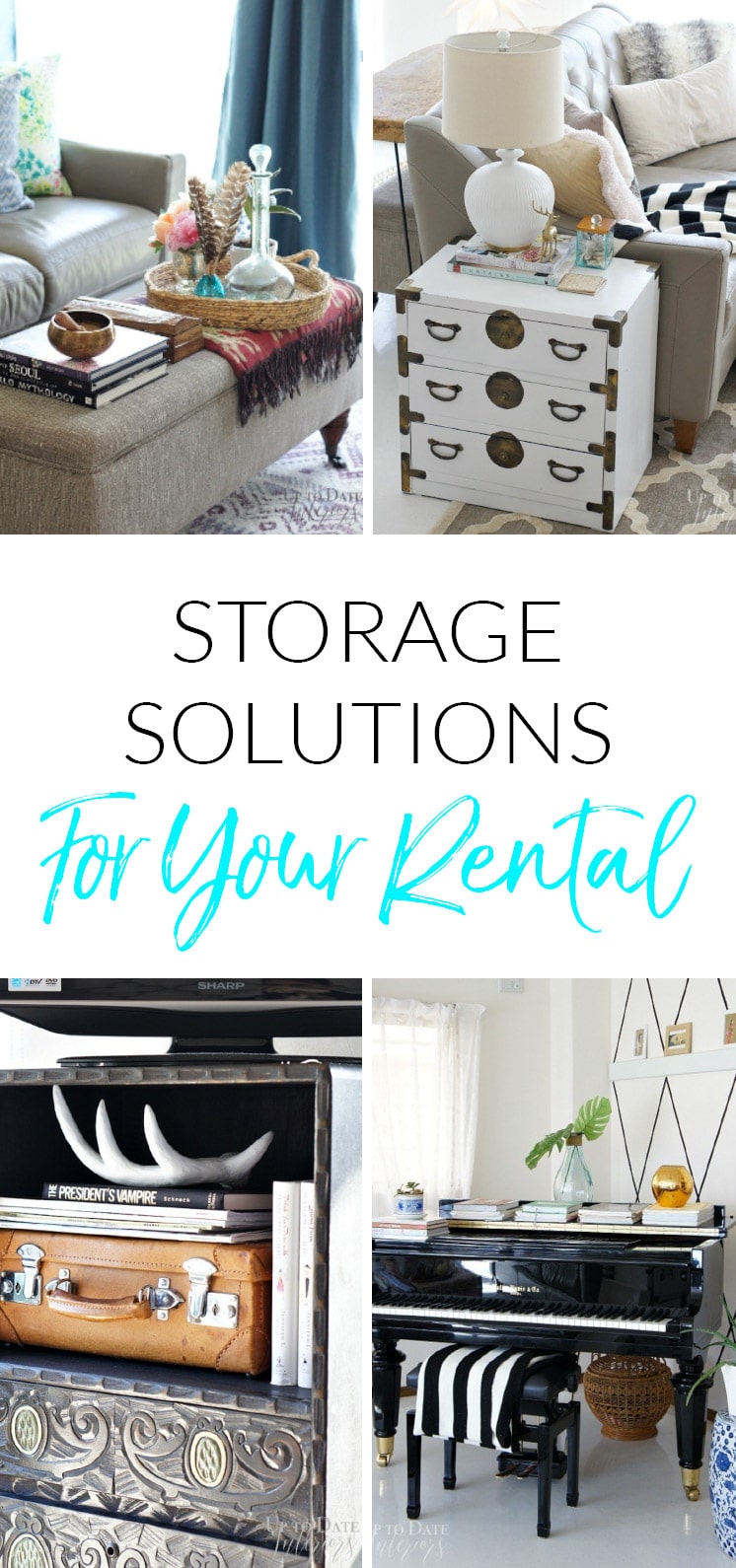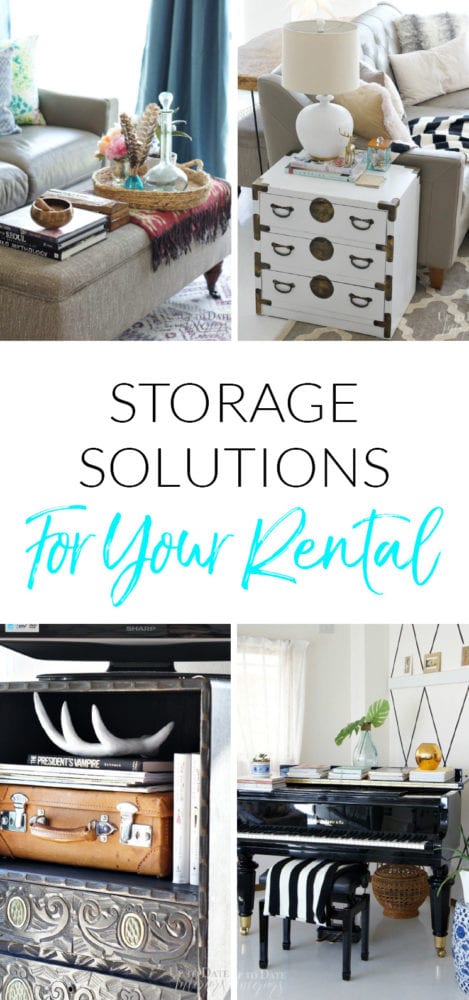 Do you have a favorite?  Maybe a creative solution for storage to share?