There's not much better than walking into a home that smells fresh, clean, and welcoming. I always fear that our house will smell like dog (sorry, Maddie). As you'll see in the photos, I already tested out two of Lana's tips for making your home smell good. I just came in from getting the mail and was pleasantly surprised with how well the tricks are working!

Have you ever cleaned a room but another smell sabotaged it?
Last week, I lovingly wiped the floors in our main area with Method Wood Floor Cleaner and the tiny almond-smelling molecules kissed my nose. It was dreamy…for about 5 minutes.
Walking outside for the mail ruined my whole experience because, when I returned, all I could smell was garbage! It had taken over like a tyrant dictator.
One value of mine is hospitality. When friends come over, I want them to feel comfortable. Fantastic smells go a long way for me to confidently welcome any spontaneous visitors.
A while back I tried out the whole essential oils craze and got a diffuser and everything. The trouble is, the diffuser only solves problems in that one room (or half a room). I don't want to buy one for each room in my house and truthfully, that's a lot of oils to use for one day. I'm a frugal girl!
Then, it came to me…I found a way to create great smells for our house that last and keep giving for weeks without having to plug in or buy multiple diffusers.
Here are my favorite simple strategies:
Strategy #1 – Roll That Toilet Paper Roll
Put 10 drops of your preferred smelling oil inside the roll (on the cardboard part) and then forget about it. The best part about this strategy is that once you set it up, it's a passive process. The next time you use the facilities, you'll naturally roll the paper and voila! Your chosen scent will waft out and greet you.
Strategy #2 – Sprinkle Homemade Carpet Cleaner
When it comes to strategies, I like to create new habits by tagging them onto previously established ones. Vacuuming will always be a mainstay for me. So it's the perfect thing to find a great smelling carpet cleaner.
So once in a while, before I vacuum, I'll sprinkle a bit of this powder onto the carpet or rug and it's so versatile because I can change the smell to match the season or mood.
Recipe:
1 part Borax
1 part Baking Soda
Mix with a fork or spoon and put in 10-15 drops of your choice of essential oils (I like Theives in the Fall and Winter cause it smells like cinnamon) If you make it ahead of time it will keep in an airtight container for several months.
Strategy #3 – Aromatic Air Filters
This is, by far, my favorite strategy because it lasts the longest! It's simple to put in place and has lasted for several weeks!
You can buy a scented A/C clip that's usually for your car, and clip into place along the outside of your air filter. Or, you can spread about 10-15 drops essential oil goodness evenly throughout the paper folds of the filter. When the air passes through the vents it will spread all over your house!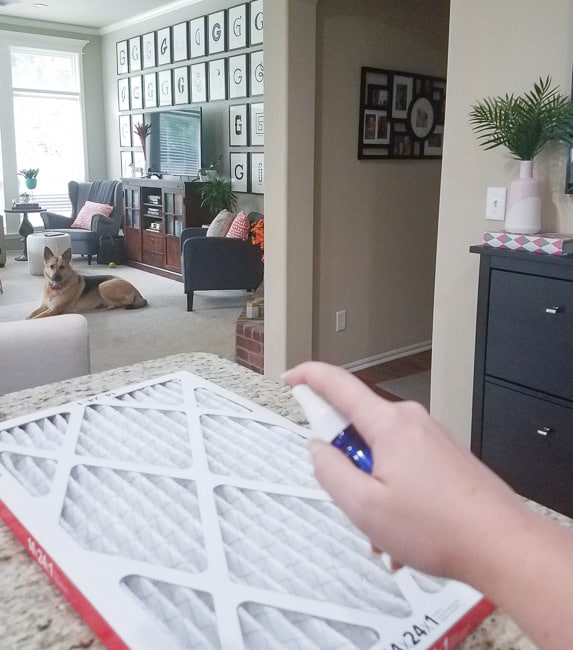 Some of my favorite smells are anything almond or vanilla scented, and ylang ylang. I'm feeling happier just thinking about those smells!! My sense of smell helps me enjoy the environment around me, and I hope you find what works best for your space. May happiness rise to a new level in your home!
Melissa here: I implemented Lana's tips using some essential oil diluted a bit in a little spray bottle I picked up at Sprouts. It made it really easy to spray the toilet paper roll and the air filter. I might keep one in each bathroom so it's easy to spritz each new roll!
Which strategy do you want to try first? And what are your favorite smells?
To see how I make sure our bathroom sink is always guest-ready, check out these tips next!