I think I've mentioned before that I was committed to reading more actual books in 2015. I don't know how I ever forgot this, but books are amazing on so many levels. They are teachers, entertainers, and beautiful escapes. When you spend an abundance of time online, books are a way to temporarily disconnect and restore yourself.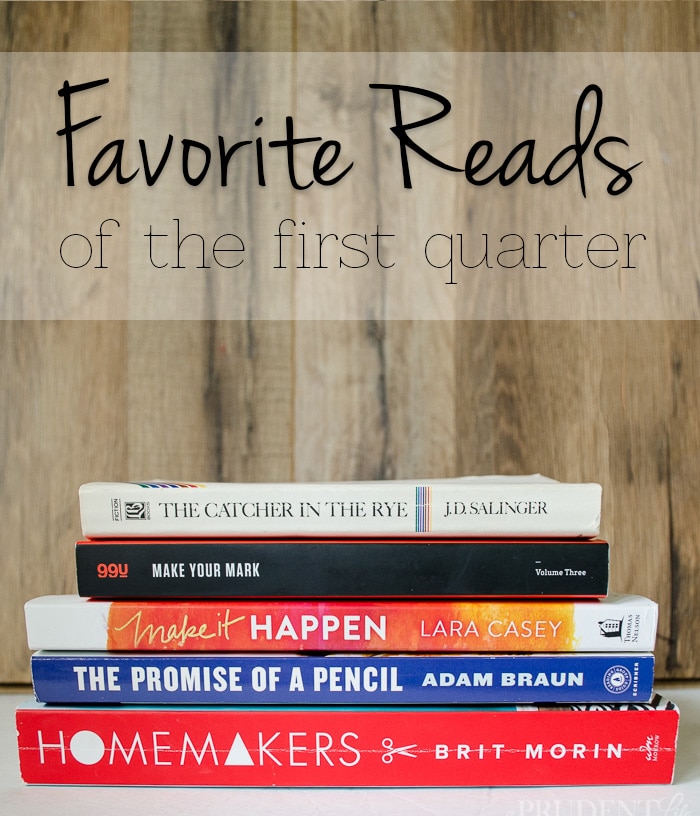 I did pretty well upping my reading in the first quarter, so I thought I'd share 5 book recommendations based on my favorite reads so far this year.  I ordered them all on Amazon with the exception of Catcher in the Rye, which we already owned. If any of the recommendations speak to you, you can click on them to go straight to my affiliate link on Amazon.
1. Catcher in the Rye, JD Salinger – It had been probably 10 years since I last read this book and re-reading made me remember why I loved it so much. As I read, I could vividly see every single scene in my head. Yet I craved even more information about every character. Each one had such life that I was drawn into wondering about their story. After I finished reading, I had to know more. Google to the rescue!  Did you know there is a prequel of sorts that you can read at the Princeton library? You are actually supervised in a special room while reading! A trip to Princeton is officially added to my bucket list. The story is called "The Ocean Full of Bowling Balls" if you are interested.
I do see how this is a pretty polarizing book, and I think it is more appropriate for college students to read versus being assigned to younger audiences. There is an abundance of profanity, which would normally make me put a book down and not pick it back up. For me, the fact that it is hard to read is a perfect parallel for how hard life is to live for Holden after his loss. So, if you've never read it before, please be warned that it isn't about sugarplums and rainbows, it's dark. You have to step back and think about the larger themes. IF you HAVE read it years ago and enjoyed it, I stronger encourage picking it up again now that you are older. There were little things I noticed now that I'm certain blew right passed me the first time.
2. Make Your Mark: The Creative's Guide to Building a Business with Impact (The 99U Book Series) – If you have any kind of business, especially something in the creative field, this is an excellent read. It's actually a collection of short themed essays about all different facets of business from defining your purpose to satisfying customers. The format makes it easy to read, but the advice is all extremely solid.
3. Make it Happen, Lara Casey – This is a good one for EVERYONE. You don't have to have your own business to live a life on purpose. Lara is extremely open about her struggles in life and marriage and how she's using what she learned to improve each day. The book is a great cheerleader to inspire and guide you to define goals and work within your purpose.
4. The Promise of a Pencil: How an Ordinary Person Can Create Extraordinary Change, Adam Braun – This guy has had a crazy life! Everything from near-death experiences to Justin Bieber. All the fascinating stories lead up to his decision to risk everything by walking away from a certain future of wealth to start building schools in areas where the children have no access to education. I love that he talks about not only his good decisions, but when he has messed up. I think the important thing to remember while reading is that we each have different gifts that can change the world. While Adam's mission was HUGE, we can use the principles he outlines every day to make positive changes around us.
5. Homemakers: A Domestic Handbook for the Digital Generation, Brit Morin  – This one is just fun! Creative and inexpensive DIY's, beauty tips, recipes, and on and on. Every page is full of colorful and stylish photos! I love this as a coffee table book that you can grab for some inspiration on a rough day.  
Have you read any of these? And more selfishly, what do you recommend I read this quarter???