Oh my gosh you guys…why didn't you STOP me from this insane idea of tackling 600 square feet of garage in 6 weeks?!?! On the other hand, it doesn't matter that I haven't been to the gym, because I have been getting a serious workout.
If you are new here, start with week 1 where I show the before pictures of my garage and my plan to transform it as part of the One Room Challenge. Don't forget to meet us back here at week 2 for a cocktail when you are done!
All whining aside, we are actually right on schedule! It couldn't have worked out better that my hubby was off work on Good Friday. Well, it could have worked out a lot better for HIM. But I was happy to have major help.
Here's what things looked like midway through Friday.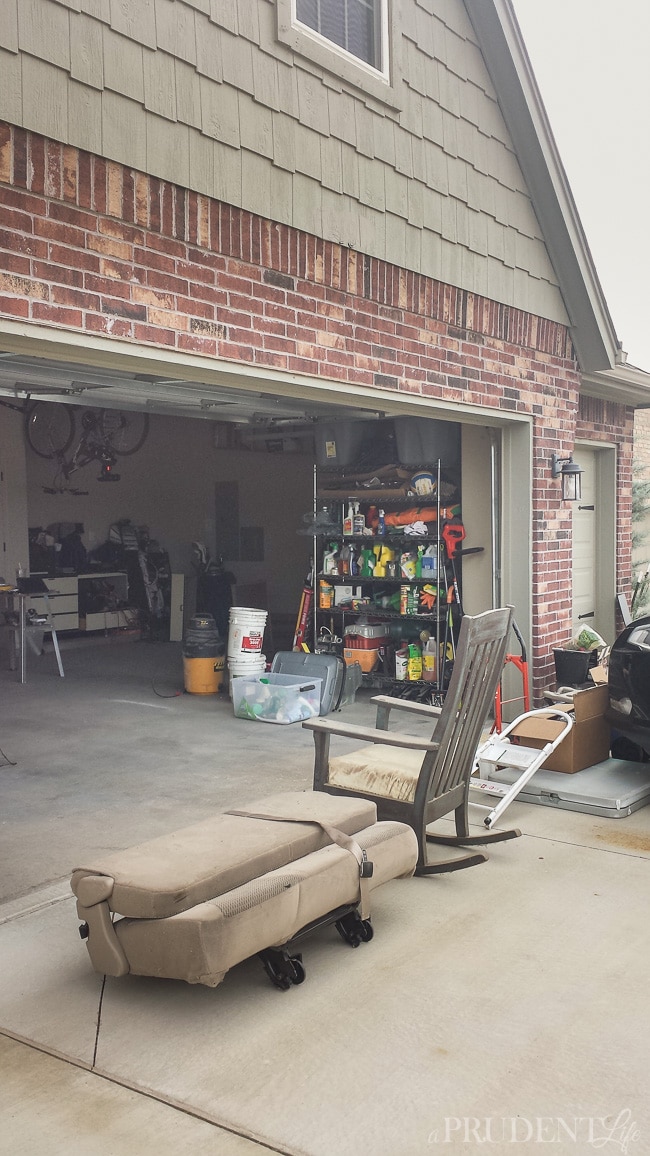 Why yes, we did have an antique rocking chair buried in all that stuff…and the third row seat of the Expedition.
Saturday, we spent the morning distributing all the junk we didn't need. We repaired the drawers on the dresser we had been using for storage and donated it along with several other things. Plus we had a few gallons of car oil that needed to go to the recycling center.
With all that gone, we were able to finish moving things around so that both cars could fit back in the garage and the driveway would be open for our Easter guests. Of course we hosted Easter for 20 people in the middle of this! Don't be too impressed though, everyone chips in with food so I wasn't trying to shop for everything and cook all the food myself. I just had to make a few things and get the house ready.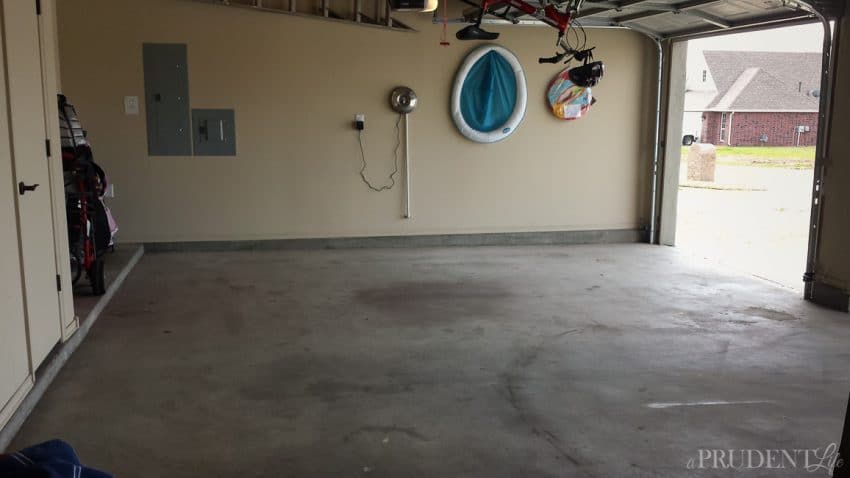 My game plan was to get everything out of the future workshop side so we could start prepping the floor for the new copper finish. Since we have nowhere to store all the garage stuff in order to do the whole floor at once, I decided to get the workshop/3rd car stall done first so it could cure and I could start getting all the fun stuff into that space. Once it's moved back, we'll be able to start work on the rest of the floor.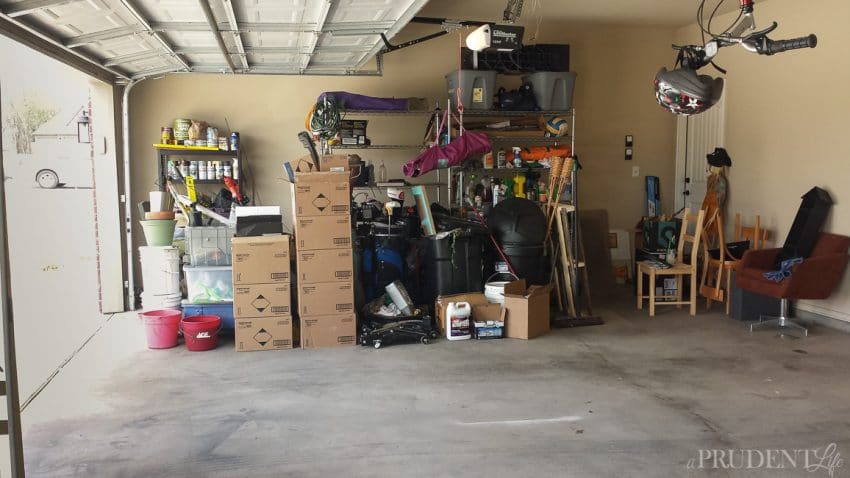 So you're probably thinking the hard part of the week was over once the space was cleared, but that part wasn't the sweat-inducing, whiner-making part.
First the good – the fabulous ladies at Rust-Oleum moved mountains and got the RockSolid Copper Metallic flooring materials delivered in record time. Plus, they really spoiled me and included all the optional goodies like the Oil Destroyer to help prep the floor. Imagine my shock on Monday when a delivery driver rang the doorbell and asked where I wanted my delivery…umm…usually on the front porch like everyone else. Then I saw why he asked.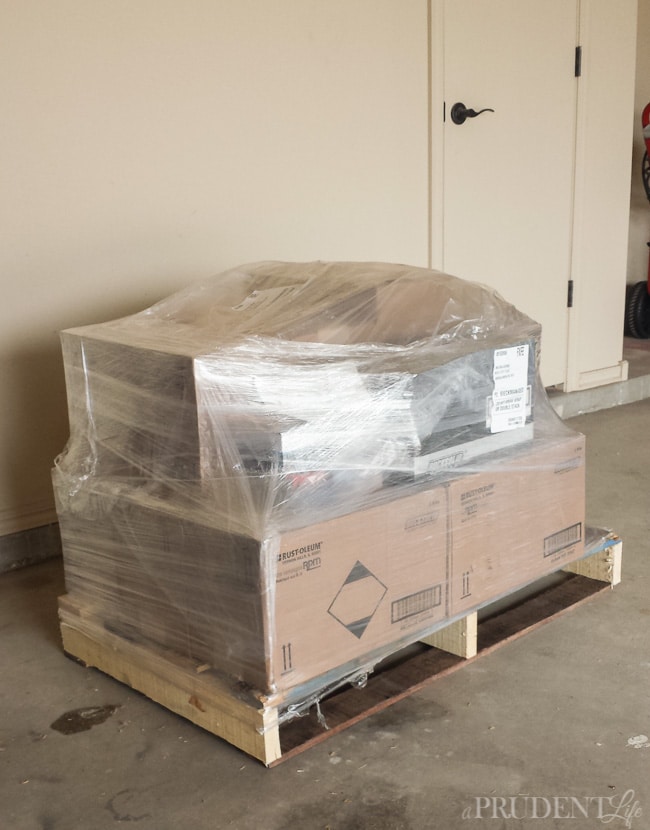 With the pallet of flooring goodness delivered, it was time for the serious work to begin. See all those oil, paint, and tire spots?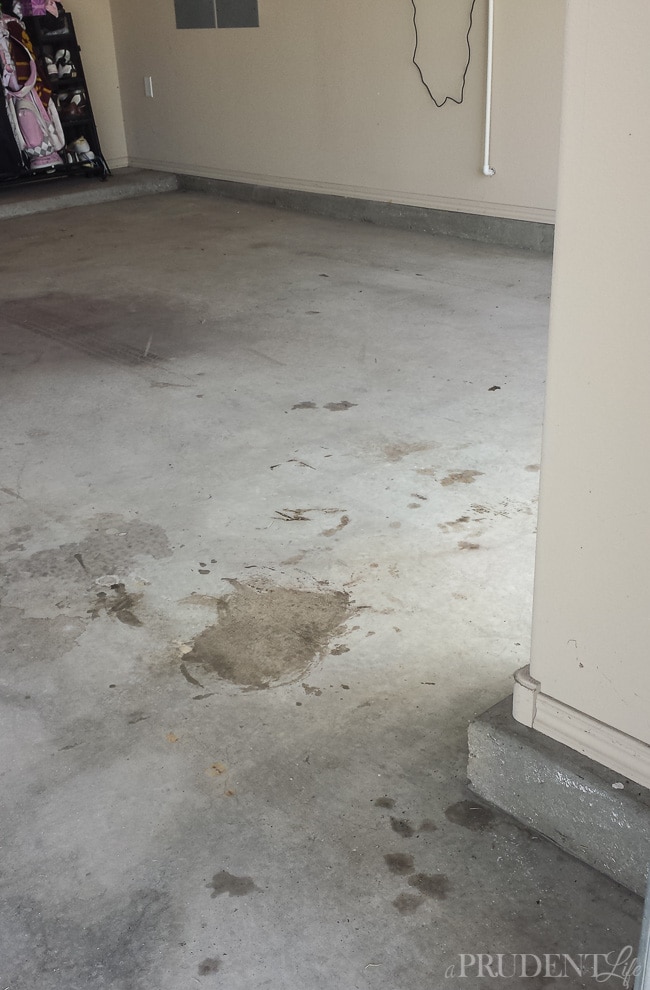 Well they all have to go! I need a super clean surface so the copper coating will adhere properly. That meant hours of scrubbing over a few days using RockSolid Oil Destroyer on the oil spots, scraping paint with a razor blade, and a few different sessions of power washing.
Let this be a lesson – it's way easier to protect your floor from the beginning instead of trying to clean up three years of abuse.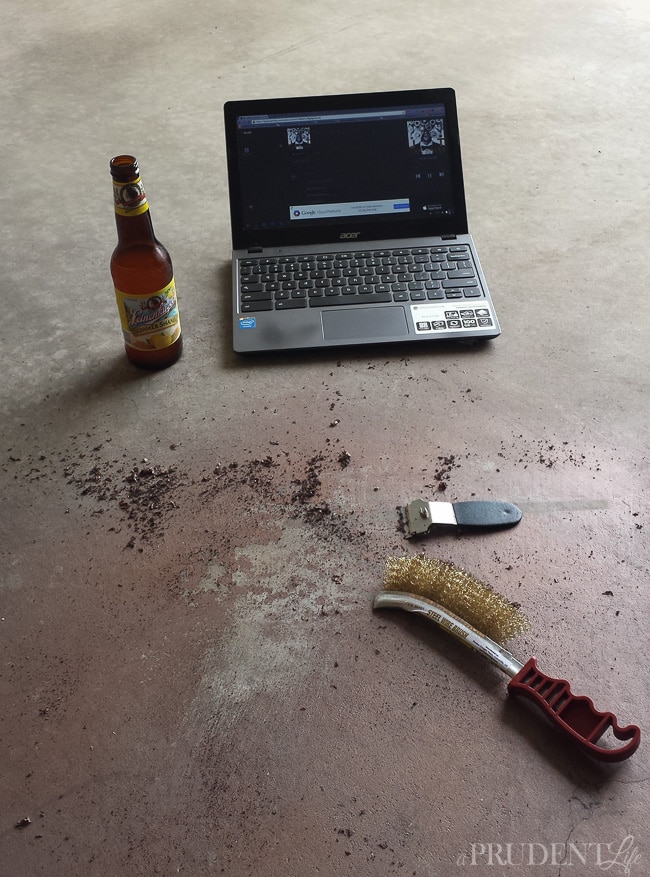 Seriously exhausting. But now the floor finally feels nice and clean so I just have to fill in a couple spots with some RockSolid Fast Patch and we will be ready to do the fun copper part of the flooring on Saturday. I can't wait!!! Obviously the upside of all this work was the rare chance for a pink ear protection selfie. Power washers are LOUD.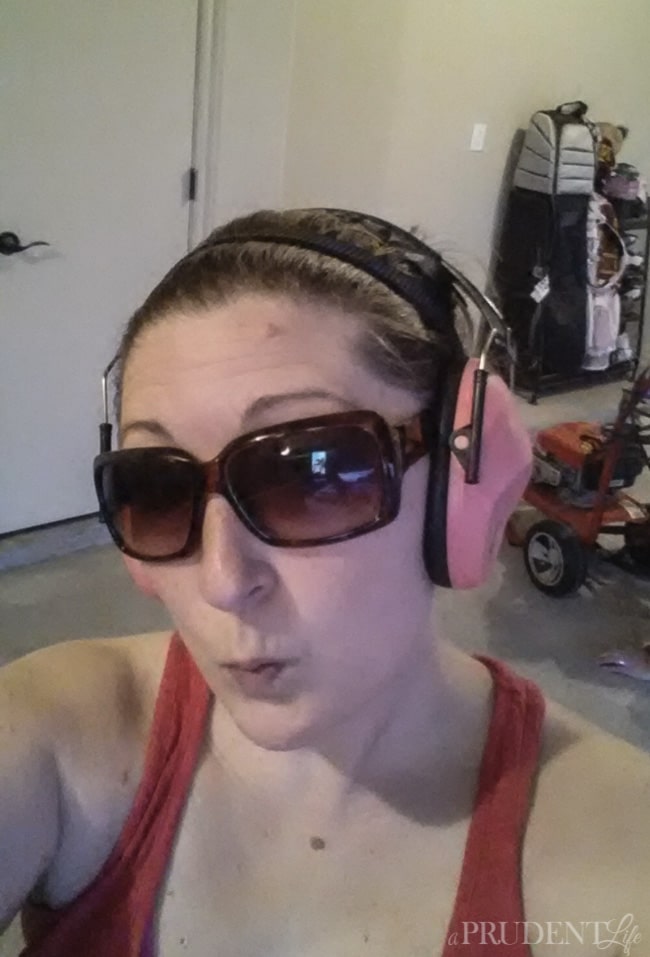 Really I just had to share this pic to give you a laugh because the writing isn't so funny this week. Did I mention we also decided to become runners right along with the ORC? #whoarewe #whatwherewethinking
The last two weeks we've joined a social run group on Tuesday nights, which would be super fun if we had ever run more than a block before. Thankfully there is a run/walk interval group, but it was still brutal this week. I seriously wanted to be put in a wagon and pulled the 2nd uphill mile. But I made it to the end and I will go back week after week until I can run the whole stinkin' time.  Anyways, my goofy picture was taken after we got home from our run and headed to the garage. So, I think I'm too tired to be funny this week. But, as with the run, I'll make it to the end of garage makeover and be so happy I did it!
As a reminder for you and for ME, here's my schedule for the rest of the Bringin' Sexy Back Garage Makeover.
4/2/15: Before Photos & Plans – DONE
4/9/15: Week 2 Progress – Space cleared – Totally Killed it
4/16/15: Floor Done & Mural Started
4/23/15: Painting Cabinets/Pegboard/Shelving (Plus out of town 4/22-4/26. Yikes!)
4/30/15: Placement of all cabinets/shelves, begin organizing
5/7/15 – Styling and Final Reveal
I have to take a second to recognize what a phenomenally supportive group of bloggers participate in the One Room Challenge. Seriously. With every blog or social media post, you get the most encouraging comments.  This week the amazing Abby from Abby M. Interiors has been my cheerleader on Instagram. If you use Instagram, PLEASE go follow her @abbyminteriors – her feed is gorgeous, but her heart is even better. I kinda forget to tell you last week that you can follow all my behind the scenes progress on Instagram as well.
Don't forget to visit Calling It Home to see how all the other linking participants are doing this week!