Plain glass vases seem to accumulate at our house, probably because they are such a great deal at the Dollar Tree and thrift shops. They can be pretty on their own with gorgeous flowers, but there is a limit to how many I need around.
In the reader survey, many of you were looking for inexpensive home decor ideas, so I decided to round up a bunch of vases and give them stylish makeovers.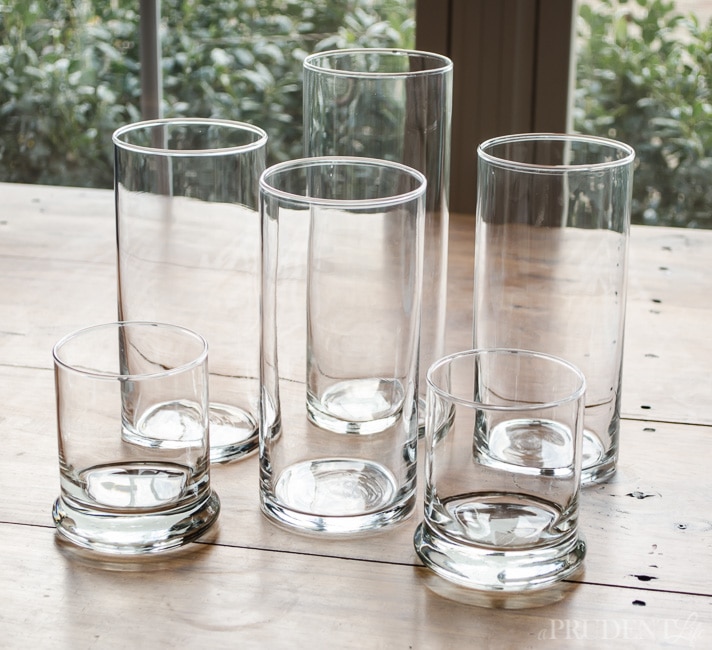 For the short Dollar Tree vase makeover, I wanted to try out etching cream. I've had some in the craft room for years, but hadn't been brave enough to test it.
I cut a stencil on my Cricut, but you could use stickers or pre-made stencils for the same effect.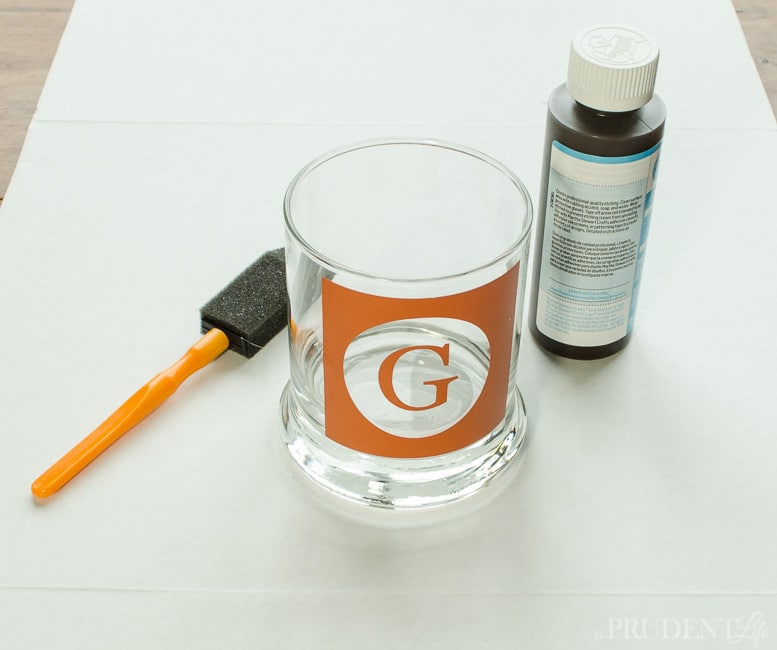 I globbed the etching cream onto the vase and 20 minutes later washed it off according to the package directions.
It worked even better than I had hoped. Now I have an awesome monogrammed vase for my desk that looks like it cost a lot more than $1.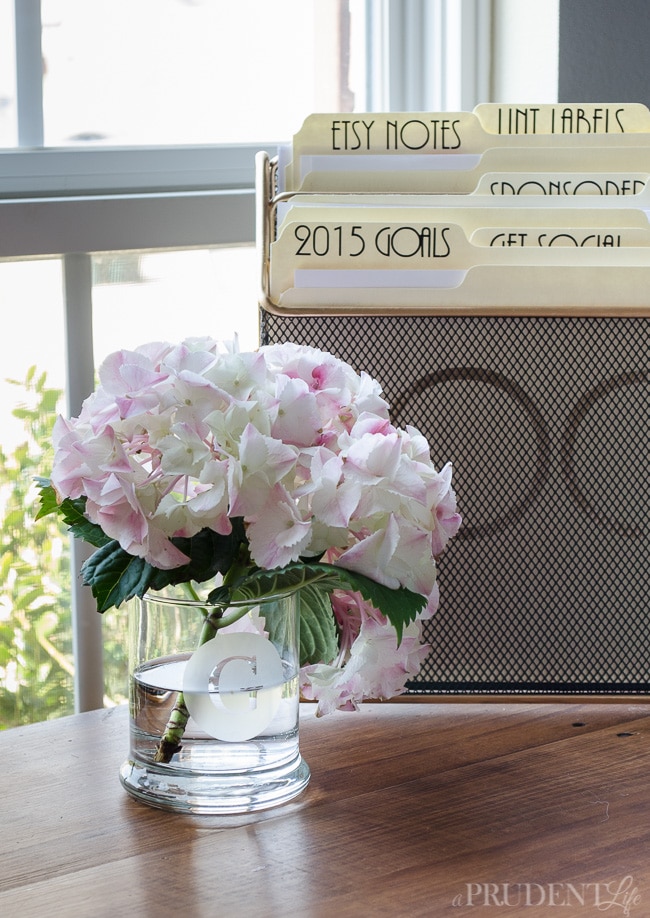 Next up, I wanted to create something fun and geometric. I grabbed some washi tape and started masking off sections in triangles and quadrangles.
I also ran some tape around the inside lip so I wouldn't accidentally paint the inside. For extra protection, I stuffed in some paper towels.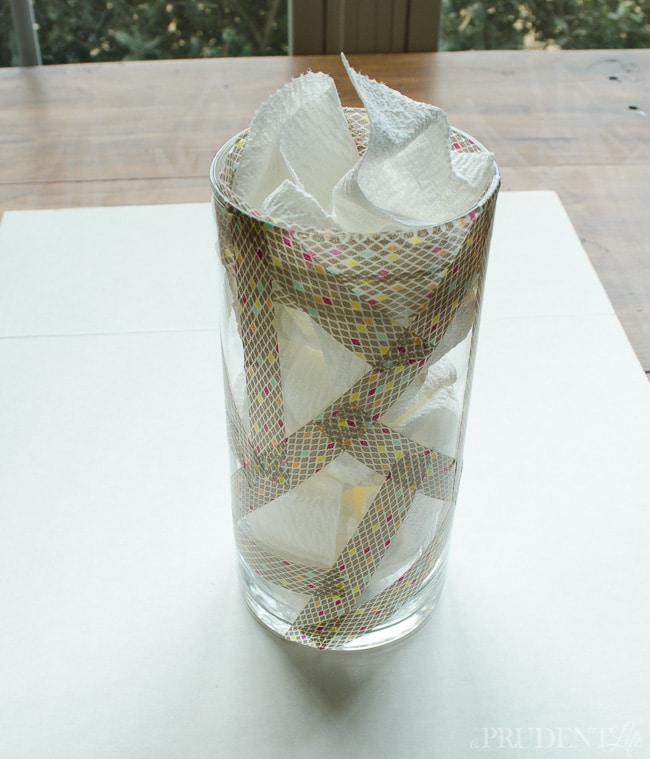 When I was done taping, I gave the vase a few light coats of gold spray paint.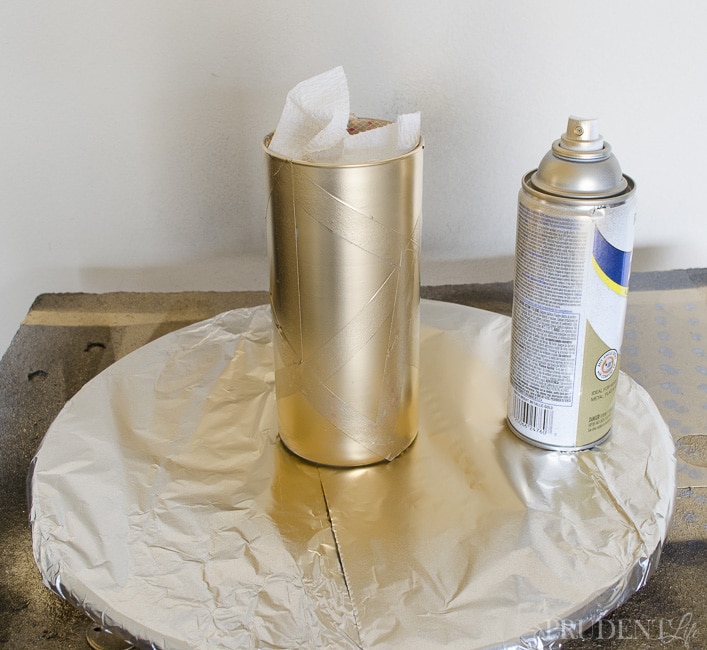 After letting the paint dry for several minutes, I carefully pulled away all the tape and was left with a super chic modern vase!
It looks great with branches cut off our peach tree. But let me tell you, April is apparently when the bees fertilize the peach tree. They were EVERYWHERE. I kinda felt like I was risking my life for these branches. Once I got back inside unharmed, I decided the beautiful end result was worth the risk!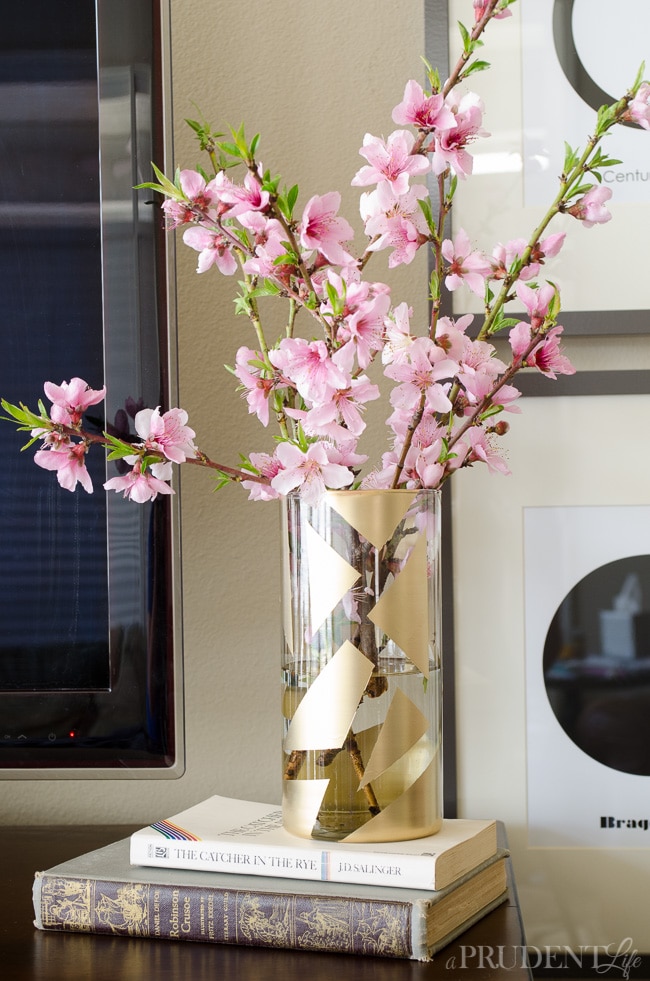 For my last glass vase makeover, I wanted to give one of the vases more of a pottery look.
This one ended up being my favorite and it was also the easiest! I started with a couple of light coats of spray paint on the top 2/3 of the vase. I used a side to side motion so the paint would end around the same spot all the way around. It doesn't have to be perfect though.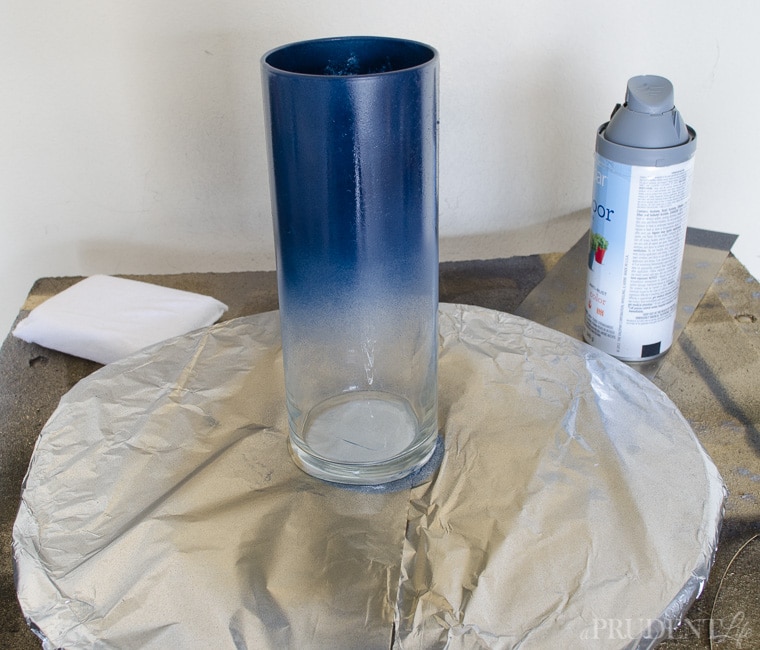 While the blue was still wet, I added gold to the bottom. The best technique I found was to start spraying before the bottom of the vase, then sweep up, stopping once a little blue was covered. I repeated the bottom to top motion all the way around.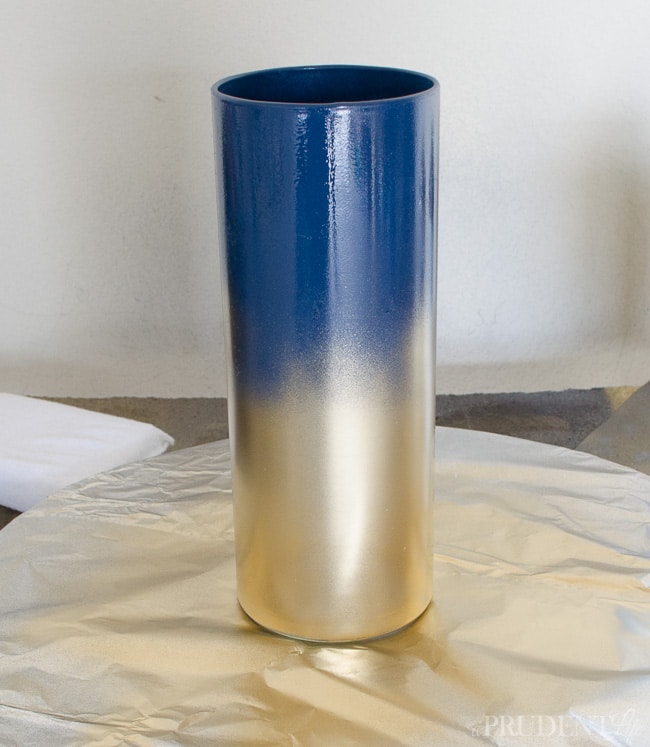 I wanted the intersection of colors to be very natural and uneven. The plan worked perfectly. I don't think anyone would guess that this was a clear dollar store vase!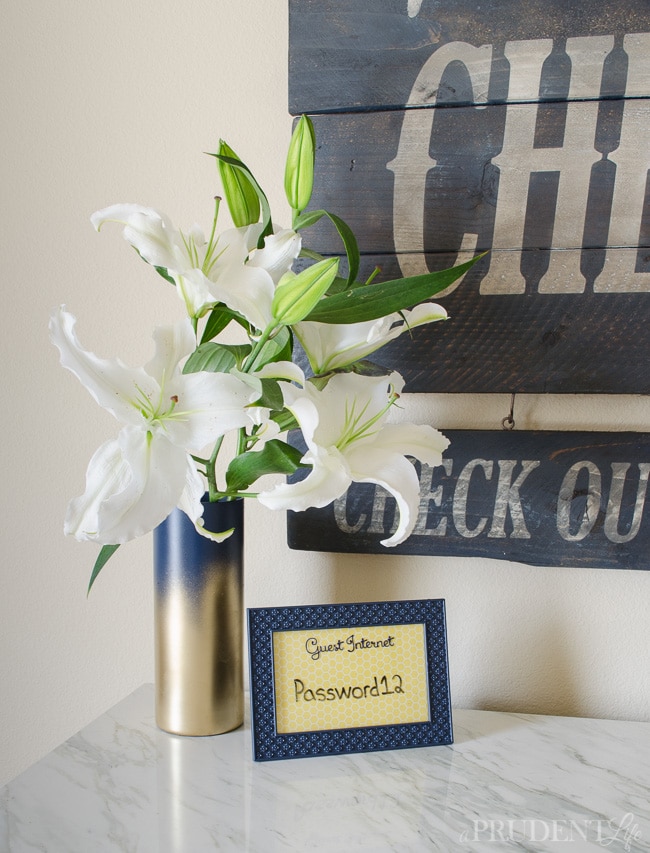 Bonus Tip: Rust-oleum now makes a mirror finish spray paint! You can see in on my nightstand below. Instead of using the large mirror vase for flowers, I use it to hide an ugly kleenex box!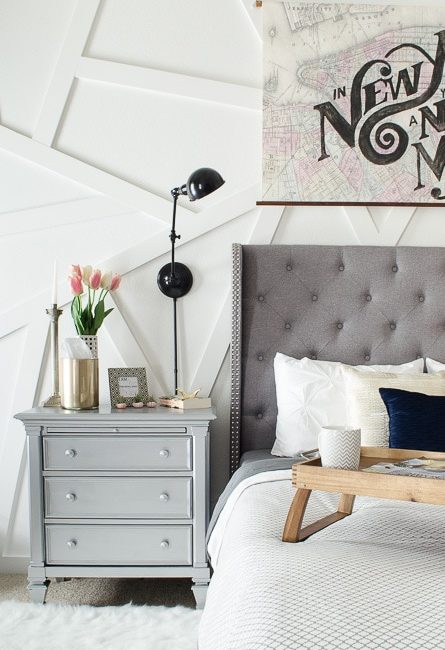 If you want to try out any of these techniques later, you can pin the image below as a reminder.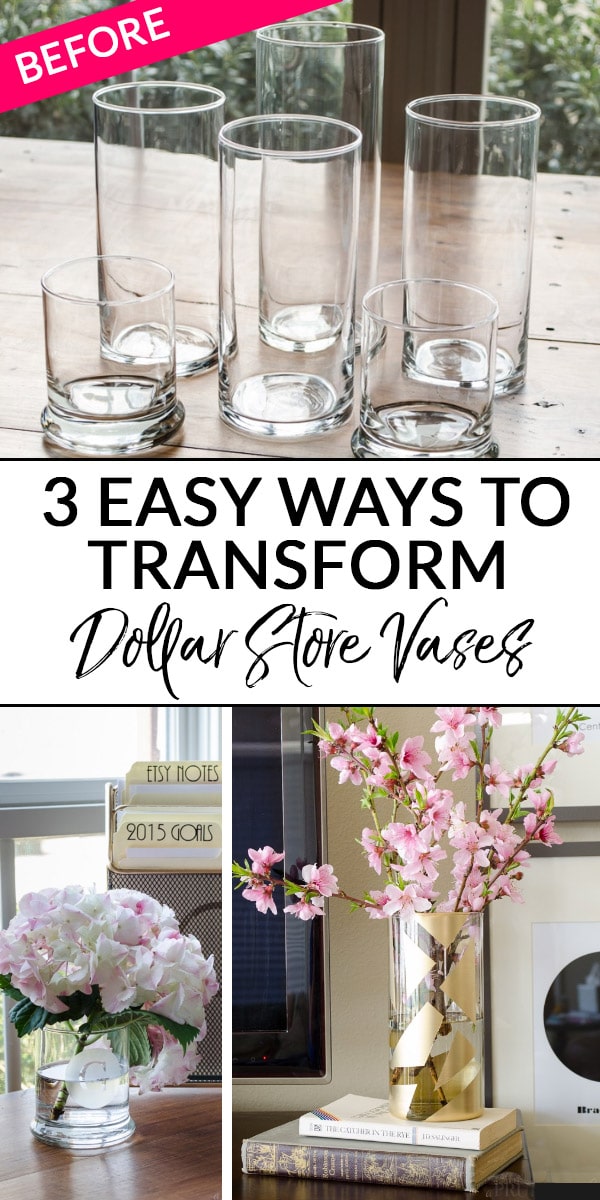 Which of the vase makeover ideas is your favorite? What other cheap to chic techniques can you think of?