Do you remember how the pantry makeover was done in 6 VERY FAST AND FURIOUS weeks during the fall round of the One Room Challenge™? The spring round is starting NOW and I finally get to show you how I'm going to torture myself each week until the final space reveal on 5/7/15.
If you are new and visiting from Calling it Home, welcome! I'd love you to say hi and let me know if you are participating or just enjoying from the sidelines. Before we move to my plans for this round, here's a little peek of the pantry project I mentioned to give you a sense of my style.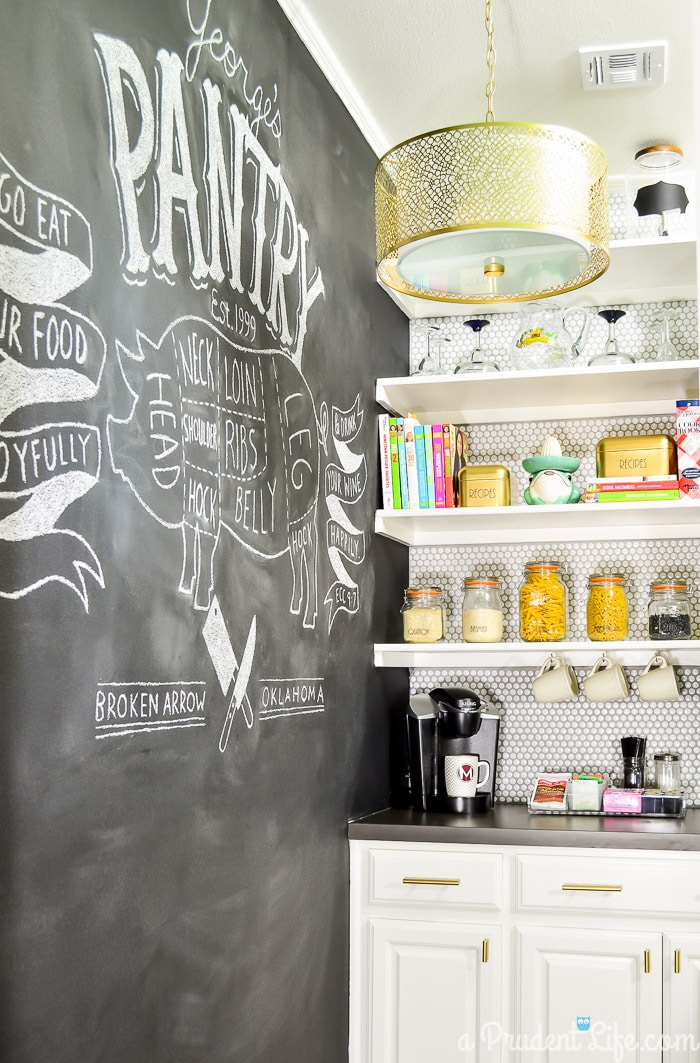 Whew – at least you know I can put together a space now. I was worried I was going to lose everyone either when I told them what space I was tackling this round (the GARAGE) OR when they saw the before photos.
Most of me wishes I was doing a sexier space than a dirty garage. You know, like a walk-in pantry full of gold accents.
But I had to face the reality of the space we desperately NEED to fix. Specifically, the third car stall in the garage has amazing potential to be somewhere that we go to CREATE amazing things. As is, I try to avoid any projects that require tools like the saw or nail gun because I don't want to dig them out of the mess.
So this project will be cool on it's own, but I'm even more excited that it will be a space to make awesome things.
Ugh, I might just be rambling to avoid showing you the mess we've made in three years.
Cue the imaginary drum roll now….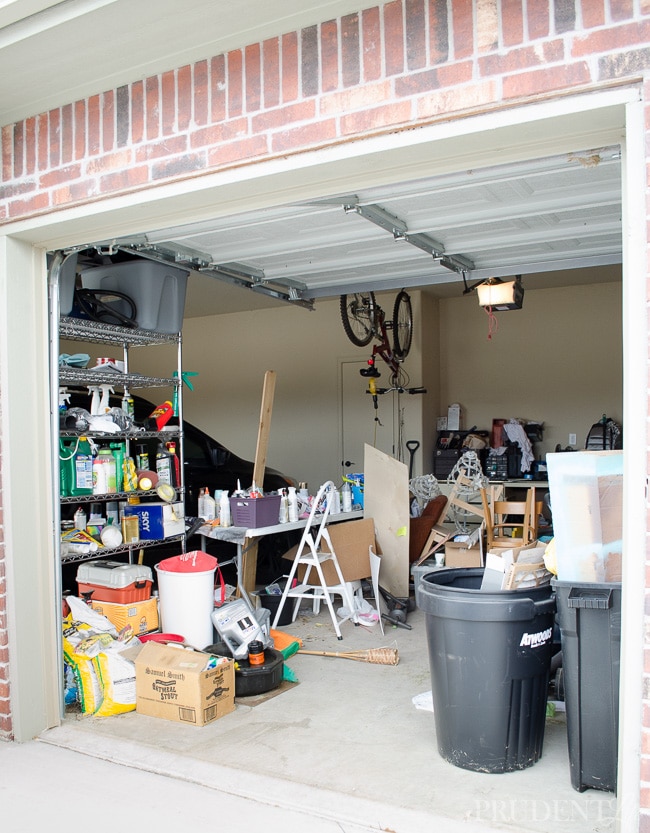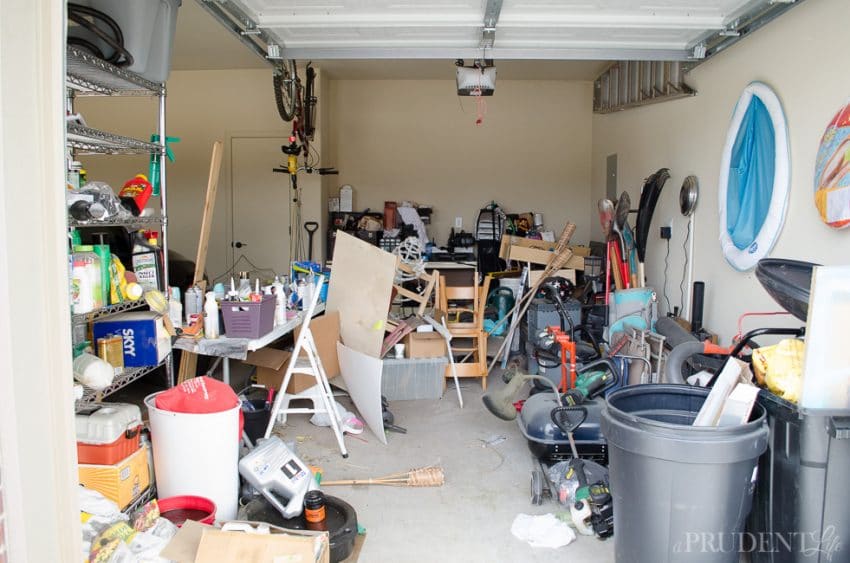 This recessed area is just begging to be a workshop space. Right now it's a little of everything – an outdoor Christmas tree that needs to be fixed, a dresser that is falling apart, golf clubs that we'd LOVE to actually get out and use this year.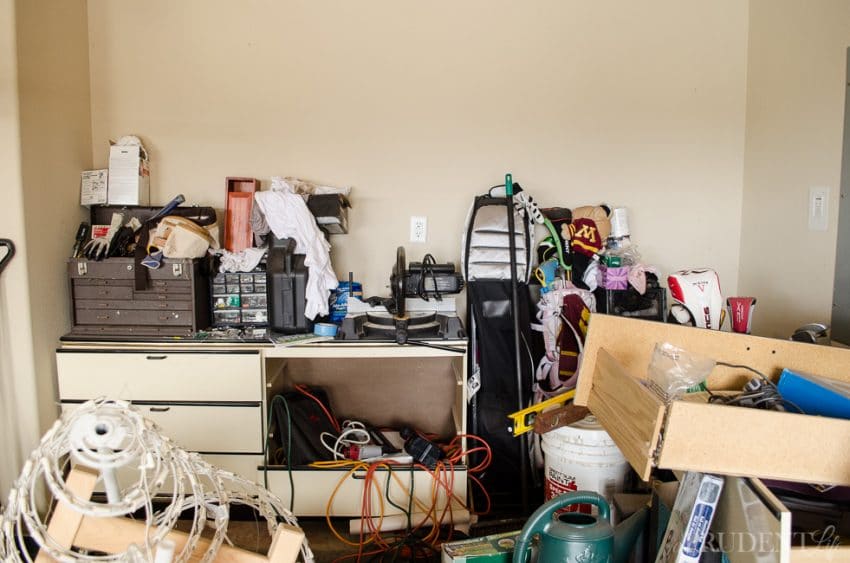 I absolutely can not wait to get everything emptied out and put my new plan into place. Here is my vision of what I will see when I look at this same spot in 6 weeks.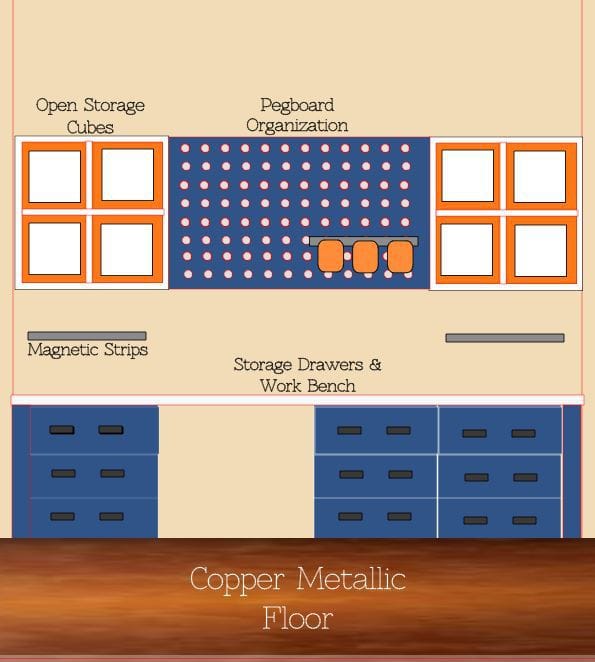 Ah, look at all that built in storage. And the LONG workbench! And the organizational opportunities! In a few short weeks I'll actually know where to look when I need sandpaper.
I mentioned before that I want this to be a space that inspires us to create, so I'm going with a fun navy and orange color scheme.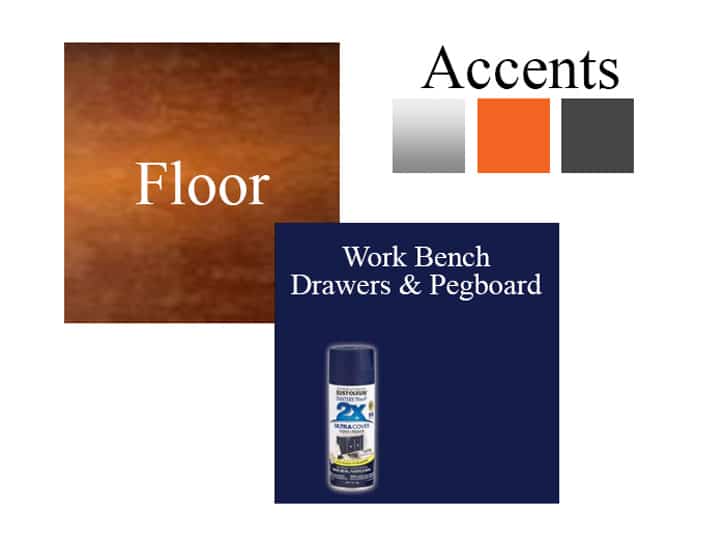 How awesome is that floor???  We are going to be covering the concrete in RockSolid Polycuramine in the Metallic Copper Pot finish. I have a feeling I'm never going to want to leave the garage once it is done! I'm partnering with Rust-Oleum on this part of the project and can't wait to see how the install goes. I'll show you more about it during week #3.
Since I'm an organizing nut, I also wanted to do a little space planning to fully envision the functionality of the space. My computer design skills are pretty stellar. I mean, that looks exactly like our cars!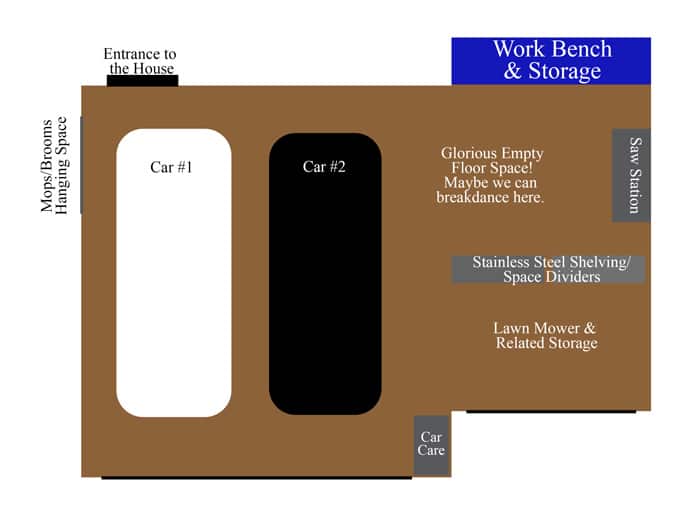 I forgot about our poor neglected golf clubs in my little floor plan. Technically I usually golf for 9ish holes then remove my shoes, have a beer, and drive the cart while he finishes the back 9. But it's still fun. And it involves special cute golfing clothes and shoes. Why did we ever stop?!? Anyways, I'm thinking the clubs will work perfectly in the front lawn storage section along the wall. Hopefully once they have a prime location, we'll be reminded to use them.
The final feature I'm REALLY excited about is the blank wall I'm handing off to hubby to paint/design. After his butcher pig project in the pantry, he definitely earned a wall in the garage. It's going to go on the main wall as we drive into the garage so we can be inspired by it constantly. We're thinking the secret design will take up most of this wall: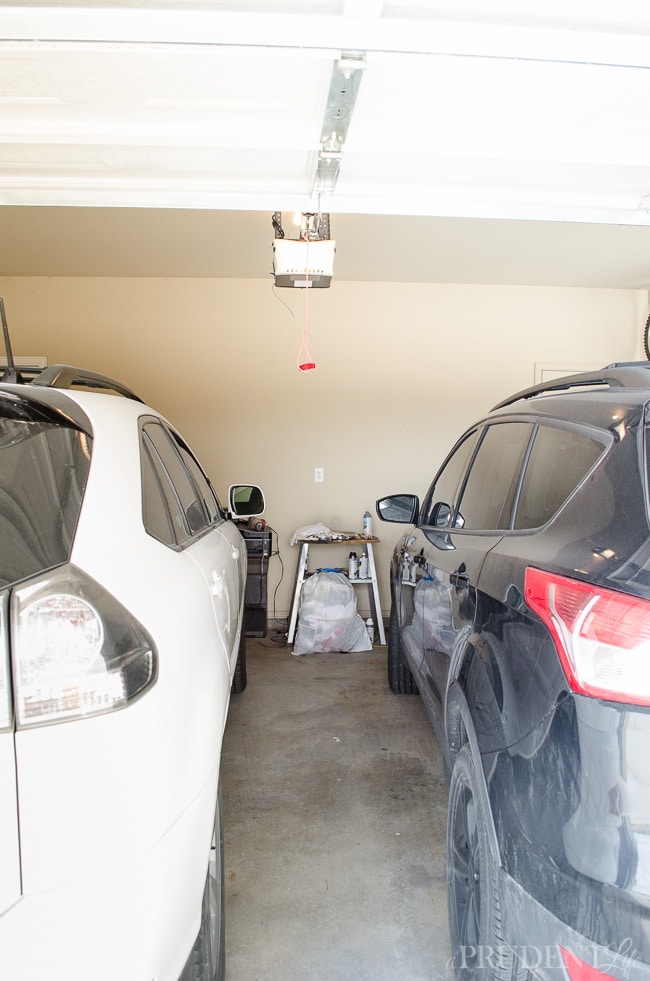 Of course the random stuff piled on the floor and my mini spray paint table won't be there obstructing it. I've realized the downside of giving him free reign on a wall this big is that all the time he's working on his masterpiece, he can't be helping me with anything else. Yikes!!
Is there a contest for longest week #1 post? Do I win???
My final pic is just the perfect example of why we have to fix this space. Check out the amazing finds hiding under piles of crap because we have no space to work on them.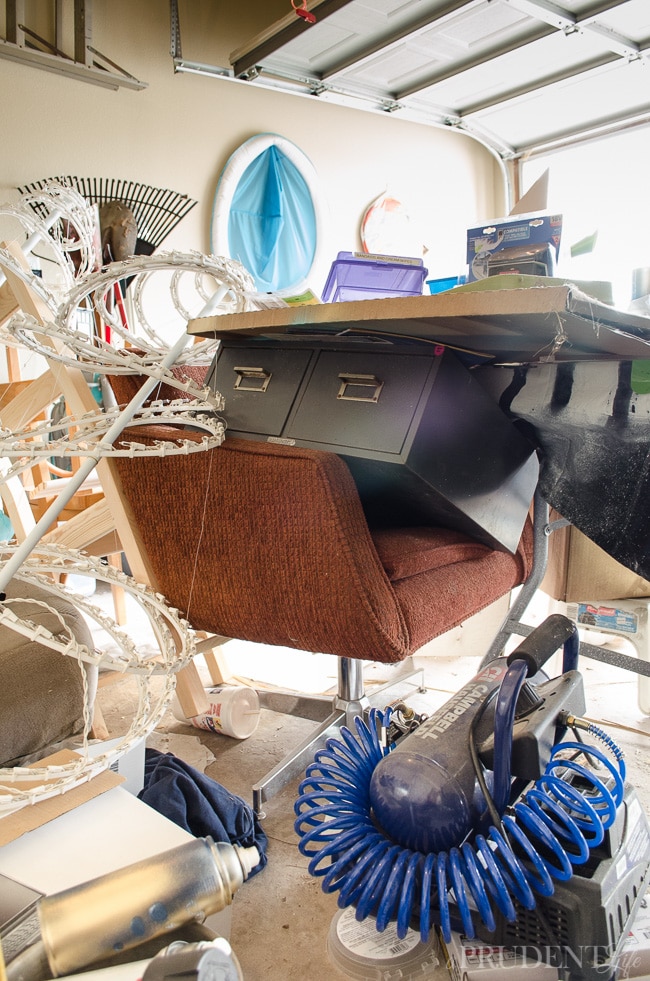 I scored a retro card catalog that is begging to become a side table AND a great vintage chair at a garage sale last summer. The card catalog was $1 and the chair was $3. What!?! Best deals ever! Yet they linger. I've got a clear vision for the card catalog table base and can't wait to make it reality.
Here's my rough schedule for my Bringing Sexy Back Garage Makeover.
4/2/15: Before Photos & Plans
4/9/15: Week 2 Progress – Space cleared
4/16/15: Floor Done & Mural Started
4/23/15: Painting Cabinets/Pegboard/Shelving (Plus out of town 4/22-4/26. Yikes!)
4/30/15: Placement of all cabinets/shelves, begin organizing
5/7/15 – Styling and Final Reveal
Fingers crossed we can get it all done!
Don't forget to check out the plans of the rest of the ORC participants over at Calling it Home!  Give Linda a big thank you for arranging all this while you are there.