When I was trying to find the perfect Maddie picture for my silhouette art, I stumbled across photos of our last house. I thought you guys might have fun checking out our 70's ranch! We bought it from a very nice senior couple that had taken meticulous care of it. BUT, they were about 50 years older than us. Our decorating styles were quite different! We slowly made updates over the 7 years we lived there. Everything was done on an extreme budget because we knew it was not our forever home (and because we had a small budget)!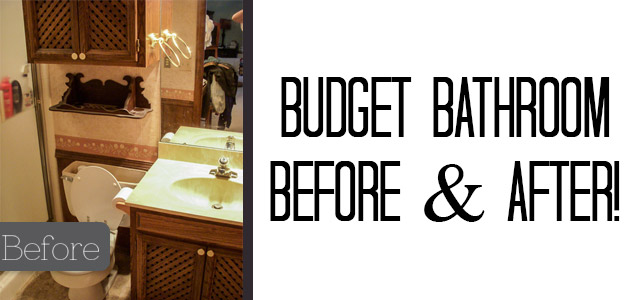 The bathrooms and kitchen were our biggest changes. I thought I'd share the bathrooms today and then the kitchen next week. The bathrooms were our first ever room makeovers, LONG before I knew I was going to turn into a home blogger!
This is the master bath before – yikes! Pretend the floor is carpet. It was when we moved in, but then there was a leak and we had to replace it temporarily with these cheap linoleum tiles until we were ready to take on the room.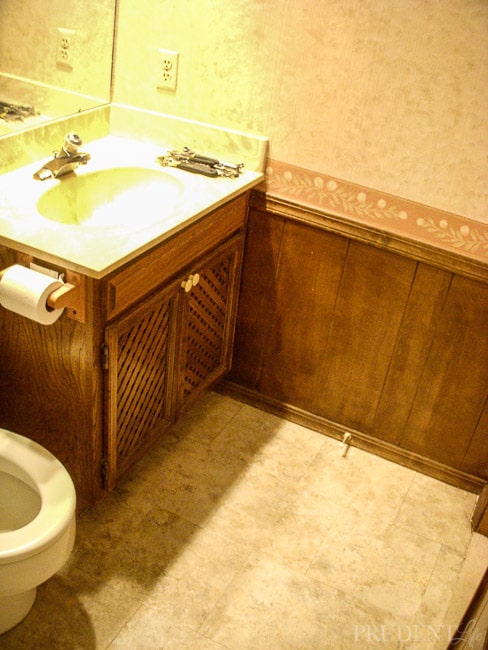 Take it all in…the lattice cabinets, pink wallpaper, bad paneling, wooden TP dispenser, towel ring on the cabinet, the crazy shelf, AND the missing toilet lid…you are JEALOUS, right?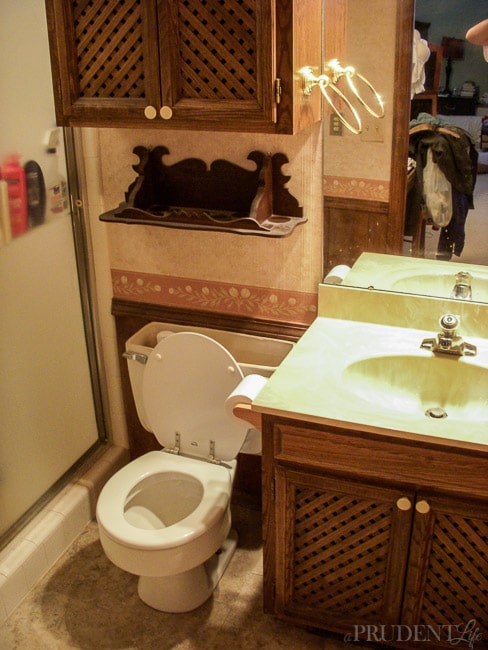 Demo day was a happy one! Thankfully that was cabinet stain on the wall and not mold!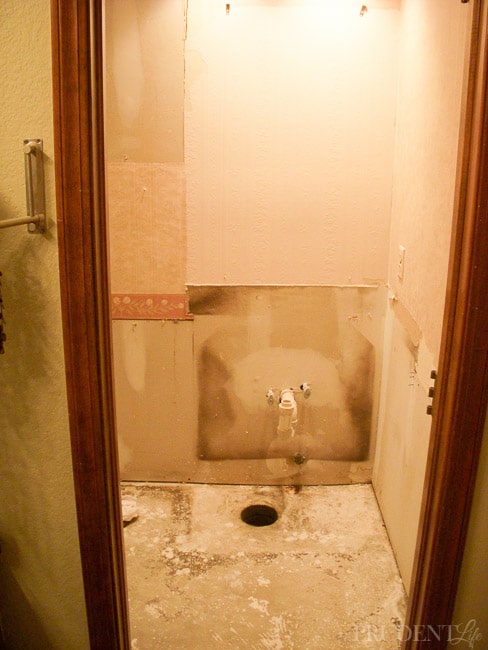 We picked out some inexpensive travertine tiles for the floor and used dimes as spacers. Since we only needed around 15 sq feet of tile, it was a CHEAP upgrade that looked fabulous. I'm a huge fan of tile laid in a subway pattern instead of traditionally.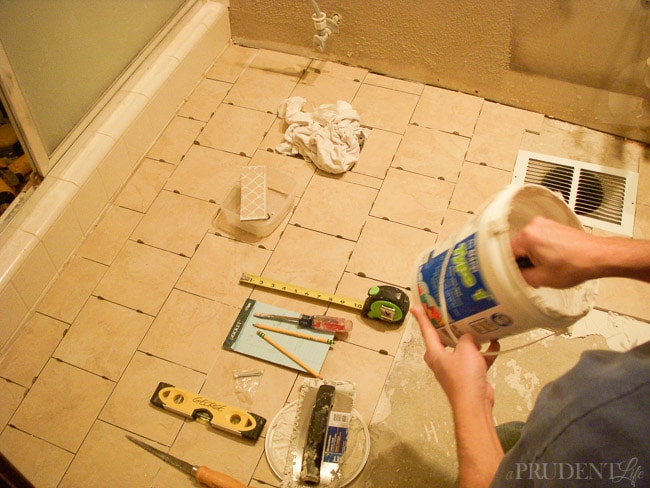 Another huge cost savings was reusing the upper cabinet. We took off the doors and painted it black. Leaving the doors off made the space feel much bigger!
We did replace the vanity and the impact was well worth the cost. We found an all in one unit at one of the big box stores that came with the cabinet, sink, countertop and faucet as one piece. The faucet looks like it comes out of the wall, but no plumbing had to be moved. The whole thing was under $200. Total steal!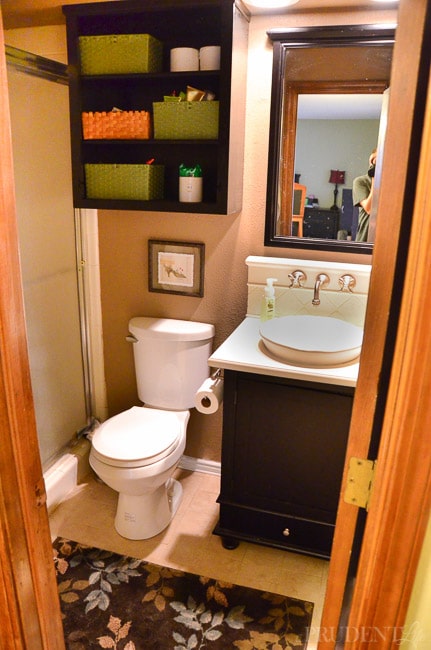 Using a framed mirror makes the whole room look more custom, even though it wasn't expensive.  When we found out that ordering a replacement lid for the broken toilet tank was NOT cheap, we upgraded to a new toilet as well. Picking one with a smaller rounded tank also saved a few inches. Those inches add up when your room is so shallow!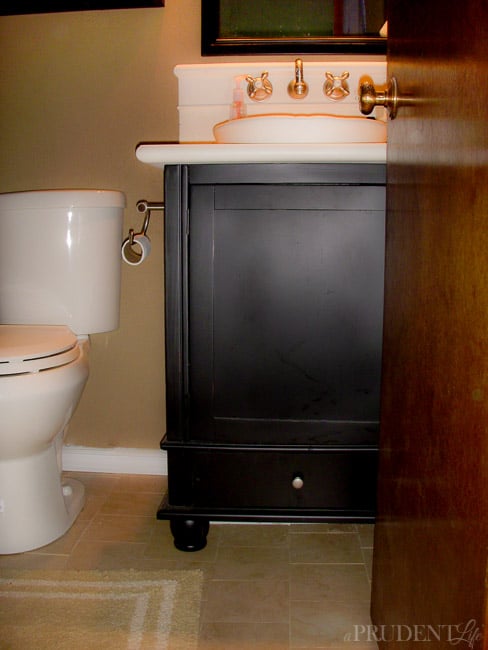 Believe it or not, this house came with TWO bathrooms full of carpet, paneling, wallpaper and lattice cabinet doors. Lucky us!
I don't have the before pics of the main bathroom, BUT just imagine the horrible master before and you'll have a good idea of what we were dealing with. This was the first room in the house we updated, so it was on the smallest budget.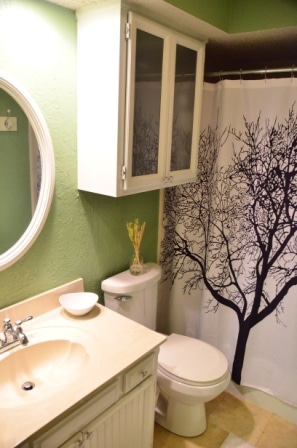 See those cabinets? They are the same oak cabinets and doors that used to have lattice fronts! We cut the lattice out of all four doors, then added beadboard to the lowers and frosted glass to the uppers.  Instead of spending money on frosted glass, we actually used clear glass and a frosted vinyl. It worked out really well!
Buying this home, with all it's outdated spaces, really saved us money up front. Then, updating it frugally while we lived in it was great for resale value. In fact, we sold the house in under a week with multiple offers!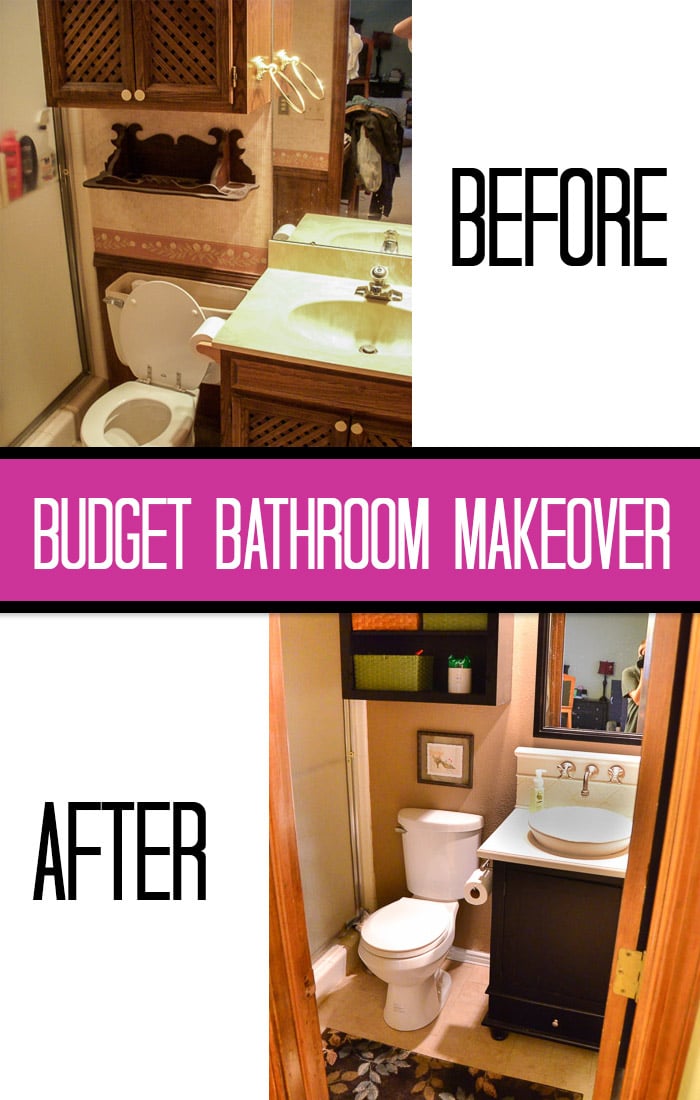 Next up, click here to see the kitchen before & after from this home – it was quite a transformation!
For our current home tour, click here!