I think it's pretty well documented that I love spaces that are organized, labeled, and perfect. You could even say that they are my favorite things. But, our house still needs tons of work before every room, closet, and drawer are organized. In fact, some of them have reached the extreme clutter stage. Based on that, I've decided to join the 40 Bags in 40 Days challenge this year! White House, Black Shutters created this simple, yet brilliant decluttering plan in 2010 and it's been growing in popularity ever since.
Today I'm going to explain WHY I'm joining & how you can play along. The challenge starts Wednesday February 18th. I'll be sharing some photos as I go on Instagram, as well as more comprehensive updates on the blog at the midway point and the end of the 40 days.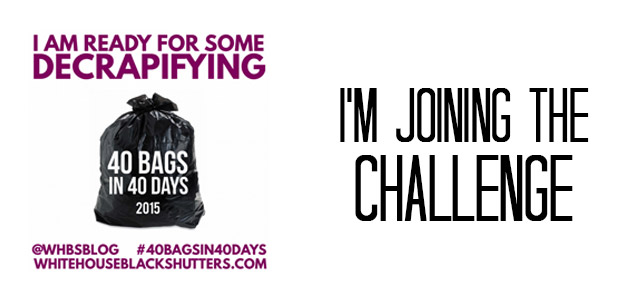 We've accumulated too much stuff over the years. As we've moved to homes with larger closets, we've had less incentive to routinely declutter. Suddenly, it feels like every closet and cabinet is full and they're making me crazy! My problem areas are triggering a long line of negative effects.
Here's an example:
The cabinet under my bathroom sink is full of products I've used over the years, but very few of them are still used.

Because the cabinet space is full, stuff I DO use gets left out on the counter.

Because the bathroom counter is full, new toiletry purchases linger on the kitchen island.

One or two things left on the island become serious magnets for other junk to gather. Soon the mail gets piled up as well. And dishes get left in the sink.

The presence or absence of clutter on the island determines how much we keep the rest of the house orderly. It's not something we decided, it just happens. Every time.

When the house is disorderly, concentrating on work is harder and my general mood is crankier.
I know that seems kinda drama-queeny to claim that one bathroom cabinet being cluttered causes such a downward spiral throughout the house, but I've watched similar scenarios happen over and over again. You're probably wondering why I haven't fixed all these problem areas sooner, right?
I'm not really into doing things halfway. Sometimes that is a great quality, and sometimes it is an excuse not to start something until it can be done right.
Excuse #2 has gotten out of hand as well. I've got so many areas that I want to blog about – sharing the messy before & the perfectly planned and executed after. So, instead of tackling parts of a space when I have a moment, I ignore it and let the clutter continue to build until it's time to blog about it.
I know that won't be the case for everyone, but I would guess that some of you have a similar mindset. You don't want to clean up the pantry until you have more time or more money for new containers.
BUT…..
That's crazy talk! Wouldn't it be better to get a head start by decluttering in advance? I'm challenging myself to let go of the idea that if I'm going to work on a space, that it has to get ALL the way done.
To get started, I've filled out the free printable from White House, Black Shutters, which helps you make a customized plan for the 40 days of the challenge.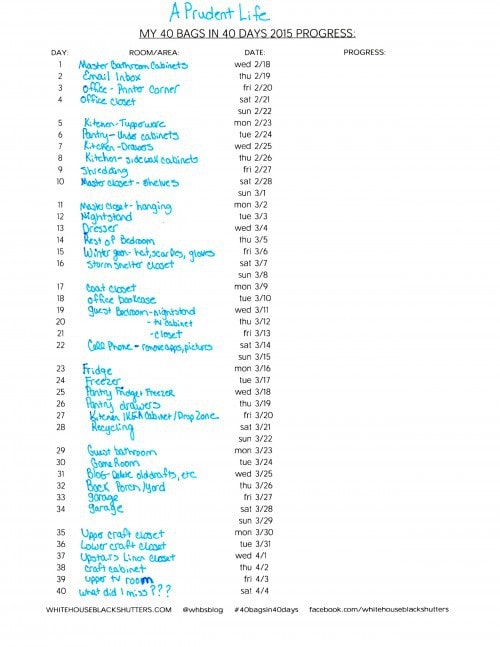 My plan going into this challenge is to set a timer for 15 minutes each day. During that time, I'll be looking for items that can be sold, donated, or trashed in the designated room or closet.
I may even finish before the timer,  but knowing that I'll be done in 15 minutes will keep me motivated to get started each day. On the assigned declutter day, I'm going to try to ONLY declutter. During the 40 days, I'll be going back to some of the newly decluttered areas to do more in depth organizing, but I want to break my mindset that everything has to be done at once.
So, who wants to join me in focusing on progress over perfection in the next 40 days?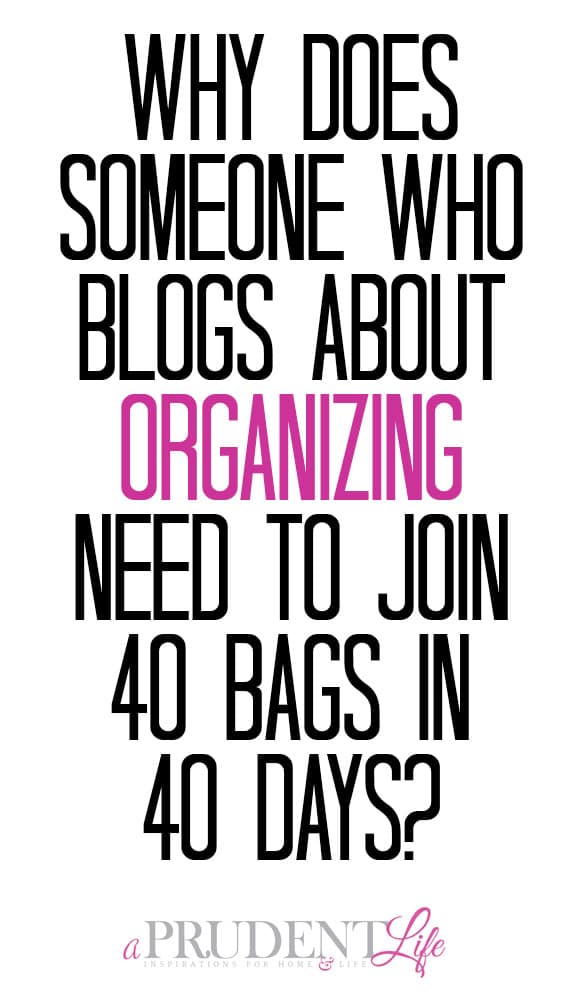 Let me know if you are participating, then make sure you check out all of the resources over at White House, Black Shutters to help you along the way!