You know how things always break at the worst possible time? Well, last year, I was scrolling through Instagram and spotted a half-built house that I had a hunch was my same floor plan. I reached out to the blogger, who I had never chatted with before, and sure enough confirmed she was using the same builder and plans. Small world! We ended up setting up a time for her to come see our house. So fun!
What does this have to do with cleaning tools? My dang vacuum broke the morning she was scheduled to come over! It would be a problem for anyone, but when you have a German Shepherd who constantly thinks she is competing for World's Best Shedder, it's an all out crisis.
I'm normally a big researcher when it comes to any kind of purchase like a new vacuum, but with the time constraints I could really only pick from the in-stock options at the closest store. Looking back, I totally could have borrowed a vacuum from the neighbor, but since this story turns out really well, we'll ignore that oversight!
I checked reviews of the in-stock options, and ended up buying a Shark for the first time based on the combination of features, price, and reviews. HOLY COW, it STILL amazes me every time I use it.
For the past year, I've wanted to write about it, but it seemed a little strange to be that obsessed with a vacuum.  When I started the Fall Clean Up series, I realized I could write about all my favorite tried and true cleaning tools at once, including the precious Shark!
My 5 Favorite Cleaning Tools
Cleaning Job: Daily Kitchen Cleaning
Tool: Cleaning Wipes WITH texture (Clorox Micro-Scrubbers or Lysol Dual Action)
Where have these scrubby wipes been all my life? I bought them on an impulse one day and got hooked! One side is textured and the other is smooth, so they handle every kind of mess we make when cooking.  They work great on both our induction cooktop and granite countertops.  I use at least one every night after dinner to keep the kitchen sparkling and disinfected.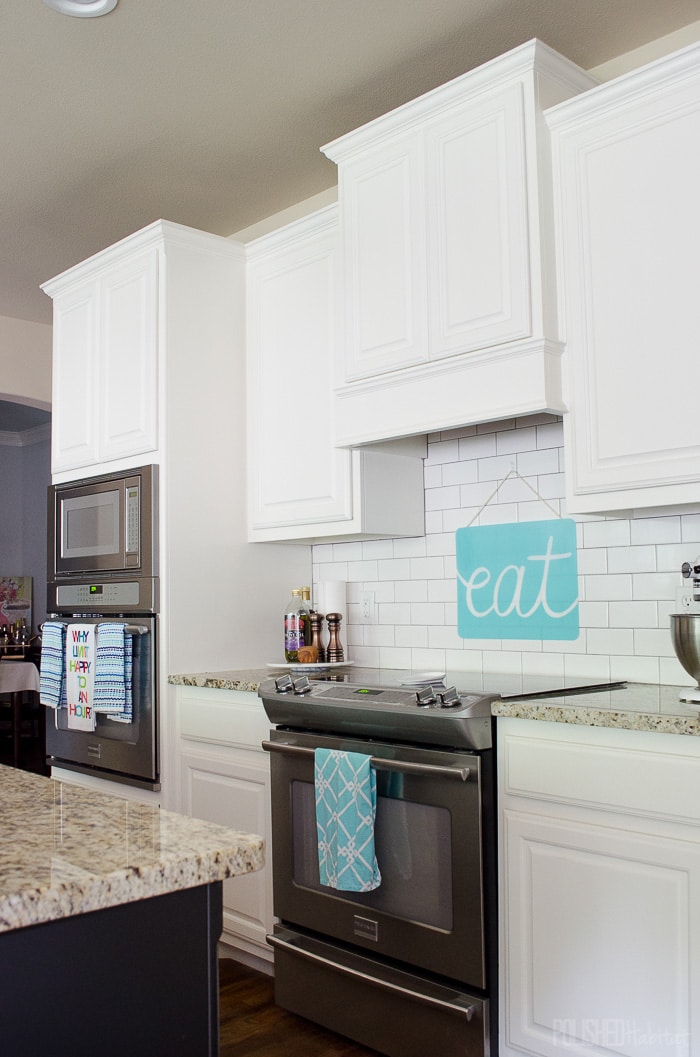 Cleaning Job: Bathtub, White Cabinets & Doors, Oven Glass
Tool: Magic Eraser
My most popular post lately has been about how well I was able to clean my dirty oven glass with just a Magic Eraser, but that's not the only great use. They are essential if you have white cabinets and/or doors in your house. The dreams I had of white interior doors when we were living with cheap 70's wood doors did NOT include finger prints. Thankfully, the grime comes right off with these erasers.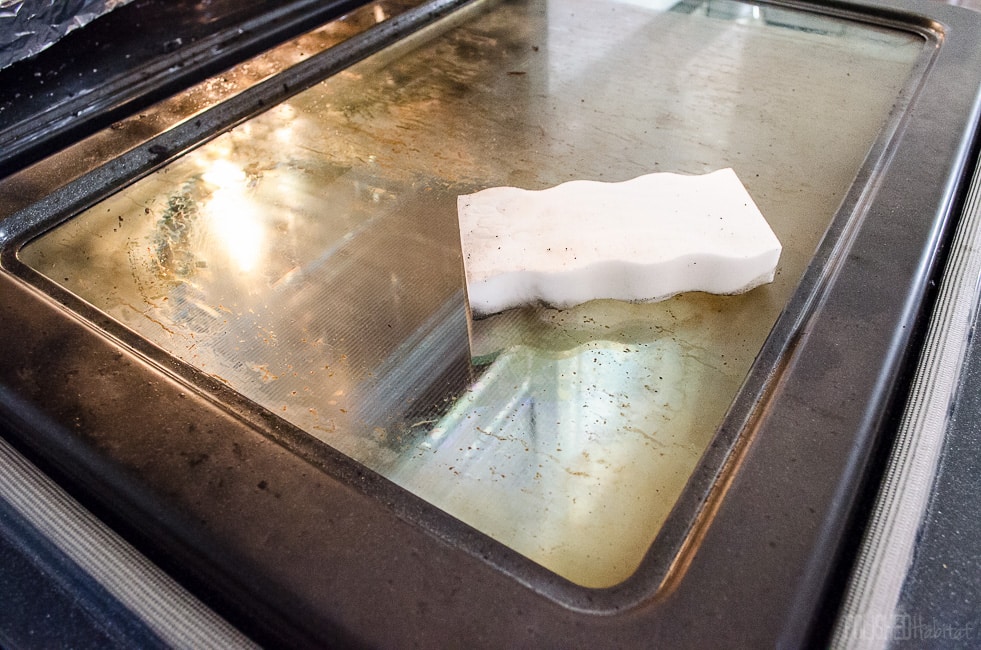 Cleaning Job: Allergy & Dust Reduction
Tool: Venta AirWasher
We love a lot of things about living in Oklahoma, but the allergy situation is not one of them. When I was at a conference earlier this year, I had a chat with a company that said they could help. I was pretty skeptical, but agreed to test out the Venta AirWasher in our bedroom. By the end of the day, my nose is usually getting stuffy, and having clearer air to sleep in sounded great. We've been using it for about four months, and love a few things about it.
It wasn't a magic box that cured all our ailments, BUT there has definitely been evidence that it is working. The unit uses water to both humidify and catch junk in the air to purify. After the first 24 hours, we were pretty disgusted AND impressed with the junk that had gathered in the machine.  After the first week, I started to notice the plants in the room looking healthier, even though I hadn't watered them. I realized that if the AirWasher was making the plants healthier, it was probably having the same effect on us.
About a month later, I decided there had definitely been a reduction in dust in the room. Each time we fill the AirWasher up, there is stuff that has been pulled from the air, so it makes total sense that there is less dust now. That is great for allergies and a huge help when cleaning.
It's also really nice that there are no filters that have to be changed. There is a water additive that helps keep the water hygienic between cleanings and we found it to be essential. We ran out once and the machine got a bit stinky and dirty. Whoops! I ordered a big bottle on Amazon after that and we gave the machine a good cleaning and haven't had any issues since.
I get the worst dry skin in the winter, especially at night, so I can't wait to see how much better my skin feels running the AirWasher in the bedroom all winter!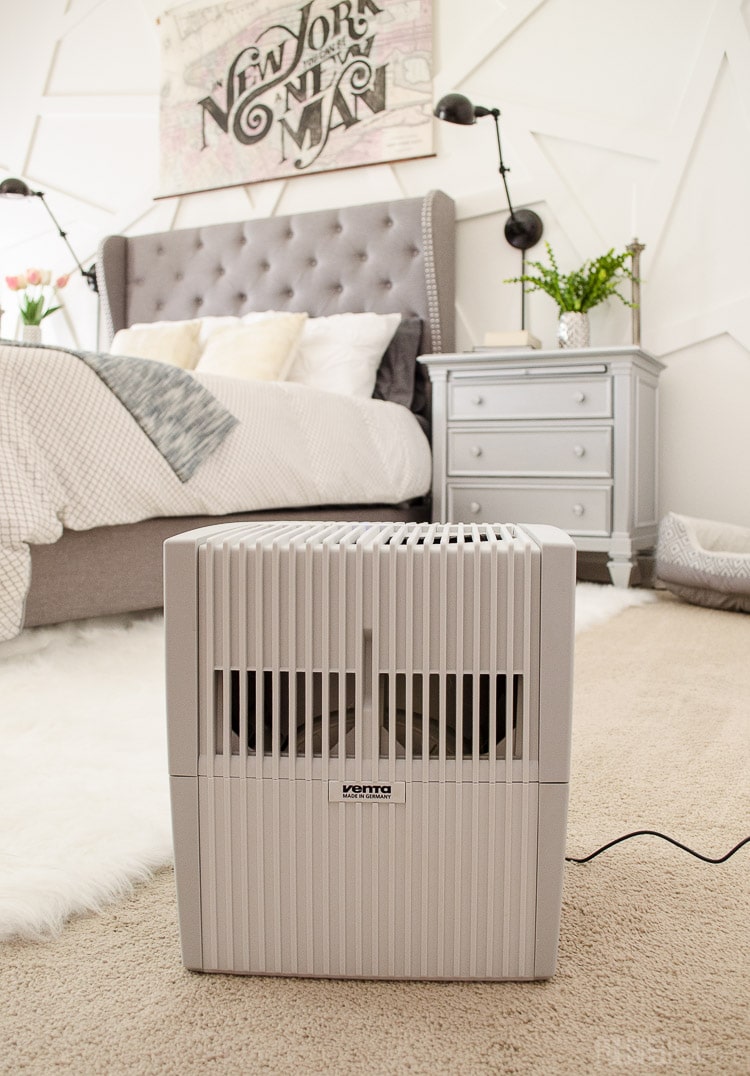 Cleaning Job: Shower Glass Doors,  Microwave & Fridge Interior, AND "Ironing"
Tool: HomeRight SteamMachine
Getting our glass shower doors clean used to be an impossible fight to win. Then the SteamMachine came into our lives and changed everything. You can see the crazy before and afters of the shower glass here, along with all my tips on how to get the same results. Even though I'd buy it just for the shower, we've also found it comes in handy for so many other uses. Curtains and bedding seem to come standard with huge wrinkles from being in packaging, and now I don't even think about ironing. I just grab the SteamMachine with some distilled water and get to work! This is probably a bit pathetic, but I think it's pretty fun to use. Which is saying a lot since I'm not a huge fan of cleaning!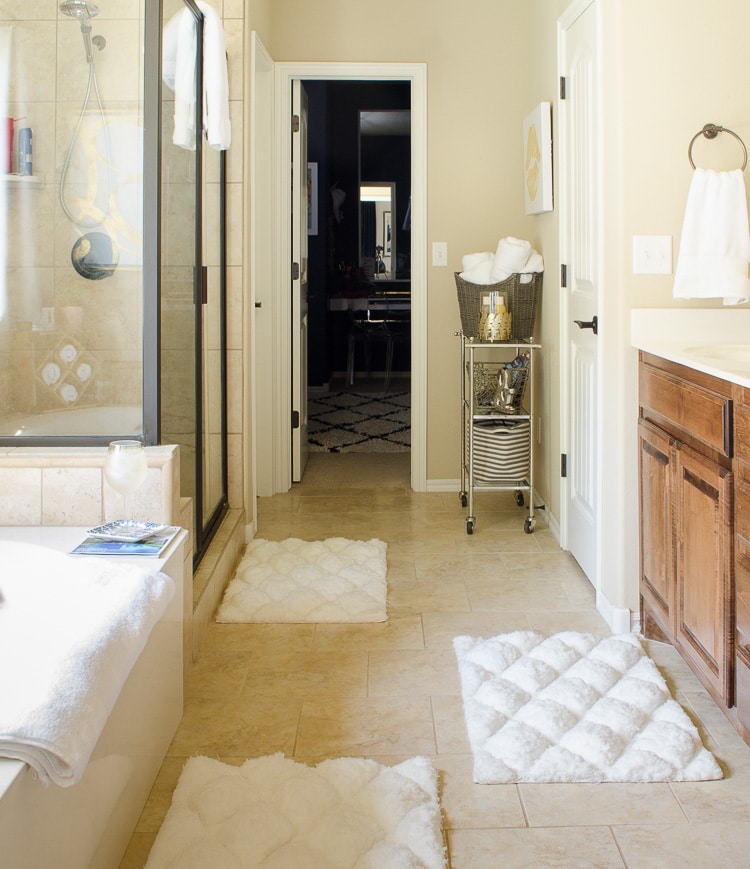 Cleaning Job: Wood Floors AND Carpet
Tool: Shark Rotator Professional Lift-Away
Okay, we've finally come full circle back to the beloved vacuum. I feel the need to make it clear again that I paid for this vacuum out of pocket and I'm not working with Shark. I'm just obsessed with it.
Basically, I love it for three big reasons. First, it wasn't $500+ like a Dyson. Second, it actually vacuums great on both wood and carpet. There is a button to turn off the brush rollers, which is perfect for the wood floors. And third, it's the most brilliantly engineered vacuum I've ever used. Seriously. All the buttons and hoses and cords are situated in a way that makes SO MUCH SENSE.
Thanks to the Maddie-hair situation, I'm constantly needing to suck up hair from tight places under furniture on the wood floors. With every other vacuum, it was a hassle to switch to go back and forth from the attachments to the main vacuum. But, check out this brilliant design.
With the push of a button, the handle pulls out and I can quickly suck up any hair from tight spaces the vacuum can't reach.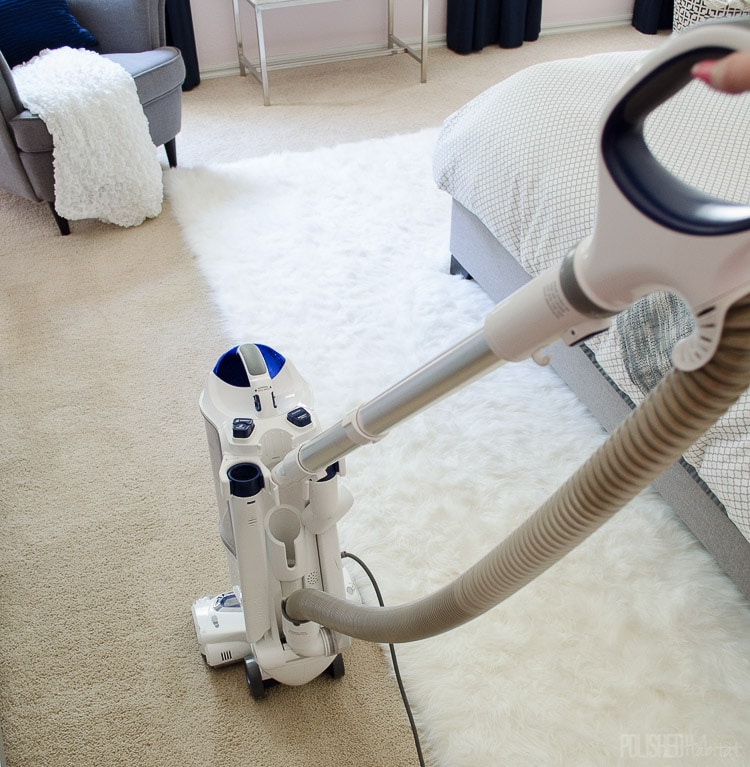 No more fighting to hook up the hose! When I'm done, it slides right back into place and I can continue vacuuming the floor. OR, I can pop on an attachment for special jobs like the fur rug in the bedroom.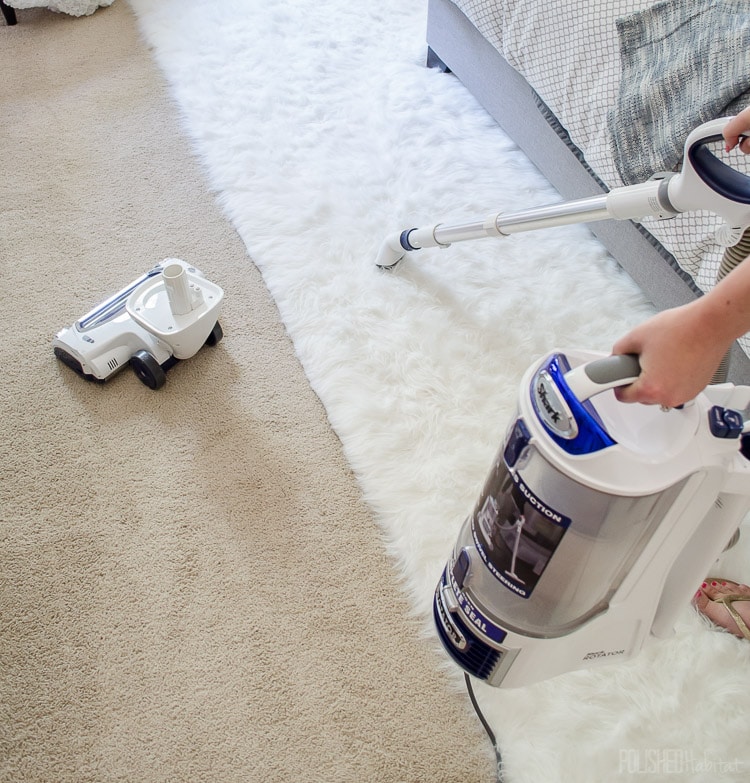 Then it gets even better. One more simple button and the motor pulls off of the base so I can carry it around while cleaning with the hose as you can see in the photo above. I wasn't really sure how often I'd use that Lift-Off feature, but it's great for the fur rug, the stairs, and when I'm trying to vacuum up any evil spiderwebs from high corners.
I could probably type another 6 paragraphs about the vacuum, but I'll spare you and just say it has helped keep the house cleaner and me happier!
So, that's the 5 cleaning tools I couldn't do without. Did I miss any of your favorites? I'm always looking for ways to make house cleaning more pleasant!