One of my favorite little spots in our house has always been the coffee/drink station I set up. It's perfect for guests, but let's be real, I LOVE it for my own daily use. It feels luxurious even though it didn't require anything more than a tray. Lately though, I've been tired of the limitations and waste of the Keurig, so thought it was time for a little change.
Before I get onto the new look, here's what it has looked like after the pantry makeover.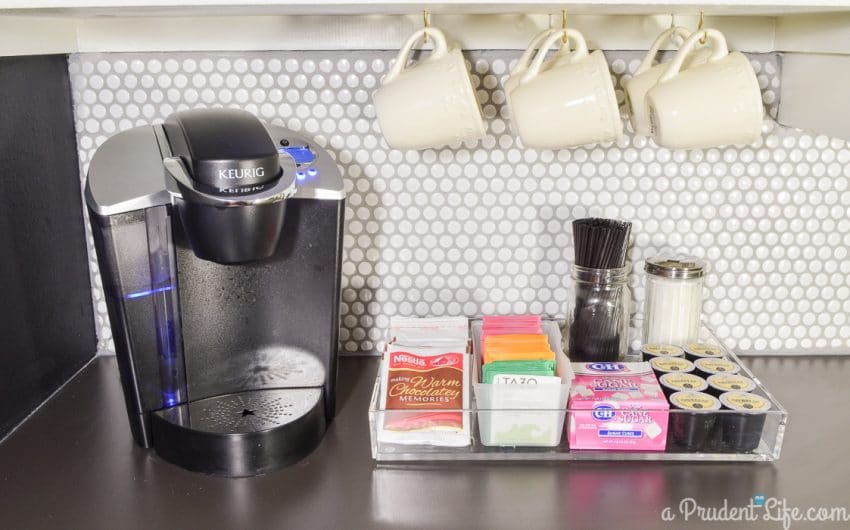 I still love the concept and the basic idea, but as I mentioned, I was ready to ditch the Keurig for a few reasons.
I was tired of not being able to support locally roasted and/or fair trade coffees. I was tired of not being able to brew more than a cup at a time. And I was tired of throwing away all those little cups. The story of the k-cup inventor wishing he hadn't invented it because of all the non-recyclable waste stuck with me after I read it. On top of all that, the little cups aren't cheap, nor do they make the best tasting coffee.
I honestly didn't comprehend that a coffee pot could make that much difference in the taste of coffee until I bought a coffee pot from Target to use instead of the Keurig. I picked up the Kitchen Smith by Bella for under $10 and thought it would be a cheap solution to my problem. My mom actually took it to her house first to see if she thought my granny would like it, as she wanted a simple new coffee pot. Well, it came to my house with less than stellar reviews from mom. She said the coffee didn't taste good.  After trying it out, I also thought the coffee was extra bitter. Bummer!
While we were shopping for coffee pots, I had been lusting after one I saw called the Ninja Coffee Bar. I was so intrigued because it exceeded all my dream coffee maker requirements.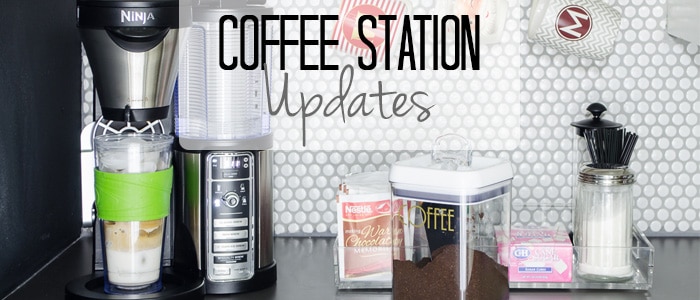 I wanted something that could make a single cup or a pot, that took regular coffee with no cups or pods, and now that I knew better, made great tasting coffee. When I saw the Over Ice option on the Coffee Bar, my new coffee maker lust grew. Iced coffee is my drink of choice!
As I wondered if it was too late to add this marvelous machine to my Christmas list, I read reviews, which further fueled my NEED of a Coffee Bar. You're going to laugh at me now, but it was at this point, way down the rabbit trail of research, that I remembered that my job as a blogger could come in really handy, and maybe, just maybe, I could get Ninja to let me test out a Coffee Bar. I mean, it's my public duty to you to sacrifice and see if this coffee maker is as good as I expected, right?
They agreed, and it seriously felt like Christmas the day I opened the front door to find the Coffee Bar. There was skipping and singing involved. It's a good thing I was home alone!
To start with, it looks amazing and there are no more pings of guilt when I see little cups. I love that I can brew a full or half carafe when I have company, so there isn't a line to make single cups with the Keurig.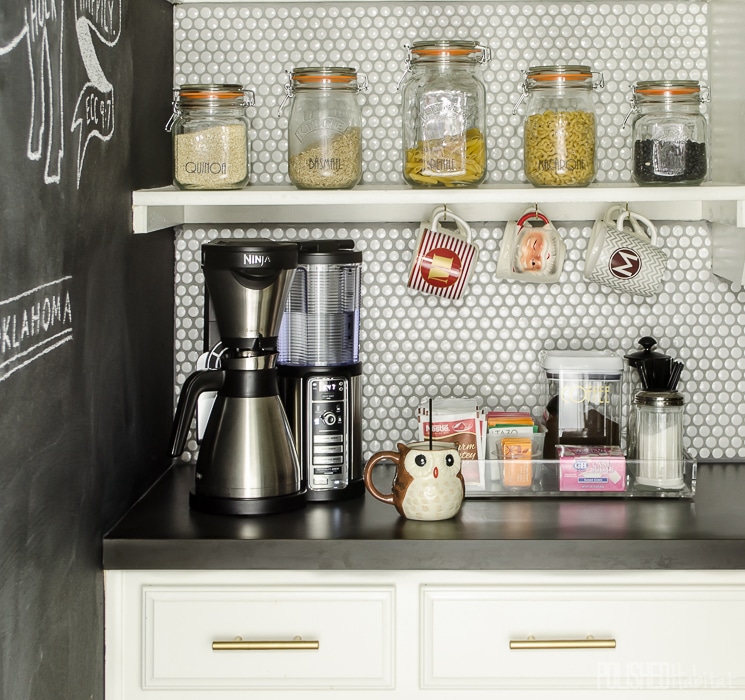 On normal mornings when I'm the only one drinking coffee, the ability to make one cup is perfect.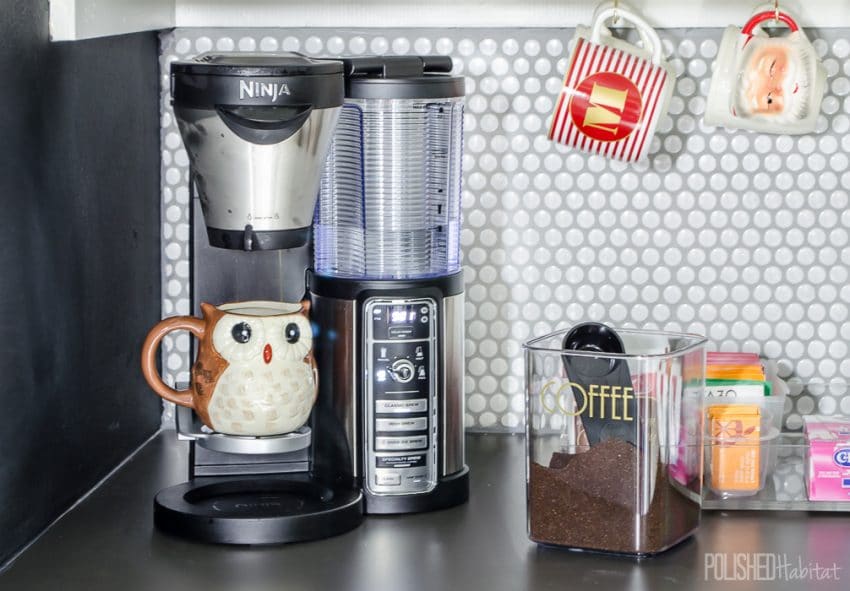 Even better is the Over Ice Brew option! No more watered down iced coffee at home, they figured out the magic ratio of coffee to water for iced drinks. You fill up your cup with ice, add creamer, and then brew. And it's delicious.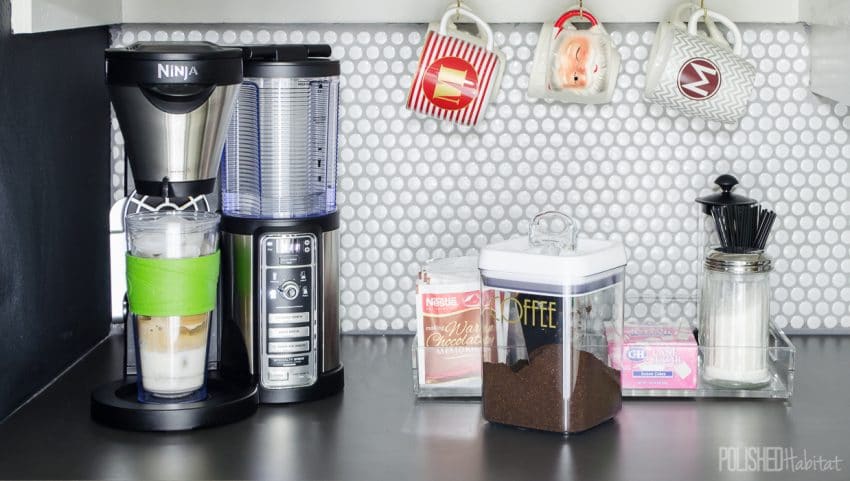 I've been so in love with my iced and regular coffee that I still haven't tried the specialty brew button. It creates a super rich brew for extra fancy drinks. Wait, why haven't I tried that yet??? I think Christmas activities are getting in the way of my experimentation!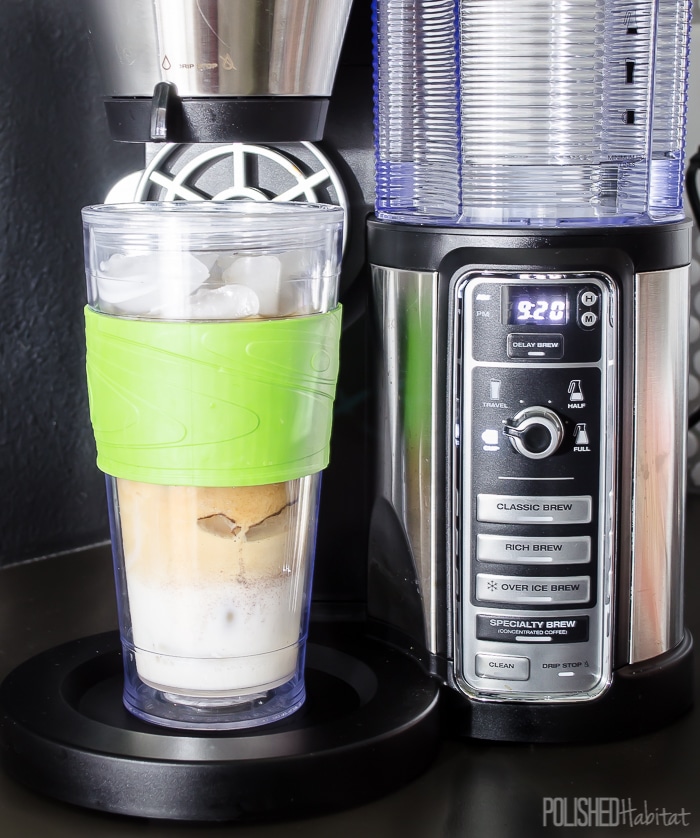 The Ninja Coffee Bar also comes with a recipe book that is making me drool. I LOVE marshmallow, so when I saw the marshmallow mint recipe, I REALLY knew this was the coffee maker for me. There is even a section of spiked coffee drinks. Yum.
I THOUGHT I loved my coffee set up before, but this new version is so much better. I couldn't wait to share it with you! And my friends are probably excited I am posting this so I can stop texting them my play-by-play coffee maker excitement.
And now I'm off to finish shopping, wrapping, baking, and coffee-drinking. Hopefully, I'll also be watching some cheesy Hallmark Christmas movies. I hope you ALL have a fabulous Christmas and I'll be back with some fun year end wrap up posts after Christmas.