Who still has Christmas shopping left to finish? I do, I do!  There are tons of amazing gift guides out there (including mine for organization lovers), but I've got something a little different to share today.
I still love giving and receiving traditional gifts, but our absolute favorite ideas have come when we have thought outside the box. As a bonus, these unique gift ideas are clutter-free. The recipient doesn't have to find somewhere to store them, and they are guaranteed not to be re-gifted or sold at a garage sale in a few years. Instead, they all create happy memories!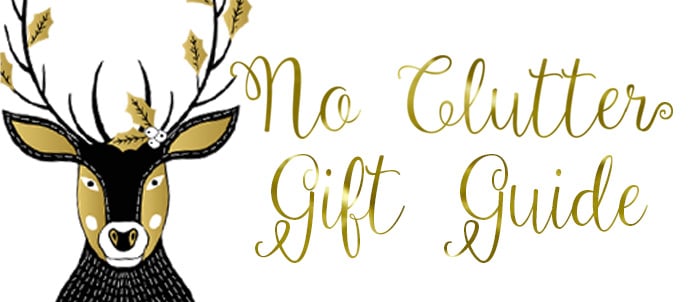 1. Winery/Brewery Tours – Even in the land of odd liquor laws, Oklahoma has quite a few wineries and breweries. One of our favorite gifts to give to our parents is a bottle of wine with a homemade voucher for a day trip to a winery. We take them for lunch and the tasting. It's a great way to spend time just relaxing, and a great gift for parents who have everything they need.
2. Games/Themed Game Nights – My in-laws love to get together for game nights, so one year we found three or four unique board games that could serve as a starting point for a themed game nights. We gave them Scopa, an Italian Card Game
* along with an Italian dinner night at our house. We also did Mexican Train Dominos
* and Western themed game we found at Barnes & Noble. *affiliate links Just a side note, if you've never played Mexican Train, you are missing out. We play with every side of our family now!
3. Museum (or your favorite place) Day  – One of my favorite places in Tulsa is Philbrook Museum, which was originally the home of Waite Phillips from Phillips 66. Think roaring 20's endless oil money. The details in the house & grounds are magnificent, and the art collection is pretty impressive too.  My parents had never been, so I made up a poem with some of the history of the home and we took them for a day at the museum and lunch at the yummy on site restaurant. Think about your favorite places and if there is anyone you'd like to share them with as a Christmas gift! I love the story of Waite Phillips so much that I wrote about him in this post. 
4.Give Money Creatively – One year, we wanted to give my husband's 18 year old brother money, but did not want to just put money in a card and be done. I decided to make a little game out of it. I filled a box with 40 little pieces of paper I printed with different kinds of "bucks" on them – Buck Rodgers, Uncle Buck, an actual deer buck, a bucking horse and whatever else I could come up with. Each piece of paper had one "buck" on it. It was hilarious watching him spread the 40 pieces of paper all over the living room trying to figure out what in the world was going on. The whole family got in on the guessing until he finally figured out that we gave him 40 bucks. Once he got it right, we handed over the real money.
 5. Sporting Events – Plan a night out to a local sporting event. We took my brother to dinner and a local college basketball game, but you could do any sport your gift receiver likes. Depending on your budget, a hat or shirt wrapped up with a ticket would be fun!
WARNING!
When giving the gifts that include outings, you should decide WHEN the outing will happen within a week of Christmas. Because you know what happens if you don't? You find yourself at the next Christmas realizing you never fulfilled some of your gifts! Yikes! It goes from being an awesome gift to a total tease of a gift. Yes, I speak from embarrassing  experience. We have outstanding gifts from prior years. My resolution is to get them all scheduled by the end of January.
If you like these ideas, I added a pinnable image below for your gift idea board on Pinterest!
What's your favorite gift to give or receive? Add them to the comments below so we can all be inspired!