During my office remodel, we DIY gold dry erase boards. They look great on the walls, but also help me stay organized. They also add tons of glam to the office, even though they were cheap. That's a win in my book!
To make your own board, start with a picture or poster frame in whatever size you would like.
Tap on the front before purchasing and make sure it is real glass. If you leave dry erase marker on the plexiglass too long, it will etch the surface.
Next, you'll need spray paint in your desired color.
I used a gold mirror effect spray paint. It's the secret sauce that makes the surface of my boards reflective and rich. You'll also need a clear, matte topcoat spray.
Since the project uses spray paint, we put up our HomeRight Spray Shelter to protect the garage floor and cars from over-spray.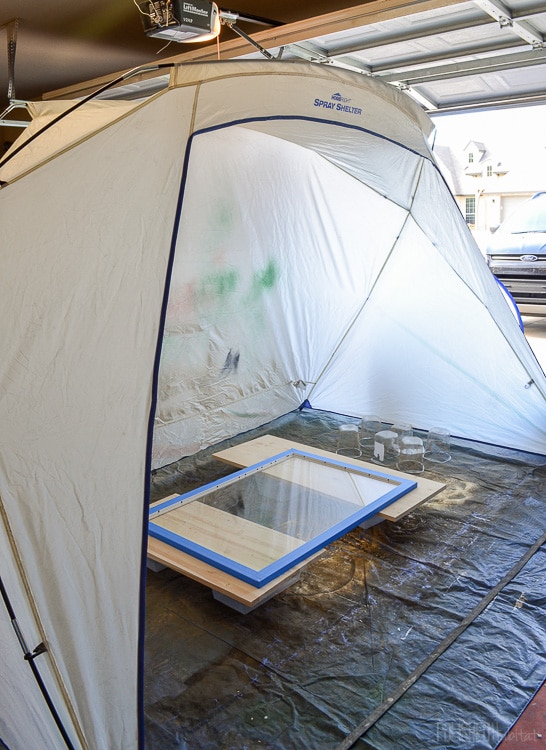 Remove the glass from your frame, if possible. If it's being endlessly stubborn, that's okay too. Just use painters tape around the back of the frame to protect it from over-spray.
You need to be working on the BACK of your glass.
Shake up the gold mirror finish paint, and apply a light coat using a sweeping side to side motion. Make sure your spray extends all the way to the end of the glass.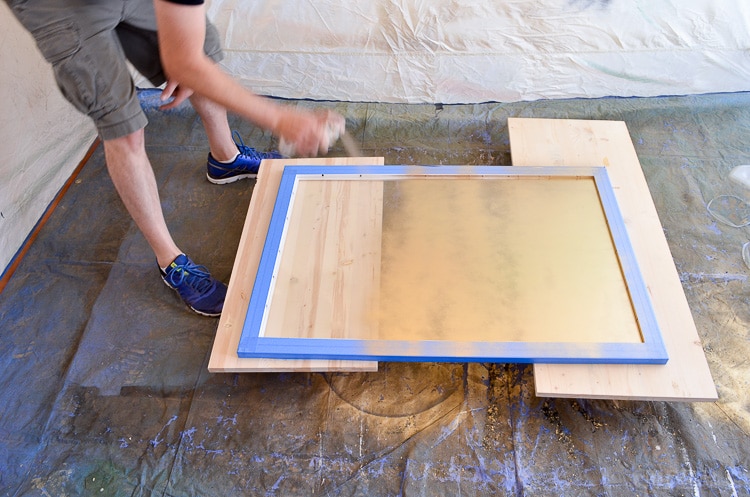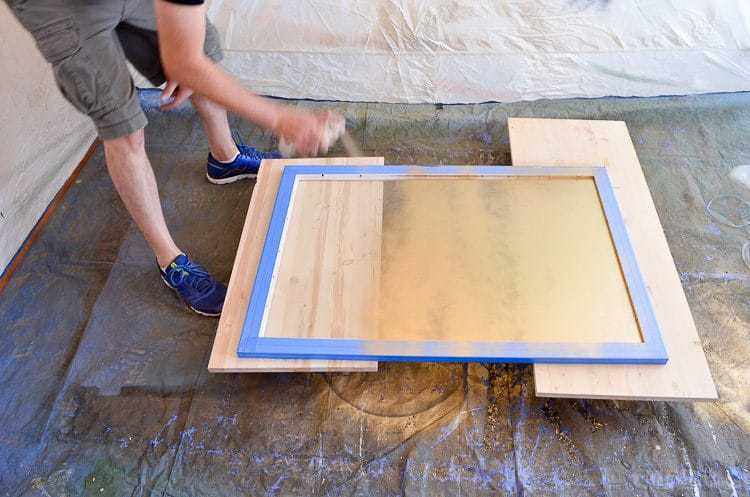 After one minute, it's already time for the 2nd coat.
For the second coat, we switched directions as you can see in the photos.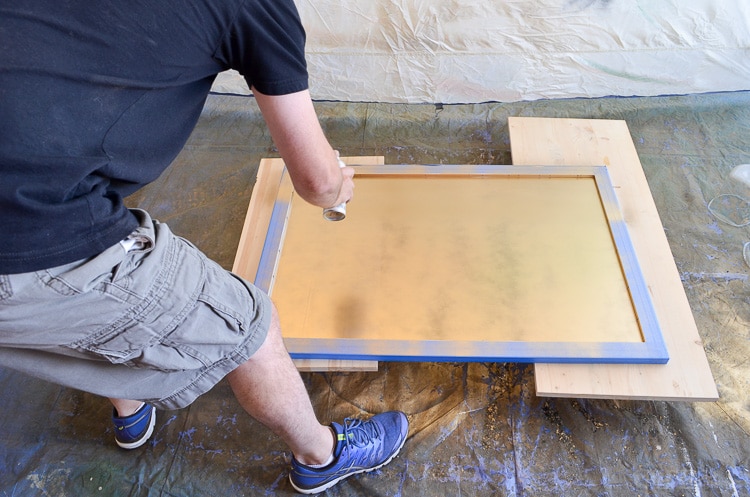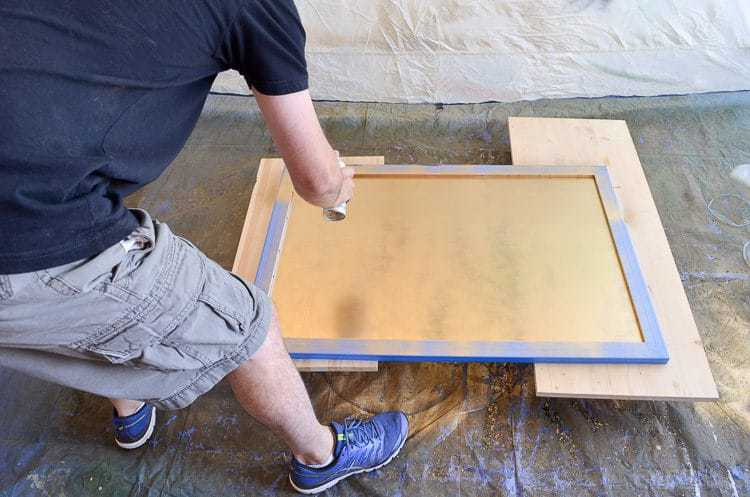 Add three additional coats, one minute apart, continuing to alternate directions between coats.
A few minutes after the 5th coat of gold is applied, spray on the matte clear topcoat.
This IS mandatory. I didn't do it the first time, and learned how easy it is to mess up the gold finish without the sealer.
The hardest part is next. Walk away and let that sealer dry for 24 hours before you continue.
Patience is difficult when you're ready to see your project!
When the sealer has cured, you just have to put the back on your frame and hang it on the wall. So easy!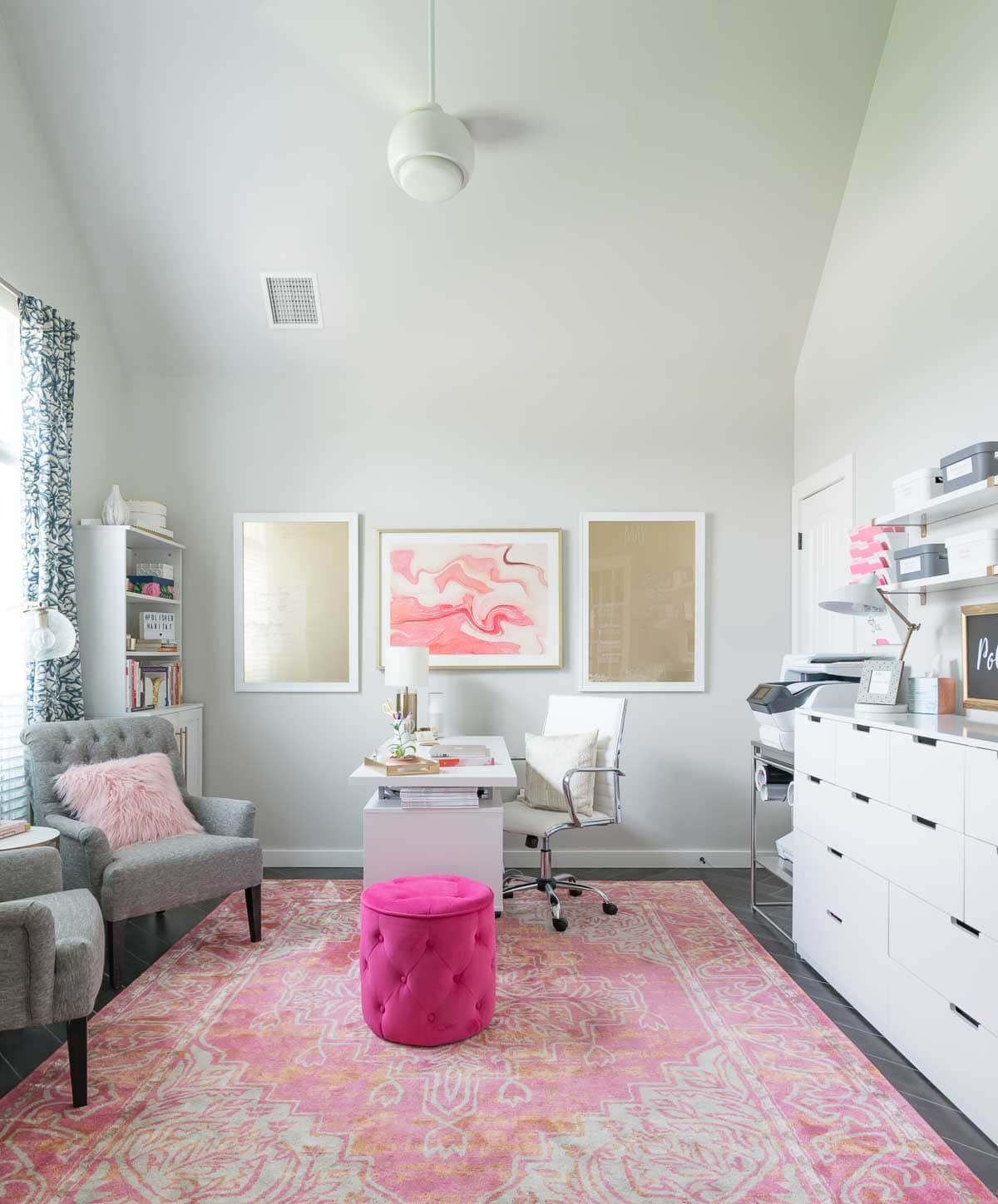 Corey lettered a quote onto one of the boards for me to add some extra inspiration.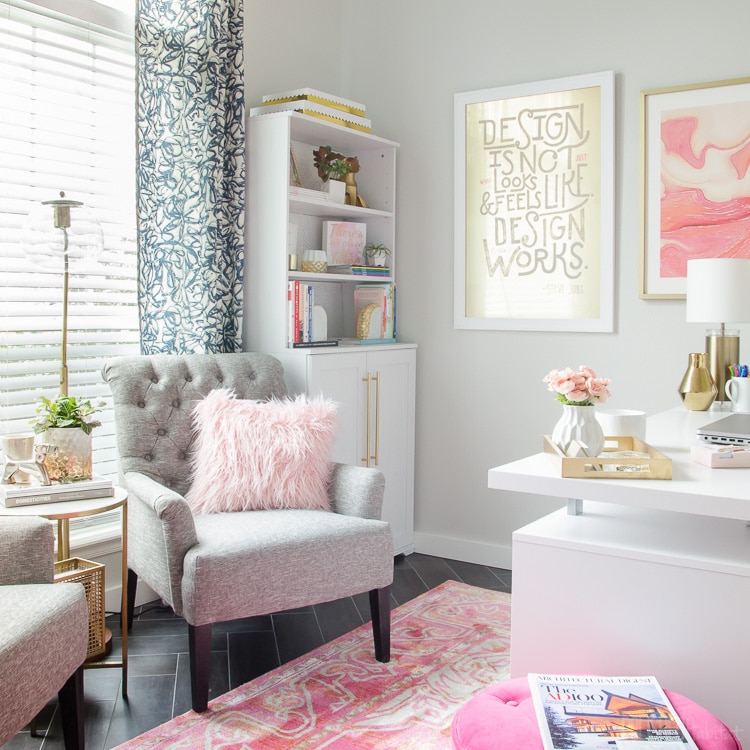 We also made three smaller gold dry erase boards to use as calendars. I started with 16 x 20″ IKEA RIBBA frames, and followed the same steps above.
Then, I cut a grid out of white vinyl using my Silhouette Cameo machine and applied it to the front of my glass. If you don't have a vinyl cutter, you can get the same effect using a roll of white striping tape.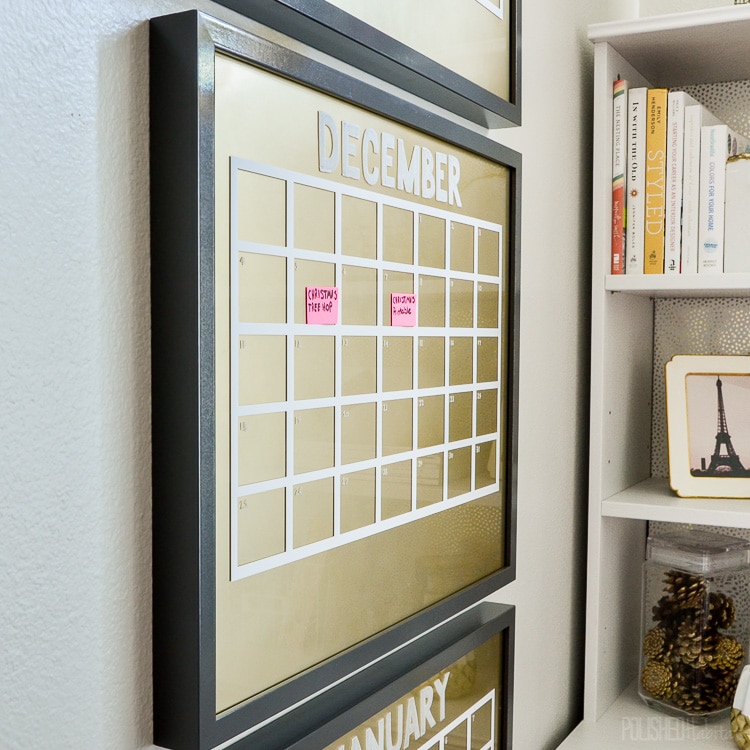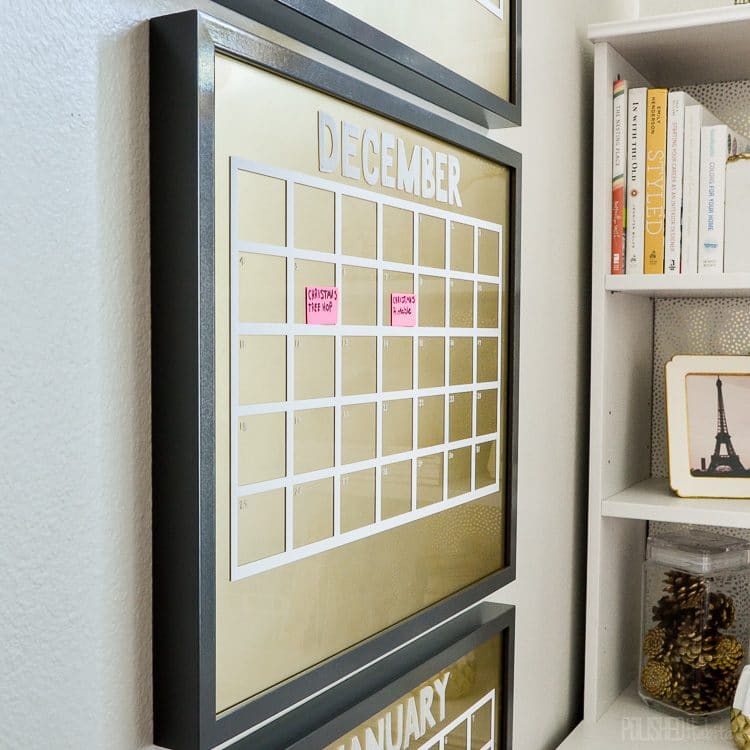 The month name and date numbering was done with a white dry erase marker. I left space below the grid to add any notes or reminders.
Each RIBBA frame sits on a 1×4 mounted to the wall. This wouldn't work with all frames, but they have the perfect deep back.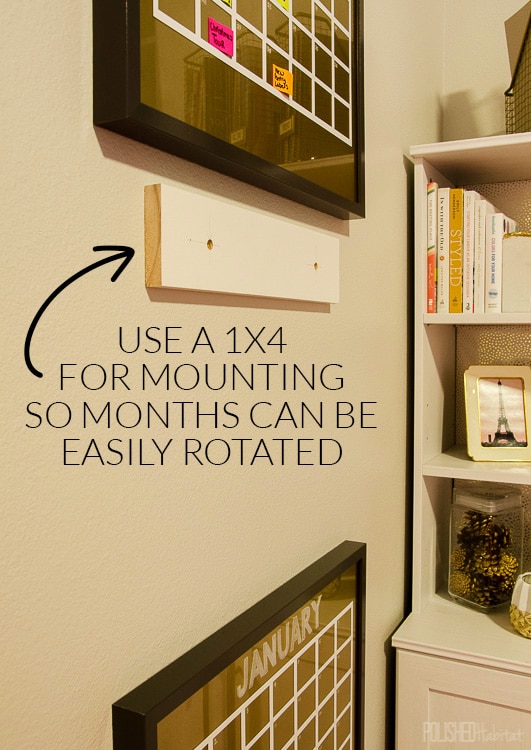 When I was brainstorming calendar solutions, I kept finding ideas online that would leave me rewriting everything each time a month changed.
With my three board system, as each month passes, the boards just move up a slot on the wall. The top board will get erased and reused as the bottom board. Each board ends up in use for a full three months.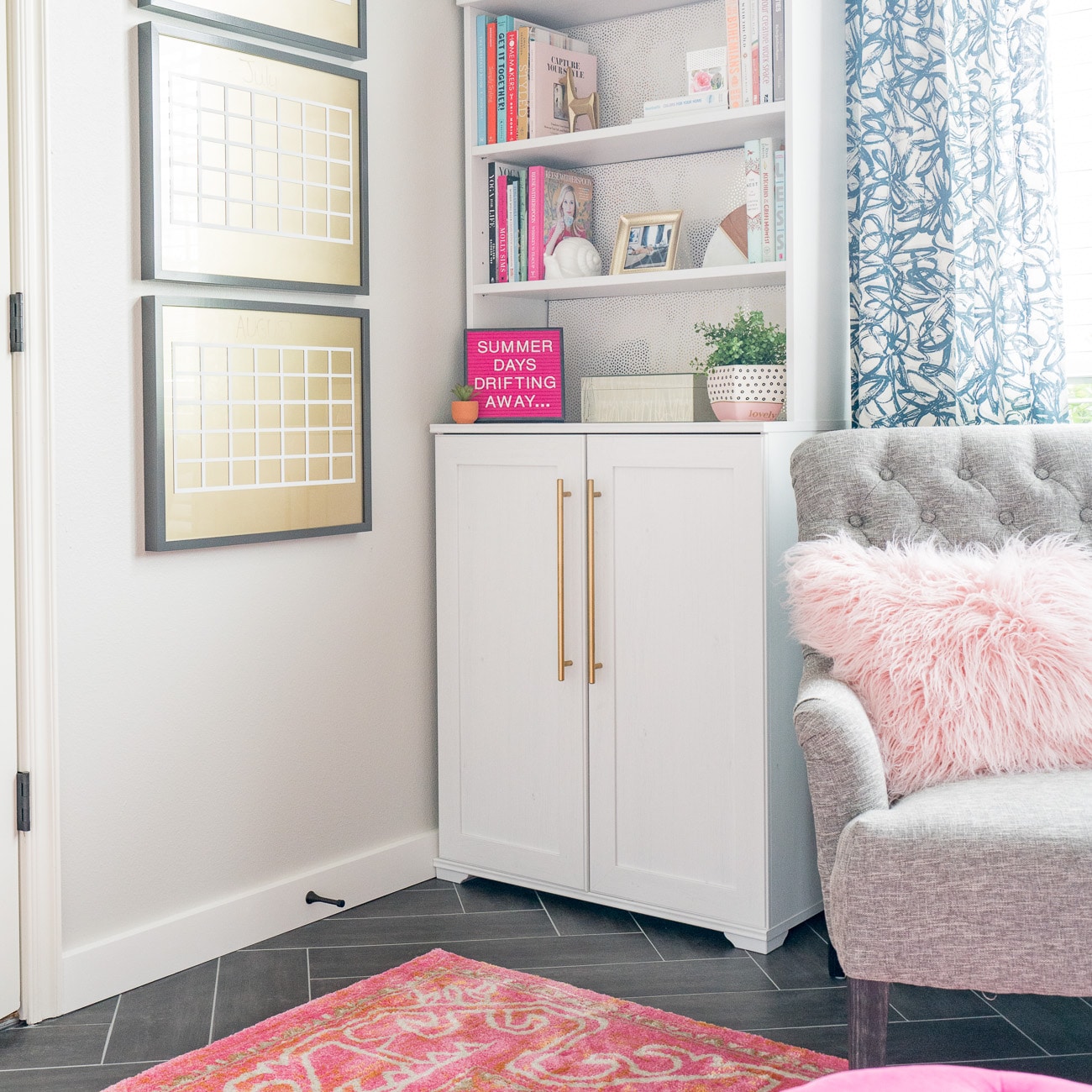 I'll use a mixture of writing directly on the boards, and Post-It notes to keep the schedule updated. The Post-It's are perfect for planning out my blog posts, as post dates can change. When that happens, I'll just move the sticky note.
Are you going to try this? Let me know what color board you'll be making in the comments below!