The next step in my desktop organization makeover is complete! I picked up a desktop file sorter (like this
*) to keep my most frequently used files close by. But who wants to look at plain manila folders all day? Not me!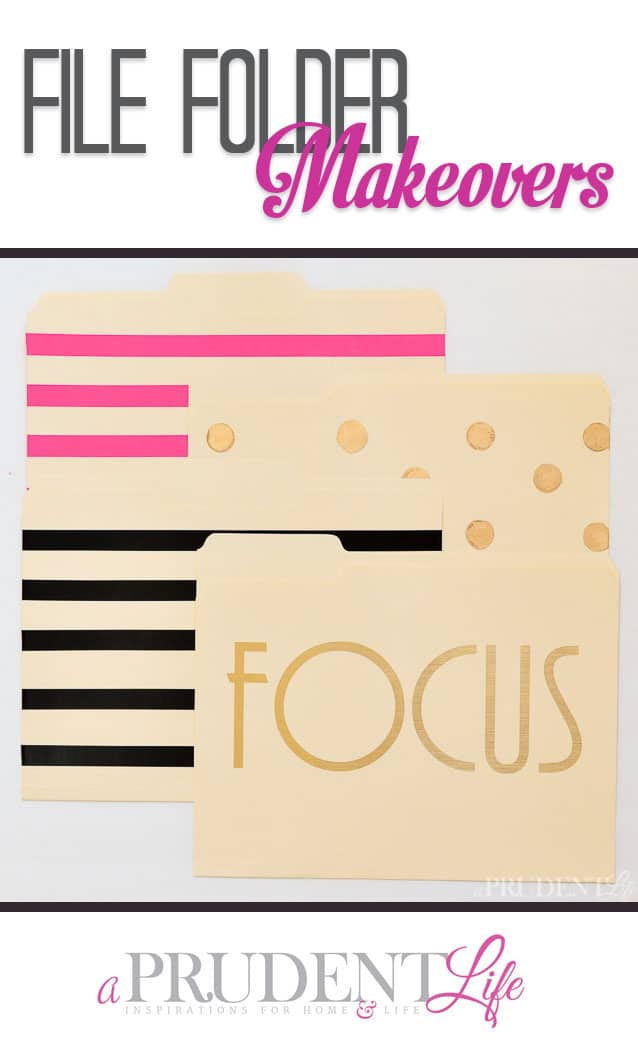 Like the binder makeovers, I started with the most inexpensive (aka boring) folders. You can get 100 of them for $9 on Amazon*
 right now (that's $0.09/folder)! So much better than folders that start out pretty but cost 10 times more. Saving that much money seems to spur my creativity, because I came up with three simple ways to upgrade my folders.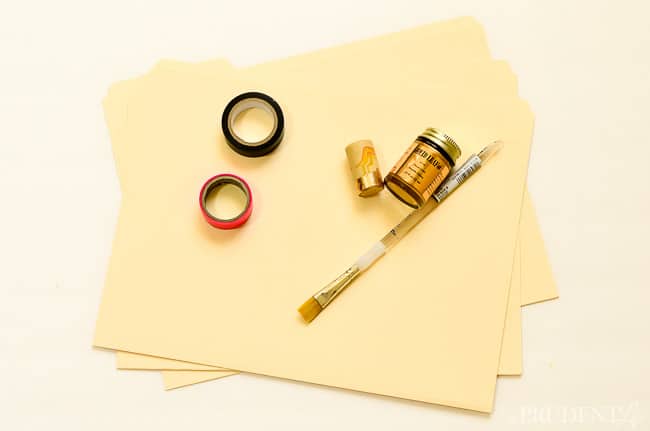 Option 1: Simple Striped Folder
This one is the fastest, cheapest upgrade AND it's my favorite! I used dollar store electrical tape to add stripes. I didn't bother measuring so the process was QUICK. I left about an inch on each side of the folder to wrap to the inside. I loved the stripes so much that I also made some using pink washi tape. Folders + Tape = Extreme Chic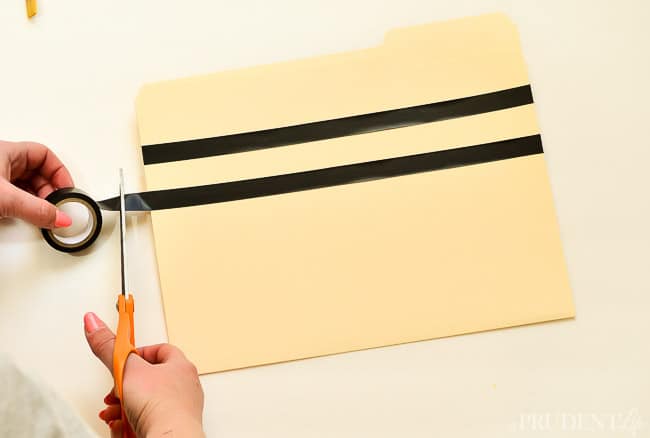 Option 2:Gold Polka Dot
Next I grabbed a wine cork, paintbrush, and Liquid Leaf to stamp gold dots. After a little testing, I found that the best technique was to paint the cork versus dipping it into the gold.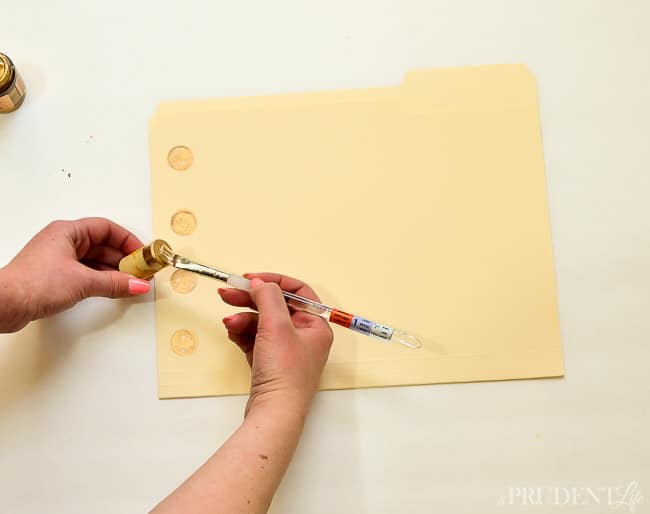 Then I pressed the cork straight down and twisted it about a 1/4 turn before pulling it straight back up. This gave me pretty accurate circles.  I did a little touching up with the paintbrush. It looks time consuming, but it was under 5 minutes to do an entire folder.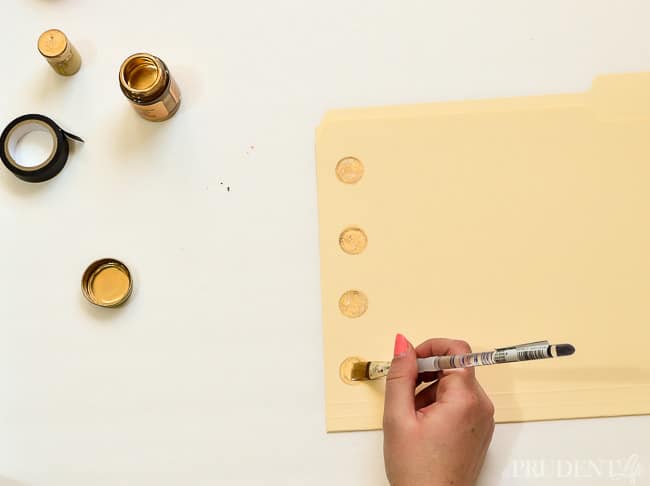 Option 3: Add Words With Vinyl
You guessed it, this option is also quick! I used my Silhouette Cameo
* to cut out my word of the year in brushed gold vinyl*. I do a lot of my goal planning on paper and now I have the perfect place to keep all those papers together!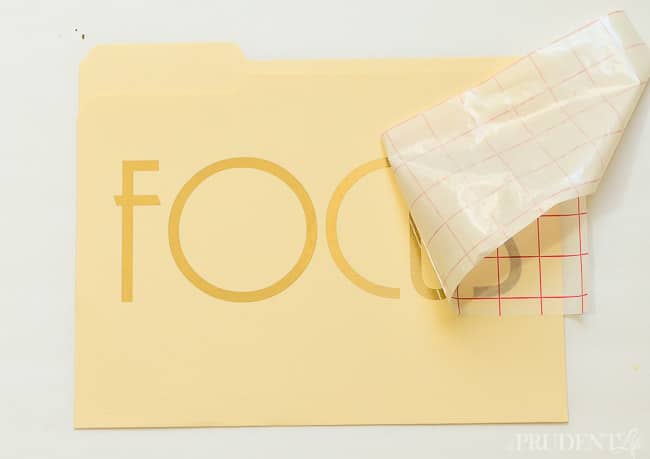 The folders are all fun individually, but get even better as a group!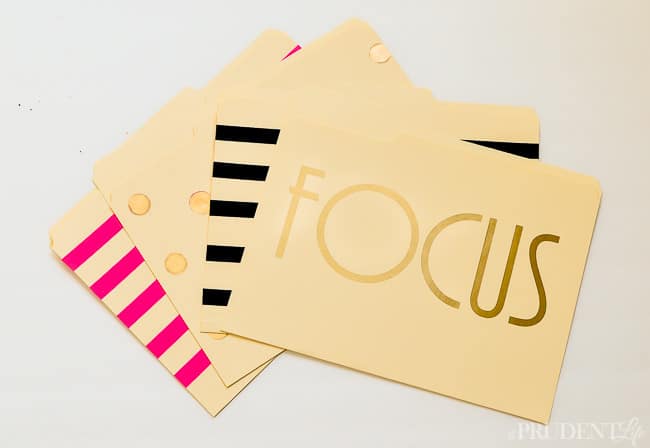 I'm always lusting after the pretty folders at Target, but I think I cured that obsession now that I found out how easy it is to make my own!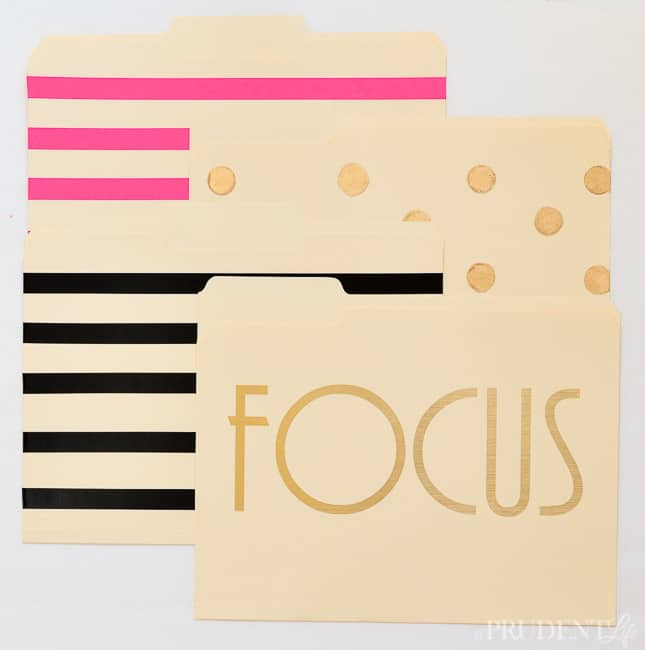 I put together a little image of everything I used below. For the tape & Liquid Leaf, you can most likely find it locally for less, but this way you can at least see what exactly I used before heading to the store!
Stay tuned for the full  desktop organization reveal later this week. If you're on Instagram, you can follow me for sneak peeks! UPDATE: You can see the full organized desk, including this folders in action here.
*Post contains affiliate links, which means any time you buy the products indicated with an *, you are helping to support my dream! The price you pay is the same, but I get a small referral fee. So, THANK YOU!!!
Post shared at: Pretty Preppy Party