I've got an organized desk and now I'm ready to be a focused, productivity machine in 2015! Toward the end of last year, my messy desk was starting to make me crazy. I decided to ask for three pretty magazine holders for Christmas to kick start my desk organization. Lucky for me, I DID receive them (thanks mom-in-law!) and I couldn't wait to put them to good use.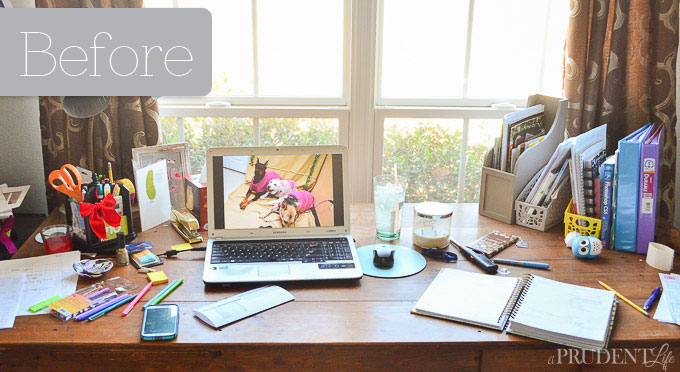 Sadly, that wasn't a staged before photo. The chaos was very real! In addition to the productivity-killing vibe the desk was putting out, it just wasn't feeling like me. Considering that I spend hours a day at my desk, I wanted it to be a pretty spot that made me smile. And now it does!
Better, right?
I started by taking EVERYTHING off the desk. Sidebar: I really dislike the curtains in the room. I'm thinking about painting them with fabric paint. And I need to replace that boring drawer pull. The desk top may be done, but the room is still a work in progress! UPDATE: We DID change out AND paint the curtains Sept 2015.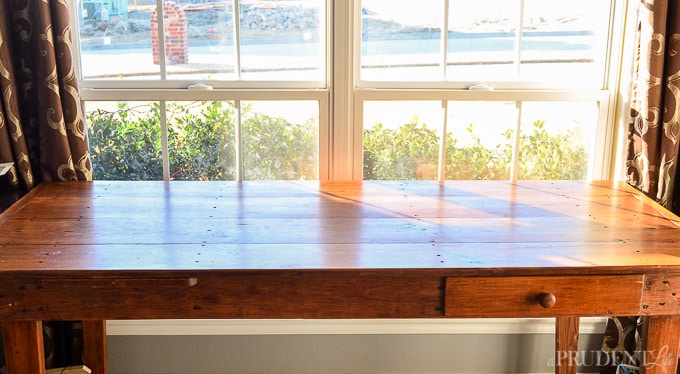 I do a way better job weeding out unnecessary items if I start each organizing project as a blank slate instead of trying to rearrange things. For some reason, it's easier to decide NOT to include something back onto a surface.
On the left side of the desk, I used my new magazine files for notebooks, catalogs, and magazines/books I'm currently reading. Now when new magazines come, I can put them right in the file and they won't get lost around the house. I cut little labels for each file using scrap vinyl & my Silhouette.
My new custom binders work great with the magazine files. A Bath & Body Works candle doubles as a bookend when I'm not burning it. To order your own binder labels, visit me on Etsy!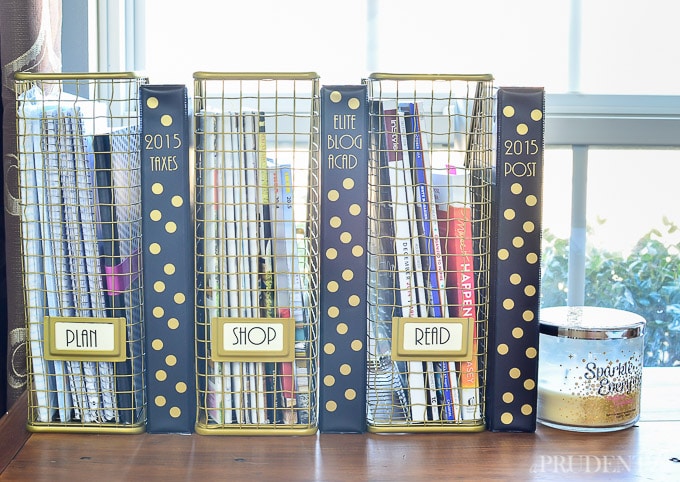 As part of my desk makeover, I wanted to add a space for a few file folders on my desk. Not for long term storage, but to corral all the things I'm actively working on. I picked up a black mesh file organizer, but it was boring. I got mine locally at Walmart, but Amazon has them here*
.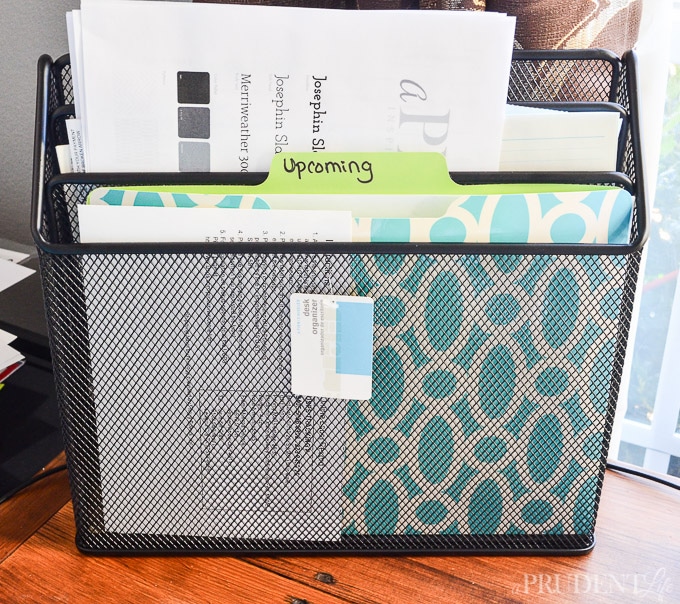 A little Liquid Leaf later, all the trim was gold! So much better! I also added labels to the customized file folders that I showed you on Wednesday.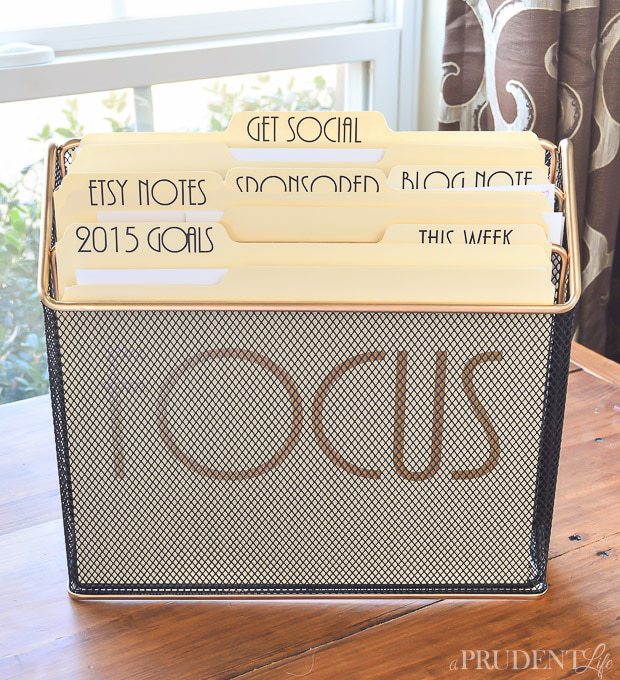 Switching out the front folder gives my desk an instant mood change! The gold dots are fun and go perfectly with the boxes I found at Marshall's (score!).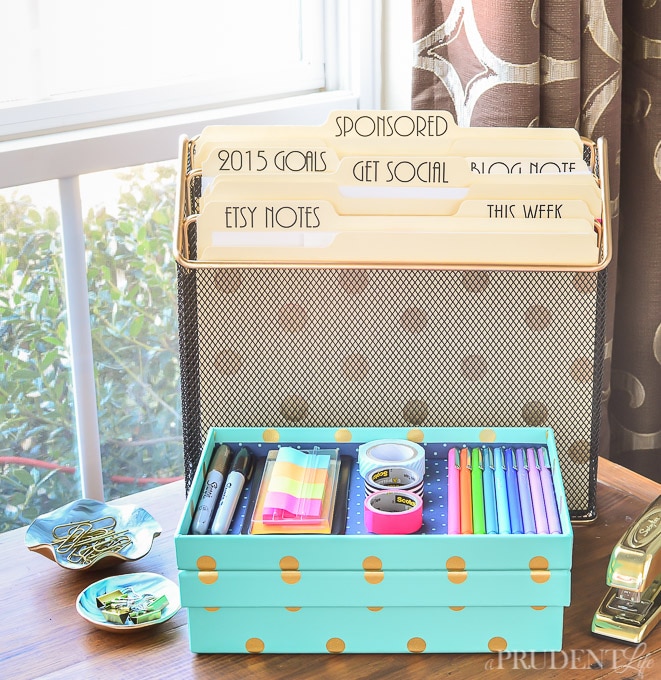 Or for an even more cheery look, I can use the pink stripes in the front.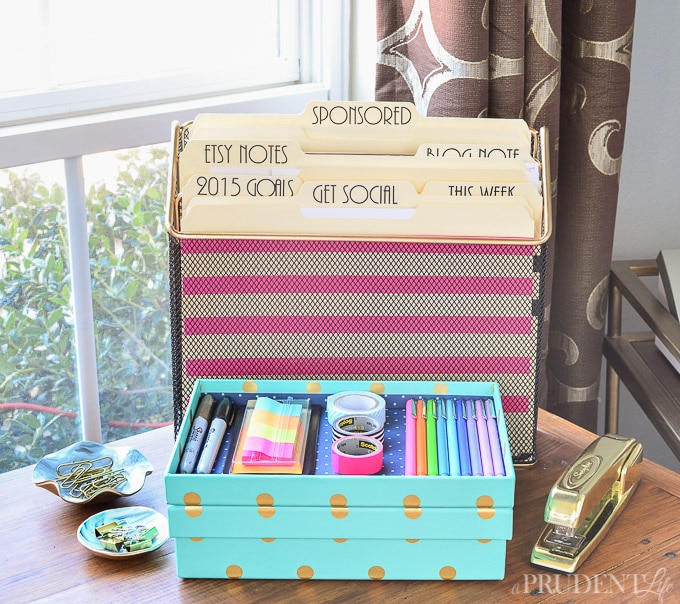 Although, I gotta say, today my only option is keeping the FOCUS folder in front. I desperately need the reminder because at the rate I'm going, it will be 2016 before any of you get to read this post. And that's why it is my word of the year.
Bringing the focus back to the cute boxes now…
I brought home two of them, and after some brainstorming, I decided to put my most used items in the lid of one of the boxes. I splurged on a set of Le Pen
's* with some Christmas money and I LOVE them! The washi tape & Post-it Pop-Up Page Markers
* get used in my planner. I added electrical tape around the outside of the post-it packaging to cover up the orange background and text.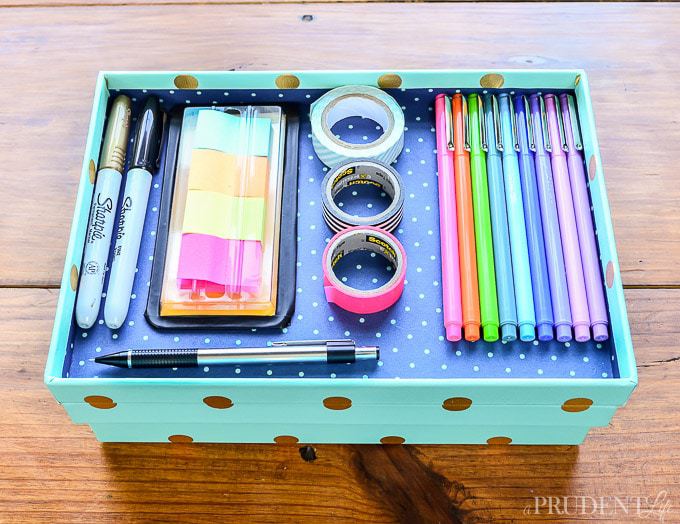 I've got more pens, pencils, and highlighters in the bottom box. It's the stuff that I may need, but not often enough for it to be on display.
I'm using two little clay bowls that I made for paper clips and binder clips. I'm going to be selling these little bowls in my Etsy shop, so if your paper clips need a fancy new home, keep me in mind!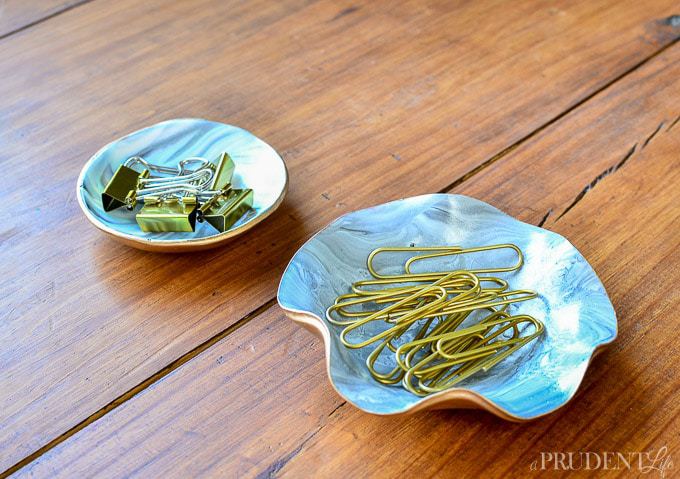 Here's one last look of the right side all together.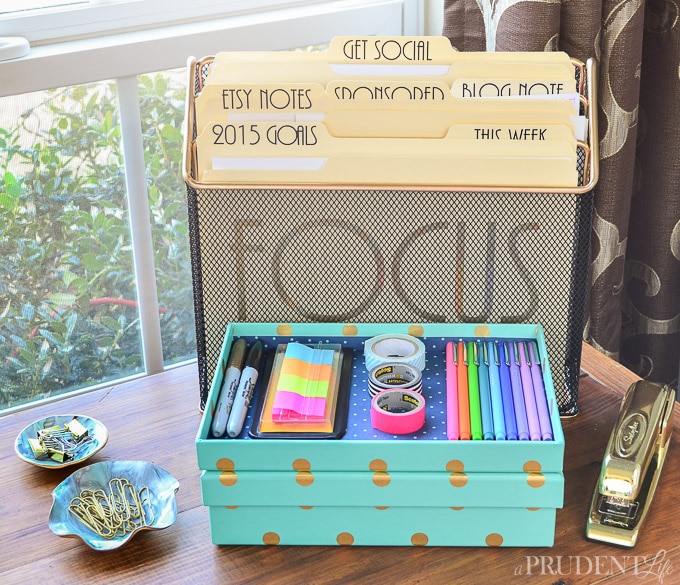 It's been a fun week for me with the binders, file folders, and today's full organized desk reveal. I hope the week inspired some of you to tackle your desk organization and give yourself a great start to 2015!