After a little break for all the holidays, Favorite Things Mondays are back. This week I've got a special treat for you! We're talking genius life advice, business advice, AND eye candy photos of a 1920's villa.
I'm not sure where to start this story, so I think I'll begin where it started for me. In middle school, I had my first field trip to Philbrook Museum. But Philbrook wasn't just any museum. It is a former 70+ room grand residence of oilman Waite Phillips. I had never seen such a home, much less been inside one. Much of the villa retains all original features and I remember being way more interested in the house and the story of the former owners than I was in the art.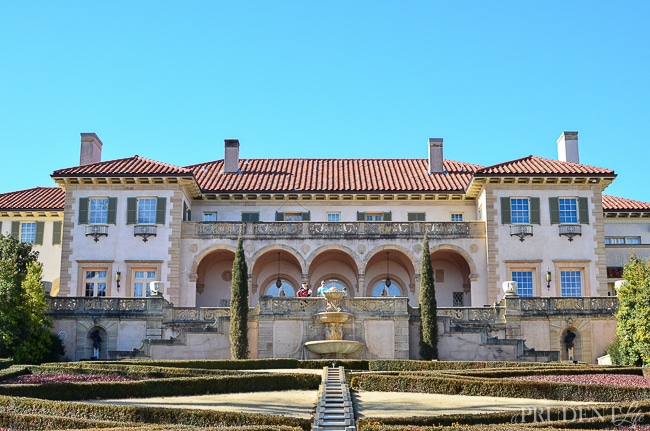 How could I not be fascinated when I learned Waite & Genevieve Phillips lived in Villa Philbrook for only 11 years and then donated the entire home and 23 acre property to the city to be used as an art center? Or that underneath one of the elaborate rugs there was a disco floor. Seriously, a glass floor with multicolored lights underneath that was installed in the late 1920's. These people were extremely generous AND knew how to have a good time!
Each time I visit Philbrook, I have renewed awe at all the details in the home. There are countless unique fireplaces and each room's ceiling has a different stunning treatment.
Here are a few of them…..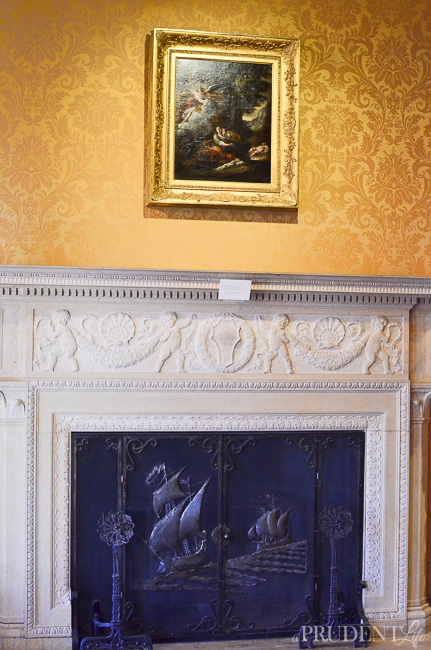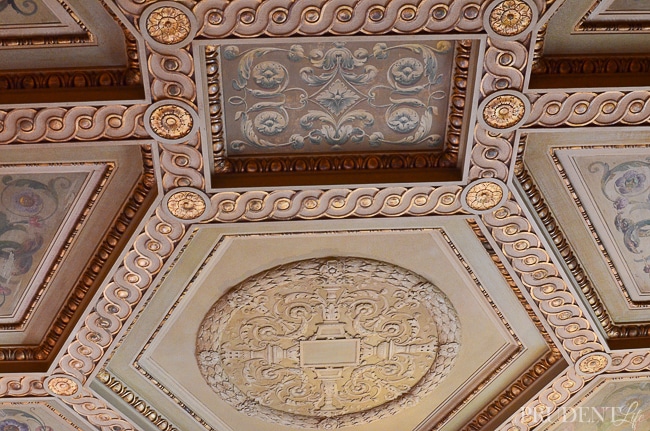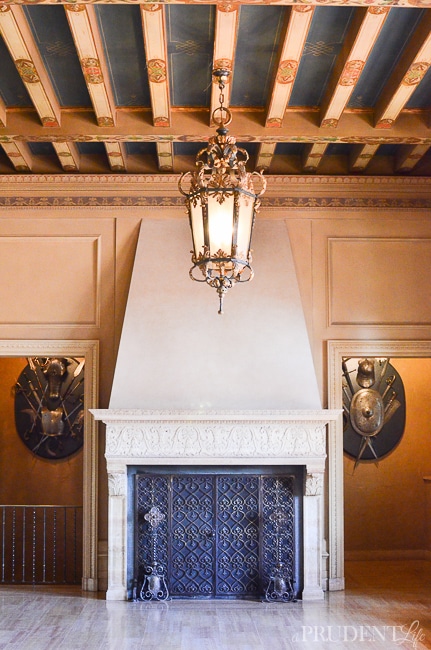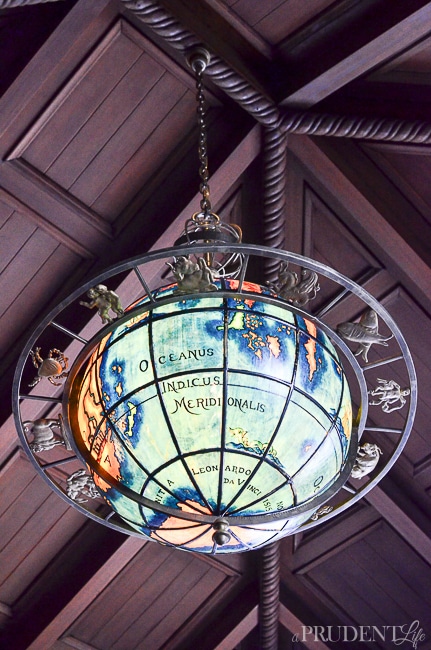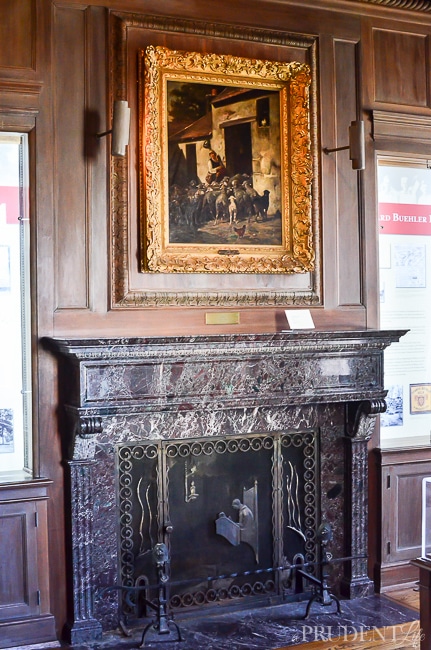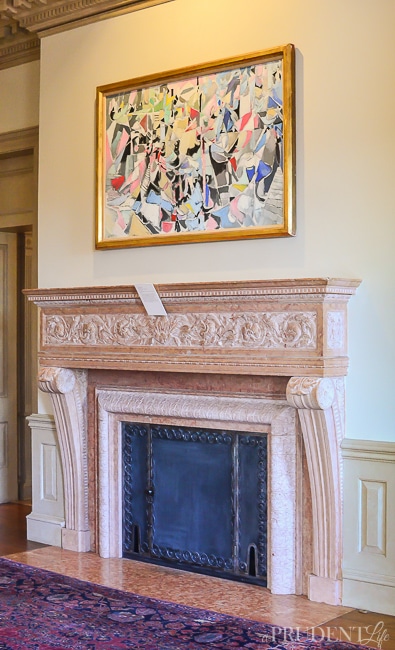 A few years ago, I found a small booklet of Epigrams by Waite Phillips in the museum gift shop. It's a brilliant collection of quotes that Waite used to carry in his pocket. Many of them are his own, but they are mixed in with words of others that inspired the way he lived life and ran his companies. As much I as love the contents of this little book, I am even more obsessed with the fact that he always carried his principles in his pocket as constant reminder of who he wanted to be.
I have read that Winston Churchill, one of the greatest masters of English prose, has been known to re-write one paragraph of a book a dozen times. This proves there is no excellence without painstaking effort. -Waite Phillips
To be competent in governing others, we must first learn to govern ourselves. -Waite Phillips
Wishful thinking consists of dreaming without doing. It's a useless habit. -Waite Phillips
A man can fail many times but he isn't a failure until he begins to blame someone else.  -Waite Phillips
Real philanthropy consists of helping others, outside our own family circle, from whom no thanks is expected or required.  -Waite Phillips
I wish I could print the whole thing for you!
Now I already mentioned that the Phillips' donated their Tulsa property to the city. In 1938, they donated over 100,000 acres in New Mexico to the Boy Scouts to create Philmont Scout Ranch. Waite said he enjoyed the land with his son and their friends and that he wanted to share that great experience with others. And it wasn't just the land. They made sure there was an endowment to help keep camper fees affordable. He even included all the water & mineral rights with the donation.
The land and homes in Tulsa and New Mexico weren't all that Waite & Genevieve donated. They actually made a decision to donate 50% of their income each year. It was said that Waite enjoyed chasing and making money, but didn't care about holding onto it.
I could seriously go on forever – I haven't even told you about how Waite and his twin brother Wiate left home to explore the Wild West when they were 16 (in 1899). They had all kinds of adventures until Wiate died of appendicitis in 1902 and Waite had to return home. Why hasn't their been a movie made about this guy?!?
All the pretty pictures and stories aside, I want all of us to remember his generosity coupled with his support of art and all the tradesman he employed to make his gorgeous home. I feel like striving for or having great wealth is demonized a lot, and Waite Phillips shows what a great thing it can be.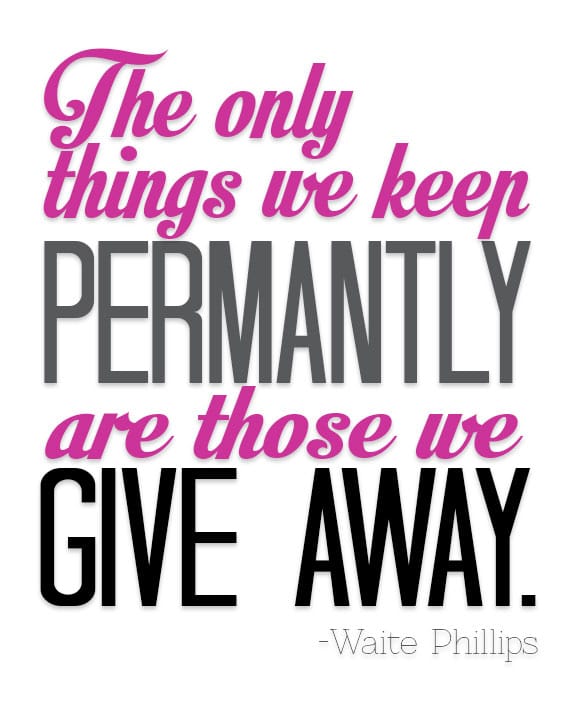 Some of you may be thinking that you'd give a lot away if you were rich too, but  let's not focus on what we don't have. Generosity isn't something that grows as our income increases. It lives in our hearts all the time. It's giving more time, kindness, OR money than is expected and doing it with a happy heart.
One of the core values at our church is  "We will lead the way with irrational generosity. We truly believe it is more blessed to give than to receive."  I want the way I live to be a testament to that every day. I've had moments I'm very proud of in this area, but other times I've ignored opportunities. I want the proud moments to happen more often.
I challenge all of us to do something unexpectedly generous today (don't forget, you can be generous with your time, money, or even your kind words)!
PS: If you ever come to Tulsa, GO to Philbrook! I now appreciate that the art really is as great as the house. 🙂
PPS: Kudo's for still reading this long post! If you love this story and would like a copy of the Waite Phillips Epigrams, I'm feeling generous. Leave a comment telling me your favorite Waite Phillips quote (from this post, or any others you find online).  I will mail the first 5 commentators a free copy IF the museum still has them in stock.  Added 12:30 CST 1/19/15 As of now, the first 5 recipients have been emailed. Please continue commenting if you'd like a copy and I will TRY to get more than 5 copies. If I'm able to get more, I'll contact you via email. Thanks!